THE BOSS ISSUE FEATURING SUPERMODEL HILARY RHODA, ACTRESS CHLOE GRACE MORETZ AND FRENCH CULT ACTRESS EMMANUELLE SEIGNER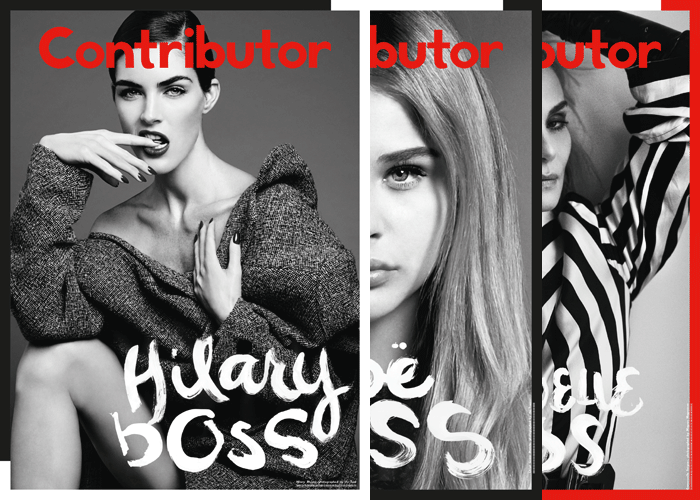 We decided that the ultimate way to explore the theme "boss" is through posters. Exploring the space around us with the help of icons, idols, portraits of heroes and world leaders is a tradition as old as civilization.
Photographer Yu Tsai shot two cover stories exclusively for Contributor Magazine featuring two of today's leading ladies in fashion and cinema, supermodel Hilary Rhoda and actress Chloë Grace Moretz. Our third cover story stars Emmanuelle Seigner, the brilliant French cult actress and musician shot by Magnus Magnusson.
With the theme of this issue we're also acknowledging that the true classic on leadership and management for ruthless bosses, The Prince, turns 500 years. Readers of different eras have interpreted Niccolò Machiavelli's political handbook in ways that match their own experience. In the 16th century an English cardinal argued that the real author of The Prince was Satan. Jean-Jacques Rousseau on the other hand insisted that Machiavelli was guiding people on how to secure a republic.The fashion world loves to play with symbols of power and borrow vocabulary from radical rhetoric and politics: revolution, democratization, hierarchy, system, tyrants, kings, queens, manifestos, dictators and so on. Big players in the fashion world are notorious for bossing around their employees and we all seem to love this kind of power mythology that surrounds fashion. But what kind of power does fashion hold in real life anyway? In academia it is often said that fashion reflects social changes. But it's safe to say that it is primarily the fashion world that is affected by changes in society, not vice versa. So, who is the boss? Maybe the latest issue of Contributor Magazine will give you some answers. Put the posters in this issue (Contributor #8) on your wall. Or do something else with them. You're the boss. In any case, it will take you a moment to unfold them.
This entire issue consists of 22 posters in the size of 100 centimeters x 70 centimeters, folded and sold in a package in a plastic envelope (50 cm x 35 cm).