Our Paris-based editor and photographer Sophie Caby bares all in a Proust questionnaire.
– The first person I photographed was my little brother Jordan, I used him like we would use a guinea pig. I used to put aluminium foil in his hair, crazy ugly make-up on his face and make him smoke an indian pipe when he was 8 years old. It was a disaster.
Your favorite qualities in a man.
– A smart sense of humour, agility, intelligence, feminine and eccentric tastes.
Your favorite qualities in a woman.
– I like when a woman is independent, sensuous, malicious and very respected by males.
Your chief characteristic.
– Hypersensitivity.
Your main fault:
– I'm stubborn.
Your heroes in fiction:
– He's not my hero really, but I love him very much. It's Arturo Bandini, the main character in many of John Fante's novels. He deeply moves me. Maybe because I feel like if I was a man, I would be the same. He's a loser, a maniac, obsessive, mysoginist, parano and egocentric but so funny and sensitive at the same time. Otherwise I'm very much in love with Roger Rabbit. And I adore Dumbo.
Your favorite food.
– I love when my friends cook for me. I'd say Yuka Honda is my favourite cook. She made me salmon miso soup, French smashed potatoes, and once she made the best salad ever, with lobster, celery, cilantro, I couldn't name
all that was in it. I love cod-liver with bread too.
What do you hate the most.
– I hate the sound of water boiling and cars honking.
How do you wish to die.
– I wish to die simultaneously with everybody.
Who would you like to have as a neighbour?
– Birds, fishes, ants, trees, deers, peacocks, grass, flowers… I like them to live close to me.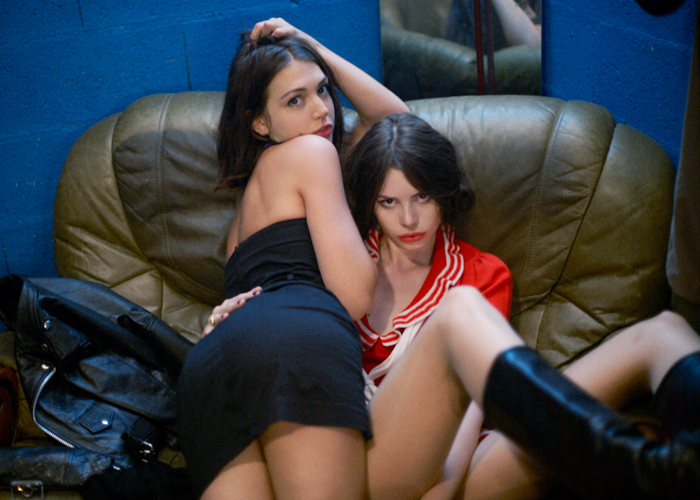 What's your favourite object to photograph?
– I realize I never take pictures of objects. Either human faces or landscapes but what I tend to always want to photograph is teeth. I can recognize every person I know by looking at their teeth.
What inspires you?
– Everything and nothing, but mostly everything. Most of the time music put me in a honest state of creation.
What makes you fall in love?
– A man that is vicious, perverse, violent and who take cares of me tenderly. Or a man who wears a pink pyjama and say "I love you, I really do" when he has known me only for 2 hours, cause I think It's a cute presentation of his sense of humour.
What's your favourite pastime?
– Dreaming while sleeping.
Painting (right) By Eden Rice