Photographer Yu Tsai met up with model Chris Garavaglia at Cooper House, Los Angeles. There they talked about guitars, studying law and Emma Watson. Click to read the interview.
Chris G : Sorry I am a bit late for our Skype interview.
Yu Tsai : you are excused. Where are you right now?
CG : I'm in Chicago.
YT : At your parent's house?
CG : No, my own apartment. I do have a roommate.
YT : I see that you have a Radiohead poster behind you. Is that your favorite band?
CG : I like them, but they aren't my favorite. I don't think I have an absolute favorite band, but right now, I'm really into "The Decemberists" and "Cold War Kids." But, I would have to say one of my favorite albums ever is Third Eye Blind's self-titled. I love music ever since I was young. I would sing along to the radio.
White shorts by HUGO BOSS red label, brown cardigan by PAUL SMITH.
YT : You don't anymore?
CG : Not as much. I wanted to be a rockstar when I was younger.
YT : Who doesn't. It's not too late for you. Only the good-looking people seem to make it in the music business. You have that going for you already.
CG : ( laughing and thinking ) I guess that is true. I got my first guitar when I was 14.
YT : I just started learning to play the acoustic guitar about 4 months ago. I am kinda addicted. I wish I had started when I was younger. Guitar is not a very Asian instrument you know.
CG : I started with the electric guitar. Now I love the acoustic Martin guitar.
Oversize knit cardigan by FREESOULand striped long sleeves shirt by APC.
YT : So you are a newbie in the modeling business. How do you like it so far?
CG : I guess you can say that. I am a "New Face" at Ford. But, I actually started about 2 years ago.
YT : Really? I haven't seen you. Where have you been the last two years.
CG : School, I wanted to finish school before I take on the modeling path.
YT : What were you studying?
CG : Public relations and communication.
YT : I'm sure that'll come in handy in modeling?
CG : I am also studying my LSAT now. I really want to be an entertainment lawyer. Live in New York or LA and work for a big studio like Warner Brother and such.
Oversize knit cardigan by FREESOUL and white shorts by HUGO BOSS red label.
YT : That is ambitious. Any other lawyers in the family that is influencing you?
CG : My Uncle, the one that got me the first guitar, he's a lawyer and my younger brother just changed his major in college from Biology to Law.
YT : What about your Dad?
CG : He's an electrical engineer.
YT : Oh, he's a nerd.
CG : Well, not anymore. I don't think. ( laughing ). He just works a lot. In fact, he works way too much.
YT : And your Mom, was she a nerd too?
CG : No, she was a stay-at-home Mom. Now my brother and I have both left the nest, she spends her time taking care of my Grandmother and my Aunt. My Aunt has down syndrome. My Mother is a very giving person and an incredible woman. I love her.
YT : Are they supportive in your modeling path?
CG : At first I thought my father would object. But he actually was really supportive. He trusted that I am smart enough to make good decisions and if modeling doesn't work out, I can still try to become a rockstar right?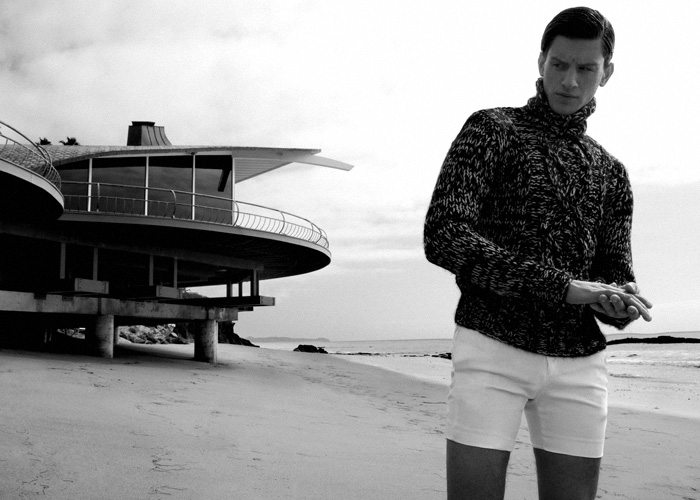 heavy cable knit turtle neck by DRIES VAN NOTEN and white shorts by HUGO BOSS red label.
YT : Right on… can't wait to hear your first single. ( Laughing ). How did modeling cross your path in the first place?
CG : Two years ago, I was scouted by my mother agent on my first day working at Abercrombie store at the front desk.
YT : Of course you would be working at Abercrombie. I heard that they only hire pretty people.
CG : Thanks! ( Laughing ) But, I don't work there anymore.
YT : Dont worry, you are still pretty. Except, who took a chunk off your right ear?
CG : I was born with it. There are only three other people in my family that have the same thing. Me and my late Grandpa on my Mom's side, and my nine-year-old cousin, Cade.
YT : That's interesting, but maybe you should tell people you got in to a bar fight and some crazy bitch took a bite off of your ear. It would make it a better story.
CG : Yeah Right? ( Laughing ).
brown striped short sleeves t shirt by H&M, white shorts by HUGO BOSS red label and sun glasses by vintage LINDA FARROW.
YT : Speaking of bitches. Dating anyone at the moment?
CG : No, I havent really dated anyone since I was in six grade.
YT : WHAT?
CG : Yeah, I am very picky and a true romantic. I do have a theory about dating. Might not be a good one. But for me, after I see a girl for 4 weeks or so, if I can't see myself being with her for the rest of my life, I walk away from the relationship.
YT : That sounds very romantic. I guess you haven't found some one that can pass your 4 week incubation period.
CG : Guess not! Wait there was one girl that I was into. But she dropped me after about 4 weeks.
YT : She must had the same theory of her own.
CG : ( laughing )
YT : When are you going to move to New York?
CG : Middle of March. I am very excited to live there.
YT : Model's apartment?
CG : Yeah, to start.
YT : Good luck with that. Are you ready to live the lifestyle of a model? Travel? and Party?
CG : I am excited. But, I know I am grounded enough to be responsible. Modeling is a job and business. I want to do it right.
YT : I heard you shot recently with Steven Klein for Calvin Klein underwear 2012 ads?
CG : Yes, You can see my face in the video, but only my body parts in print ads.
Straw hat by LANVIN.
YT : I hope it's the good part of the body we see.
CG : You can see the big vein in my arm. That's how you know its me.
YT : I will be sure to look out for that vein.
CG : Yeah, you can't miss it.
YT : ( laughing ) What are you going to do between casting calls to pass time?
CG : I am an avid reader.
YT : What do you like to read these days?
CG : My favorite book is Crime and Punishment, followed closely by Catcher in the Rye. Right now, I'm reading The Perks of Being a Wallflower, and it's definitely making its way onto my top list.
YT : I hear they are making The Perks of Being a Wallflower into a movie.
CG : ( with excitement ) Yeah! Emma Watson is going to be in the movie.
YT : I take it that Emma Watson is your kinda girl?
CG : Hells YES!!
YT : You do know that Emma Watson doesn't really know any magic that can turn you into a rockstar right?
CG : Oh!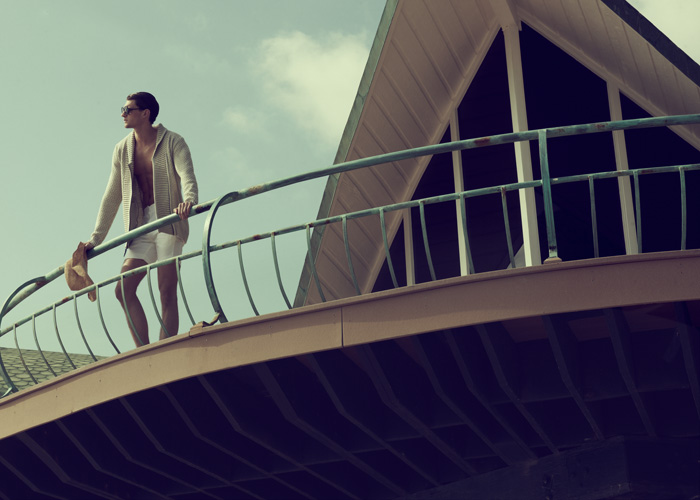 Cream cable knit by BURBERRY PRORSUM, white shorts by HUGO BOSS red label and sun glasses by vintage LINDA FARROW. Photographer and interview by Yu Tsai, modeling by Chris Garavaglia@Ford, styling by Wyman Chang, make up by Allan Avendano@opus beauty. Hair by John Ruggiero@Starworks Artists, production by 88phases.com and location Cooper House, Los Angeles, California.