A BRAND BUILT ON FIRE
Q&A WITH MARTIN RENCK, FOUNDER OF BRAND-FYR 
A couple of generations ago, the Renck family owned leather and textile factories before a series of fires put a stop to the business. Brand-Fyr picks up where this tradition left off: from an idea for a bag an exclusive accessory brand has emerged.
By Antonia Nessen. Portrait by Magnus Magnusson
"I started testing the model on my sewing machine at home and wanted to make a couple of bags for some buddies. A bag for everything you need when you leave your front door or go traveling. Computer, wallet, a case for your glasses, your mobile – you always have something to carry around," says Martin Renck, who has founded Brand-Fyr together with his brother Johan.
What does the name mean?
"Both 'Brand' in German and 'fyr' in the Scanian dialect mean fire. My father's side of the family is originally from Germany and when I did some digging I found out that the Renck family had worked with leather and textiles since the late Middle Ages. Before immigrating to Sweden they had produced leather goods and textiles for three hundred years in Neumünster in northern Germany. The story takes a dramatic turn some time in the first half of the nineteenth century when they imported steam-run machinery from Manchester and the factory was destroyed in a fire. But they didn't let that stop them and they rebuilt the business. After a couple of years two Renck relatives decided to establish a factory in Skåne in southern Sweden, but this factory was also destroyed in a fire. It remains to be seen if we're done with the burning."
What did the production of the bag look like once you had decided to launch an accessory brand?
"The model, which is the foundation of the collection, has a clear signature detail in the shape of a cross. When I decided to do this in earnest, I started testing the model at a number of manufacturers, from China to Borås, but none of them could get the cross to sit nicely in the corner. In the end I hit the jackpot after someone tipped me off about a mysterious basement factory at a secret location in Stockholm. They contributed with professional input and invaluable craftsmanship and we developed the final construction design together. Out of this basic theme I have developed a number of related accessories."
Why does this local factory suit Brand-Fyr?
"The factory we work with is probably the final outpost in Sweden for the classical craftsmanship we require. They have old but in today's app-culture surprisingly advanced mechanical machines that can't be found on the market anymore. The fact that they're keeping the factory going is almost a matter of cultural heritage."
What is your background?
"I have worked as a designer and art director in advertising and as a brand consultant in the fashion industry for about twenty-five years. I like the design aspect the most so I thought I might as well create an accessory brand that we could develop and raise ourselves."
What inspired you in your design?
"I like metal. I wanted this to be evident in the collection. We've used studs, antique brass, and black leather, which is a kind of uniform in hard rock with some of the aesthetics bringing to mind being 'strapped up' in different types of harnesses and armor. The big difference is that when metal appropriates bondage it's usually a matter of décor or elaboration, while all the details that we have used have a function in the construction. Another source of inspiration is in fact the stable. I am a former horse-rider and certain details can be traced back to equestrian gear, such as adjustable straps that you can tighten almost like a saddle or a bridle."
How can the different parts of the collection be combined?
"You can combine, deconstruct, and do as you please with all the parts of the collection. The belt can be linked to the wallet with a special strap, the key ring can be fixed to the bag or link the armbands like handcuffs and inside the bag you find a smaller detachable bag. It feels like it all fits together."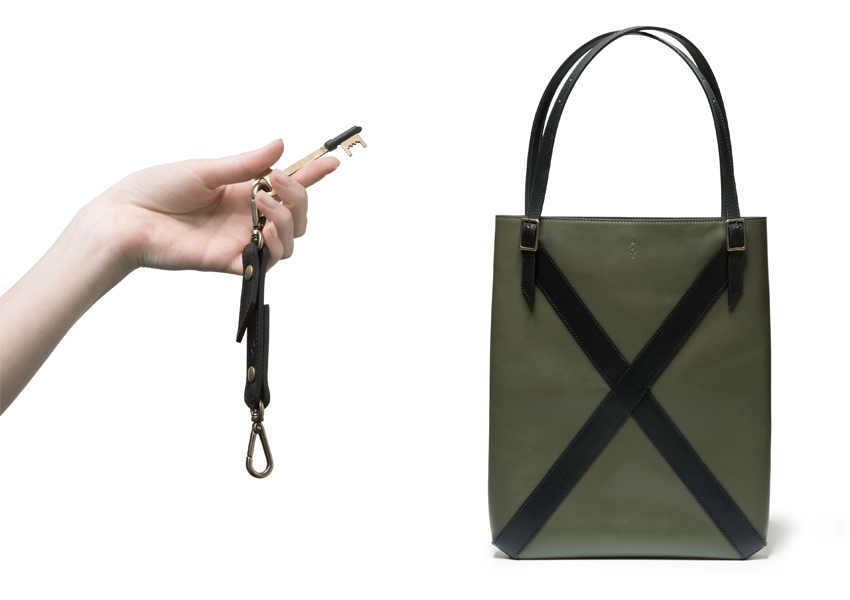 What are the advantages of both designing and producing Brand-Fyr in Stockholm?
 "We can follow the production process more closely, try new things, and change direction or details – most recently it was a matter of an unorthodox recombination of studs for example. Another advantage is that we can order smaller quantities and use fantastically exclusive leather that is both sustainable for the environment and durable to last a lifetime. Through the factory's sterling reputation and extensive network we have also been able to secure a number of skins that were actually meant for one of the big fashion houses in Milan. This is one of the reasons why the first collection will be a limited edition of one hundred of every model. None of this would have been possible if it hadn't been for this special factory. That's also why we like to keep it a secret."
What is on your drawing board at the moment?
We are talking about doing a canvas range. And we are also looking at a slightly bigger weekend bag and a smaller type of utility bag with a longer shoulder strap based on how stylists and hair and make-up artists or hairdressers work. They need a lot of pockets so that their tools are easily accessible when they are working during film productions or fashion shoots etc. We also have another slightly different kind of product category on the go that we hope to launch this spring."
Brand-Fyrs's founders are Martin and Johan Renck. Martin has a long career as designer and art director within the advertising industry and as a brand consultant for the fashion industry behind him. Johan is an internationally acclaimed film director and photographer.
Copy editing: Bettina Schultz