BUY THE NEW BOSS ISSUE HERE ALONG WITH PAST ISSUES
THE BOSS ISSUE FEATURING SUPERMODEL HILARY RHODA, ACTRESS CHLOE GRACE MORETZ AND FRENCH CULT ACTRESS EMMANUELLE SEIGNER
We decided that the ultimate way to explore the theme "boss" is through posters. Exploring the space around us with the help of icons, idols, portraits of heroes and world leaders is a tradition as old as civilization.
Photographer Yu Tsai shot two cover stories exclusively for Contributor Magazine featuring two of today's leading ladies in fashion and cinema, supermodel Hilary Rhoda and actress Chloë Grace Moretz. Our third cover story stars Emmanuelle Seigner, the brilliant French cult actress and musician shot by Magnus Magnusson.
With the theme of this issue we're also acknowledging that the true classic on leadership and management for ruthless bosses, The Prince, turns 500 years. Readers of different eras have interpreted Niccolò Machiavelli's political handbook in ways that match their own experience. In the 16th century an English cardinal argued that the real author of The Prince was Satan. Jean-Jacques Rousseau on the other hand insisted that Machiavelli was guiding people on how to secure a republic.The fashion world loves to play with symbols of power and borrow vocabulary from radical rhetoric and politics: revolution, democratization, hierarchy, system, tyrants, kings, queens, manifestos, dictators and so on. Big players in the fashion world are notorious for bossing around their employees and we all seem to love this kind of power mythology that surrounds fashion. But what kind of power does fashion hold in real life anyway? In academia it is often said that fashion reflects social changes. But it's safe to say that it is primarily the fashion world that is affected by changes in society, not vice versa. So, who is the boss? Maybe the latest issue of Contributor Magazine will give you some answers. Put the posters in this issue (Contributor #8) on your wall. Or do something else with them. You're the boss. In any case, it will take you a moment to unfold them.
This entire issue consists of 22 posters in the size of 100 centimeters x 70 centimeters, folded and sold in a package in a plastic envelope (50 cm x 35 cm).
THE HEAD PIECE ISSUE FEATURING ACTOR AND MUSICIAN JARED LETO
The new issue is themed "head piece" and is centered around what goes on inside and outside the head. For the cover story, Yu Tsai shot and interviewed Jared Leto in L.A. Sophie Caby met up with director Gaspar Noe in Paris, Maria Ben Saad talked to
Caroline Evans about her new book on the first fashion shows, Ann-Sofie Back headed out to the shooting range with a couple of female cops from the Stockholm police force and Tom Greenwood tracked down whatever happened to the harpsichord. The rest of the issue is filled with fiction, neuro science, fetishism, food, quantum mechanics, art and pictures from close to seventy contributors.
ALL HAIL THE QUEENS ISSUE FEATURING ACTRESS AND MUSICIAN COURTNEY LOVE
For this issue, we also decided to take a closer look at designer Ann-Sofie Back without letting her know anything about our plans. We contacted her closest friends, colleagues and collaborators, and had paparazzi photographers follow her every move around Stockholm.
We decided it's worth showing all her collections in one issue because the memory of the fashion world is like that of a guppy. Fashion just keeps happening, so many designers recycle themselves and recycle other designers. Given all that, it's interesting to pause and delve deep into one designer. In this case someone that addresses the quotidian in a way that we can all relate to, and who has chosen to be true to her viewpoint all the way. Ann-Sofie has always emphasized the social side of fashion, and addressed how we constantly fail to live up to the ideal version of ourselves, be it through clothes or other forms of expressions. And why should that failure be so bad? Ann-Sofie has the ability to relativize beauty and to reverse the order by making the unappealing beautiful. In the magazine; Courtney Love, Ann-Sofie Back, Walter van Beirendonck. Text and photography by, amongst others, Hallie Elizabeth Newton, Fransesca Granata, Julie Cirelli, Maria Ben Saad, Anders Edstrom, Ola Bergengren and Magnus Magnusson.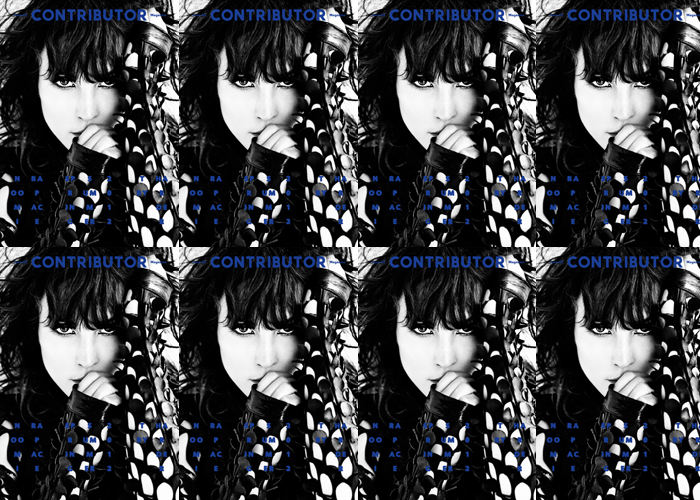 THE TRY HARDER ISSUE FEATURING ACTRESS NOOMI RAPACE
For the Fifth cover of Contributor Magazine, new superstar actress Noomi Rapace was styled in
Givenchy by editor-in-chief Robert Rydberg and shot by Magnus Magnusson in black and white. Besides containing a story on Rapace, the inside of the magazine, themed "Try Harder", features great photography by Camilla Akrans, Hasse Nielsen, Ukrainian duo Synchrodogs and more, combined with innovative short stories, articles and interviews that push the boundaries of what you expect from fashion writing.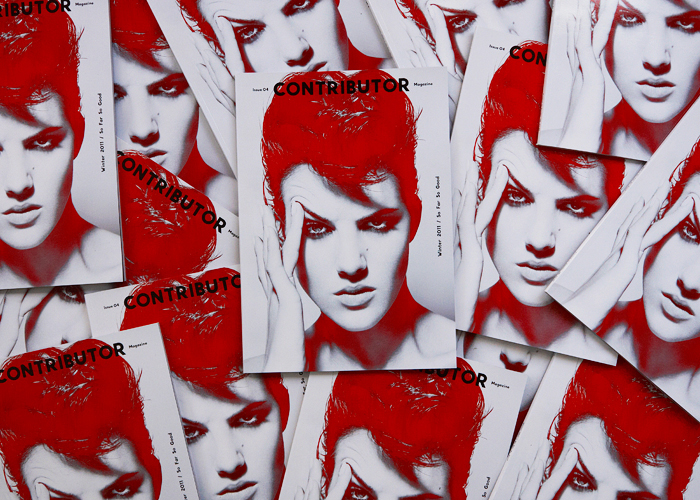 THE SO FAR SO GOOD ISSUE FEATURING MODEL ELIZA CUMMINGS
The fourth printed issue of Contributor Magazine features top model Eliza Cummings on the cover photographed by Camilla Åkrans and fashion by editor-in-chief Robert Rydberg. For this issue, we have discussed lost paradises and the possibilities in fashion for dreaming up new realities. While people are less likely in our era to imag- ine future utopias, and are rather more fascinated by the supposed realities of different dystopias, fashion is a landscape based on a never ceasing need for extraordinary imagery. The dialogue between identity and different places is a characteristic of these experiments with image flows, and a theme in our vision for the winter months of the season of 2011 and 2012. Contributor 4 also features the online hit What We're Wearing Tomorrow and texts by Maria Ben Saad, Tom Greenwood, Hallie Newton and Jocko Weyland.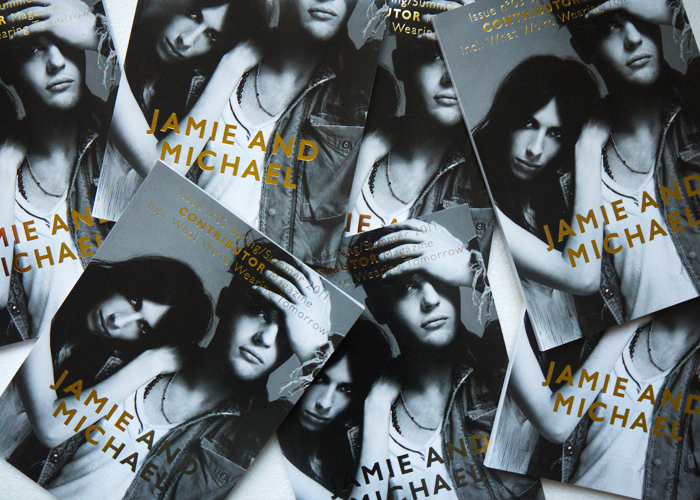 JAMIE AND MICHAEL ISSUE FEATURING MODEL JAMIE BOCHERT AND ACTOR MICHAEL PITT
For us, these past months meant a renewed appetite for the empty room – an imaginary space; a new microcosm where you can capture moments, articulate dreams, memories and ideas, all things ephemeral. Ideally, it is a kind of free zone, a place away from external reality. The illusion is created when we liberate ourselves from time and space, as well as death. Like when winter in stockholm stretches into May, but the signs of snow outside the window disappear. The future waits beyond the new horizons. Aldous Huxley publishes his dystopian vision of the future "brave new World" in the 1930s. In this issue the writer Tom Greenwood asks himself if there actually is anything brave and new about our world? In our main fashion story, shot by Hasse Nielsen, it becomes quite obvious when we use old, symbolic and ceremonial objects (such as a bridal veil) that subtle terms like purity, innocence, identity and tradition are all fluid. History is a process. and now more than ever the creation and maintenance of traditions – building contexts and continuity – relies heavily on imagery. The studio can become a stage where unexpected links are made between forms, styles, values and symbols, with entirely new forms of expression. But the empty room is as paradoxical as fashion itself. Totally transparency can be frightening. a kind of fear that is triggered by what people think they can see or read between the lines or amongst the shadows. A kind of "cosmic fear," as H.P. Lovecraft called it, where the exchange between light and darkness is fundamental and can be a magnificent backdrop to security, giving it meaning. In ancient Egypt the sun was worshipped as a god, as was the moon and the planets. The sun was a constant force in everyday life, dictating harvest and planting. There are existential questions around macrocosms, moon phenomena, the sun, the stars and the origin of the universe that will probably always haunt us. The tension between micro and macro perspectives can be an enchanting attraction; and we see that fashion at its best is a force for democracy and development – a central part of our culture. Contributor issue no 03 is dedicated to Alex Lidbeck.
HAPPINESS AHEAD ISSUE FEATURING ACTRESS ROSE McGOWAN
So what is the best way to describe why the magazine looks the way it does? One of our starting points was the sect: individuals that form a group and the mentality that holds the group together. A kind of coming together under the same umbrella, like the people who gathered around Warhol, Gertrude Stein or Jesus and his disciples. You put a person, a religion or an ideology on a pedestal. A luminous leader who manages to convince everyone to commit mass suicide in order to be able to get on a spaceship with an unknown destination, since the universe is expanding and the apocalypse is near. Fashion is as much an armor, as a disguise or an expression. It offers support and shelter to both bodies and identities, much like a persona around a famous person, a sect leader or a religious figure. In the end it all comes down to the basic metamorphosis, the way you look at the world in accordance with the changes it is going through.
Through styling and fashion images we have the opportunity to comment on our fictionalized world and all its possibilities. Today, much editorial work in fashion is driven by a kind of regime of clarity; it's all centered on straightforwardness, control and focus on specific garments. This means that doors are closed, which I believe contradicts the elusive character of fashion. I have a hard time seeing the point of crystal clear messages in this era we live in. Fashion today doesn't comprise a clearly defined group, but rather parallel movements, we can call them sects. For us antitheses to the stripped and rational are very important, alternatives that are nonetheless rooted in reality and, above all, in the work process. Another starting point for this issue was the different meanings of the word gay. It is a word with many different definitions and connotations. What it means, that is up to each of us to decide.
Most importantly, in this issue I wanted to expose the creative work process. We react to events. We gather impressions without noticing. The creative process is all about context; circumstances, encounters and discussions are central. If it were a room it would be a kind of atelier, and you never know what to expect before meeting there. In my view the process represents the core of what is to a certain extent, in essence, fashion, and it is probably the only way to capture and present a dimension of fashion that would otherwise have remained hidden. In our case it's a ritual that ends with What we're wearing tomorrow. Have a good time all the time.
ISSUE NO 01 FEATURING ACTRESS EVA MENDES
Featuring cover star Eva Mendes, the first print issue of Contributor is here. Exploring fashion through art and photography, the theme running through this issue is Folklore. Editor and photographer Sophie Caby went to Puerto Rico to interview Benicio del Toro, Lindsay Lohan opened up her closet and we talked with Sean Lennon, Charlotte Kemp Muhl and Waris Ahluwalia about the future of creativity and met up with actress Paz de la Huerta. There's fashion photography by Jason Kibbler, Camilla Akrans, Magnus Magnusson, Hasse Nielsen, Yu Tsai and many more. The issue also features the online hit What We're Wearing Tomorrow and essays by Maria Ben Saad, Caroline Ringskog Ferrada-Noli and Daniel Bjork.