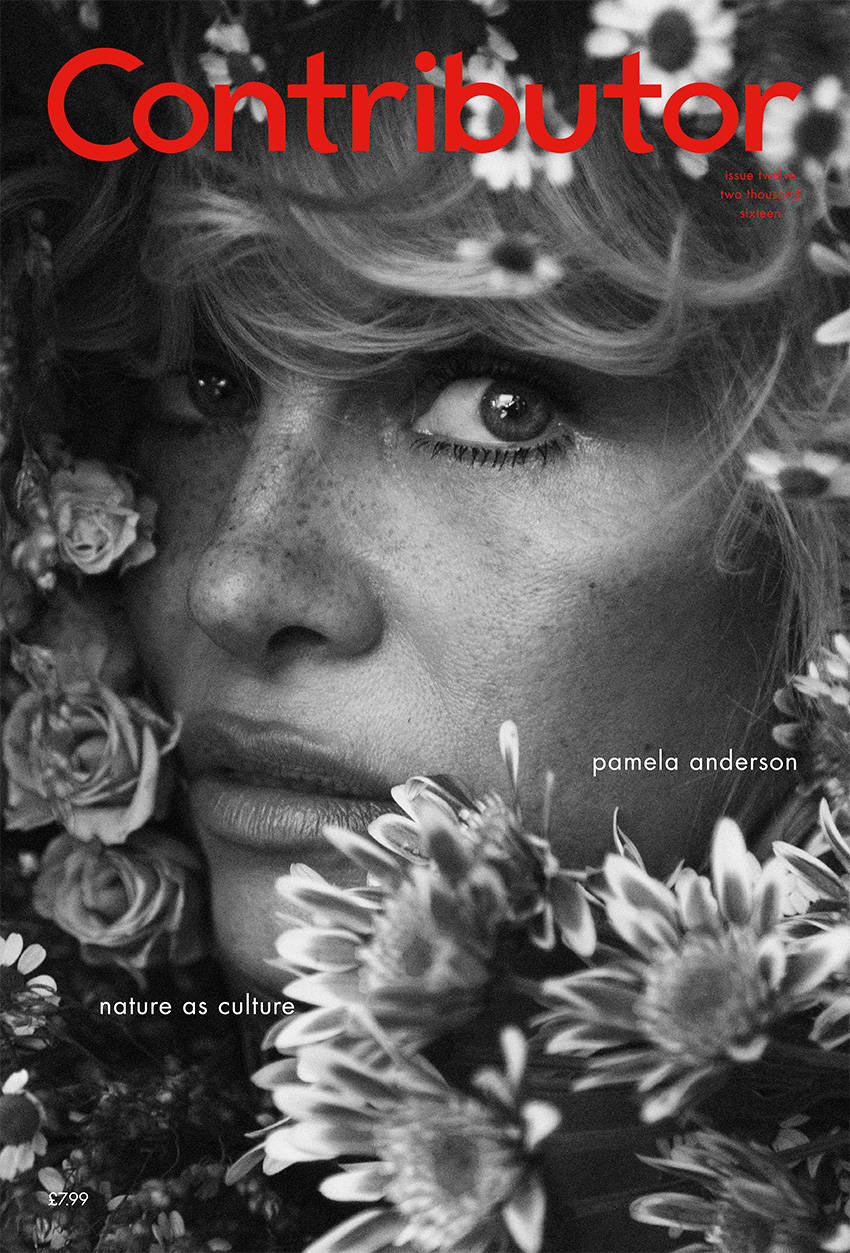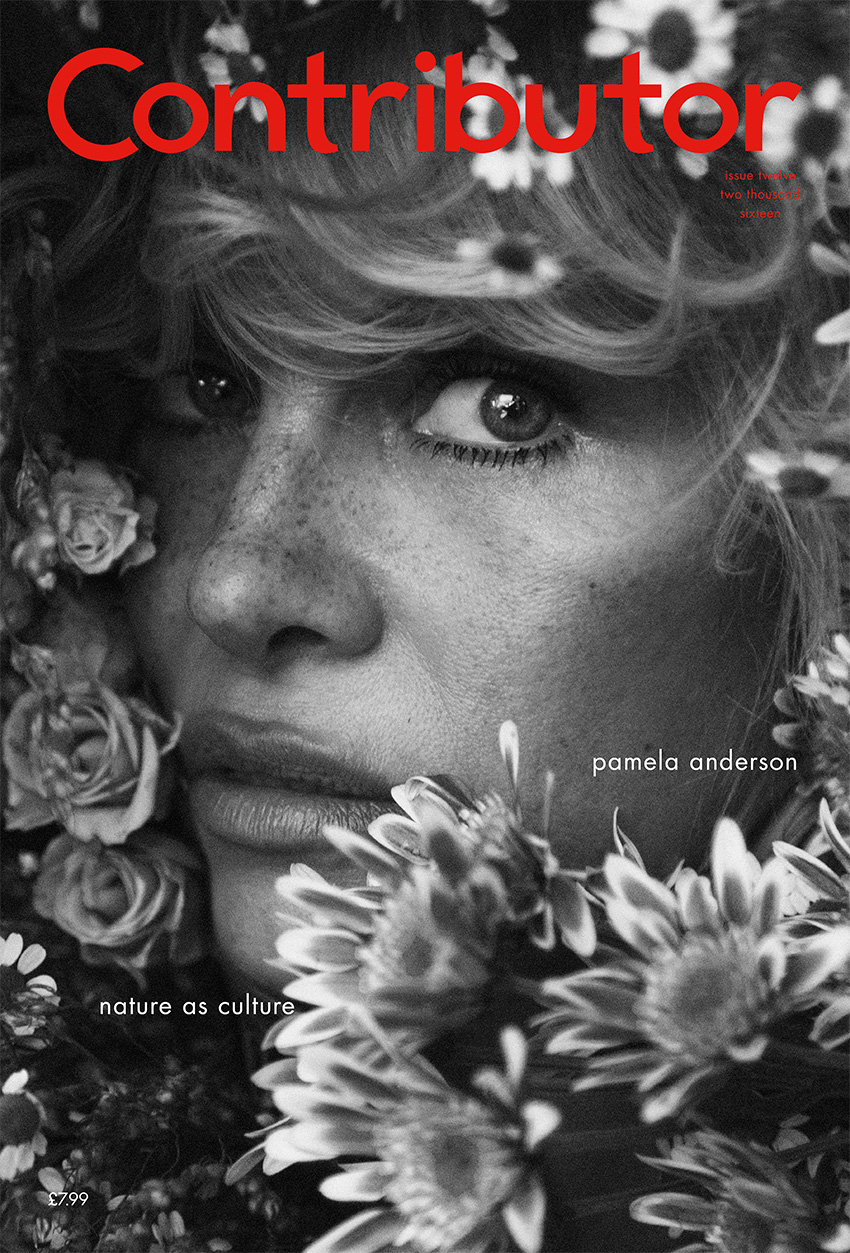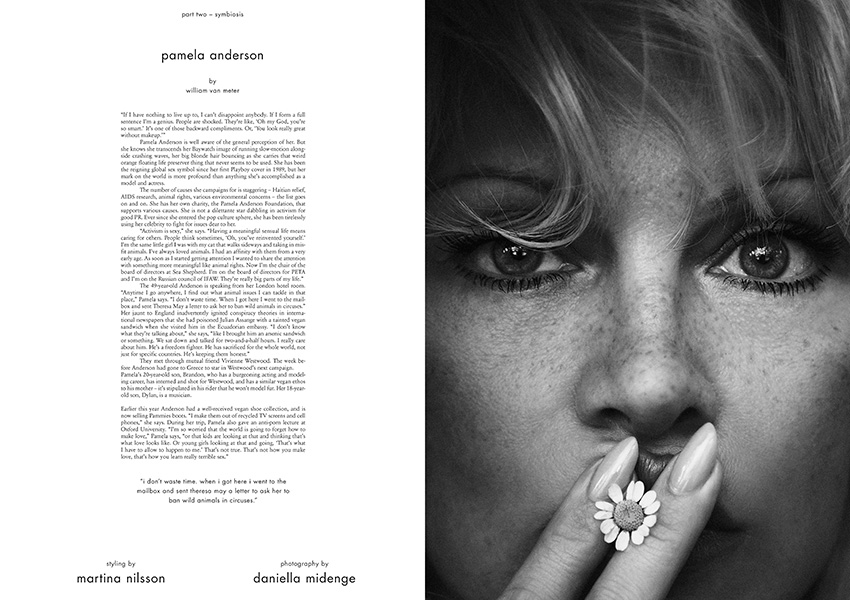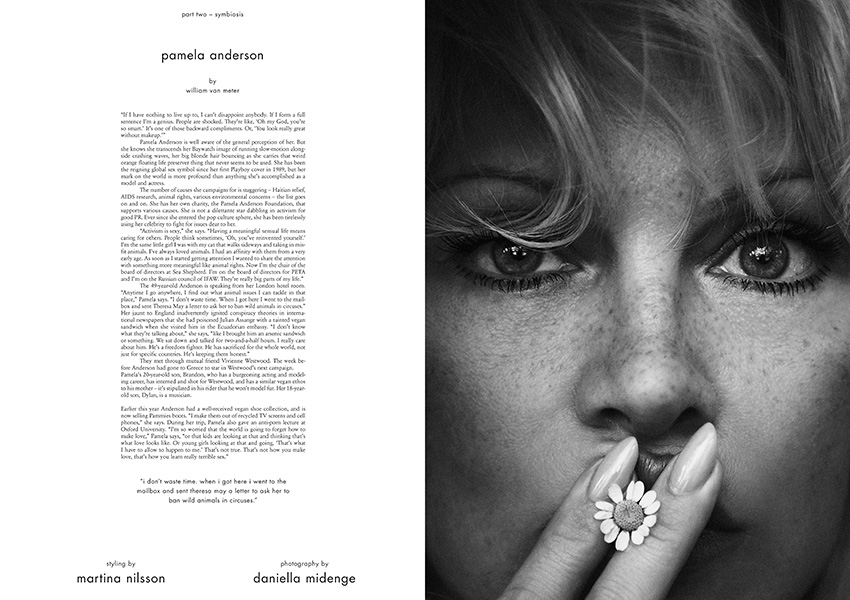 Pamela Anderson
by William Van Meter
"If I have nothing to live up to, I can't disappoint anybody. If I form a full sentence I'm a genius. People are shocked. They're like, 'Oh my God, you're so smart.' It's one of those backward compliments. Or, 'You look really great without makeup.'"
Pamela Anderson is well aware of the general perception of her. But she knows she transcends her Baywatch image of running slow-motion alongside crashing waves, her big blonde hair bouncing as she carries that weird orange floating life preserver thing that never seems to be used. She has been the reigning global sex symbol since her first Playboy cover in 1989, but her mark on the world is more profound than anything she's accomplished as a model and actress.
The number of causes she campaigns for is staggering – Haitian relief, AIDS research, animal rights, various environmental concerns – the list goes on and on. She has her own charity, the Pamela Anderson Foundation, that supports various causes. She is not a dilettante star dabbling in activism for good PR. Ever since she entered the pop culture sphere, she has been tirelessly using her celebrity to fight for issues dear to her.
"Activism is sexy," she says. "Having a meaningful sensual life means caring for others. People think sometimes, 'Oh, you've reinvented yourself.' I'm the same little girl I was with my cat that walks sideways and taking in misfit animals. I've always loved animals. I had an affinity with them from a very early age. As soon as I started getting attention I wanted to share the attention with something more meaningful like animal rights. Now I'm the chair of the board of directors at Sea Shepherd. I'm on the board of directors for PETA and I'm on the Russian council of IFAW. They're really big parts of my life."
The 49-year-old Anderson is speaking from her London hotel room. "Anytime I go anywhere, I find out what animal issues I can tackle in that place," Pamela says. "I don't waste time. When I got here I went to the mailbox and sent Theresa May a letter to ask her to ban wild animals in circuses." Her jaunt to England inadvertently ignited conspiracy theories in international newspapers that she had poisoned Julian Assange with a tainted vegan sandwich when she visited him in the Ecuadorian embassy. "I don't know what they're talking about," she says, "like I brought him an arsenic sandwich or something. We sat down and talked for two-and-a-half hours. I really care about him. He's a freedom fighter. He has sacrificed for the whole world, not just for specific countries. He's keeping them honest."
They met through mutual friend Vivienne Westwood. The week before Anderson had gone to Greece to star in Westwood's next campaign. Pamela's 20-year-old son, Brandon, who has a burgeoning acting and modeling career, has interned and shot for Westwood, and has a similar vegan ethos to his mother – it's stipulated in his rider that he won't model fur. Her 18-year-old son, Dylan, is a musician.
Earlier this year Anderson had a well-received vegan shoe collection, and is now selling Pammies boots. "I make them out of recycled TV screens and cell phones," she says. During her trip, Pamela also gave an anti-porn lecture at Oxford University. "I'm so worried that the world is going to forget how to make love," Pamela says, "or that kids are looking at that and thinking that's what love looks like. Or young girls looking at that and going, 'That's what I have to allow to happen to me.' That's not true. That's not how you make love, that's how you learn really terrible sex."
It might seem incongruous for a former Playboy playmate (Anderson was the magazine's final nude cover star for their January issue) and inadvertent star of a massively successful porn film (the tape of her and then-husband Tommy Lee was stolen from their home and they received no proceeds from the pilfered film). But Pamela is coming at the subject with a sex-positive, non-prurient viewpoint, and is working on a book called The Sensual Revolution. "I'm talking about sensuality as a sexy kindness," she says of the book. "How you can have wild, uninhibited sex in a committed relationship where you've gotten to know somebody and there's courtship. Romantic movies and music can tie into it. It's not just about masturbating with someone else's body." She continues, "If you don't have any empathy for your fellow human beings, how do you have empathy for animals, for the environment? It's all connected."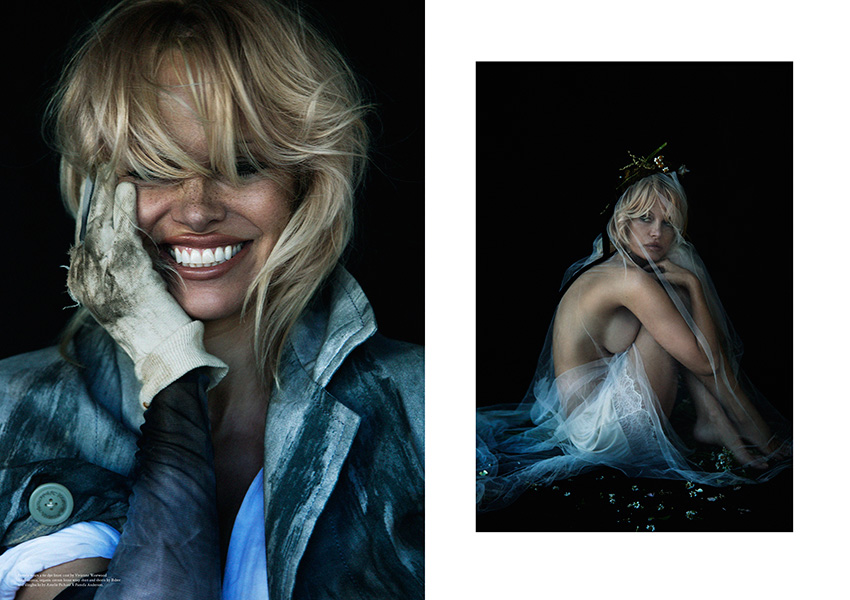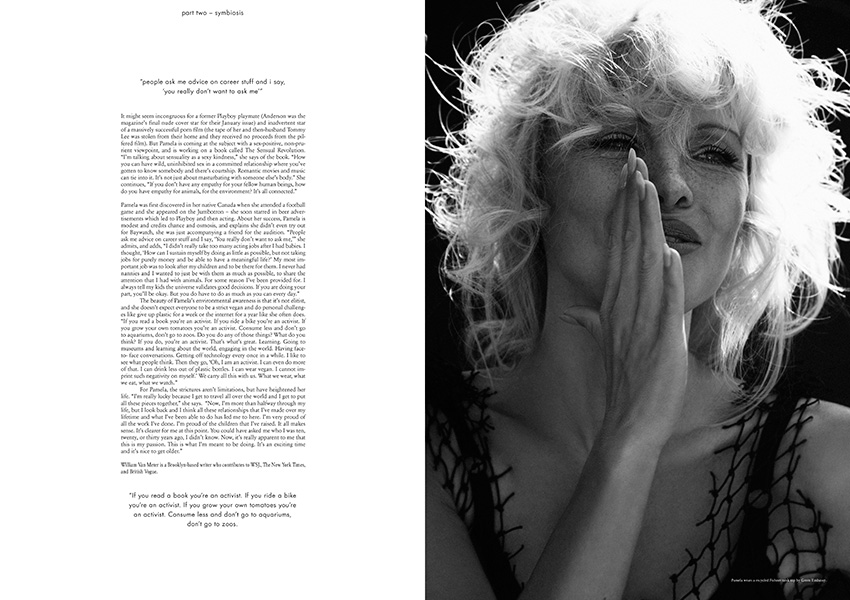 Pamela was first discovered in her native Canada when she attended a football game and she appeared on the Jumbotron – she soon starred in beer advertisements which led to Playboy and then acting. About her success, Pamela is modest and credits chance and osmosis, and explains she didn't even try out for Baywatch, she was just accompanying a friend for the audition. "People ask me advice on career stuff and I say, 'You really don't want to ask me,'" she admits, and adds, "I didn't really take too many acting jobs after I had babies. I thought, 'How can I sustain myself by doing as little as possible, but not taking jobs for purely money and be able to have a meaningful life?' My most important job was to look after my children and to be there for them. I never had nannies and I wanted to just be with them as much as possible, to share the attention that I had with animals. For some reason I've been provided for. I always tell my kids the universe validates good decisions. If you are doing your part, you'll be okay. But you do have to do as much as you can every day."
The beauty of Pamela's environmental awareness is that it's not elitist, and she doesn't expect everyone to be a strict vegan and do personal challenges like give up plastic for a week or the internet for a year like she often does. "If you read a book you're an activist. If you ride a bike you're an activist. If you grow your own tomatoes you're an activist. Consume less and don't go to aquariums, don't go to zoos. Do you do any of those things? What do you think? If you do, you're an activist. That's what's great. Learning. Going to museums and learning about the world, engaging in the world. Having face-to-face conversations. Getting off technology every once in a while. I like to see what people think. Then they go, 'Oh, I am an activist. I can even do more of that. I can drink less out of plastic bottles. I can wear vegan. I cannot imprint such negativity on myself.' We carry all this with us. What we wear, what we eat, what we watch."
For Pamela, the strictures aren't limitations, but have heightened her life. "I'm really lucky because I get to travel all over the world and I get to put all these pieces together," she says. "Now, I'm more than halfway through my life, but I look back and I think all these relationships that I've made over my lifetime and what I've been able to do has led me to here. I'm very proud of all the work I've done. I'm proud of the children that I've raised. It all makes sense. It's clearer for me at this point. You could have asked me who I was ten, twenty, or thirty years ago, I didn't know. Now, it's really apparent to me that this is my passion. This is what I'm meant to be doing. It's an exciting time and it's nice to get older."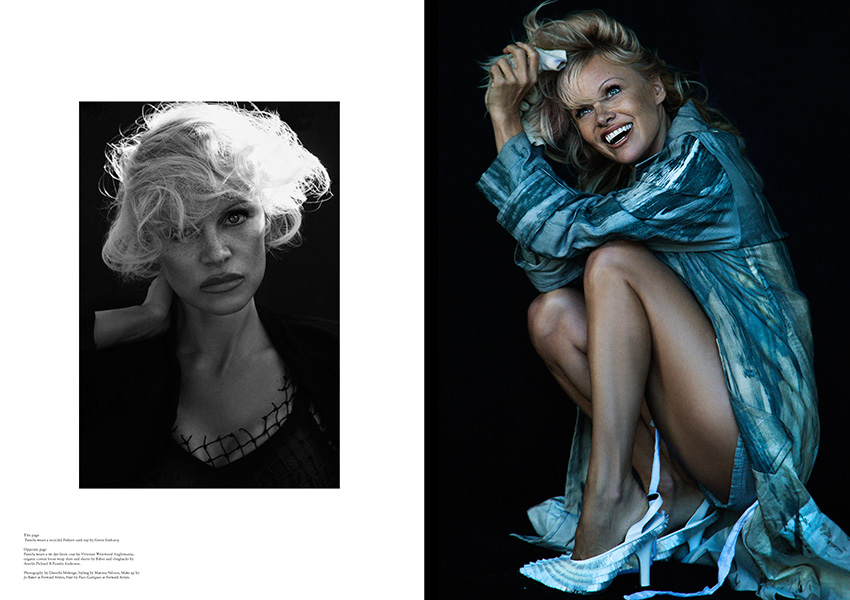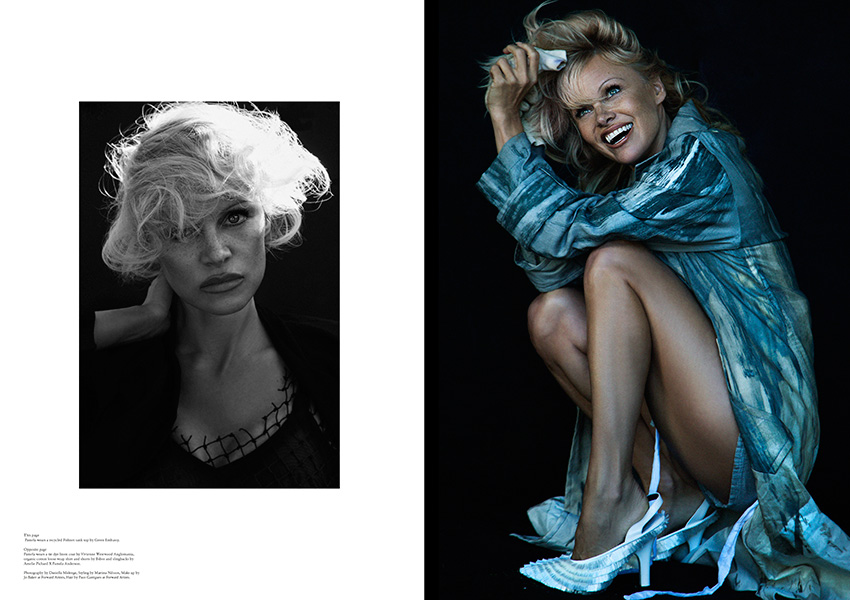 William Van Meter is a Brooklyn-based writer who contributes to WSJ., The New York Times, and British Vogue.