Vagabond Shoemakers: "We are driven by curiosity in everything we do"
A Cycle of Creativity
Interview with Vagabond Shoemakers
"We see ourselves as a fashion brand rather than a shoe brand and we believe that great design should not have to cost a fortune." With an eye for the future, Vagabond Shoemakers established itself as a leading European footwear brand, both high in quality and style, over thirty years ago. At the time for this interview they have just launched their latest Atelier collaboration.
By Antonia Nessen
"Limited collections give us freedom to try out new techniques, qualities and to use our legacy and craftsmanship as shoemakers. We are driven by curiosity in everything we do. For several seasons we have portrayed and collaborated with individuals that inspire us."
Atelier is a platform for the Vagabond design studio to explore fashion, production and sustainability through capsule collections. This season, they have partnered up with British art photographer Annie Collinge. Mixing reality and fantasy in humorous and clever ways, Annie has created a wonderful oeuvre with several recognizable portrait series and still lifes, working with details such as trompe l'oeil effects and dollhouse miniatures.
"When we realized we were developing a women's collection that had a life of its own, the idea of collaborating with Annie Collinge felt very natural and something we wanted to explore. She added a new dimension to the collection, full of her own curiosity and mystery."
The photo series is shot by Annie Collinge in a playful atmosphere with different body parts in unexpected scale and proportions. You can also enjoy the images as posters or carry them around as totebags.
 "Annie has a contagious creativity that we admire and brings us joy and inspiration. It is almost like a cycle of creativity. Hopefully we'll inspire somebody else in turn."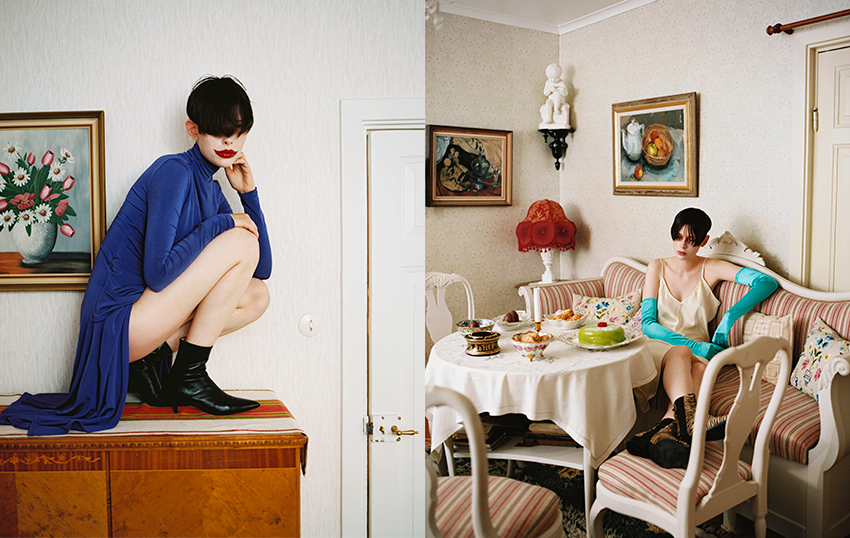 Shoes consist of many different components, everything from soles to linings. How long does it take to develop a collection and what are the different steps?
"Normally we start with the collection one year before you see it in the stores. We make all the prototypes in our studio and workshop inhouse. If you start from scratch developing a new last and a new outsole it can take a week to have the prototype ready. If we have an existing last and outsole we can make a new shoe in a couple of hours. To see the different steps you can watch our Shoemaker film online on our website."
Tell us about the AW19 silhouette. Are there any fashion trends that have been especially interesting in your research?
"The inspiration is mostly from our own archives from the 1990s when we made sporty, moulded outsoles. This season we also put focus on the long slender shoe lasts and we love the square toes."
How would you describe your design philosophy?
"We are your wardrobes' best friend. Above all we believe in style and style has no nationality, age or gender. The most important thing is the look of the shoe last and the harmony between the last and the outsole. We care a lot about the details as they make the difference, starting from the idea that "less is more".
You have a sustainable approach to shoemaking and want to offer long-lasting products. For example, you use chrome-free tanned leather, recycled polyester, organic GOTS-certified cotton and Tencel Lyocell fibers in your collections. Through the Shoe Bring Back program, customers can leave shoes for systematic reuse and circular recycling in all your concept stores. In what ways do you think your eco-friendly philosophy can help challenge the current production and consumption paradigms in fashion?
"Close relationships and joint efforts are what it takes! The consumers, the market places and the brands need to work together to, for instance, collect used shoes. We also believe in teaming up with other brands to improve as an industry. The third part is to collaborate with companies in other industries. Our glue project where we aim to find a new and better composed glue, not yet available on the market, is one that we do with Swerea, a Swedish laboratory."
What are your sources of inspiration?
"People! All the interesting people that we meet in our everyday work when traveling abroad, or just on our way to the studio."
Atelier By Vagabond is available in stores and online. For more information on Vagabond Shoemakers, visit www.vagabond.com