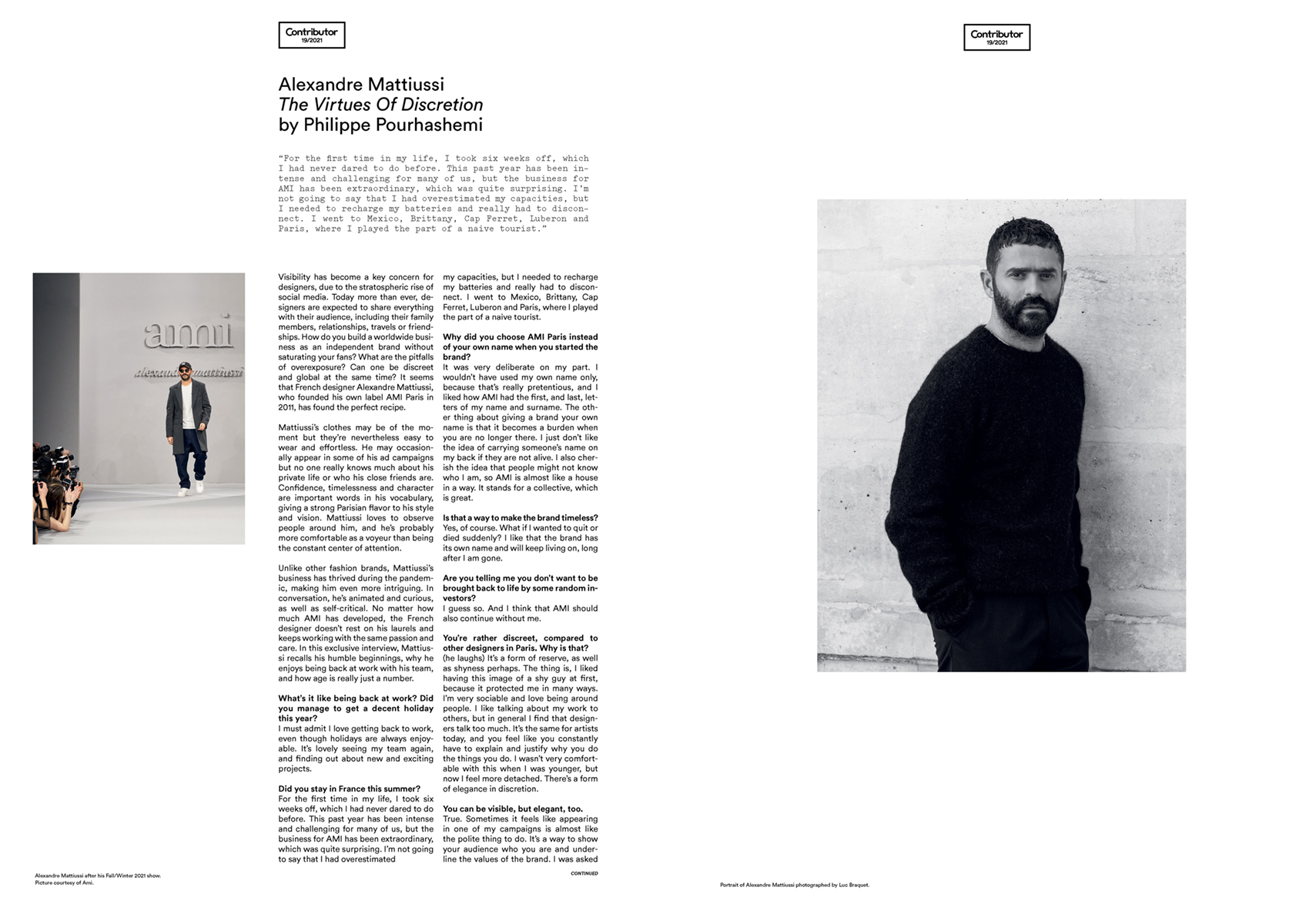 The Virtues Of Discretion.
Interview with Alexandre Mattiussi by Philippe Pourhashemi
Visibility has become a key concern for designers, due to the stratospheric rise of social media. Today more than ever, designers are expected to share everything with their audience, including their family members, relationships, travels or friendships. How do you build a worldwide business as an independent brand without saturating your fans? What are the pitfalls of overexposure? Can one be discreet and global at the same time? It seems that French designer Alexandre Mattiussi, who founded his own label AMI Paris in 2011, has found the perfect recipe.
Mattiussi's clothes may be of the moment but they're nevertheless easy to wear and effortless. He may occasionally appear in some of his ad campaigns but no one really knows much about his private life or who his close friends are. Confidence, timelessness and character are important words in his vocabulary, giving a strong Parisian flavor to his style and vision. Mattiussi loves to observe people around him, and he's probably more comfortable as a voyeur than being the constant center of attention.
Unlike other fashion brands, Mattiussi's business has thrived during the pandemic, making him even more intriguing. In conversation, he's animated and curious, as well as self-critical. No matter how much AMI has developed, the French designer doesn't rest on his laurels and keeps working with the same passion and care. In this exclusive interview, Mattiussi recalls his humble beginnings, why he enjoys being back at work with his team, and how age is really just a number.
What's it like being back at work? Did you manage to get a decent holiday this year?
I must admit I love getting back to work, even though holidays are always enjoyable. It's lovely seeing my team again, and finding out about new and exciting projects.
Did you stay in France this summer?
For the first time in my life, I took six weeks off, which I had never dared to do before. This past year has been intense and challenging for many of us, but the business for AMI has been extraordinary, which was quite surprising. I'm not going to say that I had overestimated my capacities, but I needed to recharge my batteries and really had to disconnect. I went to Mexico, Brittany, Cap Ferret, Luberon and Paris, where I played the part of a naive tourist.
Why did you choose AMI Paris instead of your own name when you started the brand?
It was very deliberate on my part. I wouldn't have used my own name only, because that's really pretentious, and I liked how AMI had the first, and last, letters of my name and surname. The other thing about giving a brand your own name is that it becomes a burden when you are no longer there. I just don't like the idea of carrying someone's name on my back if they are not alive. I also cherish the idea that people might not know who I am, so AMI is almost like a house in a way. It stands for a collective, which is great.
Is that a way to make the brand timeless?
Yes, of course. What if I wanted to quit or died suddenly? I like that the brand has its own name and will keep living on, long after I am gone.
Are you telling me you don't want to be brought back to life by some random investors?
I guess so. And I think that AMI should also continue without me.
You're rather discreet, compared to other designers in Paris. Why is that?
(he laughs) It's a form of reserve, as well as shyness perhaps. The thing is, I liked having this image of a shy guy at first, because it protected me in many ways. I'm very sociable and love being around people. I like talking about my work to others, but in general I find that designers talk too much. It's the same for artists today, and you feel like you constantly have to explain and justify why you do the things you do. I wasn't very comfortable with this when I was younger, but now I feel more detached. There's a form of elegance in discretion.
You can be visible, but elegant, too.
True. Sometimes it feels like appearing in one of my campaigns is almost like the polite thing to do. It's a way to show your audience who you are and underline the values of the brand. I was asked recently to read some of my previous interviews, and realized I don't mention the 'I' word very often, which was interesting. Fashion is not about single egos, but entire teams and people reflecting and exchanging ideas together to make it happen, whether it be clothing, ads, strategy or fabric choices. I'm not alone in my office deciding for everything. I like to think of myself as a conductor, but I'd be nothing without my musicians.
I sometimes wonder if the final consumer even knows who the designer is.
Most of them don't. I've been in Paris for 23 years now and people do recognize me sometimes, but it's always in a kindly way. Today I feel like I'm not the brand anymore, and can dissociate myself from AMI. That wasn't always the case when I started.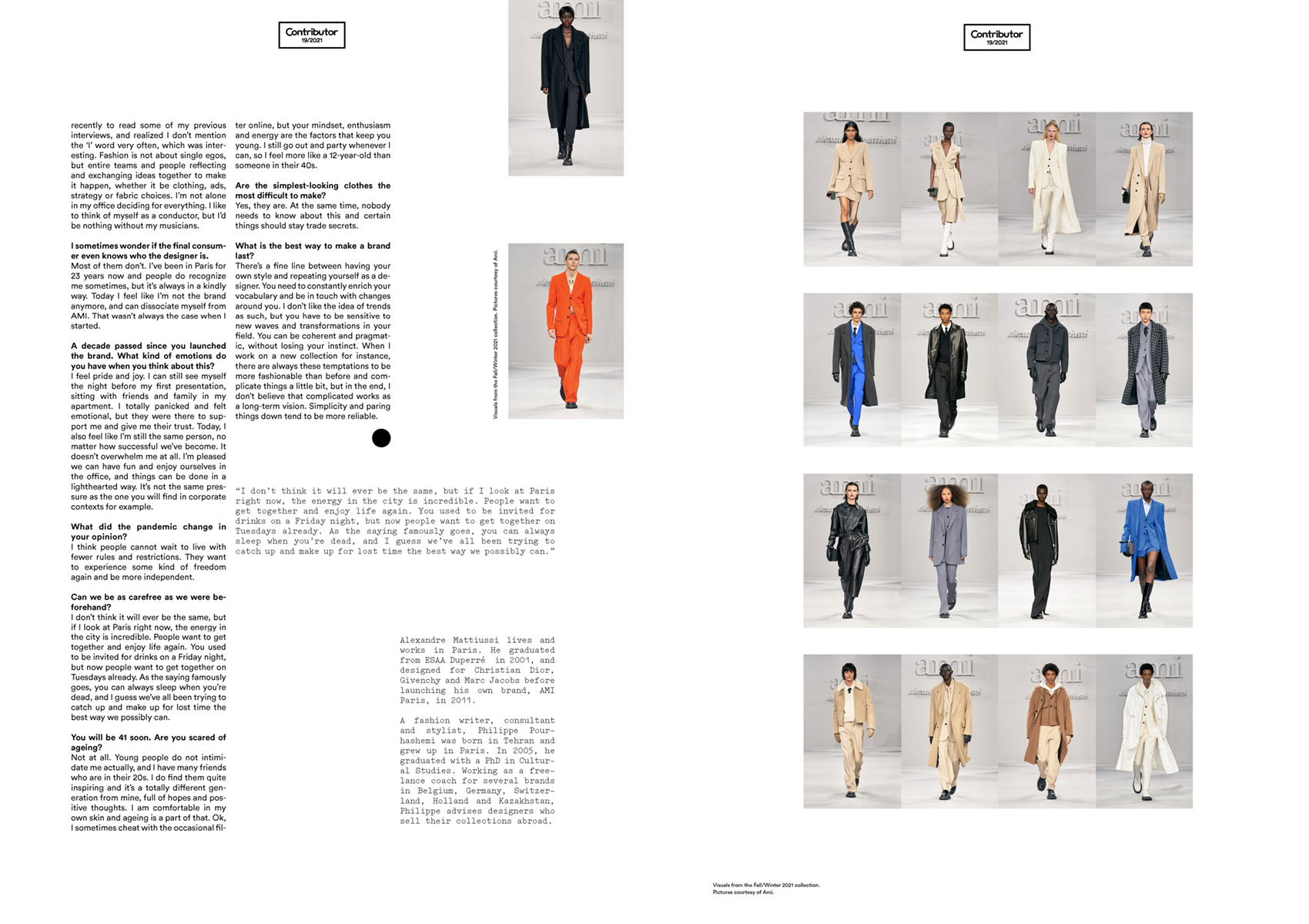 A decade passed since you launched the brand. What kind of emotions do you have when you think about this?
I feel pride and joy. I can still see myself the night before my first presentation, sitting with friends and family in my apartment. I totally panicked and felt emotional, but they were there to support me and give me their trust. Today, I also feel like I'm still the same person, no matter how successful we've become. It doesn't overwhelm me at all. I'm pleased we can have fun and enjoy ourselves in the office, and things can be done in a lighthearted way. It's not the same pressure as the one you will find in corporate contexts for example.
What did the pandemic change in your opinion?
I think people cannot wait to live with fewer rules and restrictions. They want to experience some kind of freedom again and be more independent.
Can we be as carefree as we were beforehand?
I don't think it will ever be the same, but if I look at Paris right now, the energy in the city is incredible. People want to get together and enjoy life again. You used to be invited for drinks on a Friday night, but now people want to get together on Tuesdays already. As the saying famously goes, you can always sleep when you're dead, and I guess we've all been trying to catch up and make up for lost time the best way we possibly can.
You will be 41 soon. Are you scared of ageing?
Not at all. Young people do not intimidate me actually, and I have many friends who are in their 20s. I do find them quite inspiring and it's a totally different generation from mine, full of hopes and positive thoughts. I am comfortable in my own skin and ageing is a part of that. Ok, I sometimes cheat with the occasional filter online, but your mindset, enthusiasm and energy are the factors that keep you young. I still go out and party whenever I can, so I feel more like a 12-year-old than someone in their 40s.
Are the simplest-looking clothes the most difficult to make?
Yes, they are. At the same time, nobody needs to know about this and certain things should stay trade secrets.
What is the best way to make a brand last?
There's a fine line between having your own style and repeating yourself as a designer. You need to constantly enrich your vocabulary and be in touch with changes around you. I don't like the idea of trends as such, but you have to be sensitive to new waves and transformations in your field. You can be coherent and pragmatic, without losing your instinct. When I work on a new collection for instance, there are always these temptations to be more fashionable than before and complicate things a little bit, but in the end, I don't believe that complicated works as a long-term vision. Simplicity and paring things down tend to be more reliable.
Alexandre Mattiussi lives and works in Paris. He graduated from ESAA Duperré in 2001, and designed for Christian Dior, Givenchy and Marc Jacobs before launching his own brand, AMI Paris, in 2011.
A fashion writer, consultant and stylist, Philippe Pourhashemi was born in Tehran and grew up in Paris. In 2005, he graduated with a PhD in Cultural Studies. Working as a freelance coach for several brands in Belgium, Germany, Switzerland, Holland and Kazakhstan, Philippe advises designers who sell their collections abroad.