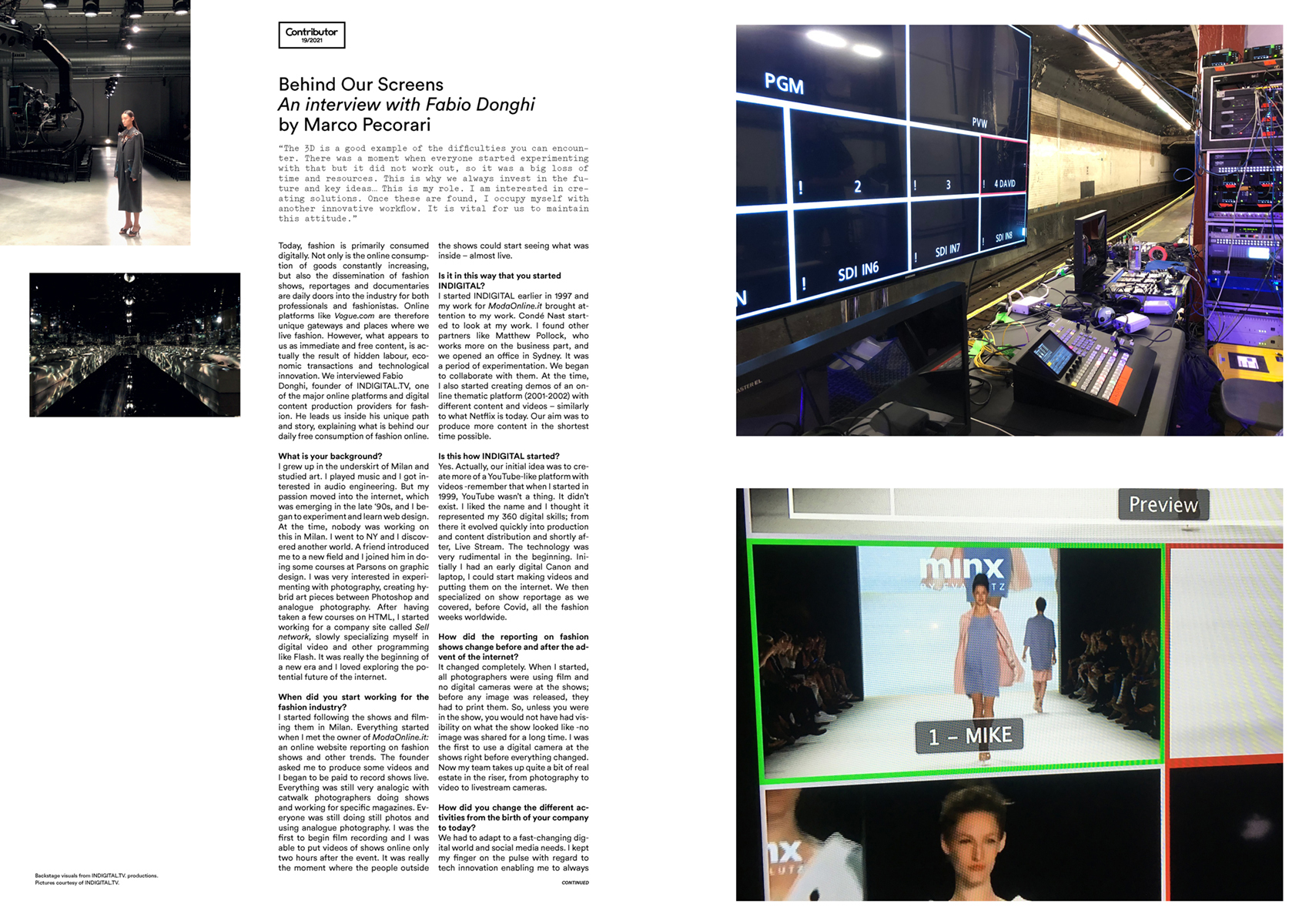 Behind Our Screens
An interview with Fabio Donghi
by Marco Pecorari
Today, fashion is primarily consumed digitally. Not only is the online consumption of goods constantly increasing, but also the dissemination of fashion shows, reportages and documentaries are daily doors into the industry for both professionals and fashionistas. Online platforms like Vogue.com are therefore unique gateways and places where we live fashion. However, what appears to us as immediate and free content, is actually the result of hidden labour, economic transactions and technological innovation. We interviewed Fabio Donghi, founder of INDIGITAL.TV, one of the major online platforms and digital content production providers for fashion. He leads us inside his unique path and story, explaining what is behind our daily free consumption of fashion online.
What is your background?
I grew up in the underskirt of Milan and studied art. I played music and I got interested in audio engineering. But my passion moved into the internet, which was emerging in the late '90s, and I began to experiment and learn web design. At the time, nobody was working on this in Milan. I went to NY and I discovered another world. A friend introduced me to a new field and I joined him in doing some courses at Parsons on graphic design. I was very interested in experimenting with photography, creating hybrid art pieces between Photoshop and analogue photography. After having taken a few courses on HTML, I started working for a company site called Sell network, slowly specializing myself in digital video and other programming like Flash. It was really the beginning of a new era and I loved exploring the potential future of the internet.
When did you start working for the fashion industry?
I started following the shows and filming them in Milan. Everything started when I met the owner of ModaOnline.it: an online website reporting on fashion shows and other trends. The founder asked me to produce some videos and I began to be paid to record shows live. Everything was still very analogic with catwalk photographers doing shows and working for specific magazines. Everyone was still doing still photos and using analogue photography. I was the first to begin film recording and I was able to put videos of shows online only two hours after the event. It was really the moment where the people outside the shows could start seeing what was inside – almost live.
Is it in this way that you started INDIGITAL?
I started INDIGITAL earlier in 1997 and my work for ModaOnline.it brought attention to my work. Condé Nast started to look at my work. I found other partners like Matthew Pollock, who works more on the business part, and we opened an office in Sydney. It was a period of experimentation. We began to collaborate with them. At the time, I also started creating demos of an online thematic platform (2001-2002) with different content and videos – similarly to what Netflix is today. Our aim was to produce more content in the shortest time possible.
Is this how INDIGITAL started?
Yes. Actually, our initial idea was to create more of a YouTube-like platform with videos -remember that when I started in 1999, YouTube wasn't a thing. It didn't exist. I liked the name and I thought it represented my 360 digital skills; from there it evolved quickly into production and content distribution and shortly after, Live Stream. The technology was very rudimental in the beginning. Initially I had an early digital Canon and laptop, I could start making videos and putting them on the internet. We then specialized on show reportage as we covered, before Covid, all the fashion weeks worldwide.
How did the reporting on fashion shows change before and after the advent of the internet?
It changed completely. When I started, all photographers were using film and no digital cameras were at the shows; before any image was released, they had to print them. So, unless you were in the show, you would not have had visibility on what the show looked like -no image was shared for a long time. I was the first to use a digital camera at the shows right before everything changed. Now my team takes up quite a bit of real estate in the riser, from photography to video to livestream cameras.
How did you change the different activities from the birth of your company to today?
We had to adapt to a fast-changing digital world and social media needs. I kept my finger on the pulse with regard to tech innovation enabling me to always adapt production and bring something new to our clients. My incredible business partner, Matthew Pollock, takes care of the business operations enabling me to focus on production innovation and execution.
Can you please explain what INDIGITAL does. Also which clients you have, etc?
INDIGITAL is a global leader in full-service Video, photo and amp; livestream content production for luxury, fashion, lifestyle and amp; entertainment industries. We have more than two decades of experience covering the top fashion events globally and we are recognised as one of the leading and most extensive production resources within the industry. Servicing the content needs of publishers such as Condé Nast, Hearst, Getty, Bauer Media and Tencent being amongst our many clients, which means offering this network to our designer clients. We also work for brands and fashion houses like Alexander McQueen, Tom Ford, Saint Laurent, Balenciaga, and so on. We are consistently amongst the largest accredited agencies only behind Getty Images on fashion luxury sites offering end-to-end runway show video and photo production including backstage, detail and atmosphere. We can broadcast, mix and edit the shows live and distribute to any media platform.
Does the content differ from a media client and a brand? And has it also changed with the advent of Covid?
The content is indeed different. Brands have very different requests than media partners. For example, we recently worked for showrooms as I do online virtual tours with buyers; and with Covid, we began experimenting on bigger production –annual conferences associated with a global virtual events platform, Touchcast. This has nothing to do with the fashion industry, though. Whilst fashion is a core part of our DNA, we do work globally across different industries.
How many people work for you?
We have the A-Team of 15 crew and most of them have been with me for nearly two decades. I trained most of them when they were right out of school. Then, we have a network of hundreds of directors, editors, producers, photographers and videographers that work with us across global markets.
What is their background?
Digital study and usually after school they start with me. This is preferable as they don't have an imprint from previous experiences and they adapt better to the INDIGITAL way.
What is the daily schedule like during a fashion week for you and your team?
During fashion week, we start early and finish late. Usually in one day we film, photograph, edit, livestream and deliver multiple content for up to 10 designers in multiple locations.
How much time passes from the time a model walks on the catwalk and her image on our screen?
We do live video and live photos; it's instant.
And how many people are involved in this process?
Depends on client requests, but the crew goes from five to six crew members up to 60 crew per show just in my department of video, photo and livestream.
How has the advent of Instagram changed your work?
Everything became more urgent than ever. Most designers did massive live productions just to stream on Instagram sometimes. Clients are always wanting to receive social media cut-down videos and highlight photos immediately for publishing to maximize their engagements. Social and Digital changed the industry forever. Before, content was exclusive. Now, everyone sees the collection as the show is happening. A few years ago this made some brands try the 'see now, buy now' to avoid other brands from copying the collections before the designer had it in the retail store six months after the show.
How difficult is it to create original content today?
It is easier with all the tools available today, but competition is very tough.
What do you think will be the next step for INDIGITAL?
We recently implemented a lot of virtual and remotely filmed productions due to the pandemic. We are doing more of this as it works very effectively for brands; even post pandemic, we see the virtual events trend continuing. Now brands realize they can still achieve ROI through these means. As well, we will focus on improving the user experience by implementing new technology like AR and others. We can't stop adapting to the very fast evolving digital landscape and what happens in the world.
What are the biggest challenges in your work?
Remaining relevant with the constant changes in the digital world. Like Instagram, when people started to IG live, you must respond to this technological innovation before everyone. The 3D is a good example of the difficulties you can encounter. There was a moment when everyone started experimenting with that but it did not work out so it was a big loss of time and resources. This is why we always invest in the future and key ideas… This is my role. I am interested in creating solutions. Once these are found, I occupy myself with another innovative workflow. It is vital for us to maintain this attitude.
Fabio Donghi is the founder of INDIGITAL.TV, one of the major online platforms and digital content production providers for the fashion industry.
Dr. Marco Pecorari is Assistant Professor and Program Director of the MA in Fashion Studies at Parsons Paris, where he teaches and conducts research on Fashion History and Theory. He is the author of Fashion Remains: Rethinking Fashion Ephemera in the Archive (Bloomsbury, 2021) and co-editor, with Andrea Kollnitz, of Fashion, Performance and Performativity: The Complex Spaces of Fashion (Bloomsbury, 2021). Dr. Pecorari is the co-founder of the festival Printing Fashion (www. printingfashion.fr) and sits on the editorial boards of Fashion Theory, ZoneModa Journal, and Bloomsbury Fashion Central. He is also a member of the Scientific Board of the European Fashion Heritage Association (EFHA).