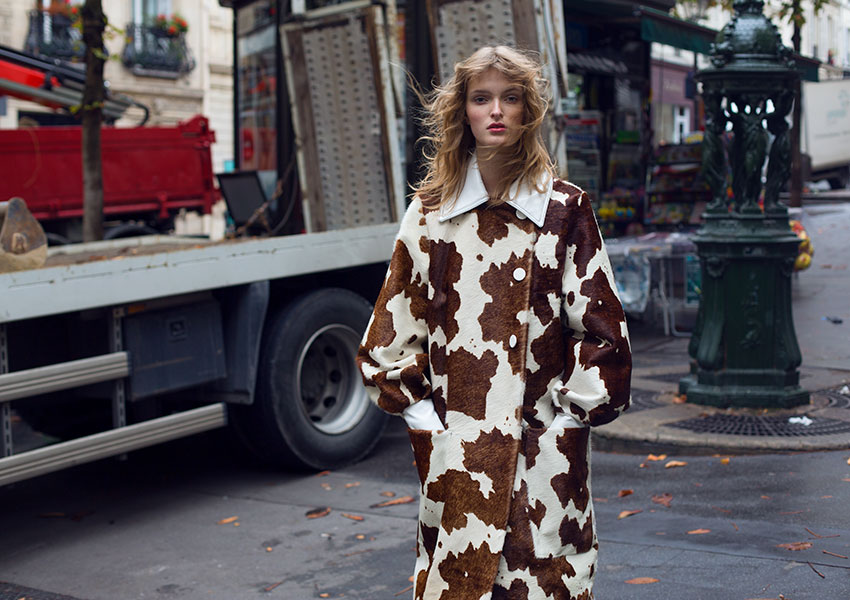 Photography by Magnus Magnusson and styling by Adam Pettersson. Modeling by Aia Busk at IMG, hair by You Cécile and makeup by Sylvie Mainville at Sybille Kléber Agency using Laura Mercier Cosmetics. Creative Info Magnus Magnusson
BIG TIME SENSUALITY
Interview with Johanna Senyk by Philippe Pourhashemi
Johanna Senyk is the Paris-based mastermind behind womenswear brand Wanda Nylon. Her concept was simple at first: she wanted directional and stylish waterproof clothes that could complement a trendy wardrobe. Capitalizing on her own singularity and tapping into the fashion world's ongoing obsession with fetishism and anything kinky, Wanda Nylon has quickly become a desirable brand, attracting press and buyers. Now, Senyk shows her collections in Paris seasonally and has stockists worldwide.
Paving her way into the rarefied world of designer fashion was no easy feat. There are still not that many women who make it in an industry dominated by men, but Senyk was willing to succeed and give it a try. Five years after the brand was launched, her determination paid off. In 2016, she won the prestigious ANDAM Prize, which definitely gave her extra kudos while positioning Wanda Nylon firmly on the fashion map.
I sat down with the warm and charming Senyk to discuss her love of materials and the design process, why she loves living in Paris and how staying covered-up can be more erotic than baring it all.
When you founded your brand, what was the main objective for Wanda Nylon?
Six years ago, I was riding my scooter across Paris when it started raining heavily. I had to meet up with a client and arrived to the appointment completely soaked. After that moment, the idea of creating stylish and high-quality waterproof clothes became clear and obvious to me. Initially, I entered the market with a mono product concept, which turned out to be successful. After that first step was completed, I decided to branch out into womenswear and offer a complete wardrobe to my clients.
Was the first motivation to design clothes you had trouble finding for yourself?
Of course it was, but I have to admit I get more satisfaction imagining clothes for the women I love, so it wasn't just about me.
Is it very risky to launch your brand these days? Five years down the line, do you think you rose to the challenge?
Like any artistic venture, launching a fashion brand is a risk, but in a way it gives life to your challenge, it makes it real and tangible. I'm far too demanding with myself and ambitious to ever get the feeling that I've made it somehow.
How would you summarize the essence of Wanda Nylon in a few words?
Feminine, free, strong, determined, urban and contemporary. My collections always include the notions of social and cultural diversity, which can be found within my cuts and choice of materials.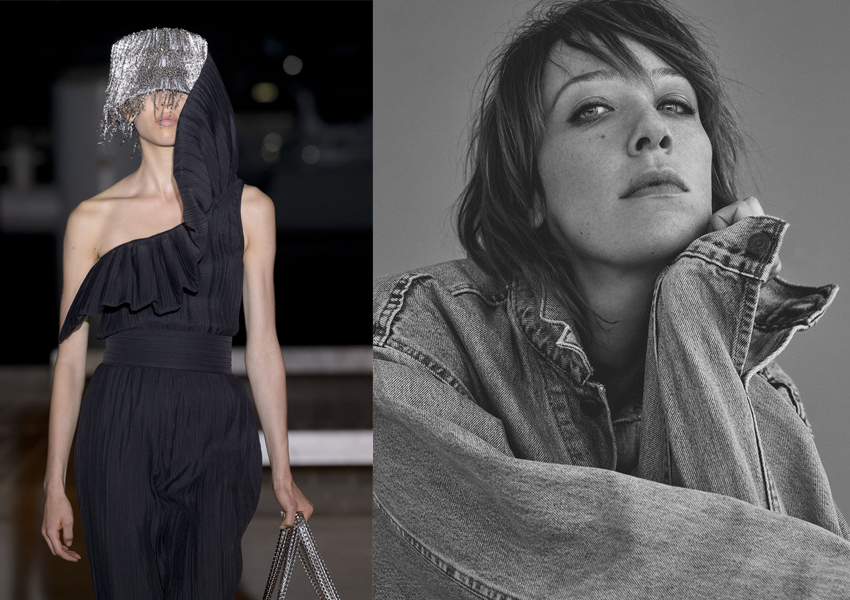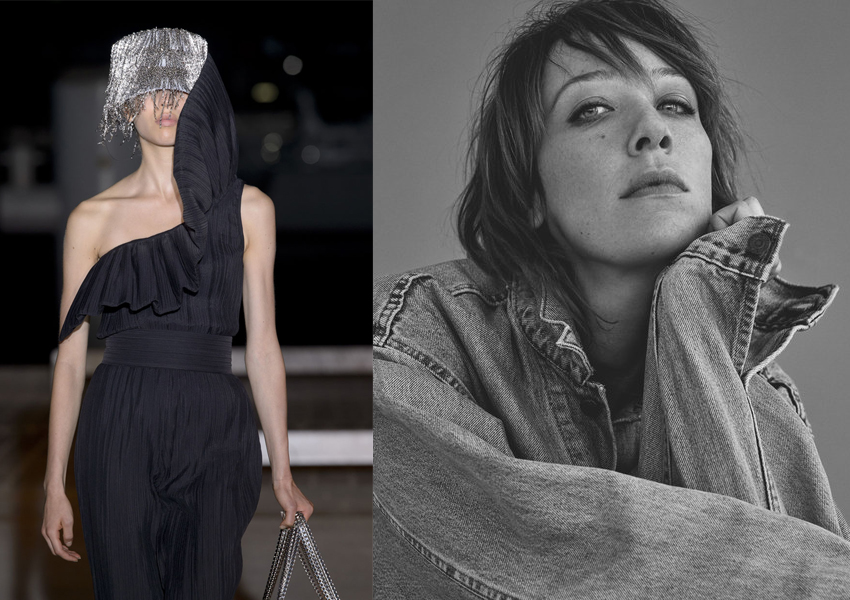 Portrait of Johanna Senyk by Julia Champeau
Fairly quickly, the brand became known for its trench shapes, cute blousons and fitted coats. Do you think outerwear can reflect the personality of a woman?
Definitely. I'm convinced about this. For me, outerwear is the signature of your silhouette, it embodies your style.
Can we talk about your use of fetish codes? You also seem to adore the 1970s. How do you approach "sexy" as a genre?
Fetish codes and details are truly part of my work. I'm interested in the materiality of an object, it is something that interrogates me. The way a fabric feels, how it smells or what its texture does. A woman does not need to expose skin in order to be sexy. It's about who she is first and how she behaves. A woman who is comfortable in her own clothes and at ease with her personality is definitely more attractive than someone putting on an act, trying to be somebody else. As for the 1970s, I do love Helmut Newton's fetish images of women in plastic raincoats, but I also have a soft spot for the rainwear André Courrèges created at the end of the 1960s. The film Blade Runner is an ongoing reference, too.
Is there a Wanda Nylon community? Do you know which women you talk to the most?
I design clothes for my girlfriends, the women that I love and admire. I'm attracted to the ones who like themselves and do not care about what others say about them. However, I'm also happy not being able to know all of my clients as I discover things about them on a daily basis. At the beginning, I loved the way the fetish community was embracing my clothes, I found it quite entertaining.
There are still very few women designing, especially within top houses. Is the situation going to finally change?
I honestly think it's getting better and I see more and more female designers getting top jobs. Perhaps there were not that many women before who had come up with great design proposals. I do believe that if you have talent, the industry will embrace you, regardless of your gender. Still, it is true that a male designer does not have the same approach to womenswear as a female designer does. Male designers have a way to sublimate female bodies, which pleases them. They treat it like a fantasy and there's something about this process that is no longer relevant. Maybe this is what made me feel like designing collections myself. I'm much more interested in the details, how delicate an ankle is or how elegant a collarbone looks. I care about things that are subtle and I dress women who want to be perceived like they are in reality, as opposed to having a sophisticated fantasy projected onto them.
What's your starting point when designing a new collection? Is it fabrics, colors or shapes?
My starting point is always the material itself. I work very instinctively and don't like to overthink my design process. I want everything that I do to come out in a spontaneous way, following my own desires. With time passing and more experience as a designer, I do want to increase my knowledge of femininity and the different faces it might have.
Do you find time helps you mature certain ideas, too?
Yes. Some ideas only turn up a few seasons down the line, and you need the time it takes to make them happen the right way. I do think in a 3D manner, looking at the overall silhouette and pumping up the volume a bit. I'm also having fun working with richer materials, such as cashmere or silk. The challenge is to make these fabrics more contemporary by changing and twisting them. I try to explore new areas where I can break classic codes and that's what excites me in design.
For several seasons now, you have sold other garments besides outerwear. Was that an easy step to take?
No, not at all. I had to conquer a new clientele and that wasn't easy. Today, I make complete collections with two fashion shows a year. I also design dresses and accessories. I think I managed to find my customer. The important thing was to position the brand properly and to emphasize the singularity of the Wanda Nylon woman. I had to find my DNA with my own cuts and specific materials.
What are the important elements to succeed as a young designer today?
Creating my own brand was, by far, the hardest thing I've ever done in my life. It's hard to update yourself constantly, sticking to the calendar fixed by the industry. Today, a designer needs to have a broad set of skills, from sewing and pattern making to making money, stimulate and recruit teams, as well as being a great communicator, while remaining honest in his or her approach, finding the right environment and people to grow. This goes way beyond design itself or even creativity. You definitely have to be passionate – and rather insane – to do this job.
Thinking back about it, what did the ANDAM bring you?
It made me more secure in my choices. It's also nice not to feel alone and be supported. It has been a true opportunity for me to meet all these people at ANDAM, because I've been able to exchange and discuss ideas with them, and that's the thing that stayed with me the most. You face your own share of solitude as a designer, and I often work at home or alone in the studio. It made me so happy to be able to share what I do with the jury members, and the whole ANDAM team were really generous with their advice. They were kind to me as well. It's a great memory for me and I wish everyone could experience it one day.
How do you feel about living in Paris?
I'm the daughter of two immigrants and do not come from Paris originally, but what makes this city so strong is how multicultural it remains. That's what makes me Parisian I guess.
Can you remember your first interaction with fashion?
Yes! My mother was very good with her hands and my friends and I used to make these colorful dresses out of crêpe paper with her. It was great fun and has remained a cherished memory of mine to this day.
Born to Polish parents, Johanna Senyk moved to Paris at the age of 18. Now in her mid-30s, she launched outerwear brand Wanda Nylon in 2012. She previously worked as a casting director for several international brands and a stylist beforehand, doing magazine work as well as music videos. In 2016, she won the much-coveted ANDAM Prize. Senyk lives and works in Paris.
A fashion writer, consultant and stylist, Philippe Pourhashemi was born in Tehran and grew up in Paris. In 2005, he graduated with a PhD in Cultural Studies, looking at young graduates starting their career abroad. Appointed Editor-at-Large for Fucking Young! in 2016, he also writes features for Metal, Contributor and Behind The Blinds. He has contributed to Diane Pernet's blog, A Shaded View on Fashion, since 2008. Working as a freelance coach for several brands in Belgium, Germany, Switzerland, Holland and Kazakhstan, he advises designers who sell their collections abroad.
Photography by Magnus Magnusson and styling by Adam Pettersson. Modeling by Aia Busk at IMG, hair by You Cécile and makeup by Sylvie Mainville at Sybille Kléber Agency using Laura Mercier Cosmetics