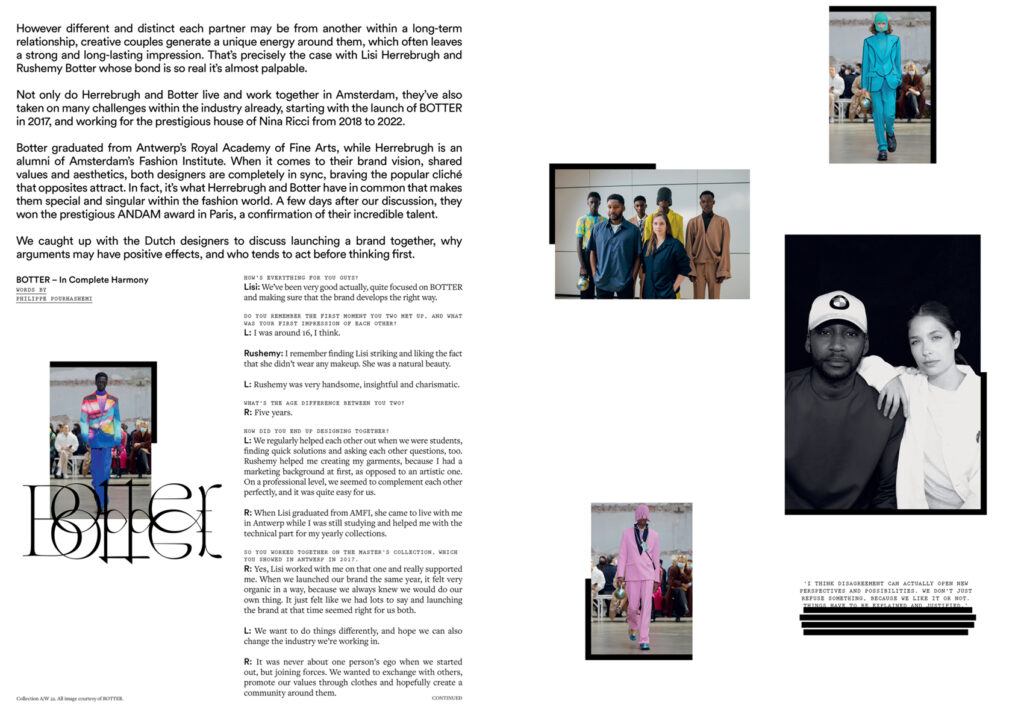 However different and distinct each partner may be from another within a long-term relationship, creative couples generate a unique energy around them, which often leaves a strong and long-lasting impression. That's precisely the case with Lisi Herrebrugh and Rushemy Botter whose bond is so real it's almost palpable.
Not only do Herrebrugh and Botter live and work together in Amsterdam, they've also taken on many challenges within the industry already, starting with the launch of BOTTER in 2017, and working for the prestigious house of Nina Ricci from 2018 to 2022.
Botter graduated from Antwerp's Royal Academy of Fine Arts, while Herrebrugh is an alumni of Amsterdam's Fashion Institute. When it comes to their brand vision, shared values and aesthetics, both designers are completely in sync, braving the popular cliché that opposites attract. In fact, it's what Herrebrugh and Botter have in common that makes them special and singular within the fashion world. A few days after our discussion, they won the prestigious ANDAM award in Paris, a confirmation of their incredible talent.
We caught up with the Dutch designers to discuss launching a brand together, why arguments may have positive effects, and who tends to act before thinking first.
Interview by Philippe Pourhashemi
HOW'S EVERYTHING FOR YOU GUYS?
Lisi: We've been very good actually, quite focused on BOTTER and making sure that the brand develops the right way.
DO YOU REMEMBER THE FIRST MOMENT YOU TWO MET UP, AND WHAT WAS YOUR FIRST IMPRESSION OF EACH OTHER?
L: I was around 16, I think.
Rushemy: I remember finding Lisi striking and liking the fact that she didn't wear any makeup. She was a natural beauty.
L: Rushemy was very handsome, insightful and charismatic.
WHAT'S THE AGE DIFFERENCE BETWEEN YOU TWO?
R: Five years.
HOW DID YOU END UP DESIGNING TOGETHER?
L: We regularly helped each other out when we were students, finding quick solutions and asking each other questions, too. Rushemy helped me creating my garments, because I had a marketing background at first, as opposed to an artistic one. On a professional level, we seemed to complement each other perfectly, and it was quite easy for us.
R: When Lisi graduated from AMFI, she came to live with me in Antwerp while I was still studying and helped me with the technical part for my yearly collections.
SO YOU WORKED TOGETHER ON THE MASTER'S COLLECTION, WHICH YOU SHOWED IN ANTWERP IN 2017.
R: Yes, Lisi worked with me on that one and really supported me. When we launched our brand the same year, it felt very organic in a way, because we always knew we would do our own thing. It just felt like we had lots to say and launching the brand at that time seemed right for us both.
L: We want to do things differently, and hope we can also change the industry we're working in.
R: It was never about one person's ego when we started out, but joining forces. We wanted to exchange with others, promote our values through clothes and hopefully create a community around them.
WERE YOU QUITE NAÏVE WHEN YOU LAUNCHED BOTTER OR DID YOU LEARN QUICKLY?
L: We were very innocent in the beginning. I remember going to Paris with Rushemy and presenting the graduate collection in a very small showroom there, hoping we would get orders and press. Trying to enter the city, I felt completely overwhelmed by the traffic and started panicking. Then I remember asking Rushemy what exactly we were doing and if anyone was going to see the collection. And his answer was: "I don't know. We'll just get on with it and something good will happen."
R: We printed flyers in Paris and went to the show venues where buyers were in order to hand them our leaflets. Eventually, six or seven stores came in, and the good thing was that we were on the same street as the Acne showroom, so that definitely helped. Thinking back, we were incredibly naïve, but at the same time we learned along the way.
L: Like going back to Antwerp and figuring out where we'd produce those orders! (laughter) When the clothes were made, we had to take care of shipping and work that out.
R: It was hard work, but accomplishing things and going through every single step felt rewarding as well.
LISI, ARE YOU THE LESS IMPULSIVE ONE?
R: Yes! I'm much more adventurous that way. Of course I love to jump into things, which makes me the impulsive one, but what Lisi gives me is complete trust.
L: It's true that Rushemy is spontaneous, but he also has great instinct for whatever's relevant now. He knows deep down when something needs to happen, which is something I do not have.
LIKE A SIXTH SENSE, I GUESS.
L: Exactly. And I really trust that.
DO YOU LIKE WORKING AND LIVING TOGETHER?
R: We're brutally honest with each other, but for me there's nothing better than seeing Lisi grow as an individual and take on new challenges. We support each other that way, but also let each other be free. We do a lot of things together, but we still have our own lives.
HOW DO YOU HANDLE DISAGREEMENT?
L: Sometimes things can get pretty heated, but we're also quite flexible towards each other and tend to find a common ground. We're quite forgiving to each other that way. At the same time, having those discussions and raising key questions also belongs to that process. It's crucial to our creativity.
DO YOU LIKE TO CHALLENGE EACH OTHER?
L: Yes.
R: I think disagreement can actually open new perspectives and possibilities. We don't just refuse something, because we like it or not. Things have to be explained and justified. You need to make a valid point and defend what you believe in.
L: It's not about aesthetics really, but the story we are telling with one collection. If something isn't coherent, then it has to be discussed.
R: We have the same aesthetics, so we never argue about that.
BOTTER STANDS FOR SPECIFIC VALUES, WHICH ARE IMPORTANT TO YOU ON A SOCIETAL AND CULTURAL LEVELS. DID YOU REALIZE WHEN YOU MET EARLIER THAT MANY OF THOSE VALUES WERE SHARED BY BOTH OF YOU ALREADY?
L: We've had the same kind of upbringing and grew up with the same Caribbean values. We both lived in the Caribbean and in the Netherlands, so there's a certain openness, which comes with that, starting at a very young age. We were also confronted with the same oceanic issues while we were growing up, which united us even more. We have the same beliefs, but perhaps we talk about them differently. Rushemy is more outspoken, and perhaps I am more…
R: Reserved?

L: Yes. If Rushemy wasn't so vocal about those issues, I guess I would find it harder to express them as well.
SEEMS LIKE YOU KEEP EMPOWERING EACH OTHER, DON'T YOU?
R: Definitely.
WHAT THINGS DO YOU WANT TO CHANGE ABOUT FASHION?
L: I wouldn't know where to start, because there are so many… I hope BOTTER can become an illustration of how to handle production in a more respectful way towards the environment, from the choice of fabrics to actual manufacturing. We also believe in technology and innovation, particularly when it comes to the sea and what kind of oceanic elements could be implemented within fabrics. We want to work towards that and replace classic materials that are very harmful to the soil of the earth, such as cotton for instance.
R: I think we keep exploring how we could work hand in hand with nature, and give back also. It's not about pushing more and more products, which is a very old school way of thinking. For me fashion is an art form and expression of the times we live in. If you look at the world now, we can no longer operate the same way we always have.
YOU'VE WORKED FOR NINA RICCI, WHICH WAS A BIGGER AND MORE ESTABLISHED BRAND. WHAT DID YOU DRAW FROM THAT EXPERIENCE?
L: It has been a great experience for us, and we can only be thankful that it happened. It also made us realize, however, that it's fundamental for us to be focused, sticking to a clear vision at all times and making sure everyone in the organization believes in that vision. Things do not work out in the long term if you do not have that kind of coherence throughout.
Lisi Herrebrugh and Rushemy Botter live and work in Amsterdam. They launched their own brand, BOTTER, after Rushemy graduated from Antwerp's Royal Academy of Fine Arts in 2017. From 2018 to 2022, they worked as Creative Directors for the French house of Nina Ricci in Paris. Last June, BOTTER won the highly coveted ANDAM award's 'Grand Prize', securing €300.000 to develop the brand. botter.world