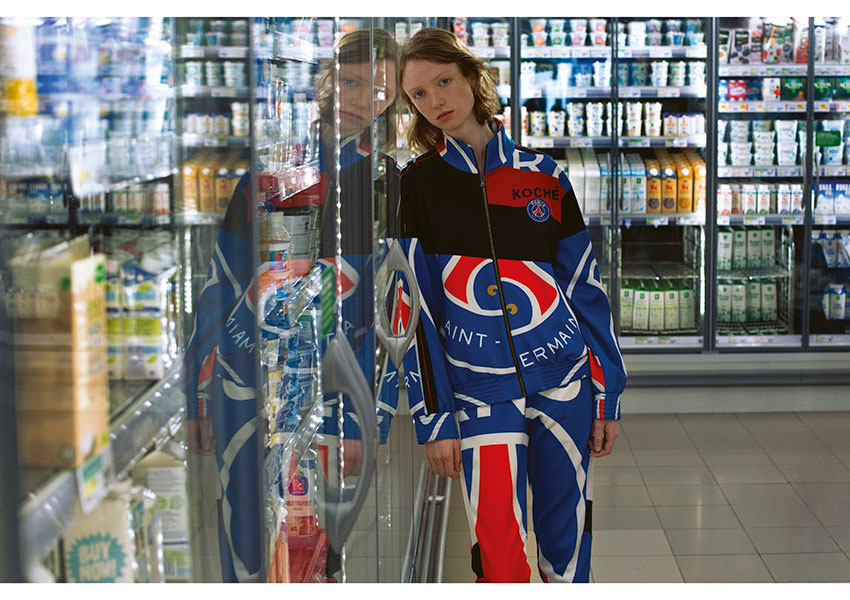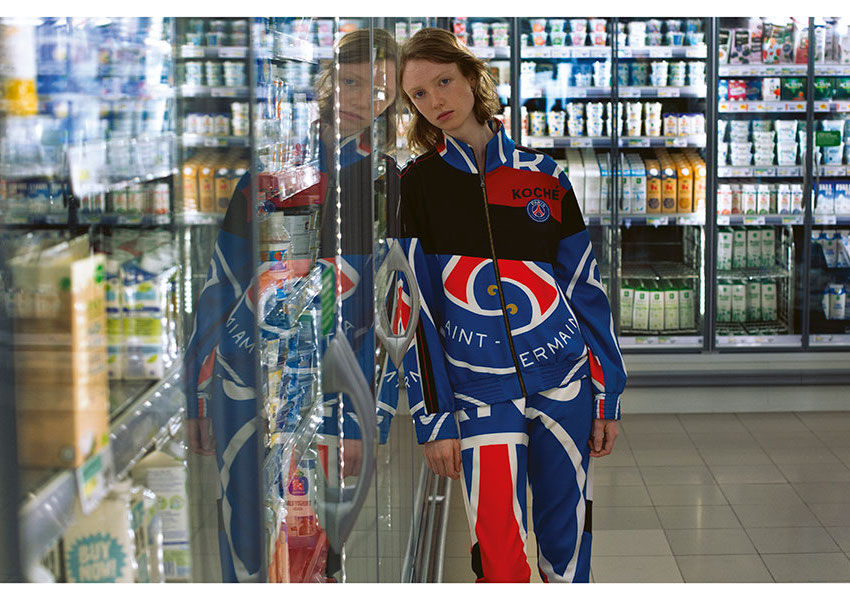 Openness and Tolerance
Interview with Christelle Kocher by Philippe Pourhashemi
Seen from the outside, fashion isn't exactly a warm and welcoming place. Riddled with preconceptions, snobbery and nepotism, it's a field of intense power and competition, where egos rule and democratic thinking fades. Strangely enough, that is not the story of French designer Christelle Kocher, whose Paris-based brand KOCHÉ has challenged the status quo since its launch in 2014. Raised in a suburb of Strasbourg in Alsace, she does not come from a fashion background and didn't have any relevant connections growing up. Kocher traveled extensively for work throughout her life, living in London, Antwerp, Milan and New York before relocating to France. It allowed her to gain precious cultural knowledge and realize that she was comfortable pretty much everywhere. With her newly peroxide blonde hair and friendly manner, she does not come across as your usual Paris designer and her signature eclecticism is one of her key features. 
Despite being in her late 30s and having years of experience within the industry, there's something about Kocher that is untouched and refreshing, a childish kind of enthusiasm that makes you want to know more. Sitting at one of the tables of her Ménilmontant atelier, she speaks fast and freely, underlining her values and personal vision. I'm trying hard not to stare at the gorgeous black mesh top she wears under a baggy baseball-inspired shirt. It's entirely embroidered with transparent crystals and has the exuberance of vintage Christian Lacroix, but she wears it with a certain nonchalance, as if it were a plain cotton T-shirt.
KOCHÉ made a difference in Paris with its diverse casting and refusal to separate fashion from real life, choosing public places to show collections, such as a busy shopping mall, a NYC bookstore, a Tokyo street or a Paris theater. Politics matter to Kocher, as well as inclusiveness, which she feels strongly about. In this exclusive interview, she talks about her love of handicraft, the importance of progressive thought and how she sees the future of her brand.
You worked for prestigious designers before starting your own line. What motivated you to take the leap?
Despite having worked for larger houses, I always knew I wanted to tell my own story, so I guess it's something I was working on and preparing throughout the years. I just needed the right timing to actually do it. I gained more experience and the international aspect was key. You can't do this without having a clear understanding of sales, communication, production and the design of a smaller collection that's going to be supported by your network. So all these features need to be there before you can even consider launching your own brand.
Are you independent?
Yes, and this was fundamental to me, because I wanted to have complete creative freedom. Today my brand is self-financed and I want to be able to control things. I remember that I became highly aware of this when I worked for Dries Van Noten in Antwerp, because you really felt that he had his eye on every single aspect. It creates a sense of cohesion, which makes the label stronger in the end. You could feel his spirit in the stores, his Paris showroom or even his garments.
There's a soul in what he creates.
Exactly. There's an emotion in his work, but it's the same with Comme des Garçons or Rick Owens. Michèle Lamy was in fact somebody who really encouraged me at the beginning and also inspired me. I had similar objectives, but needed to put money aside to be able to do this.
Your shows stand out for their casting and stance on diversity. Did you want to push that kind of authenticity?
The concept of KOCHÉ is to operate at the crossroads of luxurious craftsmanship and urban streetwear. I wanted to mix the refinement and expertise of Haute Couture with the youthful energy of the street, which always inspires me. That had to be reflected in the casting as well, because my brand celebrates inclusiveness and multiculturalism. My models represent the world I live in and the values that matter to me.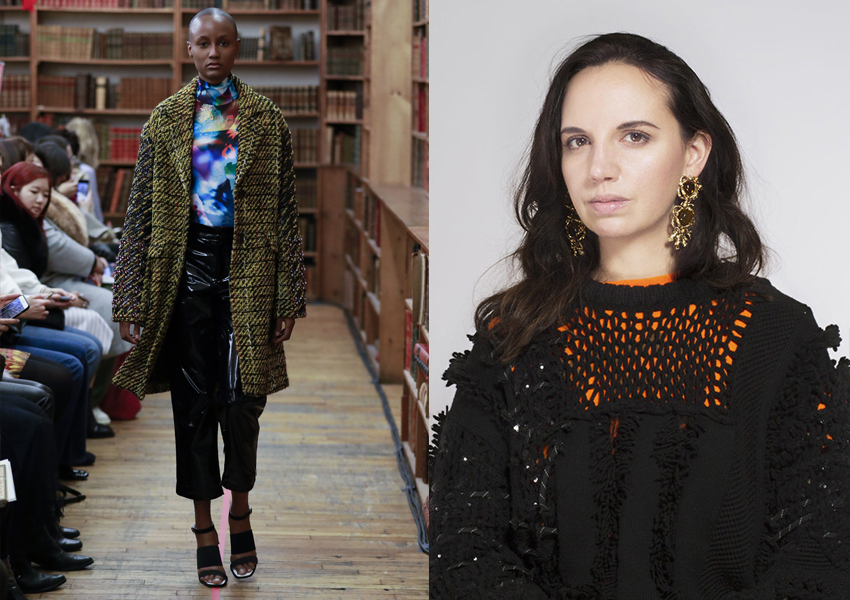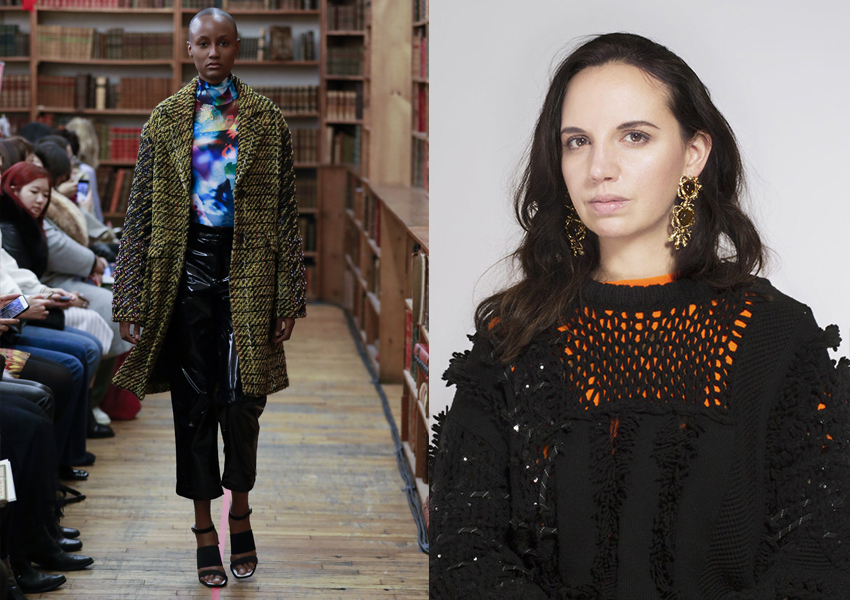 Is Paris the right place for you or could you live elsewhere?
I really feel like a nomad and travel often. We presented our last pre-collection in New York and it was very important for me to do it there, as the roots of my project took place in that city. I worked on my business plan with friends there and I also wanted to involve artists and creative people from the start.
You are French, but your style is definitely more cosmopolitan.
It's nice of you to say that. I was born in a suburb of Strasbourg and moved to Lille before living in London and Milan. I think my style reflects this, but Paris is not the place that inspires me the most. When I lived in London, the music scene was incredible and there were so many exciting artists to follow, which still feed me creatively. My team is truly international and you'll find people here coming from Israel, New York, Hong Kong or Spain. I couldn't imagine it any other way.
Could that be the embodiment of the French spirit in its true sense? I'm thinking about the idea of enlightenment and universalism.
Yes, it's about being open and democratic, which are true French values. In my mind, they're combined to the notions of tradition, handicraft and excellence. I believe in that, which is also why my shows are staged in public places. These values are natural for me and I don't need to shove them down people's throats either. They're simply part of who I am.
How do you feel about the current political climate in Europe and the rise of extremist movements?
The far-right revival in Europe worries me and makes me want to increase the diversity of my casting even more. My models are friends and artists whose work I admire, and the casting is something I always do myself.
So it's very personal for you.
Definitely, it's really subjective, but I think this is what makes the difference in fashion now, having your own point of view and not being scared to express it. 
How many clients do you have now?
We have around 65 stockists worldwide and the brand grows every season.
Is there a country where your clothes found an audience straight away?
Japan, for sure. I love the way people wear my clothes there. Boys put the dresses on and layer them with pants or mix them with sportswear. In October 2016, we staged a show in a street of Harajuku, which was a big thing as it had never happened before. We were invited by Tokyo Fashion Week and United Arrows. It was the first time that a public show was authorized in the city and we couldn't have done it without the help of Hirofumi Kurino, the founder of United Arrows. That was an incredible moment for us. They closed the road during 2 hours for the show and the reactions were great.
How do you see the future of KOCHÉ?
We've been developing fast as the brand is only 4 years old, but we made sure we could sustain the growth and not get overwhelmed by it. There's an affordable part in my collection that does well and I'll keep working on it in the near future. KOCHÉ is a designer brand, but I'm not elitist and like to share it with others.
Christelle Kocher is the creative director and founder of French brand KOCHÉ, which she launched in 2014. She's a graduate of Central Saint Martins in London. Kocher lives and works in Paris. In 2016, her brand was shortlisted for the LVMH Prize and ANDAM Award.
A fashion writer, consultant and stylist, Philippe Pourhashemi was born in Tehran and grew up in Paris. In 2005, he graduated with a PhD in Cultural Studies. Working as a freelance coach for several brands in Belgium, Germany, Switzerland, Holland and Kazakhstan, he advises designers who sell their collections abroad.