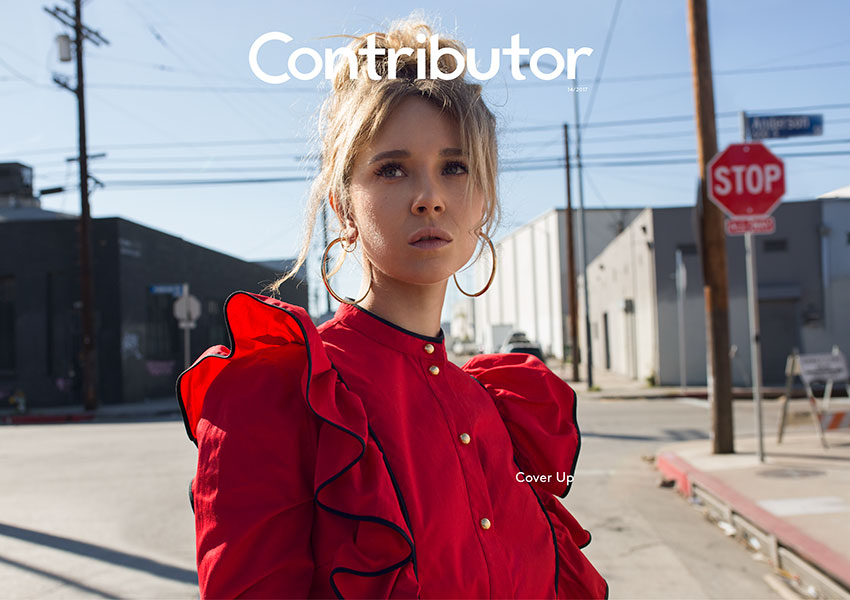 Top by Philosophy di Lorenzo Serafini and earrings by Jenny Bird
JUNO TEMPLE
In Woody Allen's new film Wonder Wheel, Juno Temple gives one of the year's most captivating performances, proving why the actress' star is continually on the rise.
Interview by Max Berlinger and photography by Magnus Magnusson
Please excuse Juno Temple. She can't believe this is happening.
"If you'd told 15-year-old Juno, when I first started working, that I would do a movie — a Woody Allen film — starring Kate fucking Winslet, I wouldn't have believed it," the actress exclaims one chilly November afternoon in New York City. She's calling from her hotel room where she's getting ready for the premiere of her latest film, Wonder Wheel, directed by Allen. "Kate Winslet is one of the reasons that I wanted to be an actress," she says, practically breathless with excitement. "I watched her in Heavenly Creatures when I was probably about 14, and I just thought, 'My god, this is the most amazing film and the most amazing performance.'"
Cut to now, where Temple co-stars alongside Winslet in Allen's domestic drama set in Coney Island during the 1950s as Carolina, a vulnerable doyenne with a dangerous past. It's her arrival that sets the movie's gears into motion, and the first shot of her, early in the film, demonstrates what an emotionally vibrant and alive screen presence Temple is.
This role is a decided break from many of the 28-year-old's more high-profile performances, where she's garnered a reputation playing characters who are free spirited and sensual, her résumé stocked with pleasure-seekers and rebels. "It's something very unlike anything I've ever played before," she admits of the onscreen about-face. "I normally play these sort of risqué characters, figuring out their sexuality."
Dress by MSGM and earrings by Jenny Bird
Take last year's HBO series Vinyl, which was set in the high-octane world of New York's music scene during the 1970s, where Temple played Jamie Vine, who she describes as a "sex kitten, [a] ballsy young woman that's gonna do whatever it takes to get where she wants to get to," and "cut-throat." She was surprised, then, that when Allen called her up for a meeting, he offered her the role of the naive, girlish Carolina, a foil to Winslet's character and a romantic interest to the wide-eyed lifeguard and aspiring playwright Mickey, played by Justin Timberlake.
She was nervous, too — Woody, Winslet, playing a new type of character — but like many previous roles she's played, Temple has an intrepid, fearless energy. "Well, I love a challenge and this is gonna be a fucking challenge," she remembers thinking. Then she adds, with delight: "I don't think I've played a sweet person since I was back in boarding school!"
Temple is the type to gleefully pepper her conversation with F-bombs or call up a stranger for an interview and call him "sweetie" or "darling" right away. She radiates a sort of earthy warmth, a homey charisma that no doubt was instilled in her during her British upbringing, as the daughter of producer Amanda Pirie and director Julien Temple.
Being part of a showbiz family helped introduce her to the world of filmmaking, and gave her the acting bug from a young age. "Growing up watching a director behind the scenes whilst [my dad's] working on things, and also the amount of time and energy and fascination that goes into a director when they're making a project, it's so inspiring," she says. "And then, they want you to be a part of that vision? I mean, it's the fucking coolest thing in the world. I have such huge respect for it, and it definitely does spark from my childhood, definitely."
Top and skirt by Camilla and Marc and earrings by Young Frankk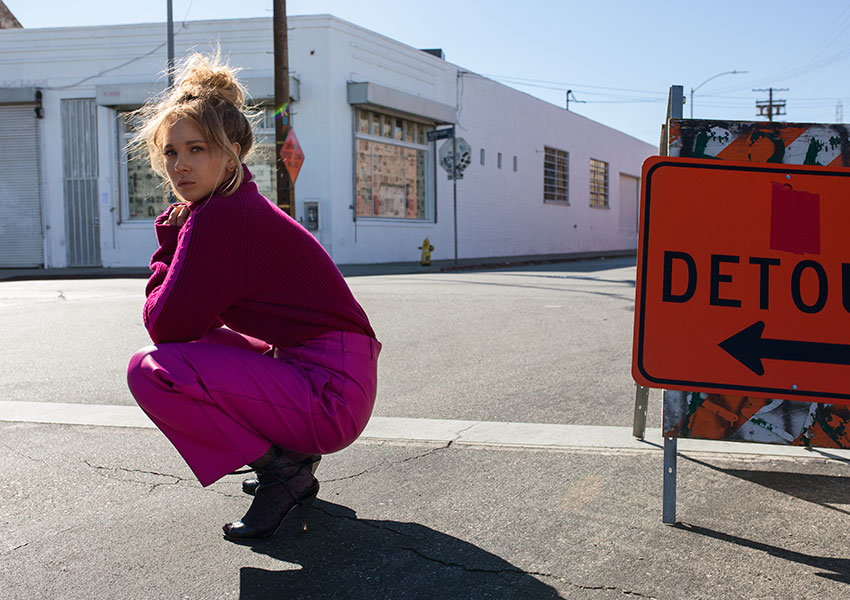 Sweater by Haider Ackermann, pants by Philosophy di Lorenzo Serafini, shoes by Alchimia di Ballin and earrings by Jenny Bird
While Temple calls herself a "director's actor," she developed a special bond with Winslet on the 'Wonder Wheel' set. "She completely took me under her wing from the get-go, from day one," Temple says. "For me, she was such a mentor and still is." At a recent Q&A after a screening of the film, Winslet noted that she felt particularly keen on looking out for Temple, and I asked her why she thinks that is. "I think it's being two women," she says after a thoughtful pause. "She said to me that I have similarities to her when she was younger — obviously that was a huge compliment to me." Still she's stumped on why Winslet felt dedicated to her well-being. "I think you'd have to ask her really about that."
Dress by Marni and earrings by Jenny Bird
Temple is a self-admitted fashion obsessive, an eBay-loving self-described "vintage whore" who is especially drawn to the style of the 1970s, and even had a box of her costumes from Vinyl shipped to her home after the show ended. "I actually burst into tears, I was so excited," she says. "I don't love walking down the street and thinking I might bump into somebody wearing the same piece." Recently she's been interested in the late 1980s and early '90s, and prides herself on her ability to find specific pieces online. "If anyone needs something, I guarantee you I can find it for them."
So obsessed with fashion is Temple that she likens her Los Angeles home to a boutique. "Honestly, my little house, it's kind of like walking into a vintage store. I mean, clothes wall- to-wall, and art pieces," she says, noting that her friends often come over to borrow pieces for dates or going out. Her personal style hews to extremes, either very casual or very dressed-up, and allows that she's a bit of a maximalist. "I have some friends that say, 'You know what, can you just remove one thing? There's one too many broaches on that jacket.' They're like, 'Let's bring it in a tiny bit,' which always makes me laugh."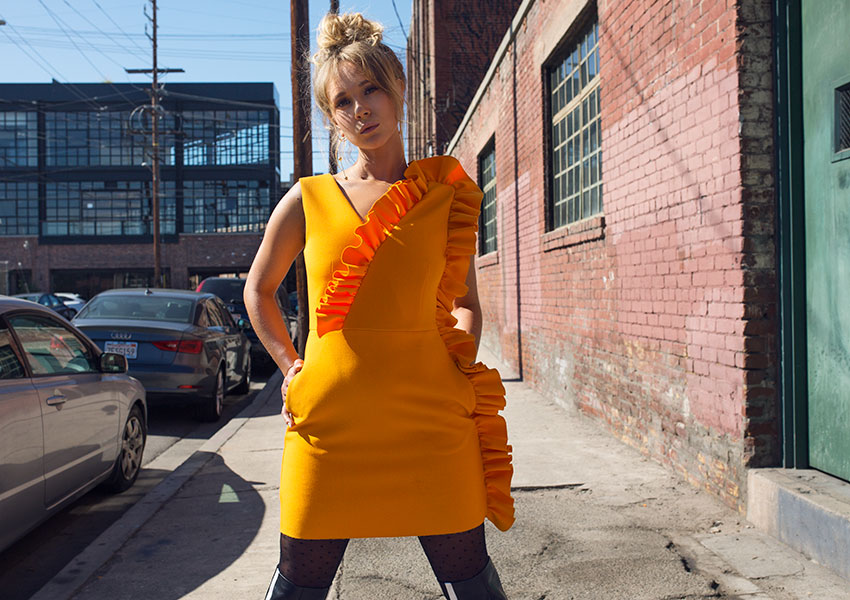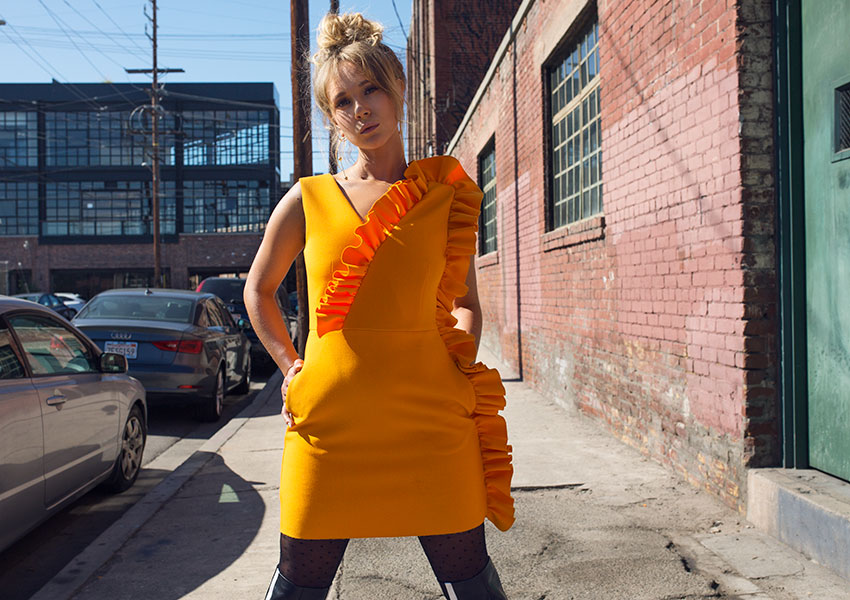 Dress by MSGM, boots by Alchimia di Ballin and earrings by Jenny Bird
Recently, Temple has been consumed with redecorating her house, and recently found gold- and-white sofa chairs and a glass-and-gold table, hinting at a home decor style that matches her fashion sense, calling it "a little 70's boudoir." In her free time, you're likely to find the actress catching up with friends, taking walks, reading, painting and sketching, or even making and customizing clothing. "I spend a lot of time sort of tying things up and pinning things together and putting crystals and things on clothing," she says.
Could her own clothing line be in the works? Maybe. "I would really like to do a lingerie line one day," she says. "I've been so lucky because Agent Provocateur has been one of my favorite lines since I was literally 15." Her mother even bought her pieces when she was that age, and last year, the actress starred in the brand's holiday campaign, fulfilling a lifelong wish. "They make underwear that makes you feel fucking sexy in your own skin. The underwear is for women, it's not for fucking men! You should wear it underneath your sweatpants!"
Next up for the actress is starring in the James Franco-directed movie The Pretenders, and Steven Soderbergh's mysterious project Unsafe. "I am literally not allowed to say anything," she says of the latter. Still, it hints that next year will be another big year for Temple, who's star is continually on the rise. It's almost time for her to get ready for the premiere, and the actress takes a breath and pauses, as if taking it all in and says, "God, I've just been so lucky to work with really amazing people." And off she goes.
Max Berlinger is a writer based in Brooklyn, New York. He writes for the New York Times, GQ, and others.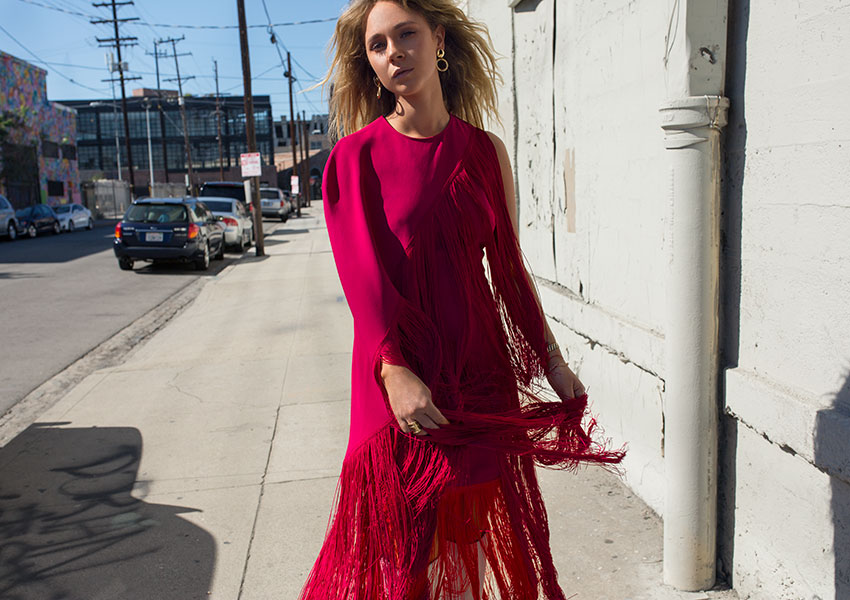 Dress by Stella McCartney and earrings by Young Frankk
Dress by Monse and earrings by Jenny Bird.
Juno Temple photographed by Magnus Magnusson. Fashion by Tiffani Chynel, make up by Fiona Stiles@Starworks Group, hair by Bobby Eliot@Starworks Group, photography assistance by Fredrik Marklund and retouch by Elina Meuller. Creative info: Magnus Magnusson,Tiffani Chynel, Fiona Stiles and Bobby Eliot.