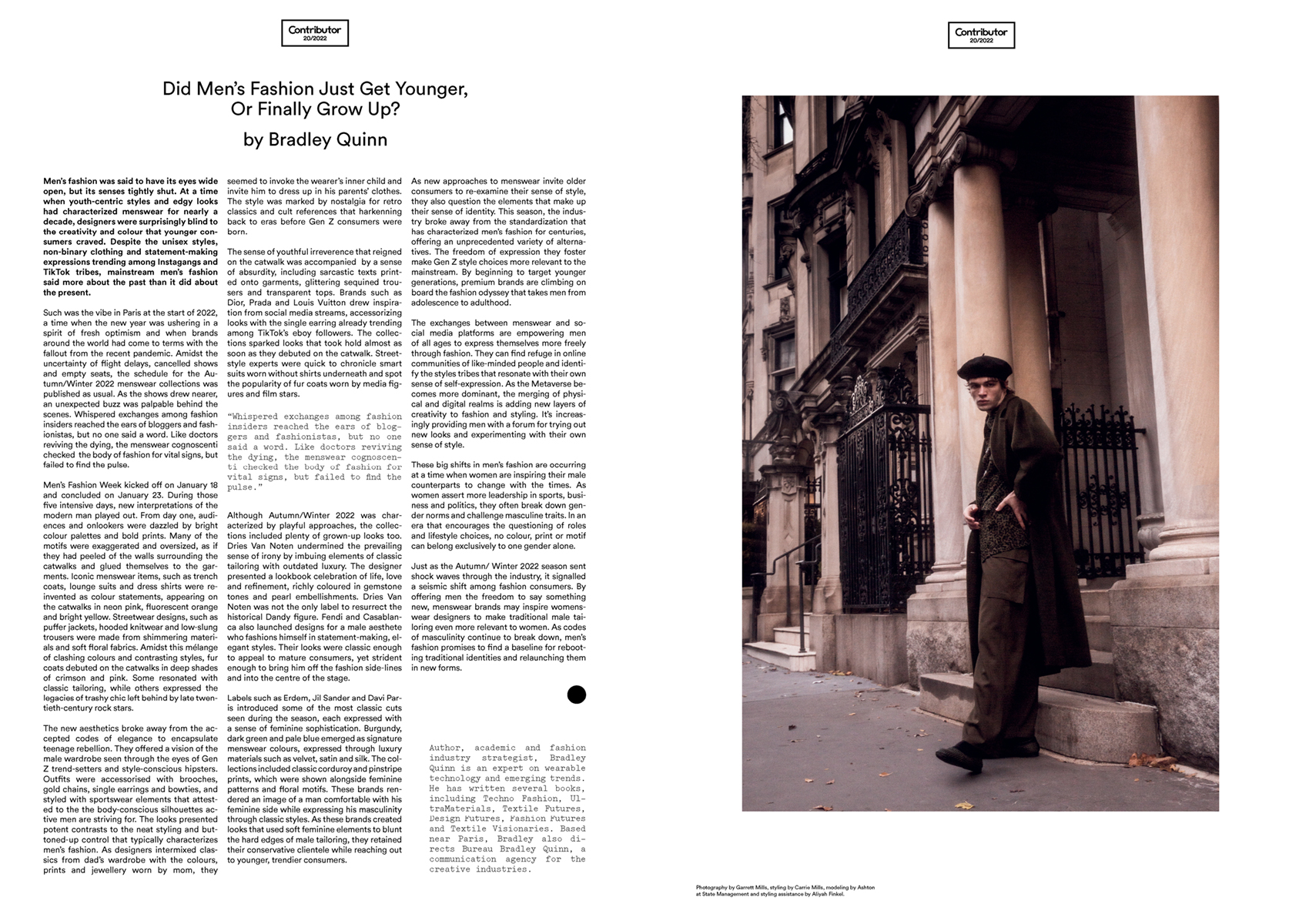 Did Men's Fashion Just Get Younger, Or Finally Grow Up?
By Bradley Quinn
Men's fashion was said to have its eyes wide open, but its senses tightly shut. At a time when youth-centric styles and edgy looks had characterized menswear for nearly a decade, designers were surprisingly blind to the creativity and colour that younger consumers craved. Despite the unisex styles, non-binary clothing and statement-making expressions trending among Instagangs and TikTok tribes, mainstream men's fashion said more about the past than it did about the present.
Such was the vibe in Paris at the start of 2022, a time when the new year was ushering in a spirit of fresh optimism and when brands around the world had come to terms with the fallout from the recent pandemic. Amidst the uncertainty of flight delays, cancelled shows and empty seats, the schedule for the Autumn/Winter 2022 menswear collections was published as usual. As the shows drew nearer, an unexpected buzz was palpable behind the scenes. Whispered exchanges among fashion insiders reached the ears of bloggers and fashionistas, but no one said a word. Like doctors reviving the dying, the menswear cognoscenti checked the body of fashion for vital signs, but failed to find the pulse.
Men's Fashion Week kicked off on January 18 and concluded on January 23. During those five intensive days, new interpretations of the modern man played out. From day one, audiences and onlookers were dazzled by bright colour palettes and bold prints. Many of the motifs were exaggerated and oversized, as if they had peeled of the walls surrounding the catwalks and glued themselves to the garments. Iconic menswear items, such as trench coats, lounge suits and dress shirts were reinvented as colour statements, appearing on the catwalks in neon pink, fluorescent orange and bright yellow. Streetwear designs, such as puffer jackets, hooded knitwear and low-slung trousers were made from shimmering materials and soft floral fabrics. Amidst this mélange of clashing colours and contrasting styles, fur coats debuted on the catwalks in deep shades of crimson and pink. Some resonated with classic tailoring, while others expressed the legacies of trashy chic left behind by late twentieth-century rock stars.
The new aesthetics broke away from the accepted codes of elegance to encapsulate teenage rebellion. They offered a vision of the male wardrobe seen through the eyes of Gen Z trend-setters and style-conscious hipsters. Outfits were accessorised with brooches, gold chains, single earrings and bowties, and styled with sportswear elements that attested to the the body-conscious silhouettes active men are striving for. The looks presented potent contrasts to the neat styling and buttoned-up control that typically characterizes men's fashion. As designers intermixed classics from dad's wardrobe with the colours, prints and jewellery worn by mom, they seemed to invoke the wearer's inner child and invite him to dress up in his parents' clothes. The style was marked by nostalgia for retro classics and cult references that harkenning back to eras before Gen Z consumers were born.
The sense of youthful irreverence that reigned on the catwalk was accompanied by a sense of absurdity, including sarcastic texts printed onto garments, glittering sequined trousers and transparent tops. Brands such as Dior, Prada and Louis Vuitton drew inspiration from social media streams, accessorizing looks with the single earring already trending among TikTok's eboy followers. The collections sparked looks that took hold almost as soon as they debuted on the catwalk. Streetstyle experts were quick to chronicle smart suits worn without shirts underneath and spot the popularity of fur coats worn by media figures and film stars.
Although Autumn/Winter 2022 was characterized by playful approaches, the collections included plenty of grown-up looks too. Dries Van Noten undermined the prevailing sense of irony by imbuing elements of classic tailoring with outdated luxury. The designer presented a lookbook celebration of life, love and refinement, richly coloured in gemstone tones and pearl embellishments. Dries Van Noten was not the only label to resurrect the historical Dandy figure. Fendi and Casablanca also launched designs for a male aesthete who fashions himself in statement-making, elegant styles. Their looks were classic enough to appeal to mature consumers, yet strident enough to bring him off the fashion side-lines and into the centre of the stage.
Labels such as Erdem, Jil Sander and Davi Paris introduced some of the most classic cuts seen during the season, each expressed with a sense of feminine sophistication. Burgundy, dark green and pale blue emerged as signature menswear colours, expressed through luxury materials such as velvet, satin and silk. The collections included classic corduroy and pinstripe prints, which were shown alongside feminine patterns and floral motifs. These brands rendered an image of a man comfortable with his feminine side while expressing his masculinity through classic styles. As these brands created looks that used soft feminine elements to blunt the hard edges of male tailoring, they retained their conservative clientele while reaching out to younger, trendier consumers.
As new approaches to menswear invite older consumers to re-examine their sense of style, they also question the elements that make up their sense of identity. This season, the industry broke away from the standardization that has characterized men's fashion for decades, offering an unprecedented variety of alternatives. The freedom of expression they foster make Gen Z style choices more relevant to the mainstream. By beginning to target younger generations, premium brands are climbing on board the fashion odyssey that takes men from adolescence to adulthood.
The exchanges between menswear and social media platforms are empowering men of all ages to express themselves more freely through fashion. They can find refuge in online communities of like-minded people and identify the styles tribes that resonate with their own sense of self-expression. As the Metaverse becomes more dominant, the merging of physical and digital realms is adding new layers of creativity to fashion and styling. It's increasingly providing men with a forum for trying out new looks and experimenting with their own sense of style.
These big shifts in men's fashion are occurring at a time when women are inspiring their male counterparts to change with the times. As women assert more leadership in sports, business and politics, they often break down gender norms and challenge masculine traits. ln an era that encourages the questioning of roles and lifestyle choices, no colour, print or motif can belong exclusively to one gender alone.
Just as the Autumn/ Winter 2022 season sent shock waves through the industry, it signalled a seismic shift among fashion consumers. By offering men the freedom to say something new, menswear brands may inspire womenswear designers to make traditional male tailoring even more relevant to women. As codes of masculinity continue to break down, men's fashion promises to find a baseline for rebooting traditional identities and relaunching them in new forms.
Author, academic and fashion industry strategist, Bradley Quinn is an expert on wearable technology and emerging trends. He has written several books, including Techno Fashion, UltraMaterials, Textile Futures, Design Futures, Fashion Futures and Textile Visionaries. Based near Paris, Bradley also directs Bureau Bradley Quinn, a communication agency for the creative industries.