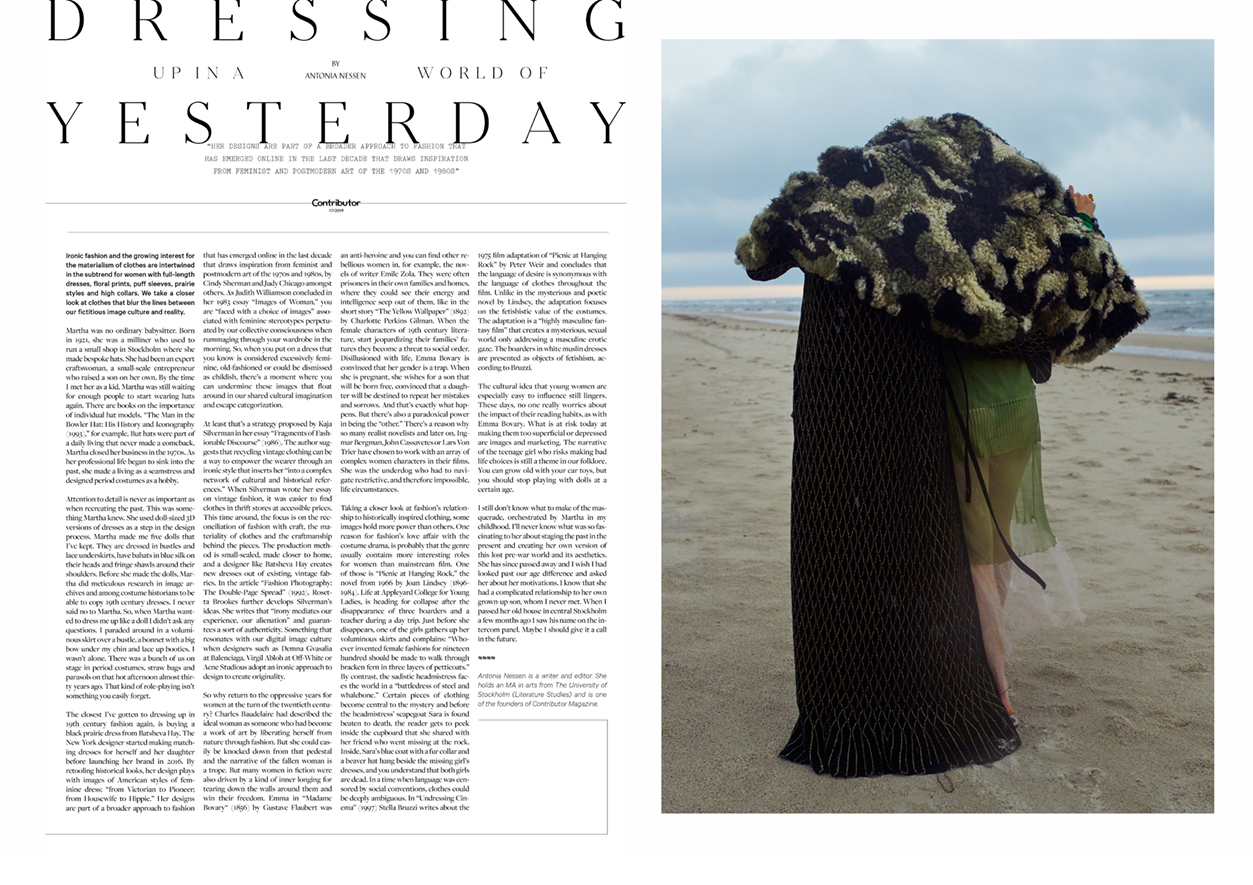 Dressing up in a World of Yesterday
Ironic fashion and a growing interest in the materiality of clothes are intertwined in the sub-trend for women with full-length dresses, floral prints, puff sleeves, prairie styles, and high collars. We take a closer look at clothes that blur the lines between fiction and reality.
By Antonia Nessen
Martha was no ordinary babysitter. Born in 1921, she was a milliner who used to run a small shop in Stockholm where she made bespoke hats. She was an expert craftswoman, a small-scale entrepreneur who raised a son on her own. When I met her as a kid, Martha was still waiting for enough people to start wearing hats again. Entire books have been written about the importance of individual hat models, such as The Man in the Bowler Hat: His History and Iconography (1993), but hats were part of a daily life that never made a comeback. Martha closed her business in the 1970s. As her professional life began to sink into the past, she made a living as a seamstress and designed period costumes as a hobby.
Attention to detail is never as important as when recreating the past. This was something Martha knew. She used doll-sized 3D versions of dresses as a step in the design process. Martha made me five dolls that I've kept. They are dressed in bustles and lace underskirts, have hats in blue silk on their heads and fringe shawls around their shoulders. Before she made the dolls, Martha did meticulous research in image archives and among costume historians to be able to copy nineteenth-century dresses. I never said no to Martha. So, when Martha wanted to dress me up like a doll I didn't ask any questions. I paraded around in a voluminous skirt over a bustle, a bonnet with a big bow under my chin and lace-up booties. I wasn't alone. There was a bunch of us on stage in period costumes, straw bags, and parasols on that hot afternoon almost thirty years ago. That kind of role-playing isn't something you easily forget.
The closest I've gotten to dressing up in nineteenth-century fashion since, is buying a black prairie dress from Batsheva Hay. The New York designer started making matching dresses for herself and her daughter before launching her brand in 2016. By retooling historical looks, her design plays with images of American styles of feminine dress: "from Victorian to Pioneer; from Housewife to Hippie." Her designs are part of a broader approach to fashion that has emerged online in the last decade that draws inspiration from feminist and postmodern art of the 1970s and 1980s by Cindy Sherman and Judy Chicago, amongst others. As Judith Williamson concluded in her 1983 essay "Images of Woman," you are "faced with a choice of images" associated with feminine stereotypes perpetuated by our collective unconscious when rummaging through your wardrobe in the morning. So, when you put on a dress that you know is considered excessively feminine, old-fashioned, or could be dismissed as childish, there's a moment where you can undermine these images that float around in our shared cultural imagination and escape categorization.
At least that's a strategy proposed by Kaja Silverman in her essay "Fragments of Fashionable Discourse" (1986). The author suggests that recycling vintage clothing can be a way to empower the wearer through an ironic style that inserts her "into a complex network of cultural and historical references." When Silverman wrote her essay on vintage fashion, it was easier to find clothes in thrift stores at accessible prices. This time around, the focus is on the reconciliation of fashion with craft, the materiality of clothes, and the craftmanship behind the pieces. The production method is small-scale, made closer to home, and a designer like Batsheva Hay creates new dresses out of existing, vintage fabrics. In the article "Fashion Photography: The Double-Page Spread" (1992), Rosetta Brookes further develops Silverman's ideas. She writes that "irony mediates our experience, our alienation" and guarantees a sort of authenticity. Something that resonates with our digital image culture when designers such as Demna Gvasalia at Balenciaga, Virgil Abloh at Off-White, or Acne Studios adopt an ironic approach to design to create originality.
So why return to the oppressive years for women at the turn of the twentieth century? Charles Baudelaire had described the ideal woman as someone who became a work of art by liberating herself from nature through fashion. She could, however, easily be knocked down from that pedestal and the narrative of the fallen woman is a trope. But many women in fiction were also driven by a kind of inner longing for tearing down the walls around them and winning their freedom. Emma in Madame Bovary (1856) by Gustave Flaubert was an anti-heroine and you can find other rebellious women in, for example, the novels of the writer Émile Zola. They were often prisoners in their own families and homes, where they could see their energy and intelligence seep out of them, like in the short story The Yellow Wallpaper (1892) by Charlotte Perkins Gilman. When the female characters of nineteenth century literature, start jeopardizing their families' futures they become a threat to social order. Disillusioned with life, Emma Bovary is convinced that her gender is a trap. When she is pregnant, she wishes for a son who will be born free, convinced that a daughter would be destined to repeat her mistakes and sorrows. And that's exactly what happens. But there's also a paradoxical power in being the "other." There's a reason why so many realist novelists and later filmmakers like, Ingmar Bergman, John Cassavetes, or Lars Von Trier have chosen to work with an array of complex women characters. She was the underdog who had to navigate restrictive, and therefore impossible, life circumstances.
Taking a closer look at fashion's relationship to historically inspired clothing, some images hold more power than others. One reason for fashion's love affair with the costume drama, is probably that the genre usually contains more interesting roles for women than mainstream film. One of those is Picnic at Hanging Rock, the novel from 1966 by Joan Lindsey (1896–1984). Life at Appleyard College for Young Ladies is heading towards collapse after the disappearance of three boarders and a teacher during a day trip. Just before she disappears, one of the girls gathers up her voluminous skirts and complains: "Whoever invented female fashions for nineteen hundred should be made to walk through bracken fern in three layers of petticoats." By contrast, the sadistic headmistress faces the world in a "battledress of steel and whalebone." Certain pieces of clothing become central to the mystery and before the headmistress' scapegoat Sara is found beaten to death, the reader gets to peek inside the cupboard that she shared with her friend who went missing at the rock. Inside, Sara's blue coat with a fur collar and a beaver hat hang beside the missing girl's dresses, and you understand that both girls are dead. In a time when language was censored by social conventions, clothes could be deeply ambiguous. In Undressing Cinema (1997) Stella Bruzzi writes about the 1975 film adaptation of Picnic at Hanging Rock by Peter Weir and concludes that the language of desire is synonymous with the language of clothes throughout the film. Unlike the mysterious and poetic novel by Lindsey, the adaptation focuses on the fetishistic value of the costumes. The adaptation is a "highly masculine fantasy film" that creates a sexual world only addressing a masculine erotic gaze. The boarders in white muslin dresses are presented as objects of fetishism, according to Bruzzi.
The cultural idea that young women are especially easy to influence still lingers. These days, no one really worries about the impact of their reading habits, as with Emma Bovary. What has the potential to make them too superficial or depressed today are images and marketing. The narrative of the teenage girl who risks making bad life choices is still a theme in our folklore. You can grow old with your car toys, but you should stop playing with dolls at a certain age.
I still don't know what to make of the masquerade orchestrated by Martha in my childhood. I'll never know what was so fascinating to her about staging the past in the present and creating her own version of this lost pre-war world and its aesthetics. She has since passed away and I wish I had looked past our age difference and asked her about her motivations. I know that she had a complicated relationship with her own grown-up son, whom I never met. When I passed her old house in central Stockholm a few months ago I saw his name on the intercom panel. Maybe I should give it a buzz in future.
Antonia Nessen is a writer. She holds an MA in Arts from Stockholm University and is one of the founders of Contributor Magazine.