Photography by Adam Goodison, art direction by Marlon Rueberg and fashion by Mireia Roelas. Click for details.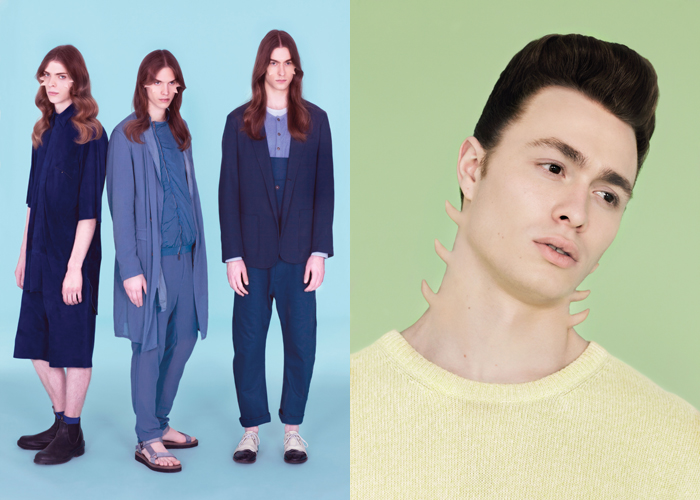 John Cherkaz is wearing a suede shirt and shorts by T.LIPOP, socks by RICHARD JAMES and Chelsea boots by BLUNDSTONE. Hubert Rapisardi is wearing overcoat, jersey and trousers by LANVIN, sandals MIHARAYASURO.Marco Steiner is wearing reverse printed henley by JOHN VARVATOS, buttoned t-shirt by RICARD JAMES, raw dungarees by HUMOR and black&white lazed up shoes by MIHARAYASUHIRO. Josh Alfred is wearing a crew neck knitted sweater by RICHARD JAMES.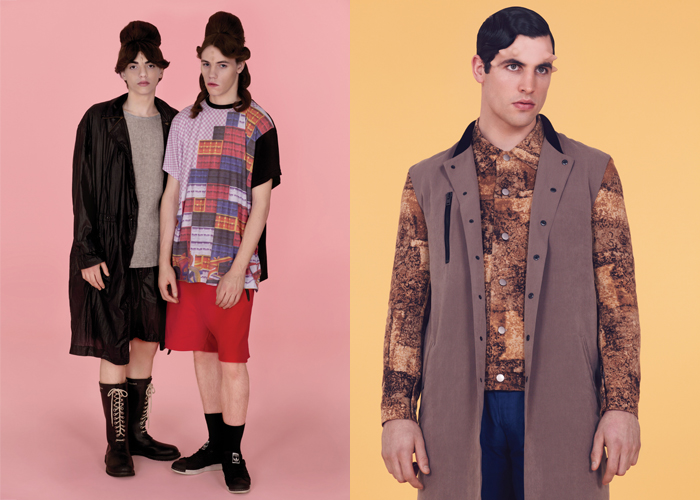 Sascha Bailey is wearing a hooded mac by MIHARAYASUHIRO, drawstring shorts by MIHARAYASUHIRO, linen t-shirt by B STORE and rubber laced boots by ILSE JACOBSEN. Duncan Pyke is wearing a printed t-shirt by ROBERTO PIQUERAS, zipped shorts by ASGER JUEL LARSEN, socks by ADIDAS Y3 and trainers by ADIDAS SUPERSTAR. Franky is wearingprinted denim jacket and sleeveless 3/4 mac by ASGER JUEL LARSEN, trousers by JOHN VARVATOS, creepers by UNDERGROUND.
Jeremy Boateng is wearing a deconstructed blazer by T.LIPOP, tailoring trousers by JOHN VARVATOS and REEBOK platforms by ROBERTO PIQUERAS. Photography by Adam Goodison, art direction by Marlon Rueberg, fashion by Mireia Roelas, make up and prosthetics by Antigone Orfanoudaki, hair by Soichi Inagaki using Aveda@BalconyJump, retouching by Fay Elizabeth Harpham. Modeling by John Cherkaz@M&P, Hubert Rapisardi, Marco Steiner, Jeremy Boateng and Josh Alfred@D1, Sascha Bailey and Franky@Storm, Duncan Pyke@Elite London. Photographer's assistance by Chris Bromley, stylist assistance by Christian Duff. Special Thanks to Amanda Sissons at Direct Photographic, Bernice Brobbey at D1, Leah Hibbert at Elite, Josh Rudd at M&P, Matthew Coats at Storm, Nawshika Ganegama and Tim Paton at Balcony Jump.