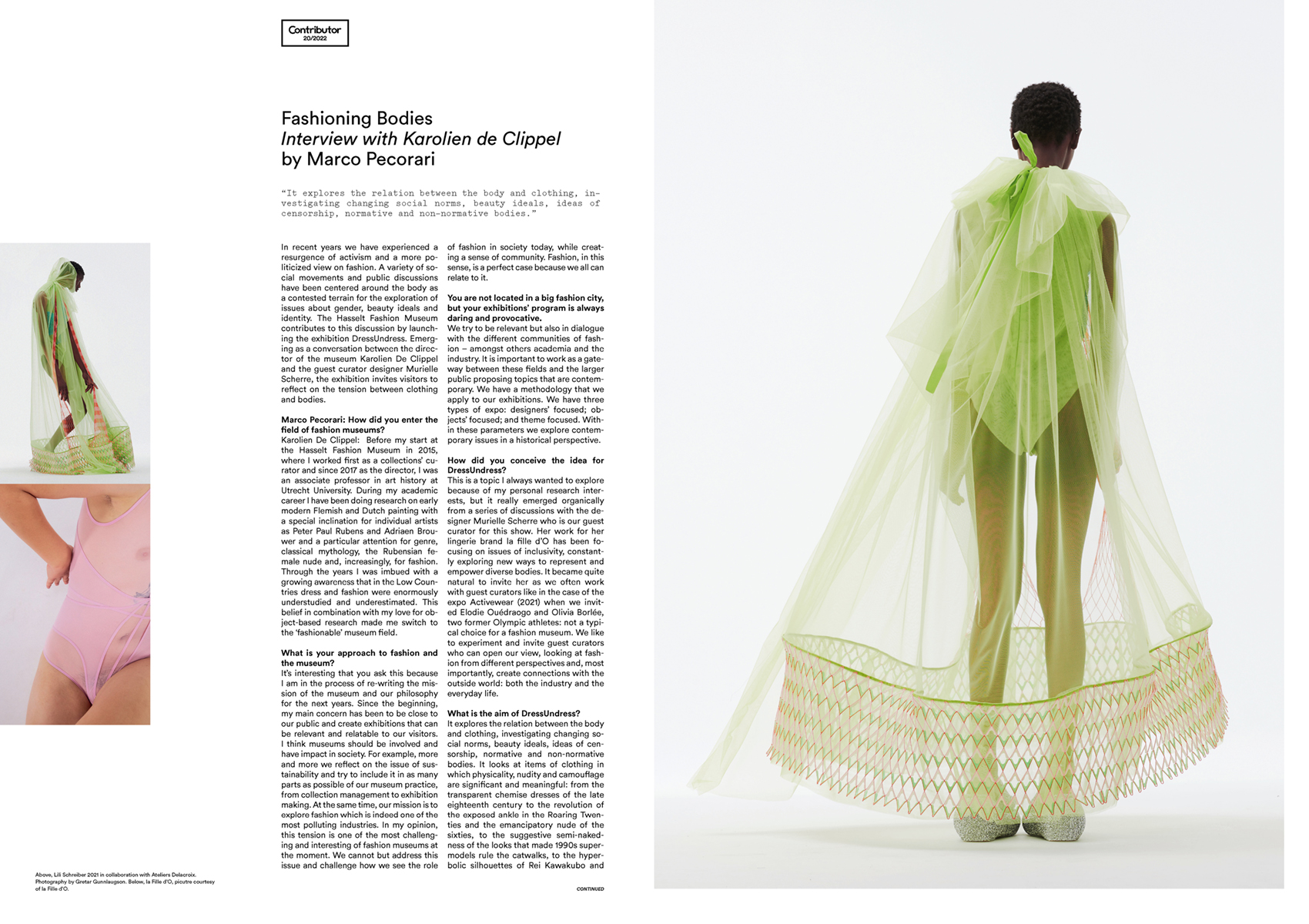 Fashioning Bodies
Interview with Karolien de Clippel
By Marco Pecorari
In recent years we have experienced a resurgence of activism and a more politicized view on fashion. A variety of social movements and public discussions have been centered around the body as a contested terrain for the exploration of issues about gender, beauty ideals and identity. The Hasselt Fashion Museum contributes to this discussion by launching the exhibition DressUndress. Emerging as a conversation between the director of the museum Karolien De Clippel and the guest curator designer Murielle Scherre, the exhibition invites visitors to reflect on the tension between clothing and bodies.
Marco Pecorari: How did you enter the field of fashion museums?
Karolien De Clippel: Before my start at the Hasselt Fashion Museum in 2015, where I worked first as a collections' curator and since 2017 as the director, I was an associate professor in art history at Utrecht University. During my academic career I have been doing research on early modern Flemish and Dutch painting with a special inclination for individual artists as Peter Paul Rubens and Adriaen Brouwer and a particular attention for genre, classical mythology, the Rubensian female nude and, increasingly, for fashion. Through the years I was imbued with a growing awareness that in the Low Countries dress and fashion were enormously understudied and underestimated. This belief in combination with my love for object-based research made me switch to the 'fashionable' museum field.
What is your approach to fashion and the museum?
I am in the process of re-writing the mission of the museum and our philosophy. Since the beginning, my main concern has been to be close to our public and create exhibitions that can be relevant and relatable to our visitors. I think museums should be involved and have impact in society. For example, more and more we reflect on the issue of sustainability and try to include it in as many parts as possible of our museum practice, from collection management to exhibition making. At the same time, our mission is to explore fashion which is indeed one of the most polluting industries. In my opinion, this tension is one of the most challenging and interesting of fashion museums at the moment. We cannot but address this issue and challenge how we see the role of fashion in society today, while creating a sense of community. Fashion, in this sense, is a perfect case because we all can relate to it.
You are not located in a big fashion city, but your exhibitions' program is always daring and provocative.
We try to be relevant but also in dialogue with the different communities of fashion – amongst others academia and the industry. It is important to work as a gateway between these fields and the larger public proposing topics that are contemporary. We have a methodology that we apply to our exhibitions. We have three types of expo: designers' focused; objects' focused; and theme focused. Within these parameters we explore contemporary issues in a historical perspective.
How did you conceive the idea for DressUndress?
This is a topic I always wanted to explore because of my personal research interests, but it really emerged organically from a series of discussions with the designer Murielle Scherre who is our guest curator for this show. Her work for her lingerie brand la Fille d'O has been focusing on issues of inclusivity, constantly exploring new ways to represent and empower diverse bodies. It became quite natural to invite her as we often work with guest curators like in the case of the expo Activewear (2021) when we invited Elodie Ouédraogo and Olivia Borlée, two former Olympic athletes: not a typical choice for a fashion museum. We like to experiment and invite guest curators who can open our view, looking at fashion from different perspectives and, most importantly, create connections with the outside world: both the industry and the everyday life.
What is the aim of DressUndress?
It explores the relation between the body and clothing, investigating changing social norms, beauty ideals, ideas of censorship, normative and non-normative bodies. It looks at items of clothing in which physicality, nudity and camouflage are significant and meaningful: from the transparent chemise dresses of the late eighteenth century to the revolution of the exposed ankle in the Roaring Twenties and the emancipatory nude of the sixties, to the suggestive semi-nakedness of the looks that made 1990s supermodels rule the catwalks, to the hyperbolic silhouettes of Rei Kawakubo and the voluminously concealing dresses of Simone Rocha. The approach is trans-historical as we combine contemporary and historical in order to historicize the idea of the body. Ideas of body normativity and transgression are materially and immaterially diverse in time and space and must be always contextualized. But it is crucial to create these trajectories and narratives of body perceptions. Our aim is to make these issues significant – to make our visitors able to relate to these issues.
To work on the idea of the body is a huge task. How did you control this field?
We always start from our collection which focuses on Western European garments from 1750 until today; but then we combine these pieces with loans and other multimedia. For the expo, we focused on four themes: revealing focuses on display of bodies; concealing exploring the idea of covering up and modesty; trompe l'oeil investigates the idea of nakedness and flesh; and metamorphosis which navigates issues of gaze, norms and body shape experimentation. Each section presents both historical and contemporary pieces with a selection of fashion classics ranging from the explicit nudity of designers such as Jean Paul Gaultier, Vivienne Westwood and Thierry Mugler to the conceptual and poetic approach of designers such as Helmut Lang, Ann Demeulemeester and Alexander McQueen. We also invited young designers like Belgian newcomers, such as Ester Manas and Lili Schreiber, whose work focuses on inclusion and diversity.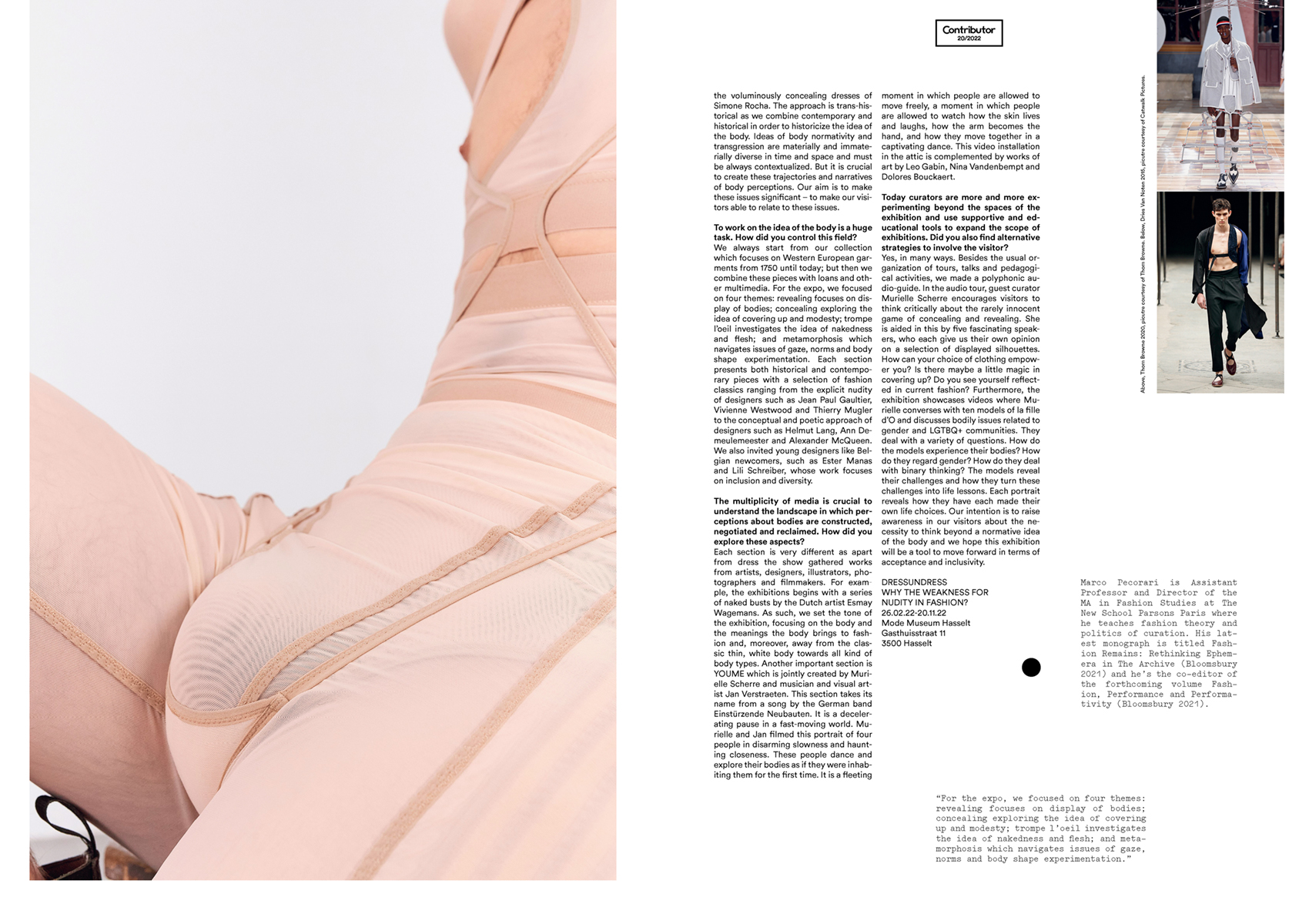 The multiplicity of media is crucial to understand the landscape in which perceptions about bodies are constructed, negotiated and reclaimed. How did you explore these aspects?
Each section is very different as apart from dress the show gathered works from artists, designers, illustrators, photographers and filmmakers. For example, the exhibitions begins with a series of naked busts by the Dutch artist Esmay Wagemans. As such, we set the tone of the exhibition, focusing on the body and the meanings the body brings to fashion and, moreover, away from the classic thin, white body towards all kind of body types. Another important section is YOUME which is jointly created by Murielle Scherre and musician and visual artist Jan Verstraeten. This section takes its name from a song by the German band Einstürzende Neubauten. It is a decelerating pause in a fast-moving world. Murielle and Jan filmed this portrait of four people in disarming slowness and haunting closeness. These people dance and explore their bodies as if they were inhabiting them for the first time. It is a fleeting moment in which people are allowed to move freely, a moment in which people are allowed to watch how the skin lives and laughs, how the arm becomes the hand, and how they move together in a captivating dance. This video installation in the attic is complemented by works of art by Leo Gabin, Nina Vandenbempt and Dolores Bouckaert.
Today curators are more and more experimenting beyond the spaces of the exhibition and use supportive and educational tools to expand the scope of exhibitions. Did you also find alternative strategies to involve the visitor?
Yes, in many ways. Besides the usual organization of tours, talks and pedagogical activities, we made a polyphonic audio-guide. In the audio tour, guest curator Murielle Scherre encourages visitors to think critically about the rarely innocent game of concealing and revealing. She is aided in this by five fascinating speakers, who each give us their own opinion on a selection of displayed silhouettes. How can your choice of clothing empower you? Is there maybe a little magic in covering up? Do you see yourself reflected in current fashion? Furthermore, the exhibition showcases videos where Murielle converses with ten models of la fille d'O and discusses bodily issues related to gender and LGTBQ+ communities. They deal with a variety of questions. How do the models experience their bodies? How do they regard gender? How do they deal with binary thinking? The models reveal their challenges and how they turn these challenges into life lessons. Each portrait reveals how they have each made their own life choices. Our intention is to raise awareness in our visitors about the necessity to think beyond a normative idea of the body and we hope this exhibition will be a tool to move forward in terms of acceptance and inclusivity.
26.02.22-20.11.22 Mode Museum Hasselt, Gasthuisstraat 11, 3500 Hasselt
Marco Pecorari is Assistant Professor and Director of the MA in Fashion Studies at The New School Parsons Paris where he teaches fashion theory and politics of curation. His latest monograph is titled Fashion Remains: Rethinking Ephemera in The Archive (Bloomsbury 2021) and he's the co-editor of the forthcoming volume Fashion, Performance and Performativity (Bloomsbury 2021).