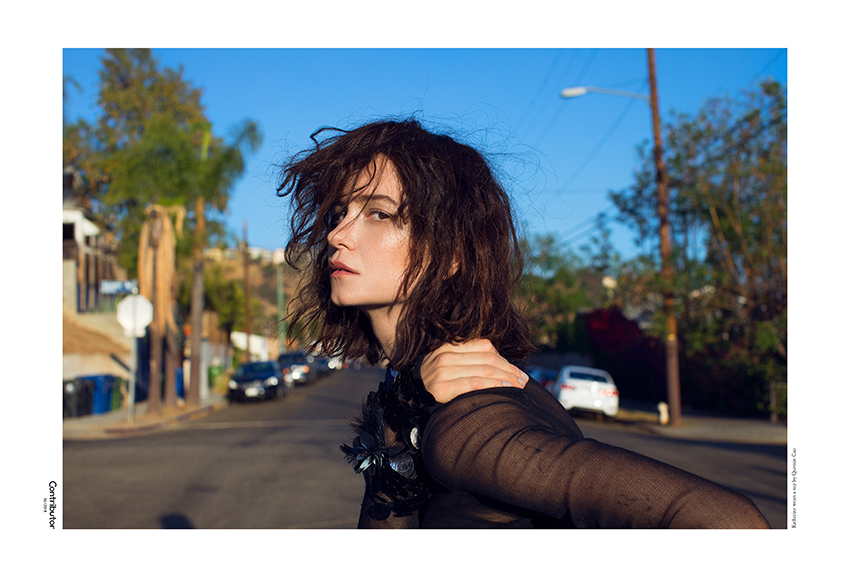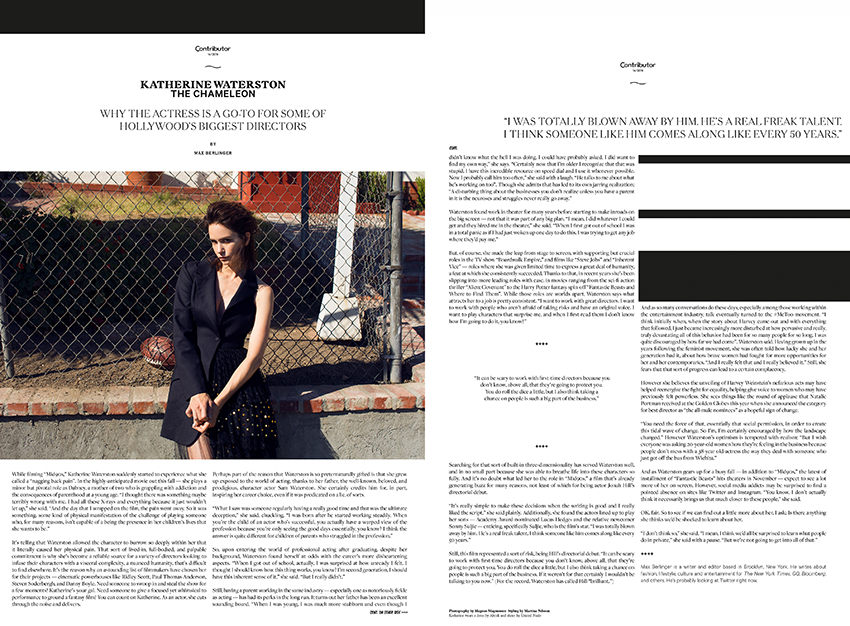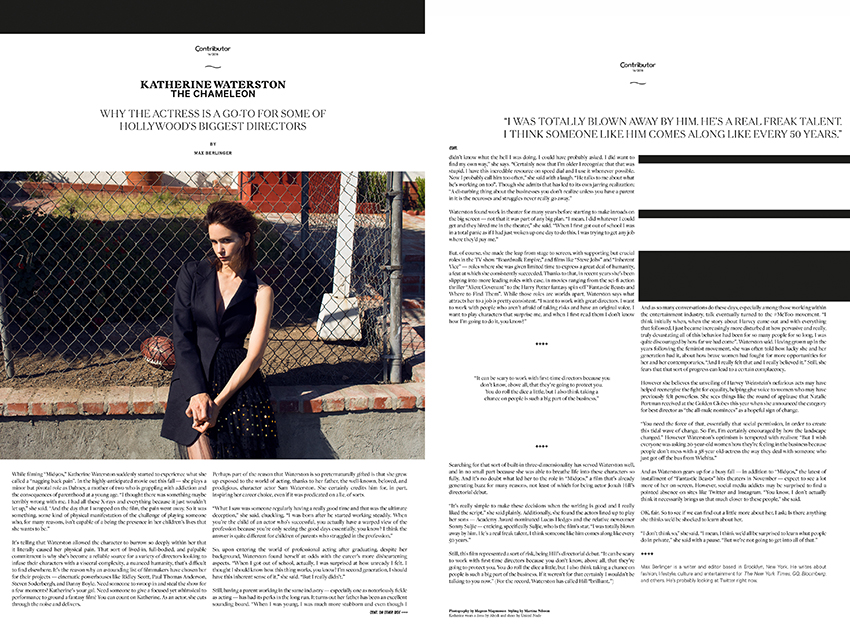 Chameleon. Interview with Katherine Waterston
Why the actress is a go-to for some of Hollywood's biggest directors.
By Max Berlinger
While filming "Mid90s," Katherine Waterston suddenly started to experience what she called a "nagging back pain". In the highly-anticipated movie out this fall — she plays a minor but pivotal role as Dabney, a mother of two who is grappling with addiction and the consequences of parenthood at a young age. "I thought there was something maybe terribly wrong with me. I had all these X-rays and everything because it just wouldn't let up," she said. "And the day that I wrapped on the film, the pain went away. So it was something, some kind of physical manifestation of the challenge of playing someone who, for many reasons, isn't capable of being the presence in her children's lives that she wants to be."
It's telling that Waterston allowed the character to burrow so deeply within her that it literally caused her physical pain. That sort of lived-in, full-bodied, and palpable commitment is why she's become a reliable source for a variety of directors looking to infuse their characters with a visceral complexity, a nuanced humanity, that's difficult to find elsewhere. It's the reason why an astounding list of filmmakers have chosen her for their projects — cinematic powerhouses like Ridley Scott, Paul Thomas Anderson, Steven Soderbergh, and Danny Boyle. Need someone to swoop in and steal the show for a few moments? Katherine's your gal. Need someone to give a focused yet whimsical performance to ground a fantasy film? You can count on Katherine. As an actor, she cuts through the noise and delivers. 
Perhaps part of the reason that Waterston is so preternaturally gifted is that she grew up exposed to the world of acting, thanks to her father, the well-known, beloved, and prodigious, character actor Sam Waterston. She certainly credits him for, in part, inspiring her career choice, even if it was predicated on a lie, of sorts.
"What I saw was someone regularly having a really good time and that was the ultimate deception," she said, chuckling. "I was born after he started working steadily. When you're the child of an actor who's successful, you actually have a warped view of the profession because you're only seeing the good days essentially, you know? I think the answer is quite different for children of parents who struggled in the profession."
So, upon entering the world of professional acting after graduating, despite her background, Waterston found herself at odds with the career's more disheartening aspects. "When I got out of school, actually, I was surprised at how unready I felt. I thought I should know how this thing works, you know? I'm second generation, I should have this inherent sense of it," she said. "But I really didn't." 
Still, having a parent working in the same industry — especially one as notoriously fickle as acting — has had its perks in the long run. It turns out her father has been an excellent sounding board. "When I was young, I was much more stubborn and even though I didn't know what the hell I was doing, I could have probably asked. I did want to find my own way," she says. "Certainly now that I'm older I recognize that that was stupid. I have this incredible resource on speed dial and I use it whenever possible. Now I probably call him too often," she said with a laugh. "He talks to me about what he's working on too". Though she admits that has led to its own jarring realization: "A disturbing thing about the businesses you don't realize unless you have a parent in it is the neuroses and struggles never really go away."
Waterston found work in theater for many years before starting to make inroads on the big screen — not that it was part of any big plan. "I mean, I did whatever I could get and they hired me in the theater," she said. "When I first got out of school I was in a total panic as if I had just woken up one day to do this. I was trying to get any job where they'd pay me." 
But, of course, she made the leap from stage to screen, with supporting but crucial roles in the TV show "Boardwalk Empire," and films like "Steve Jobs" and "Inherent Vice" — roles where she was given limited time to express a great deal of humanity, a feat at which she consistently succeeded. Thanks to that, in recent years she's been slipping into more leading roles with ease, in movies ranging from the sci-fi action thriller "Alien: Covenant" to the Harry Potter fantasy spin-off "Fantastic Beasts and Where to Find Them". While those roles are worlds apart, Waterston says what attracts her to a job is pretty consistent. "I want to work with great directors. I want to work with people who aren't afraid of taking risks and have an original voice. I want to play characters that surprise me, and when I first read them I don't know how I'm going to do it, you know?"
Searching for that sort of built-in three-dimensionality has served Waterston well, and in no small part because she was able to breathe life into these characters so fully. And it's no doubt what led her to the role in "Mid90s," a film that's already generating buzz for many reasons, not least of which for being actor Jonah Hill's directorial debut. 
"It's really simple to make these decisions when the writing is good and I really liked the script," she said plainly. Additionally, she found the actors lined-up to play her sons — Academy Award-nominated Lucas Hedges and the relative newcomer Sonny Suljic — enticing, specifically Suljic, who is the film's star. "I was totally blown away by him. He's a real freak talent. I think someone like him comes along like every 50 years." 
Still, this film represented a sort of risk, being Hill's directorial debut. "It can be scary to work with first-time directors because you don't know, above all, that they're going to protect you. You do roll the dice a little, but I also think taking a chance on people is such a big part of the business. If it weren't for that certainly I wouldn't be talking to you now." (For the record, Waterston has called Hill "brilliant.")
And as so many conversations do these days, especially among those working within the entertainment industry, talk eventually turned to the #MeToo movement. "I think initially when, when the story about Harvey came out and with everything that followed, I just became increasingly more disturbed at how pervasive and really, truly devastating all of this behavior had been for so many people for so long. I was quite discouraged by how far we had come". Waterston said. Having grown up in the years following the feminist movement, she was often told how lucky she and her generation had it, about how brave women had fought for more opportunities for her and her contemporaries. "And I really felt that and I really believed it." Still, she fears that that sort of progress can lead to a certain complacency. 
However she believes the unveiling of Harvey Weinstein's nefarious acts may have helped reenergize the fight for equality, helping give voice to women who may have previously felt powerless. She sees things like the round of applause that Natalie Portman received at the Golden Globes this year when she announced the category for best director as "the all-male nominees" as a hopeful sign of change. 
"You need the force of that, essentially that social permission, in order to create this tidal wave of change. So I'm, I'm certainly encouraged by how the landscape changed." However Waterston's optimism is tempered with realism: "But I wish everyone was asking 20-year-old women how they're feeling in the business because people don't mess with a 38-year old-actress the way they deal with someone who just got off the bus from Wichita."
And as Waterston gears up for a busy fall — in addition to "Mid90s," the latest of installment of "Fantastic Beasts" hits theaters in November  — expect to see a lot more of her on-screen. However, social media addicts may be surprised to find a pointed absence on sites like Twitter and Instagram. "You know, I don't actually think it necessarily brings us that much closer to these people," she said. 
OK, fair. So to see if we can find out a little more about her, I ask: Is there anything she thinks we'd be shocked to learn about her. 
"I don't think so," she said. "I mean, I think we'd all be surprised to learn what people do in private," she said with a pause. "But we're not going to get into all of that." 
Max Berlinger is a writer and editor based in Brooklyn, New York. He writes about fashion, lifestyle, culture and entertainment for The New York Times, GQ, Bloomberg, and others. He's probably looking at Twitter right now.