Get the Balance Right
Interview with Thomas Monet by Philippe Pourhashemi
In order to succeed as an independent fashion brand today, coming up with desirable, reasonably priced and well-made products is only half the job. Communication, marketing, crafting your own storytelling, and exchanging with your audience through the endless flow of social media have become paramount.
Long gone are the days of the 'mystery designer' whose invisibility and anonymity were a source of wonder and excitement. Would someone like Martin Margiela even have a chance to succeed today? It seems that everyone wants to shout louder to get noticed, and while the boundaries between private and public spheres seem to collapse, it doesn't mean every brand is comfortable playing the fame game.
Thomas Monet, who launched COOL T.M two years ago, is a designer who undeniably loves fashion and clothes, but he's also critical of certain parts of the industry that make it tough for new names to develop. His own career path is an impressive one and he has honed his skills at Balmain and Faith Connexion, working with style maverick Christophe Decarnin. We sat down with the Paris-based designer to discuss what makes a young brand relevant, how to navigate the current fashion landscape, and why he has no control when it comes to vintage shopping.
Where did the desire to launch COOL T.M come from?
I've been designing for 15 years and started when I was 21, which was quite young I guess. I took a long break before working on COOL T.M, because I struggled finding meaning in my work and also needed to take a step back. Still, I think I always wanted to have my own brand.
Were you experiencing some kind of fashion fatigue?
I think I was. The crazy pace of collections had caught up with me and I had been working non-stop since my early twenties, designing menswear, Haute Couture, and also working at Balmain for several years, which was hugely successful at the time.
Was that when Christophe Decarnin was there?
Yes. Then he started doing Faith Connexion and I designed both men's and women's lines. It was interesting to notice how people were looking for a fusion of couture craft with streetwear-inspired looks, which is the language we had created.
What did you do during your time off?
I traveled a lot and did some freelance work, which I soon realized wasn't my cup of tea.
Did you miss fashion at all?
Yes, I did. My girlfriend got sick of me hunting finds in thrift stores all day long while we were abroad, but I kept buying all these clothes and that was clearly beyond my control. My excuse was that it was all for work (he laughs).
Sounds to me like the perfect holiday!
I'm not going to lie, I love shopping for special pieces, especially vintage.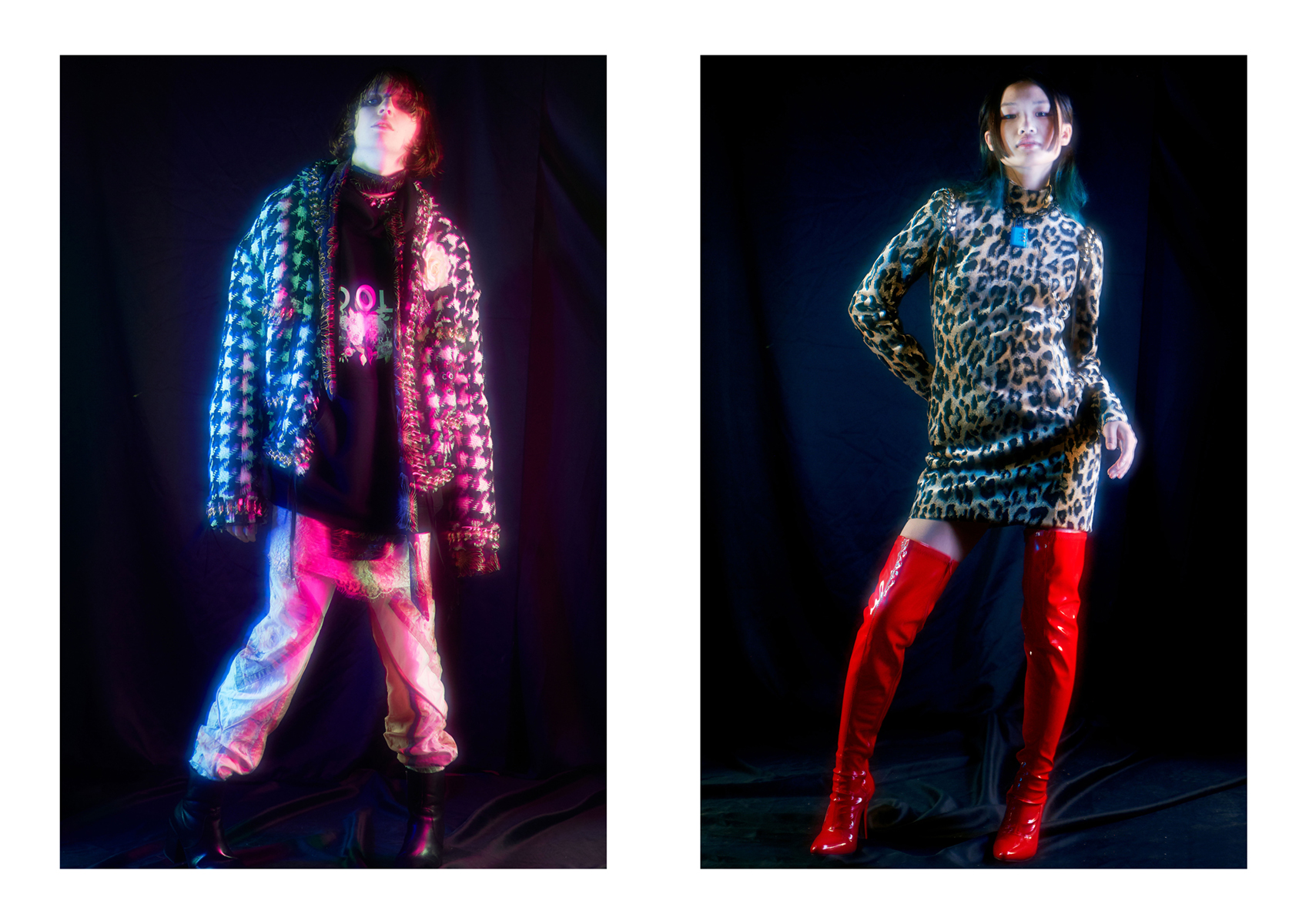 Your clothes work equally for men and women. How do you feel about gender in fashion?
I'm not sure gender is relevant any longer, because we're all a fusion of masculine and feminine. I want people to feel free to wear whatever they want, without any misconceptions or judgment.
Fashion has become increasingly political. Should a brand be committed today in order to satisfy its audience?
I think what matters today is being consistent with your beliefs, and communicating them through your work. Expressing yourself on certain issues is quite dangerous now, because social media thrives on conflict and divisiveness. Still, brands should have values and defend their convictions. I don't like the word 'political' at all, and don't have much respect for politicians either. We know that power and profit corrupt people eventually.
As an independent young brand, how do you compete with the larger groups?
I don't think you can! Let's be honest, the biggest problem when you're an independent brand now is lack of funds, which makes everything slower and more difficult. Besides financial considerations, which are obviously key, young independent brands should also propose a style of their own and distinguish themselves from others. You have to develop your own voice and become recognizable. Your price point needs to be realistic in order to enter the market. And you have to pay attention to the environment and the people you work with.
Sounds like an awful lot of elements to take into account.
I forgot the most important: you need to perform fast and make sure your sales are satisfactory. Stores won't wait three seasons for a brand to perform anymore, you must have good results within the first season. That's the reality of the market today. How do you find the perfect balance between image and commerciality? You have to reinvent yourself and be flexible at the same time, because you cannot take anything for granted.
Does that mean including yourself within the marketing process?
Others do this quite well, but that is not something I've ever felt comfortable with.
You're not the only one who feels this way actually.
I like being able to separate my private life from my professional one. Of course, I understand why people want to know more about designers nowadays, and social media grants you entry into their world. I think I prefer the idea of the collective over that of a single individual. And I don't feel the need to be famous either.
It's funny, because it seems that fame is what a lot of designers aspire to now, and it sometimes seems more important than the creativity of their clothes.
I guess you have to position yourself within that landscape and find the formula that works for you. Having your own brand is challenging, because you need to compromise often, which can lead to frustrations. I'm very grateful and happy that COOL T.M exists, and I wouldn't have done it any other way, but you do need to sacrifice certain things in order to make it happen.
The pressure is undeniable, and this industry is quite stressful, too.
Fashion is an image profession, which means you are always exposed and scrutinized as a brand. I can be sensitive to criticism and certain things make me feel vulnerable, so you need to find ways to protect yourself as a designer.
Do you think fashion consumers are still on the lookout for new independent names?
Yes, I believe they are, and the pandemic changed consuming patterns as well. As long as your pricing is competitive and your values are clear, you have a chance to find an audience. Culturally speaking, Asia is hungry for novelty and customers there are more likely to embrace recently launched brands than in Europe for instance. They don't want to look like others and are getting tired of ubiquitous luxury brands that everybody else wears. They have great curiosity for new names, which is not the same here. European consumers are more conservative anyway.
Your first COOL T.M collection was presented in October 2019, a few weeks before the pandemic started disrupting our world. How did you deal with this?
It didn't affect my plans, nor my strategy in the end. I had spent a long time crafting it and digital was already a part of it. We just went faster implementing it and launched our e-shop 6 months ahead of schedule. We entered the official calendar in January 2020, because our commercial results for the very first season had been pretty good ones, which people didn't expect. Around 20 stores bought us then, which was great.
Buyers were still travelling early 2020. Everything changed in March.
Yes. We were lucky buyers came to the showroom. They could see and touch our clothes. That made them more calm when it came to reordering later. Paradoxically, the pandemic created opportunities for smaller brands like ours, because many couldn't show in Paris anymore or simply decided to shutter their business. I guess opportunities lie in every crisis and the French Federation also needed names to fill up their calendar.
How do you feel about the fashion show today? Is it still necessary?
You can also create strong emotions with a film or digital presentation.
Exactly. The Saint Laurent film where models walked into the desert was really powerful and more than 5 million people viewed it, which is unbelievable.
That film was powerful, because it reminded us of the strength of nature and how we're just a small part of this universe. That's also what the pandemic did, making us more humble and grateful as human beings.
Thomas Monet lives and works in Paris. He graduated from ESMOD in 2008, and designed for Aviatic, Yiqing Yin and Balmain in Paris, before working alongside Christophe Decarnin at Faith Connexion. He launched his own clothing brand COOL T.M at the end of 2019. cool-tm.com
A fashion writer, consultant and stylist, Philippe Pourhashemi was born in Tehran and grew up in Paris. In 2005, he graduated with a PhD in Cultural Studies. Working as a freelance coach for several brands in Belgium, Germany, Switzerland, Holland and Kazakhstan, Philippe advises designers who sell their collections abroad.