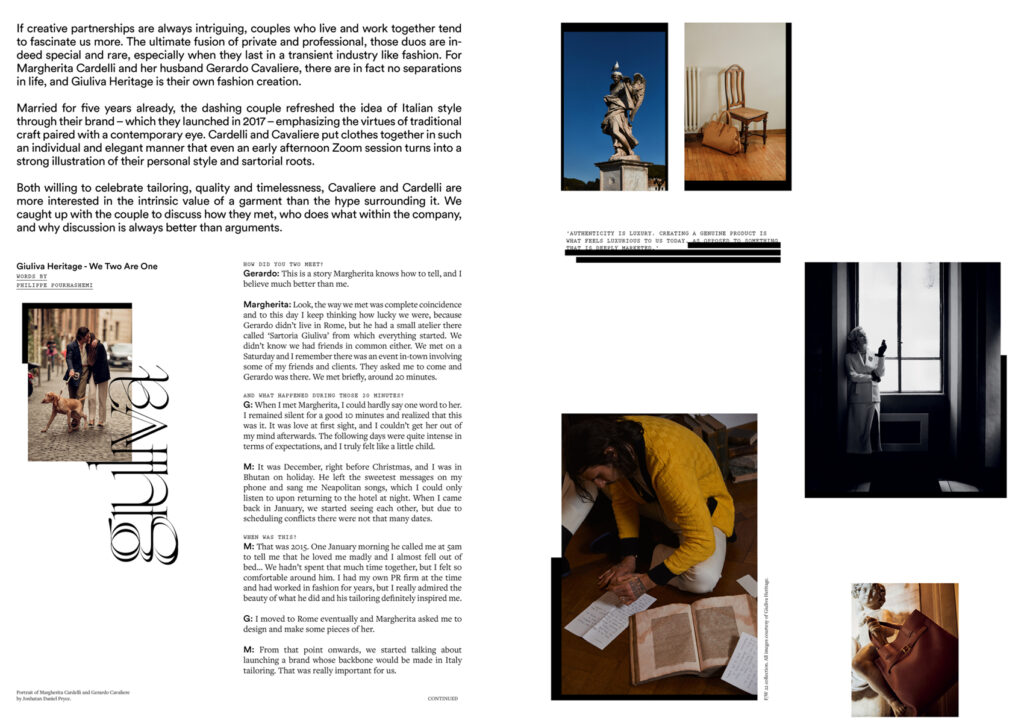 If creative partnerships are always intriguing, couples who live and work together tend to fascinate us more. The ultimate fusion of private and professional, those duos are indeed special and rare, especially when they last in a transient industry like fashion. For Margherita Cardelli and her husband Gerardo Cavaliere, there are in fact no separations in life, and Giuliva Heritage is their own fashion creation.
Married for five years already, the dashing couple refreshed the idea of Italian style through their brand – which they launched in 2017 – emphasizing the virtues of traditional craft paired with a contemporary eye. Cardelli and Cavaliere put clothes together in such an individual and elegant manner that even an early afternoon Zoom session turns into a strong illustration of their personal style and sartorial roots.
Both willing to celebrate tailoring, quality and timelessness, Cavaliere and Cardelli are more interested in the intrinsic value of a garment than the hype surrounding it. We caught up with the couple to discuss how they met, who does what within the company, and why discussion is always better than arguments.
Interview by Philippe Pourhashemi
HOW DID YOU TWO MEET?
Gerardo: This is a story Margherita knows how to tell, and I believe much better than me.
Margherita: Look, the way we met was complete coincidence and to this day I keep thinking how lucky we were, because Gerardo didn't live in Rome, but he had a small atelier there called 'Sartoria Giuliva' from which everything started. We didn't know we had friends in common either. We met on a Saturday and I remember there was an event in-town involving some of my friends and clients. They asked me to come and Gerardo was there. We met briefly, around 20 minutes.
AND WHAT HAPPENED DURING THOSE 20 MINUTES?
G: When I met Margherita, I could hardly say one word to her. I remained silent for a good 10 minutes and realized that this was it. It was love at first sight, and I couldn't get her out of my mind afterwards. The following days were quite intense in terms of expectations, and I truly felt like a little child.
M: It was December, right before Christmas, and I was in Bhutan on holiday. He left the sweetest messages on my phone and sang me Neapolitan songs, which I could only listen to upon returning to the hotel at night. When I came back in January, we started seeing each other, but due to scheduling conflicts there were not that many dates.
WHEN WAS THIS?
M: That was 2015. One January morning he called me at 5am to tell me that he loved me madly and I almost fell out of bed… We hadn't spent that much time together, but I felt so comfortable around him. I had my own PR firm at the time and had worked in fashion for years, but I really admired the beauty of what he did and his tailoring definitely inspired me.
G: I moved to Rome eventually and Margherita asked me to design and make some pieces of her.
M: From that point onwards, we started talking about launching a brand whose backbone would be made in Italy tailoring. That was really important for us.
WHAT MAKES GIULIVA HERITAGE UNIQUE THEN?
M: The hand is what makes it unique, because tailoring in Italy has become a one-sided and rather industrial affair. When we launched the brand in 2017, we had already decided that if the first season didn't work out, we would quit and let it go. So we went to Paris and did our sales there, focusing on six coats for women, which were impeccably made and had an androgynous feel. This first capsule sold well so we decided to keep going.
WHAT ARE YOUR ROLES WITHIN THE COMPANY NOW?
G: Margherita deals with the brand strategy and business plan, while I'm focused on design, manufacturing and the product itself. I do follow every stage of the production myself, which means we end up getting what we wanted exactly. This hands- on approach is very important for us and we have privileged – and exclusive – relationships with Neapolitan tailors and craftsmen, whose know-how is precious for us.
LUXURY IS AN OVERUSED WORD, BUT HOW WOULD YOU DEFINE IT IN 2022?
G: Authenticity is luxury. Creating a genuine product is what feels luxurious to us today, as opposed to something that is deeply marketed.
WHAT KIND OF AESTHETICS DOES THE BRAND HAVE?
G: That's an interesting question. Whenever I work on a new collection, I do not have one specific figure in mind, which would become our main source of inspiration. I see myself more like an outsider when it comes to fashion, and I am more focused on actual clothing than stylistic references. I guess my clothes evoke my past, and what it was like growing-up. A fragrance, sensation or specific memory can be more effective for me that way than a seasonal mood-board. Obviously, I'm fascinated with heritage fabrics and materials that are linked to tradition and craft. This historical dimension is key within our brand.
M: Our concept of luxury is also something that can be used and worn on a daily basis. We're dressed that way all the time, to be honest. So we design functional clothing, too. Whenever people talk about tailoring and sartorial tradition, they always seem to have those boring office suits in mind, but that's not what sartorial stands for in our minds. It's about utility, quality and everyday use. The way Gerardo puts things together is, for me, completely user-friendly and contemporary. That's an important message for us to convey, in terms of pricing as well. We want to be fair that way and also offer an after-sales repair service, whereby clients can get their suits or coats fixed if they are damaged.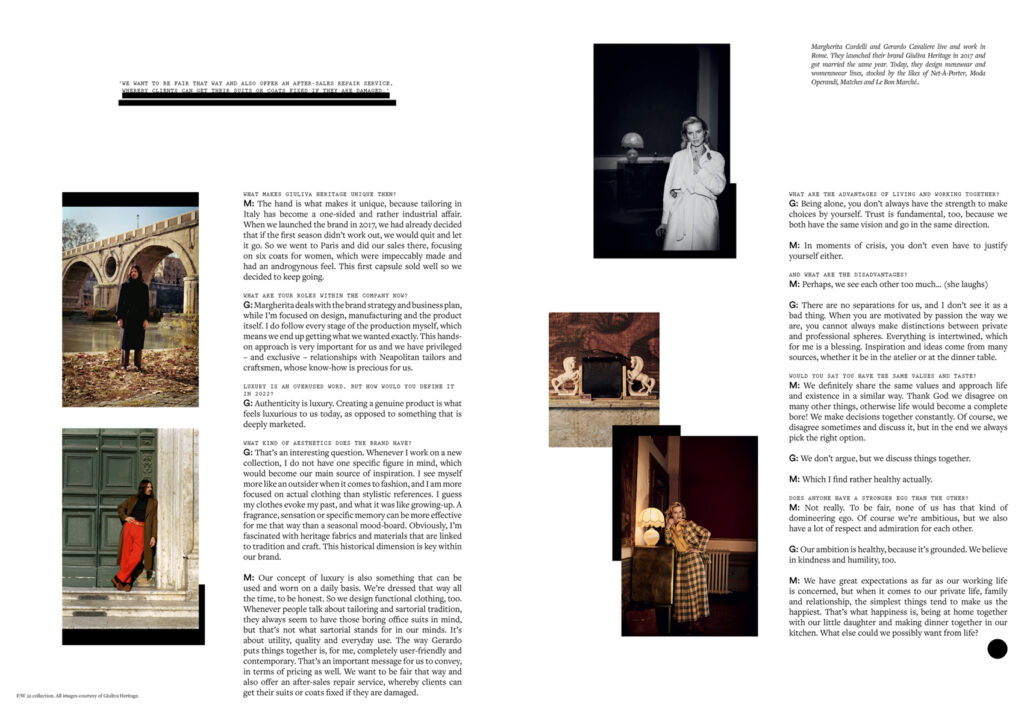 WHAT ARE THE ADVANTAGES OF LIVING AND WORKING TOGETHER?
G: Being alone, you don't always have the strength to make choices by yourself. Trust is fundamental, too, because we both have the same vision and go in the same direction.
M: In moments of crisis, you don't even have to justify yourself either.
AND WHAT ARE THE DISADVANTAGES?
M: Perhaps, we see each other too much… (she laughs)
G: There are no separations for us, and I don't see it as a bad thing. When you are motivated by passion the way we are, you cannot always make distinctions between private and professional spheres. Everything is intertwined, which for me is a blessing. Inspiration and ideas come from many sources, whether it be in the atelier or at the dinner table.
WOULD YOU SAY YOU HAVE THE SAME VALUES AND TASTE?
M: We definitely share the same values and approach life and existence in a similar way. Thank God we disagree on many other things, otherwise life would become a complete bore! We make decisions together constantly. Of course, we disagree sometimes and discuss it, but in the end we always pick the right option.
G: We don't argue, but we discuss things together. M: Which I find rather healthy actually.
DOES ANYONE HAVE A STRONGER EGO THAN THE OTHER?
M: Not really. To be fair, none of us has that kind of domineering ego. Of course we're ambitious, but we also have a lot of respect and admiration for each other.
G: Our ambition is healthy, because it's grounded. We believe in kindness and humility, too.
M: We have great expectations as far as our working life is concerned, but when it comes to our private life, family and relationship, the simplest things tend to make us the happiest. That's what happiness is, being at home together with our little daughter and making dinner together in our kitchen. What else could we possibly want from life?
Margherita Cardelli and Gerardo Cavaliere live and work in Rome. They launched their brand Giuliva Heritage in 2017 and got married the same year. Today, they design menswear and womenswear lines, stocked by the likes of Net-À-Porter, Moda Operandi, Matches and Le Bon Marché. giulivaheritage.com