GUTS AND INTELLECT
Interview With Glenn Martens by Philippe Pourhashemi
The current state of fashion is a confusing one. Appealing to an unpredictable and social media-prone audience has become a key concern for luxury groups, which often struggle with this recent development. Trends are not as relevant as they used to be either and established magazines have lost their power, due to the increase of online influencers. Coming to terms with such a pattern as a young designer is no easy feat, emphasized by the volatile nature of today's market. How can independent designers really make it nowadays? Is there any space left for them? And how do you keep your business growing?
Sitting across me in his busy sales showroom – located in an upscale area of Paris – Glenn Martens does not seem overwhelmed by the current situation. In fact, this year's ANDAM Prize winner has several reasons to be happy. In a few years, he has turned Y/Project into one of the city's buzziest and most sought-after brands, doubling stockists each season and gaining recognition from the press. Martens can simultaneously dress Rihanna, his best friends and beloved grandmother in Y/Project, because his clothes have a deeply human quality. Yes, they are imperfect, perverse, complex and twisted, but Martens knows classical beauty inside out, which allows him to play with key notions of taste, gender and class.
What is fascinating with Martens is how he combines a certain rawness in his work with utter refinement, blending historical references with popular culture. He also loves eroticism and reveals the body in new and exciting ways. His clothes can be prudish or slutty, cheeky or serious, girly or androgynous. He gets how modern women are, and how they use clothes to express their changing moods, feelings and character. The contradictions you will find in Y/Project's shows are ultimately Glenn's own, hovering between rationalism and pure instinct.
Tell me about the ANDAM competition, how did your presentation go?
It was really stressful actually. You have between 30 and 40 people in front of you and must defend your work. I didn't know most of them as they are CEOs of major brands, but you have 5 models and 10 minutes to present your brand. No one says a word and that's it.
Are you surprised by the growth of Y/Project? Did you expect it?
I think it's been gradual, but steady, which allowed us to make mistakes and learn from them. If it goes too fast, it's really hard to sustain the hype and keep your business going. We're selective with the stores who want to stock us, too, and it's exactly the same with the press.
How do you feel about the notion of hype? Do you need it to succeed today?
Hype is a dangerous thing. There's always someone younger and hungrier than you who wants to succeed. People use buzz to shock and get attention, but you need a business plan to match. Right now, we can speak to different audiences, which is important for me.
Your last show had a lot of ideas and it seemed that you didn't want to focus on just one type of woman.
Y/Project is more interested in different personalities than an army of specific women. We tend to use menswear as a starting point towards the womenswear, which explains the prominence of linen for instance. Instead of being so loose and droopy, I wanted it to look mature, more tailored and architectural. We sourced it from Belgium and it's an organic fiber. We're not turning into a bio brand yet, but I pay more attention to where the fabrics come from, not using real fur for example or staying away from leather in the clothes.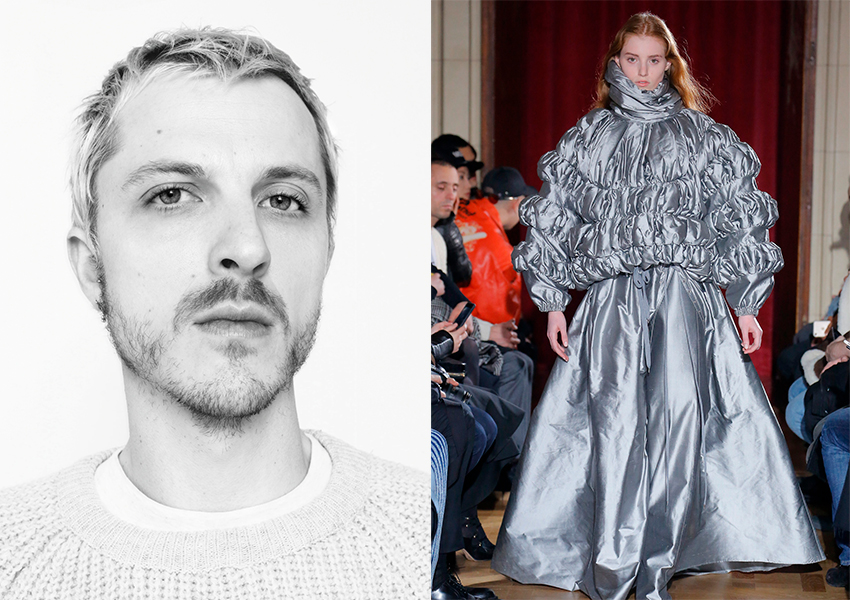 Portrait by Arnaud Lajeunie
Your garments are made to be transformed as well.
That's definitely one of our trademarks and a key idea within Y/Project. Since the beginning, we've been interested in finding technical ways to modify garments on the body and give them a playful edge. All these different characters you see on the runway are therefore reflected in the construction of the piece itself. Sometimes there are 4 or 5 ways to wear a garment.
What's your take on sexy?
It's about what you like to reveal and what you choose to hide. For me, it's more provocative to use nipple piercings on a polo shirt than show a pair of tits under a transparent top. The suggestion of sex is surely more interesting than a direct evocation of it. In the past, we did things that were more overt, but now I like to have a bit more subtlety in my designs. We have a linen dress in the collection, which is slightly sheer, it looks elegant from a distance, but you can see legs through it. That's the kind of play I like. I want people to be able to dress the way they feel with my clothes. The same garment should be versatile enough to adapt to different circumstances and follow someone in their life.
Is this how you approach historical shapes as well?
Yes, I'm more interested in a recreation of that than a copy of historical costumes. You can exaggerate the shape of a collar to suggest this, or wrap sweatshirts in tulle to evoke the feeling of the Belle Époque.
I was intrigued by how you used Swarovski crystals.
We didn't want them to look too sophisticated in the end so we placed them like scribbles on breasts and the pubic area, pairing them mostly with tulle and sweatshirt fabric.
Do you sell the most extreme pieces you design?
Yes, we do, besides the corsets, even if there are always clients requesting them. For instance, our cut-out jeans are revealing and not that easy to wear, but they sell great every season. Actually, I love being on Instagram and checking how people wear the pieces their own way.
I think you're the new Dries, here to stay.
I wouldn't go that far, but the ANDAM is really going to help us, make the company stronger from within, buy more expensive fabrics or organize more events around the brand.
Would you like your own store eventually?
I'd love to of course, but that's not something we're busy with at the moment. I studied Interior Design briefly when I was younger and like the idea of creating a space.
Where do you sell the most?
In the US actually. In LA, they love the cheeky pieces and the fact that the collection is womanly. It's sometimes difficult for a young brand to do these things, but they come to us for that.
It's funny that you still refer to yourself as a 'young brand' because Y/Project isn't that young anymore.
For me it's only been two years since the brand has really transitioned from its previous history to gain its own voice. We went from 20 to 150 stockists, which is a big deal, so we're not at the infancy stage anymore, but there are challenges every single season, from the production to the distribution. As a designer, you just have to keep on evolving and improving on what you do, otherwise I really don't see the point.
Are you interested in the business side of things?
I don't deal with the business side directly, but I'm interested in it of course.
What does the notion of elegance mean to you?
God, that's a tough one. I think it's a certain attitude first and foremost. Elegance is empowerment, respect and confidence in what you are. It's actually difficult to define elegance through words.
Do you have to be careful with what you say in interviews?
I'm quite spontaneous actually and like the idea of honesty and simplicity. You can never please everyone, and that's fine with me.
Originating from Bruges, Belgium, Glenn Martens graduated in 2008 from the prestigious Royal Academy of Fine Arts in Antwerp. In February 2012, he launched his eponymous womenswear line in Paris, which attracted international press and buyers. The following year, he was appointed Creative Director for the Parisian label Y/PROJECT, which offers clothes and accessories for men and women. The label won the much-coveted ANDAM Prize last June. Martens lives and works in Paris.
A fashion writer, consultant and stylist, Philippe Pourhashemi was born in Tehran and grew up in Paris. In 2005, he graduated with a PhD in Cultural Studies, looking at young graduates starting their career abroad. Appointed Editor-at-Large for 'Fucking Young!' in 2016, he also writes features for Metal, Contributor and Behind The Blinds. He has contributed to Diane Pernet's blog, A Shaded View on Fashion, since 2008. Working as a freelance coach for several brands in Belgium, Germany, Switzerland, Holland and Kazakhstan, he advises designers who sell their collections abroad.