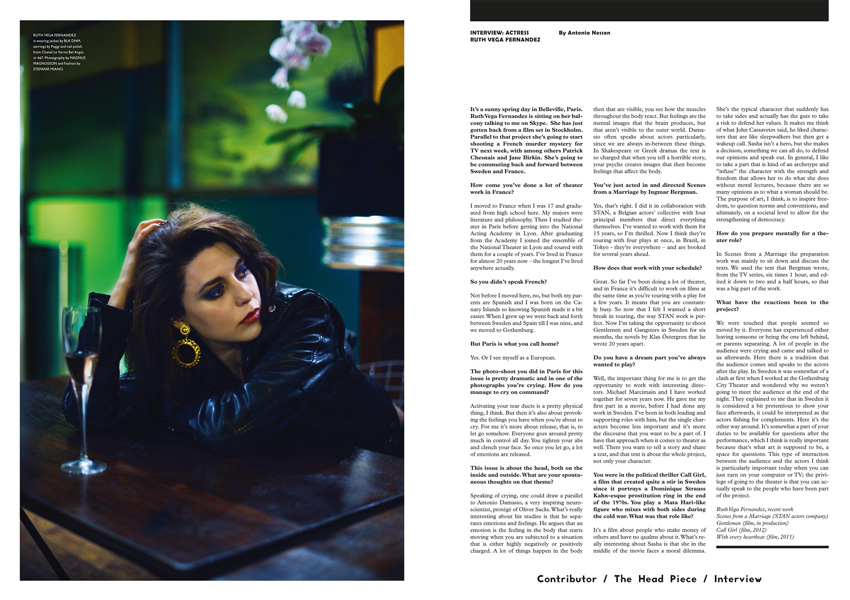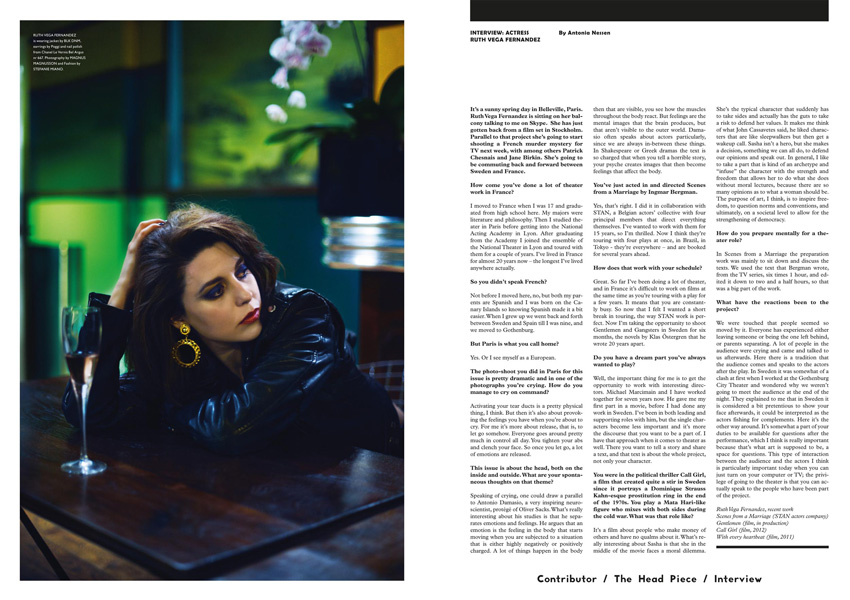 It's a sunny spring day in Belleville, Paris. Ruth Vega Fernandez is sitting on her balcony talking to me on Skype.  She has just gotten back from a film set in Stockholm. Parallel to that project she's going to start shooting a French murder mystery for TV next week, with among others Patrick Chesnais and Jane Birkin. She's going to be commuting back and forward between Sweden and France.
How come you've done a lot of theater work in France?
I moved to France when I was 17 and graduated from high school here. My majors were literature and philosophy. Then I studied theater in Paris before getting into the National Acting Academy in Lyon. After graduating from the Academy I joined the ensemble of the National Theater in Lyon and toured with them for a couple of years. I've lived in France for almost 20 years now – the longest I've lived anywhere actually.
So you didn't speak French?
Not before I moved here, no, but both my parents are Spanish and I was born on the Canary Islands so knowing Spanish made it a bit easier. When I grew up we went back and forth between Sweden and Spain till I was nine, and we moved to Gothenburg.
But Paris is what you call home?
Yes. Or I see myself as a European.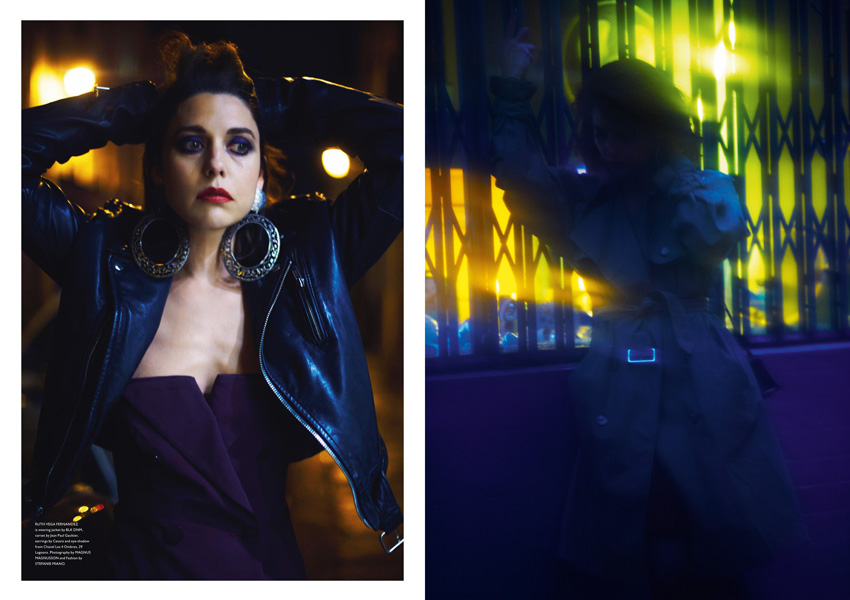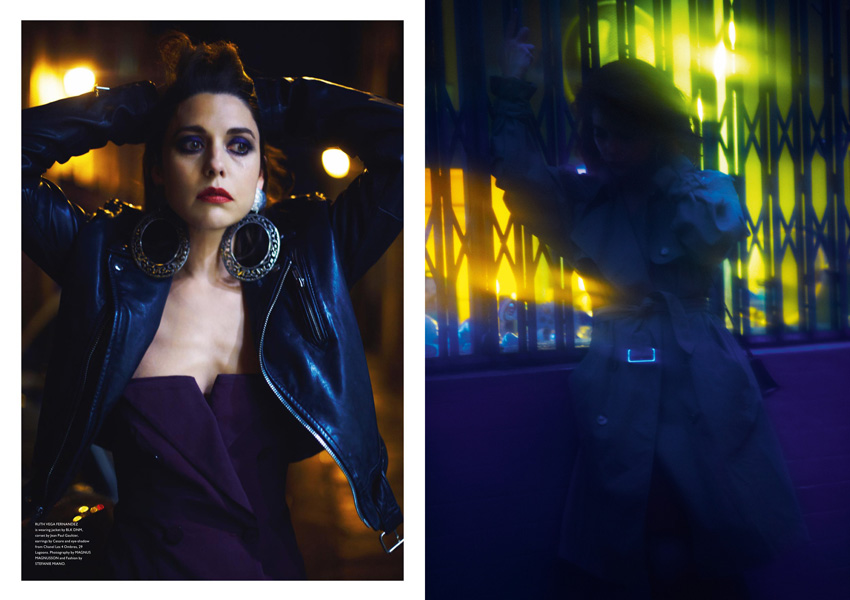 The photoshoot you did in Paris for this issue is pretty dramatic and in one of the photographs you're crying. How do you manage to cry on command?
Activating your tear ducts is a pretty physical thing, I think. But then it's also about provoking the feelings you have when you're about to cry. For me it's more about release, that is, to let go somehow. Everyone goes around pretty much in control all day. You tighten your abs and clench your face. So once you let go, a lot of emotions are released.
This issue is about the head, both on the inside and outside. What are your spontaneous thoughts on that theme?
Speaking of crying, one could draw a parallel to Antonio Damasio, a very inspiring neuroscientist, protégé of Oliver Sacks. What's really interesting about his studies is that he separates emotions and feelings. He argues that an emotion is the feeling in the body that starts moving when you are subjected to a situation that is either highly negatively or positively charged. A lot of things happen in the body then that are visible, you see how the muscles throughout the body react. But feelings are the mental images that the brain produces, but that aren't visible to the outer world. Damasio often speaks about actors particularly, since we are always in-between these things. In Shakespeare or Greek dramas the text is so charged that when you tell a horrible story, your psyche creates images that then become feelings that affect the body.
You've just acted in and directed Scenes from a Marriage by Ingmar Bergman.
Yes, that's right. I did it in collaboration with STAN, a Belgian actors' collective with four principal members that direct everything themselves. I've wanted to work with them for 15 years, so I'm thrilled. Now I think they're touring with four plays at once, in Brazil, in Tokyo – they're everywhere – and are booked for several years ahead.
How does that work with your schedule?
Great. So far I've been doing a lot of theater, and in France it's difficult to work on films at the same time as you're touring with a play for a few years. It means that you are constantly busy. So now that I felt I wanted a short break in touring, the way STAN work is perfect. Now I'm taking the opportunity to shoot Gentlemen and Gangsters in Sweden for six months, the novels by Klas Östergren that he wrote 20 years apart.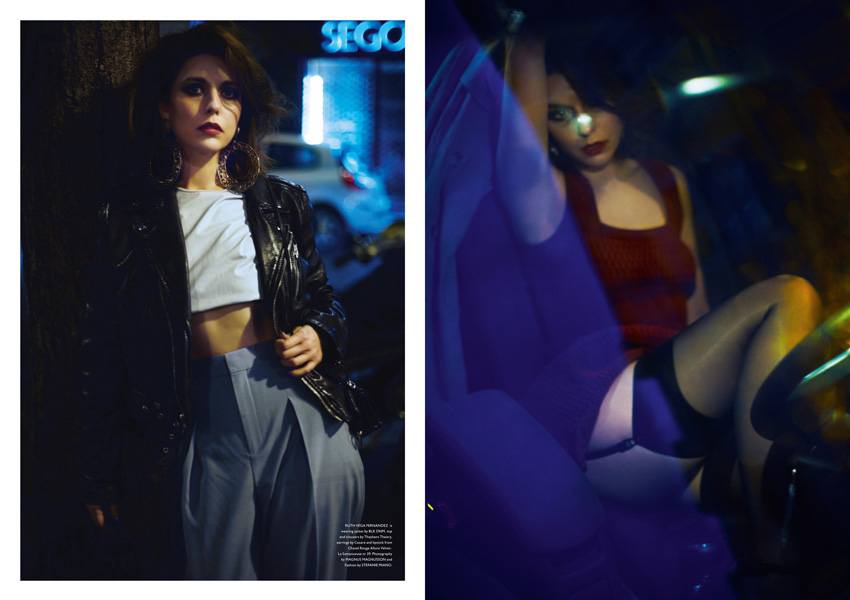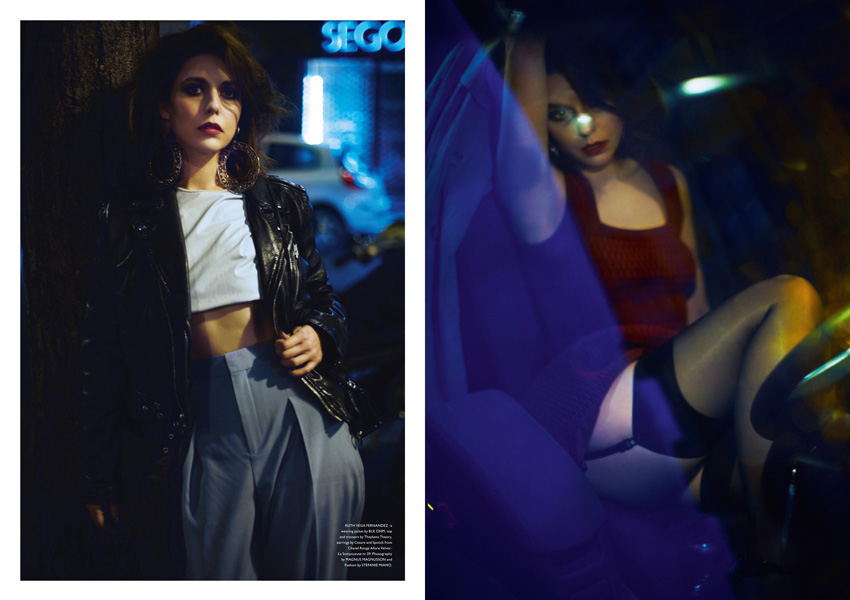 Do you have a dream part you've always wanted to play?
Well, the important thing for me is to get the opportunity to work with interesting directors. Michael Marcimain and I have worked together for seven years now. He gave me my first part in a movie, before I had done any work in Sweden. I've been in both leading and supporting roles with him, but the single characters become less important and it's more the discourse that you want to be a part of. I have that approach when it comes to theater as well. There you want to tell a story and share a text, and that text is about the whole project, not only your character.
You were in the political thriller Call Girl, a film that created quite a stir in Sweden since it portrays a Dominique Strauss Kahn-esque prostitution ring in the end of the 1970s. You play a Mata Hari-like figure who mixes with both sides during the cold war. What was that role like?
It's a film about people who make money of others and have no qualms about it. What's really interesting about Sasha is that she in the middle of the movie faces a moral dilemma. She's the typical character that suddenly has to take sides and actually has the guts to take a risk to defend her values.
It makes me think of what John Cassavetes said, he liked characters that are like sleepwalkers but then get a wakeup call. Sasha isn't a hero, but she makes a decision, something we can all do, to defend our opinions and speak out. In general, I like to take a part that is kind of an archetype and "infuse" the character with the strength and freedom that allows her to do what she does without moral lectures, because there are so many opinions as to what a woman should be. The purpose of art, I think, is to inspire freedom, to question norms and conventions, and ultimately, on a societal level to allow for the strengthening of democracy.
How do you prepare mentally for a theater role?
In Scenes from a Marriage the preparation work was mainly to sit down and discuss the texts. We used the text that Ingmar wrote, from the TV series, six times 1 hour, and edited it down to two and a half hours, so that was a big part of the work.
What have the reactions been to the project?
We were touched that people seemed so moved by it. Everyone has experienced either leaving someone or being the one left behind, or parents separating. A lot of people in the audience were crying and came and talked to us afterwards. Here there is a tradition that the audience comes and speaks to the actors after the play. In Sweden it was somewhat of a clash at first when I worked at the Gothenburg City Theater and wondered why we weren't going to meet the audience at the end of the night. They explained to me that in Sweden it is considered a bit pretentious to show your face afterwards, it could be interpreted as the actors fishing for complements. Here it's the other way around. It's somewhat a part of your duties to be available for questions after the performance, which I think is really important because that's what art us supposed to be, a space for questions. This type of interaction between the audience and the actors I think is particularly important today when you can just turn on your computer or TV; the privilege of going to the theater is that you can actually speak to the people who have been part of the project.
Ruth Vega Fernandez, recent work
Scenes from a Marriage (STAN actors company)
Gentlemen (film, in production)
Call Girl (film, 2012)
With every heartbeat (film, 2011)
Photography by Magnus Magnusson. This interview by Antonia Nessen was originally published in our Head Piece Issue (spring 2013)