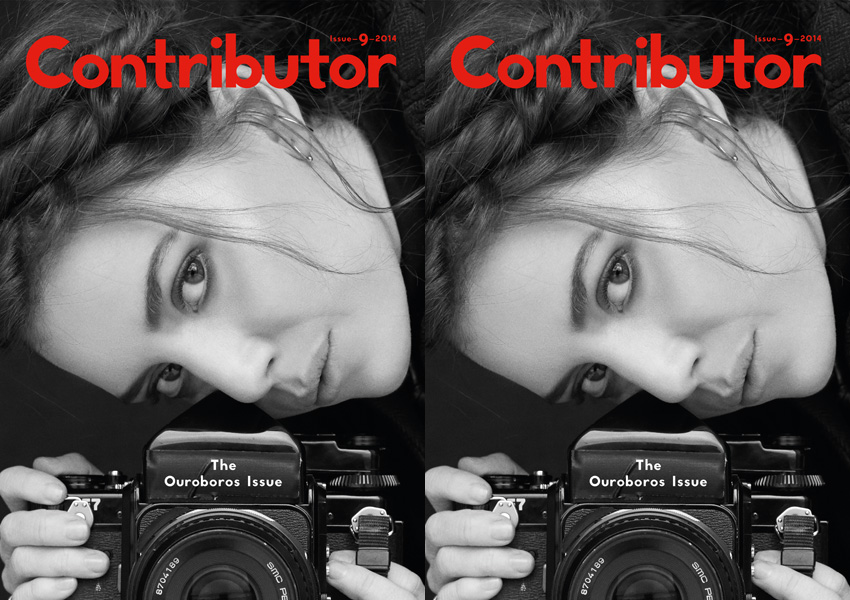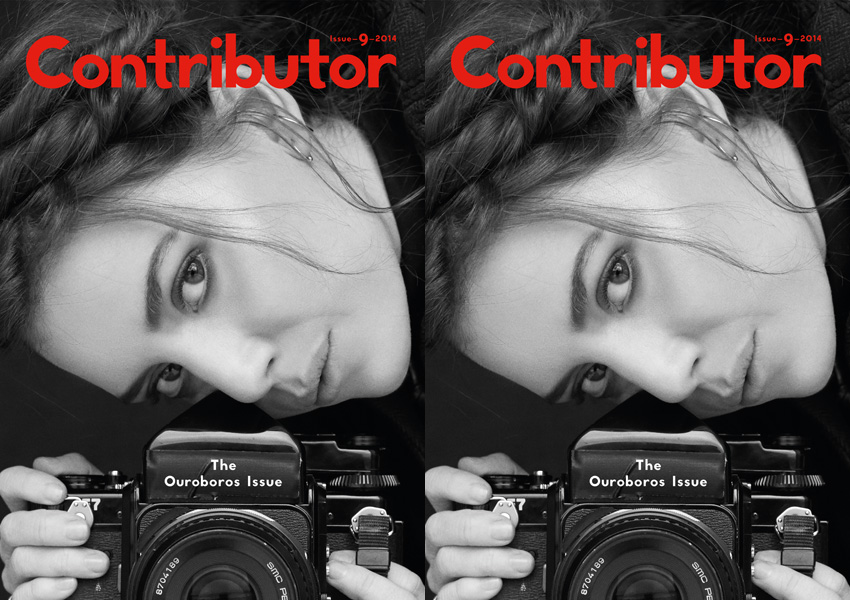 Interview and Cover Story with Lykke Li 
By Antonia Nessen
"I feel unreliably free,'' says Lykke Li, one of the most talked-about and critically admired musicians of her generation. "It's been a rough couple of years and the album was so hardcore to make as well, so I feel unbelievably thankful that it's done and that I'm still alive. I'm in love with life again."
She is speaking of her latest album. It has been seven years since she released the track Little Bit in 2007 that catapulted her career and made a lasting impact on her audience. I Never Learn, the final chapter in her acclaimed album trilogy following Youth Novels and Wounded Rhymes, has been out since in May. Making the album was sort of a symbolic fight for survival. She was heartbroken and wrote her way through the chagrin. On the tracklist of the atmospheric album you'll find titles such as Love Me Like I'm Not Made of Stone, Sleeping Alone and Just Like a Dream.
Right now Lykke Li is traveling the world, on tour again. When I speak to her, a week or so after the shoot for this issue of Contributor, she is sitting at the airport in Philadelphia waiting for a flight to take her to L.A. The near future holds "mostly shows and flights and a big dose of daydreaming" and whenever she has a chance to catch her breath "it's either in L.A. or Stockholm."
Lykke Li was born twenty-eight years ago with a very romantic name; her middle name Timotej means Timothy-grass and Lykke luck or happiness. She was born in the south of Sweden and growing up she famously lived a nomadic life with a musician father and a musician/photographer mother who moved between Sweden, Morocco, India and a mountaintop in Portugal. Recently she told The Independent that her parents encouraged their children to do their own thing and "having that upbringing really freed me."
Her older sister is a fashion stylist and her younger brother is also a musician. The high cheekbones seem to run in the family. With her smoky eye make-up and signature all black look Lykke Li was considered a style icon early on, whether she liked it or not. Now she has teamed up with & Other Stories (sister label of H&M) and is releasing her first clothing line that will feature ready-to-wear and accessories, this fall.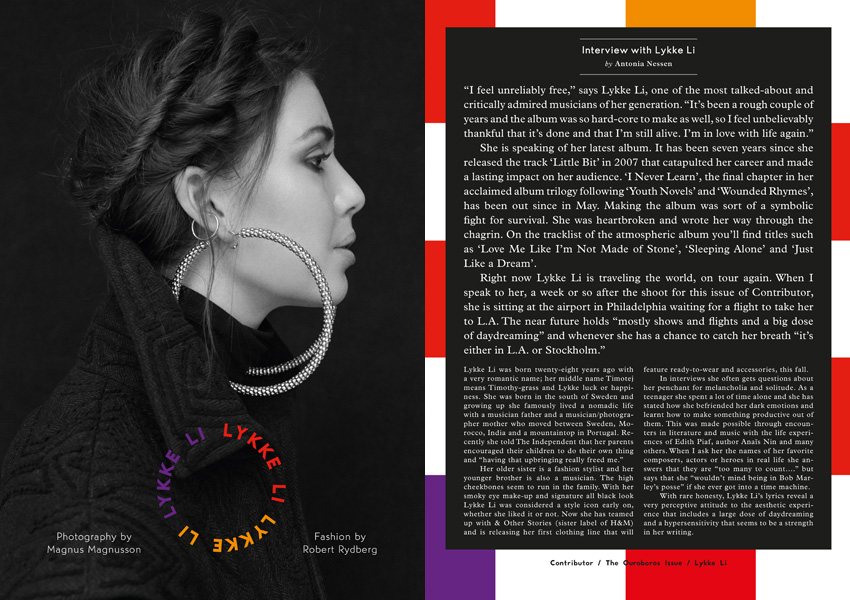 In interviews she often gets questions about her penchant for melancholia and solitude. As a teenager she spent a lot of time alone and she has stated how she befriended her dark emotions and learnt how to make something productive out of them. This was made possible through encounters in literature and music with the life experiences of Edith Piaf, author Anaïs Nin and many others. When I ask her the names of her favorite composers, actors or heroes in real life she answers that they are "too many to count…." but says that she "wouldn't mind being in Bob Marley's posse" if she ever got into a time machine.
With rare honesty, Lykke Li's lyrics reveal a very perceptive attitude to the aesthetic experience that includes a large dose of daydreaming and a hypersensitivity that seems to be a strength in her writing.
"I want to expand every area of my life and continue to be brave," Lykke Li says on the subject of transformation. Recently she made her debut in the Swedish thriller Tommy and has been filming with Badlands director Terrence Mallick. With acting she is entering a new phase in her career.
"My thoughts on acting are that it is a very difficult, interesting and challenging craft and I would love to get the chance to try it out again."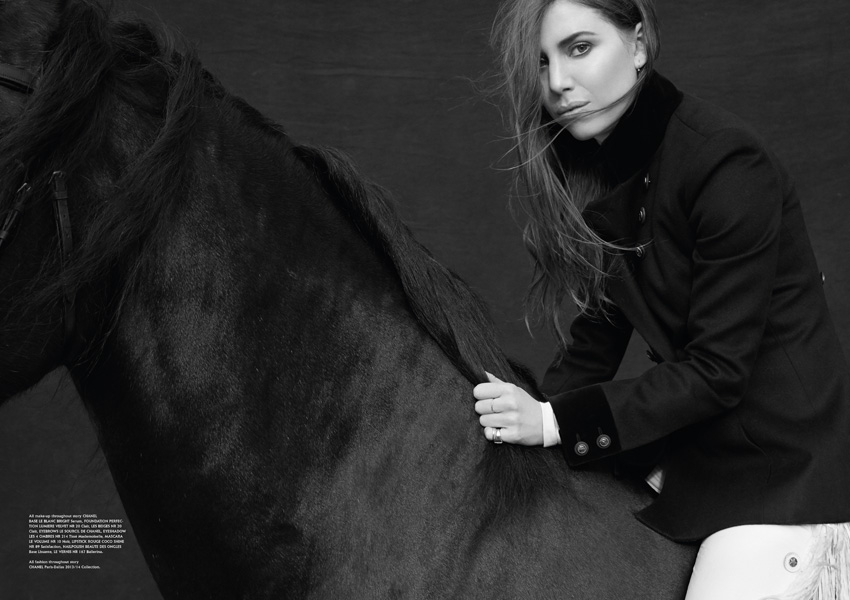 What are your thoughts on reinventing oneself creatively?
"I think it comes naturally as everything changes everyday and if you stay true to yourself and your heart you will hear and feel that it wants to do different things at different times and it's important to go with that flow. Change is beautiful, sometimes scary but always worth it."
Which aspects of your career do you feel like developing?
I feel like I've spent so many years focusing on my career that my dream now is to learn how to become a groovier woman in general. A better friend, lover, sister, daughter and hopefully one day a mother. I've had so many adventures already that my dream now is to have a garden and learning to do a headstand.
What's the most memorable experience on stage you've had lately?
I just played the Apollo Theater in Harlem and I had to pinch myself just standing on that stage. I've never been so nervous or focused but it was just wonderful. At the end the whole seated theater stood up and danced with me. That I will never forget.
Have your views on the creative process changed with experience?
The older I get the more I want it to have meaning; I want to go deeper, further, faster, harder. Life is so challenging and important as it is so I really want every project to change me in one way. I want to walk into it as one person and come out as another.
What do you appreciate most in the people you work with?
Doers and dreamers. Flexibility, openness, curiosity, kindness and bravery.
What's the worst job you ever had?
I've had some pretty rough jobs, everything from wiping ass at nursing homes, to being a dish washer, to sitting at the check-out at a grocery store. But honestly, nothing is ever that bad and I am thankful for them all because it makes me appreciate what I do now so much more.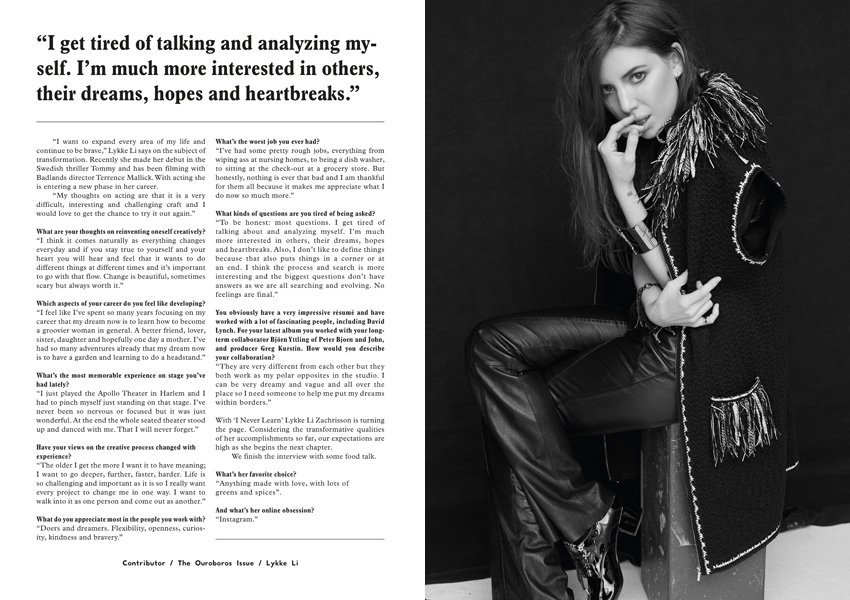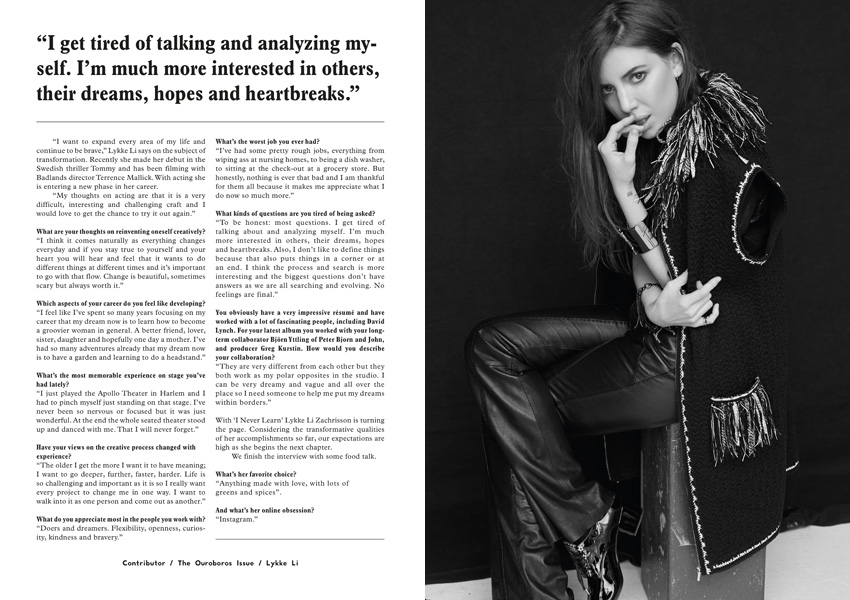 What kinds of questions are you tired of being asked?
To be honest: most questions. I get tired of talking about and analyzing myself. I'm much more interested in others, their dreams, hopes and heartbreaks. Also, I don't like to define things because that also puts things in a corner or at an end. I think the process and search is more interesting and the biggest questions don't have answers as we are all searching and evolving. No feelings are final.
You obviously have a very impressive résumé and have worked with a lot of fascinating people, including David Lynch. For your latest album you worked with your long-term collaborator Björn Yttling of Peter Bjorn and John, and producer Greg Kurstin. How would you describe your collaboration?
They are very different from each other but they both work as my polar opposites in the studio. I can be very dreamy and vague and all over the place so I need someone to help me put my dreams within borders.
With I Never Learn Lykke Li Zachrisson is turning the page. Considering the transformative qualities of her accomplishments so far, our expectations are high as she begins the next chapter. We finish the interview with some food talk. What's her favorite choice?
Anything made with love, with lots of greens and spices.
And what's her online obsession?
Instagram.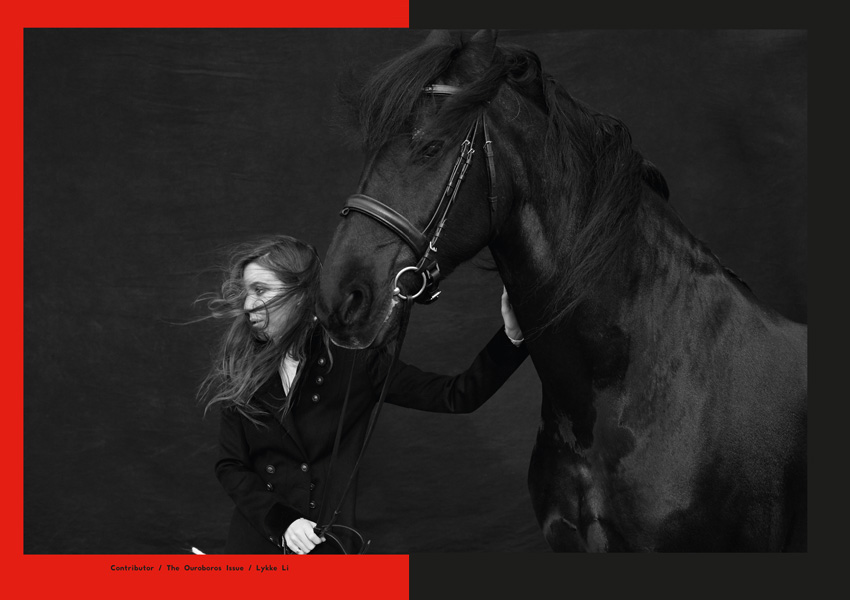 All clothes and make up by Chanel. Photography by Magnus Magnusson and fashion by Robert Rydberg. Make up by Anette Törnqvist@LundLund, hair by Linda Shalabi@Linkdetails. Photo assistance by Jakob Dahlström. Fashion assistance by Josefine Skomars, Maria Barsoum & Adam Pettersson