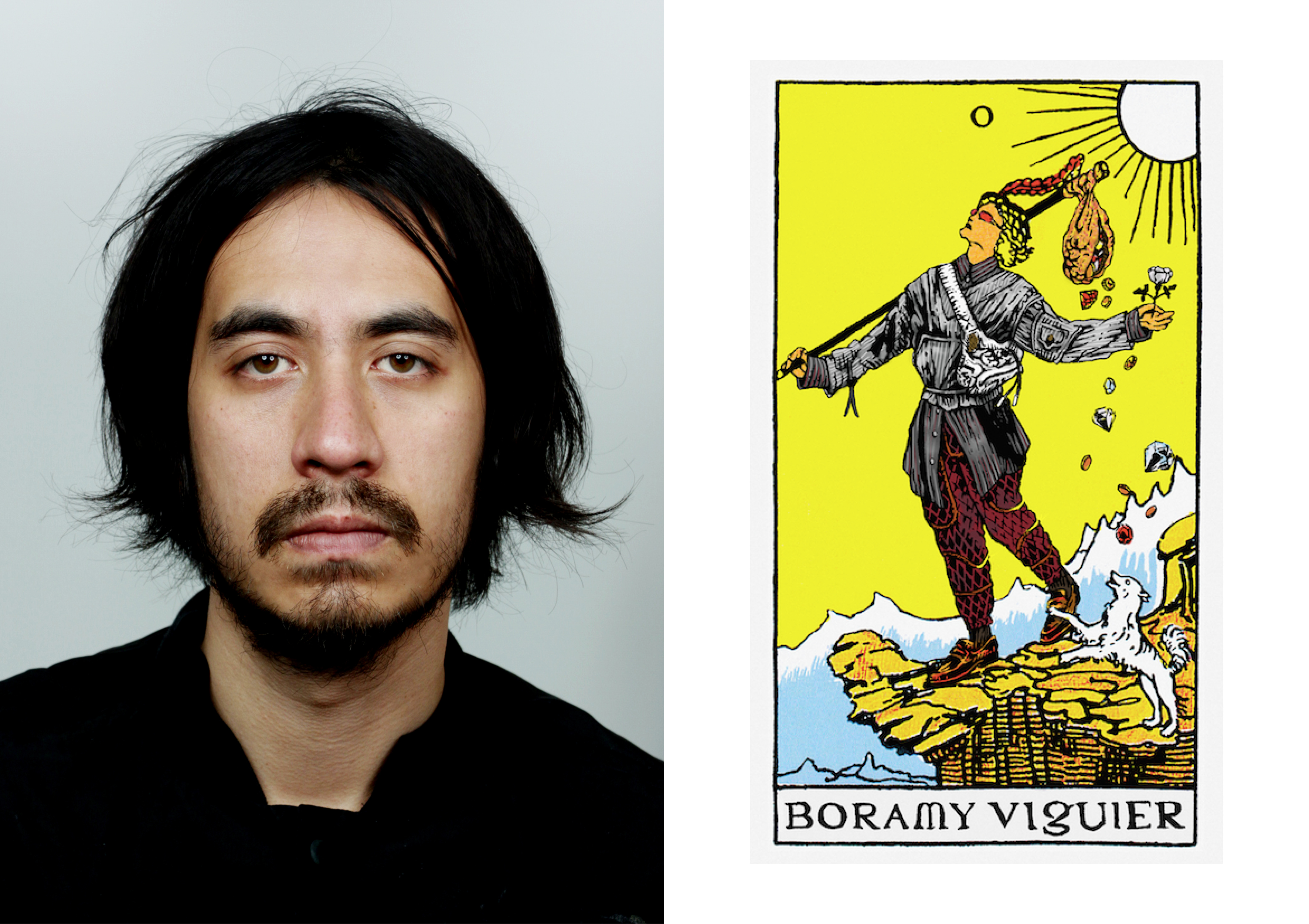 Local Hero. Interview with Boramy Viguier
Boramy Viguier is the founder and creative director of his eponymous brand, which he launched in 2017. In this exclusive interview, the French designer talks about finding new ways to work without the presence of his team, why he loves manufacturing his clothes in France and how he envisages the future of his brand.
By Philippe Pourhashemi. Backstage photography by Rafael Dubus
If you are an independent fashion brand in 2020, it's very likely that Covid-19 has had a significant impact on your business, not to mention your daily practice as a designer. Adapting to a tricky context requires strength and imagination, as well as the ability to respond fast and find alternatives. For Paris-based Boramy Viguier, who launched his own menswear brand in 2017, this does not seem to be an issue. He manufactures most of his pieces in France and is stocked by some of the world's most influential retailers, such as Browns, SSENSE and Matches. Having previously worked alongside Lucas Ossendrijver at Lanvin helped him hone his craft and focus on all the little details that can make menswear inspiring, creative and practical at the same time. Viguier's clothes are rooted in reality, but his fashion shows give you food for thought, with their esoteric and often mysterious messages.
He's also part of a generation that tells it like it is. Think of Telfar Clemens or Glenn Martens, who share that honesty, too, and have probably been dressing similar clients with their urban, yet twisted, clothes. Sincerity is indeed an important force within fashion right now, and successful designers tend to create their own community around them, not only sharing their aesthetics with their devoted followers, but also their beliefs, tastes and opinions. If communicating has never been easier, growing a new label in order to make it profitable remains difficult and questionable. It's still hard to tell how the pandemic will affect the industry as a whole, but we're already witnessing the death of department stores, such as Neiman Marcus and Barneys New York, and people rethinking traditional models. And the need for human connection will be stronger than ever.
I caught up with Viguier who seemed to be coping with the present circumstances and being quarantined in his Paris building, which happens to host his studio as well.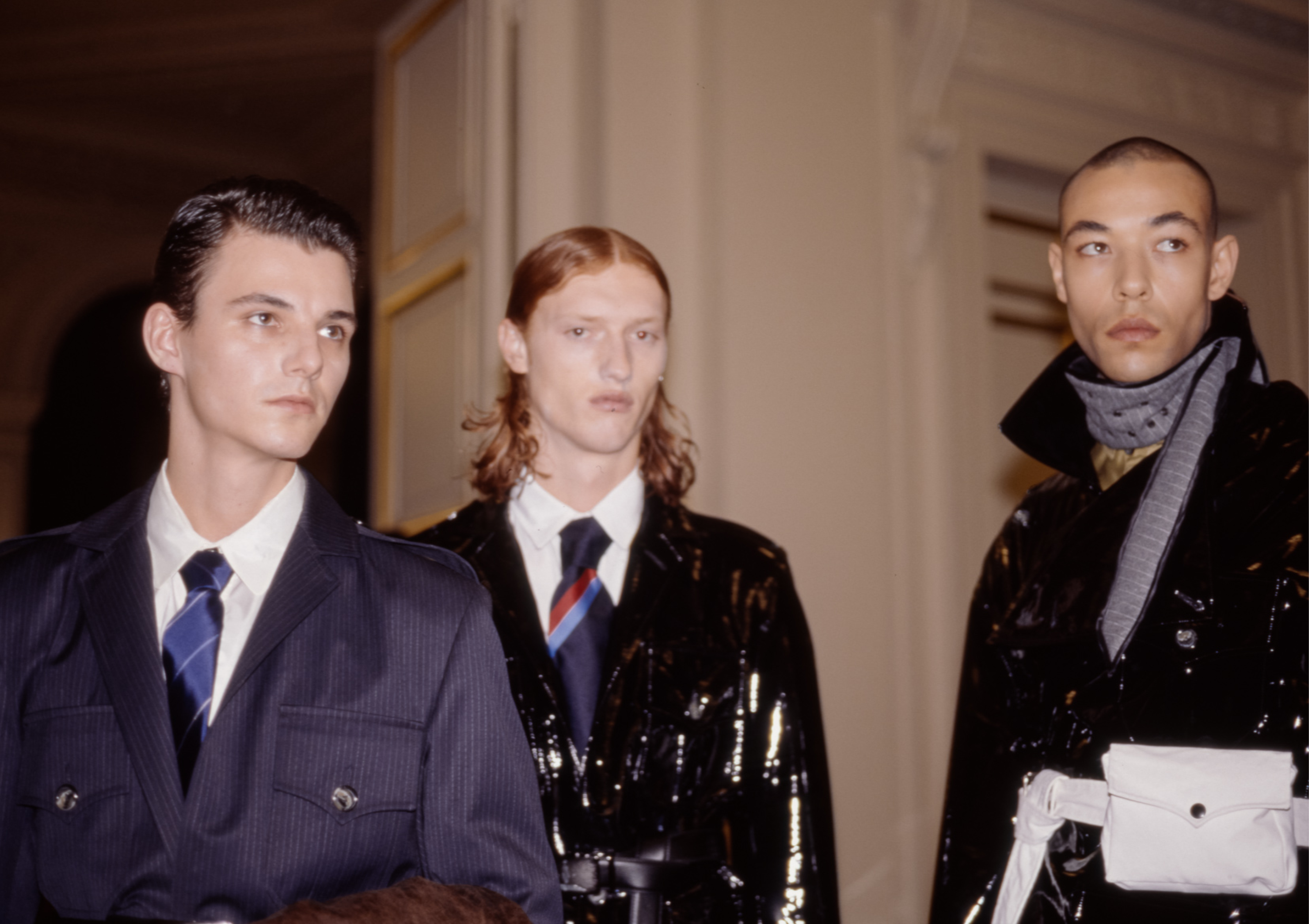 How have you been adjusting to what's going on at the moment?
Not too bad I suppose. Of course, it's annoying and you do want this to end sooner than later, but I'm lucky to have my studio on the ground floor in the same building where I live.
Could you launch your production after your last January show? What happened when the orders were confirmed?
I managed to deliver summer ahead of schedule, which helped me a lot. I launched my production before confinement started. All fabrics had been delivered and the factories could start on time.
Where do you produce?
I use different factories in France. There is one that cannot work for me at the moment, because they've been manufacturing face masks at the request of the French government, but they're in charge of my outerwear styles and I don't think there's going to be a massive rush for overcoats anytime soon… As my production is within France, I try to make small factories work for me as much as I can, because I know what kind of trouble they've been in. We've been giving each other instructions over the phone and managed to ship things on a regular basis, like samples or accessories. It's proper telecommuting, as they call it. I don't think retailers are going to ask to be delivered early for winter since they will have the summer collection in-store, which they can't shift at the moment anyway. Let's see how it goes.
What will you do in June?
Well, I wanted to do a show, but now it's all cancelled. So I guess the Federation will combine men's and women's next September, which is going to be tricky.
Sounds like 15 days of Fashion Week, which no one really needs…
Don't forget the showrooms! Can't wait to see what the buyers look like at the end of the week. The good thing about this though is that we have to reinvent the wheel. I've been working on digital lookbooks and looking for other ideas to showcase the collections. The challenge is to make something new and relevant with very little means.
Was having your production in France a conscious decision from the start?
Definitely. There were two reasons: the first was economical. Many designers think that it'll be cheaper to manufacture abroad, except that you end up with many extra costs, such as travelling and shipping costs, plus not being able to control the quality of the manufacturing often, which means you're pretty much at the mercy of your supplier. The second is that it's more sustainable, and even though I don't like that word, it seemed to make more sense ethically as well. Another thing I've been thinking about is the organization of fashion weeks and why international brands must travel far every season. Why do they keep coming to Paris to show their work? Designers could also present their collections locally and re-energize their fashion weeks as a result.
I agree, but at the same time there is such a fascination and obsession with Paris.
I guess I have a problem with this tendency to federate everything. Look at Paris itself: everything has been centralized there, which makes it really difficult for a French brand to exist if they're not here. What I love about producing in my country is that I can learn about the culture of other regions, such as Lyon for instance and its textile heritage. That's how I see it.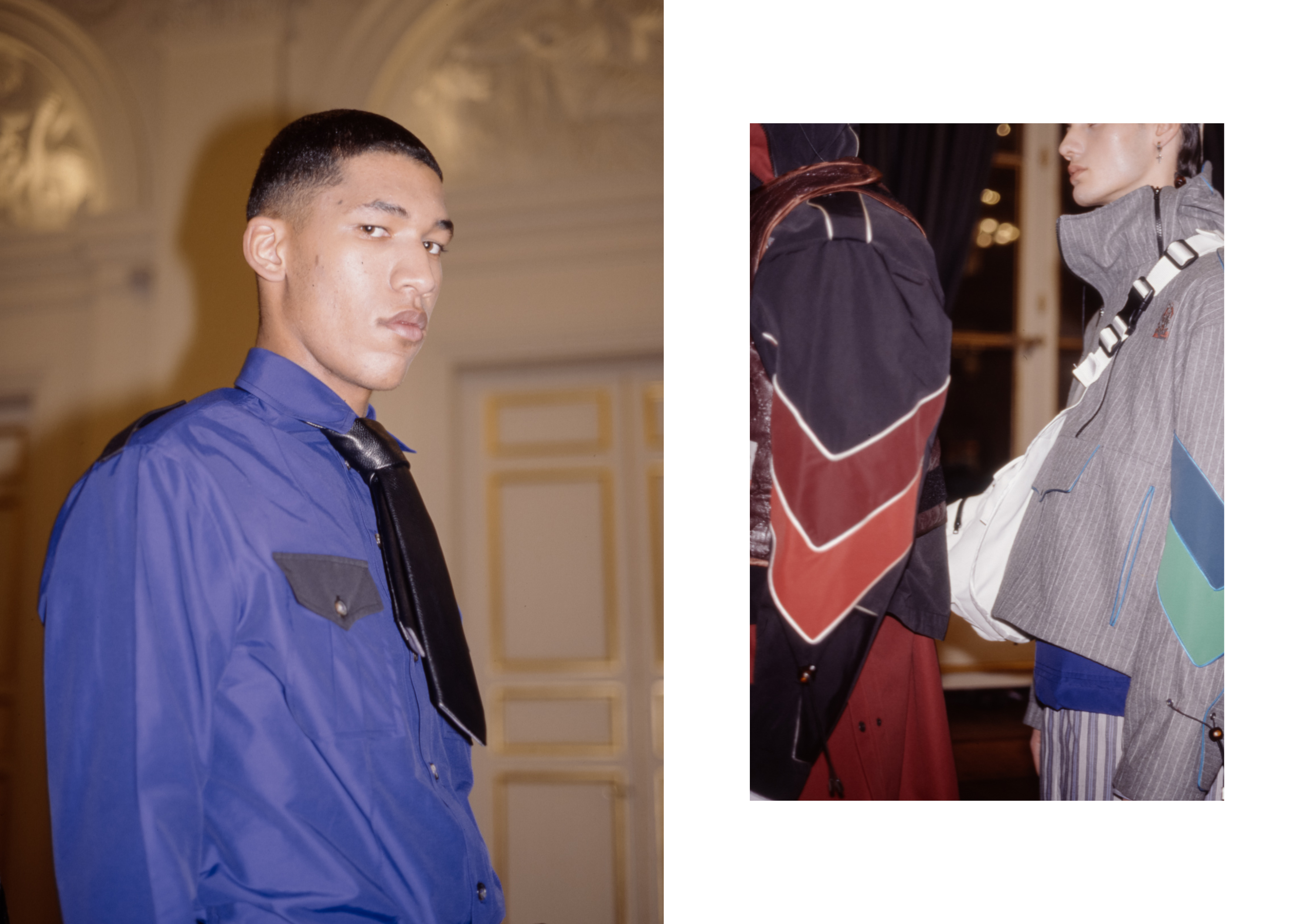 I love the way you combined workwear and uniforms with protective pieces in your last show. Tell me more about your creative process.
I was really inspired by bankers and a stereotypical version of what they wear: pinstripes, suits, etc… I also love the idea of uniforms and vintage military styles. I can't say that my process is rational though: it's all very instinctive, but I do like to mix all the references up to end up with something that looks new and refreshing. I just don't want things to be literal.
Did you learn this working with Lucas at Lanvin? He doesn't like people being able to identify references either.
Lucas really taught me how to make clothes. He's very curious about things, but he hates the obvious. Still, I'm more baroque than him and from a different generation, but I've always been seduced by how subtle and smart his vision was.
I was watching some of your videos lately and was struck by how you put men in masks during your last show, as if you had foreseen what would happen now.
I didn't even think about it. I grew up being influenced by people like comic book creator Enki Bilal or film director Chris Marker, so this dystopian version of reality feels quite familiar to me.
How could a pandemic like the one we're facing inspire you as a designer?
I'm very much aware that people are suffering at the moment, and I'm definitely taking this into account and feel scared about it, too, but what's going on right now is so powerful that you can sense change happening, and that's exciting in a way. We're not going to get out of this intact. It doesn't mean the world will slide into chaos either, but we're going to have to reinvent ourselves. We have to continue, of course, but we should do it differently. And there won't be much of a choice either.
Boramy Viguier is the founder and creative director of his eponymous brand, which he launched in 2017. A semi-finalist of the prestigious LVMH Prize, Viguier is Paris-based and shows his collections there.
A fashion writer, consultant and stylist, Philippe Pourhashemi was born in Tehran and grew up in Paris. In 2005, he graduated with a PhD in Cultural Studies. Working as a freelance coach for several brands in Belgium, Germany, Switzerland, Holland and Kazakhstan, he advises designers who sell their collections abroad.