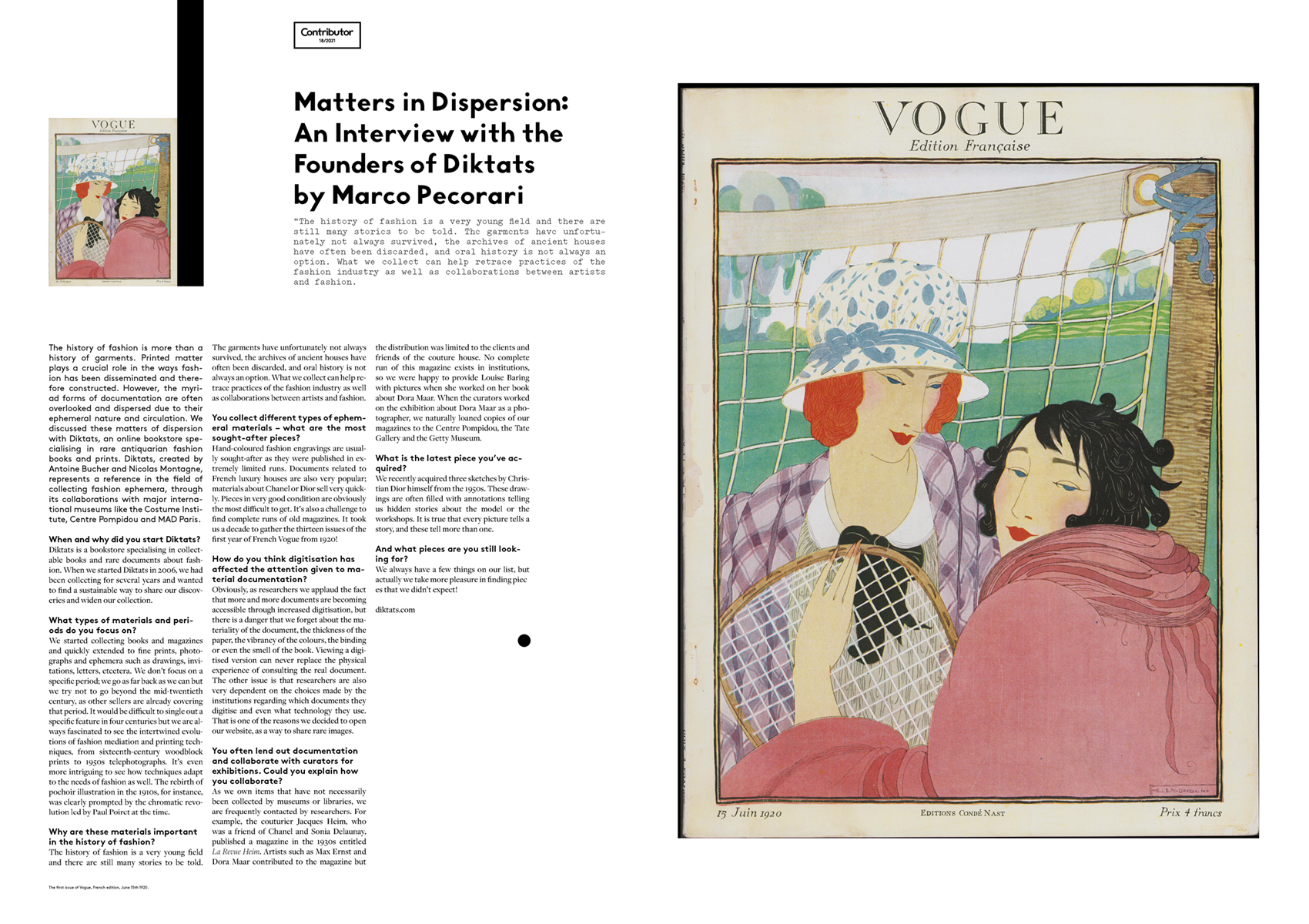 Matters in Dispersion: An Interview with the Founders of Diktats

By Marco Pecorari
The history of fashion is more than a history of garments. Printed matter plays a crucial role in the ways fashion has been disseminated and therefore constructed. However, the myriad forms of documentation are often overlooked and dispersed due to their ephemeral nature and circulation. We discussed these matters of dispersion with Diktats, an online bookstore specialising in rare antiquarian fashion books and prints. Diktats, created by Antoine Bucher and Nicolas Montagne, represents a reference in the field of collecting fashion ephemera through its collaborations with major international museums like the Costume Institute, Centre Pompidou and MAD Paris.
When and why did you start Diktats?
Diktats is a bookstore specialising in collectable books and rare documents about fashion. When we started Diktats in 2006, we had been collecting for several years and wanted to find a sustainable way to share our discoveries and widen our collection.
What types of materials and periods do you focus on?
We started collecting books and magazines and quickly extended to fine prints, photographs and ephemera such as drawings, invitations, letters, etcetera. We don't focus on a specific period; we go as far back as we can but we try not to go beyond the mid-twentieth century, as other sellers are already covering that period. It would be difficult to single out a specific feature in four centuries but we are always fascinated to see the intertwined evolutions of fashion mediation and printing techniques, from sixteenth-century woodblock prints to 1950s telephotographs. It's even more intriguing to see how techniques adapt to the needs of fashion as well. The rebirth of pochoir illustration in the 1910s, for instance, was clearly prompted by the chromatic revolution led by Paul Poiret at the time.
Why are these materials important in the history of fashion?
The history of fashion is a very young field and there are still many stories to be told. The garments have unfortunately not always survived, the archives of ancient houses have often been discarded, and oral history is not always an option. What we collect can help retrace practices of the fashion industry as well as collaborations between artists and fashion.
You collect different types of ephemeral materials – what are the most sought-after pieces?
Hand-coloured fashion engravings are usually sought-after as they were published in extremely limited runs. Documents related to French luxury houses are also very popular; materials about Chanel or Dior sell very quickly. Pieces in very good condition are obviously the most difficult to get. It's also a challenge to find complete runs of old magazines. It took us a decade to gather the thirteen issues of the first year of French Vogue from 1920!
How do you think digitisation has affected the attention given to material documentation?
Obviously, as researchers we applaud the fact that more and more documents are becoming accessible through increased digitisation, but there is a danger that we forget about the materiality of the document, the thickness of the paper, the vibrancy of the colours, the binding or even the smell of the book. Viewing a digitised version can never replace the physical experience of consulting the real document. The other issue is that researchers are also very dependent on the choices made by the institutions regarding which documents they digitise and even what technology they use. That is one of the reasons we decided to open our website, as a way to share rare images.
You often lend out documentation and collaborate with curators for exhibitions. Could you explain how you collaborate?
As we own items that have not necessarily been collected by museums or libraries, we are frequently contacted by researchers. For example, the couturier Jacques Heim, who was a friend of Chanel and Sonia Delaunay, published a magazine in the 1930s entitled La Revue Heim. Artists such as Max Ernst and Dora Maar contributed to the magazine but the distribution was limited to the clients and friends of the couture house. No complete run of this magazine exists in institutions, so we were happy to provide Louise Baring with pictures when she worked on her book about Dora Maar. When the curators worked on the exhibition about Dora Maar as a photographer, we naturally loaned copies of our magazines to the Centre Pompidou, the Tate Gallery and the Getty Museum.
What is the latest piece you've acquired?
We recently acquired three sketches by Christian Dior himself from the 1950s. These drawings are often filled with annotations telling us hidden stories about the model or the workshops. It's true that every picture tells a story, and these tell more than one.
And what pieces you are still looking for?
We always have a few things on our list, but actually we take more pleasure in finding pieces that we didn't expect!
Diktats is an online bookstore specialising in rare antiquarian fashion books and prints.
Dr. Marco Pecorari is Assistant Professor and Program Director of the MA in Fashion Studies at Parsons Paris where he teaches and conducts research on Fashion History and Theory. He is the author of Fashion Remains: Rethinking Fashion Ephemera in the Archive (Bloomsbury, 2021) and co-editor, with Andrea Kollnitz, of Fashion, Performance and Performativity: The Complex Spaces of Fashion (Bloomsbury, 2021). He is the co-founder of the festival Printing Fashion and sits on the editorial boards of Fashion Theory, ZoneModa Journal, and Bloomsbury Fashion Central. He is also a member of the Scientific Board of the European Fashion Heritage Association (EFHA).