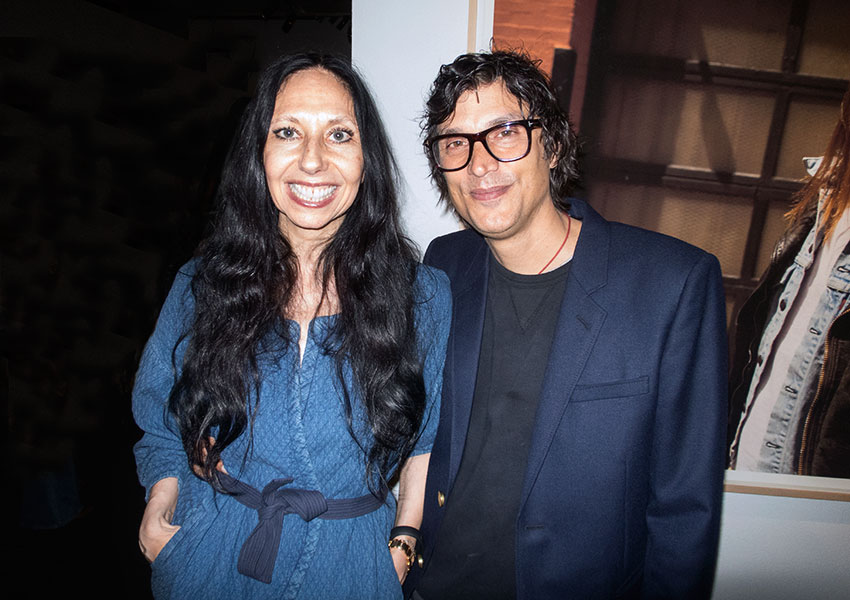 The Photography of Inez van Lamsweerde and Vinoodh Matadin
By Antonia Nessen
Inez van Lamsweerde and Vinoodh Matadin are giants of contemporary fashion photography. Now showing at Fotografiska in Stockholm, The Pretty Much Everything exhibition tells the story of the duo's thirty-year career. Highlights include advertising campaigns for luxury brands such as Chloé and Yves Saint Laurent, editorial work and portraits featuring celebrities and models from Lady Gaga to Kate Moss, as well as fashion films and ambiguous artworks questioning standards of beauty and challenging preconceptions about gender. So when did Inez and Vinoodh first decide to make a retrospective surveying their body of work?
"Inez was expecting our son Charles when Karl Lagerfeld said, 'You are pregnant, you should do a book.' It was a great idea so we started the process and soon realized that making it in chronological order wasn't interesting to us, so the whole book was instead about the purely associative pairings of the images. How they relate to each other and what the connections are for us. But it was a long trajectory; it took us eight years to complete because we kept shooting."
In 2010 the Foam Photography Museum in Amsterdam was the first to host the Pretty Much Everything exhibition based on that retrospective, before it travelled to the Biennial Pavilion in São Paolo and to the Dallas Contemporary.
"The exhibition at Foam was comprised of more than 300 works and constructed like one flowing sentence where each image was a word that would follow naturally after the other in this idea of combination. When Fotografiska in Stockholm asked us if they could have the same show here, we said yes right away, but later realized that the space was not big enough."
Inez and Vinoodh took the opportunity to make an updated version of Pretty Much Everything, adding new pieces made in the last five years.
"We narrowed it down from the 666 works in the book to the 300 to the 125 that are being shown here. We decided to work on this idea of triptychs and diptychs, using this series of portraits of flowers that has partly been shown at our gallery Gagosian in Los Angeles as a starting point for curating the exhibition in conjunction with new works."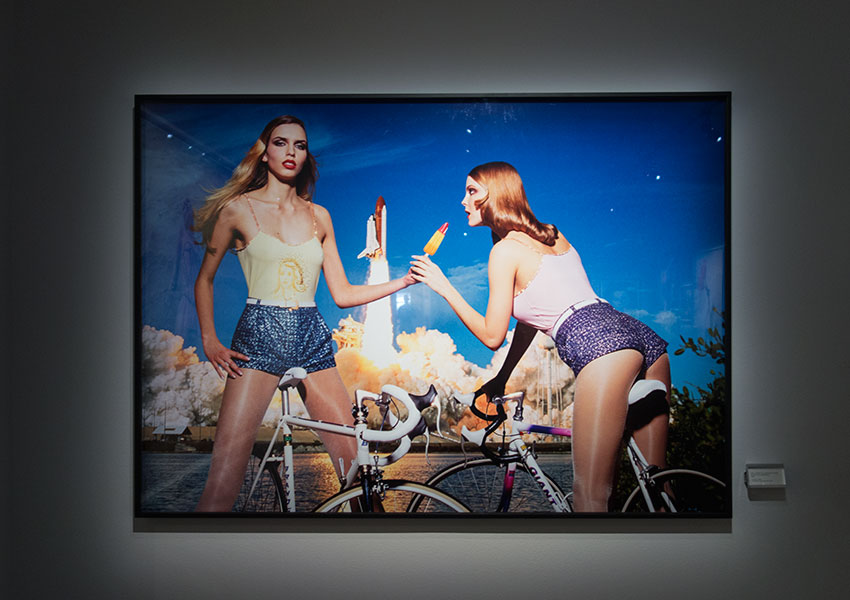 Inez and Vinoodh were born in the early '60s and met in 1986 when they were studying fashion in their native Amsterdam. Symbolically enough they broke into the fashion industry with the series "For Your Pleasure" showing a space shuttle taking off in the background.
"We had worked on the series for more than two months for a Dutch magazine that published it without our names by mistake. We then sent it to The Face in London who immediately bought it and published it in April 1994. The moment it came out it was like the whole world started calling and it really changed everything for us because within a year we had an agent and were living in New York."
In contrast to the grunge movement that had been dominating popular culture in the early '90s, their work was colorful, energetic, hyperreal and turned out to be what the fashion world had been waiting for. Looking back on the short history of digital photography, Inez and Vinoodh are widely regarded as pioneers when it comes to using the digital medium in fashion imagery. In the series with the space shuttle the models and the backgrounds were shot separately and then combined on a computer – a Photoshop technique that was new to the fashion context but had its roots in advertising to market products such as cigarette packs and cars. Over the years their creativity has further evolved including a sculpture collaboration with Inez's uncle Eugene van Lamsweerde, which is also a part of the exhibition at Fotografiska.
"Trying to find a way to visualize an internal state through the use of very heavy metal was a super exciting element that we added to our work. It was a very important moment for us to break through the canvas and really go beyond the picture on the wall. [laughs] We are also showing all our videos in a seperate room. It is one and a half hours of music videos and fashion films shot on the RED camera."
What is the biggest difference between fashion photography and film for you?
"The way you work with fashion photography is very flexible, immediate, and fluid, and the biggest difference when you start working with film is that you have a giant crew, a big, heavy camera and it takes forever until everything is put together. With RED, however, which is what we are using now, the camera is very lightweight and the process is similar to the way you shoot photography. It has changed our lives because video just adds so much energy and excitement to our work. It has really been an incredible journey, mainly thanks to RED, for us to sort of cross over into another field."
Are you thinking about making a feature film?
"Yeah, we are. For us fashion films are basically a style exercise in finding the way to translate our photography into the moving image and a feature film is definitely something that is on the horizon and that we are working towards."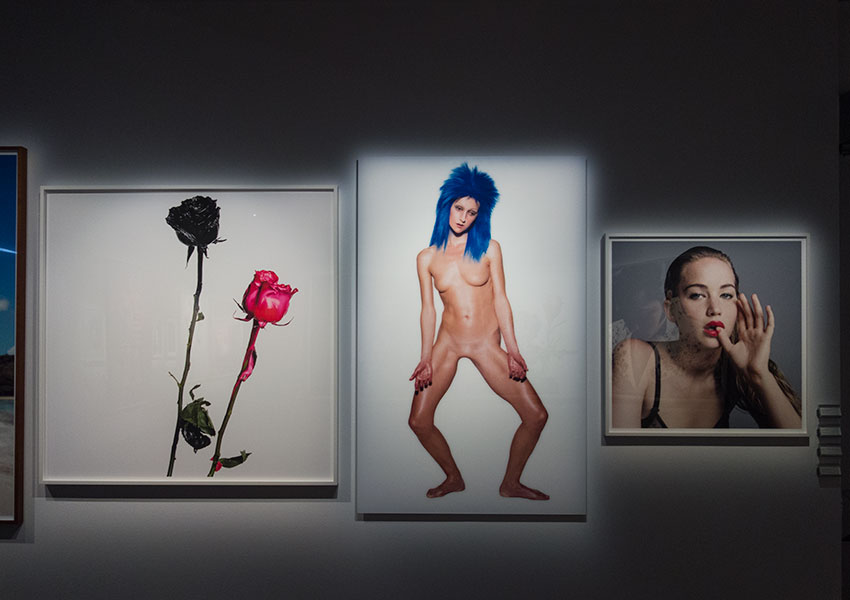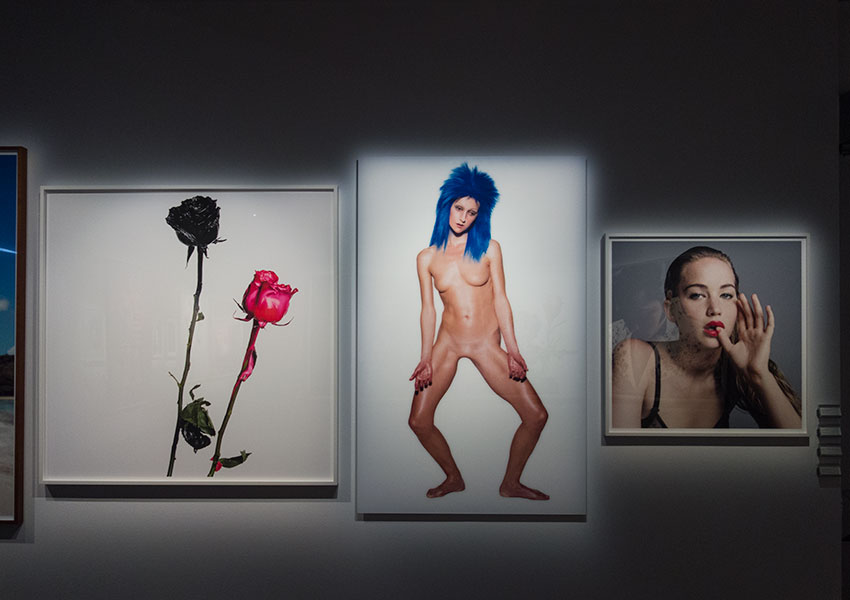 You are in constant dialogue with both commerce and art. Is there sometimes a tension?
"Not really. We always try to be as free as possible in any kind of situation. We do so many different things. Most of the time we are positively challenged by limitations and at the same time a lot of our clients come to us knowing that we have our own ideas and always bring a solution to the table for them."
Are you moving towards being artists rather than photographers?
"We sort of say we are visual artists because we work in so many directions now: we make jewelry, we design jeans with Frame and have a fragrance with Byredo. We could see ourselves designing furniture, dishware, glasses, or a hotel, because we are interested in everything that has a design or a visual element to it. Like the colors in our apartment in New York are the same colors that we use for our jewelry line, so everything kind of constantly circulates and informs each other and for us the most inspiring thing is to really work on the Inez & Vinoodh universe."
When did you find your aesthetics?
"Already in school. I still look at what I did then and see that I'm fascinated by the same things, so that is why, when young photographers ask us for our advice we always say stay in school for as long as you can because what you develop there is something you can draw on for the rest of your life."
Why do you still find fashion interesting after three decades? 
"What we like is working with the codes of fashion to create a character. I think that is why we never can get enough of it because it is almost like making a movie. By choosing the type of shoe this person is wearing you state something about her personality and her life and maybe her upbringing or what kind of movie she likes. In fashion you are talking in codes and constructing a character based on your own memories. You are building a language and a narrative with clothes, accessories, hair, and makeup in order to be able to convey something about the times."
Did you work as assistants?
"No, never, we are not the type, we are too alpha to be assisting anyone." [laughs]
How many assistants do you have?
"In our office we have about fifteen people who work with us on every level, editing videos, printing, retouching, and producing, so it is quite a few. Many photographers have a new assistant every year but we try not to loose anyone. Our light technician has worked with us for twenty-two years, for example, so it really is a family and a very tight-knit group of people.
Tell me about your long-term collaboration with the art directors M/M (Paris) who have designed your book published with Taschen.
"For us to work with M/M is definitely when it is the most fun because we understand each other on a very deep level. We have the same cultural influences and backgrounds in terms of imagery so it is a very organic process. They are really about making the image and then later they will figure out the layout. There are other art directors who say to us, this is the layout, try to fit your image in, and it is a different way of working."
You've mentioned documentary photography as a source of inspiration. Whose work do you find especially interesting?
"Ed van der Elsken, a Dutch photographer, is definitely one of our heroes, and I really feel that newspaper photography is the purest form of photography that is still around today when there is so much digital manipulation. With documentary photography the whole purpose is to show reality, knowing that photography is never real since it is shot through the eye of the photographer, but it is as close as we can get to what I think the medium used to be and I still have quite a nostalgic feeling about that. We even look at nature photography and there is this book we love so much called Teenage by Joseph Szabo who was a teacher who photographed the teenagers in his classes in the seventies. The Swiss painter Franz Gertsch has also been an incredible inspiration for many of our photographs, his hyperrealism, the use of color and the fact that he starts from a photograph and paints as big as the walls around us."
What other heroes do you have in photography?
"Richard Avedon, Irving Penn, Helmut Newton, and Guy Bourdin."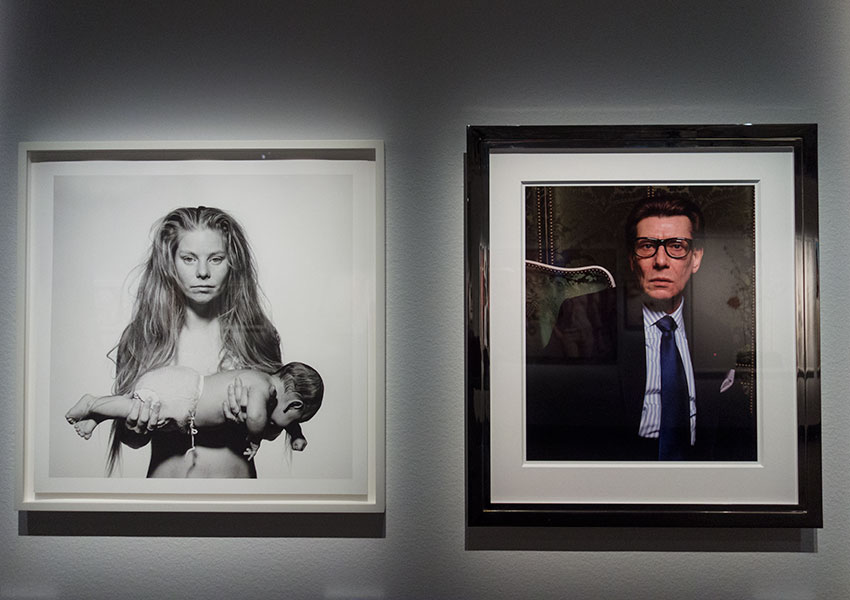 So they were your entryway into fashion photography?
"Yeah, those guys were definitely it… And of course Yves Saint Laurent who informed all our ideas about all these codes and the language fashion speaks."
The works in the exhibition are displayed in various sizes and frames. What are your thoughts behind the framing of the portraits of Yves Saint Laurent?
"Since he is such a hero, we turned those two portraits with the silver frames around them into what people have in their home as family portraits or an alter or something like that, but he is the one we look up to the most in the fashion world so we figure he deserves such a frame."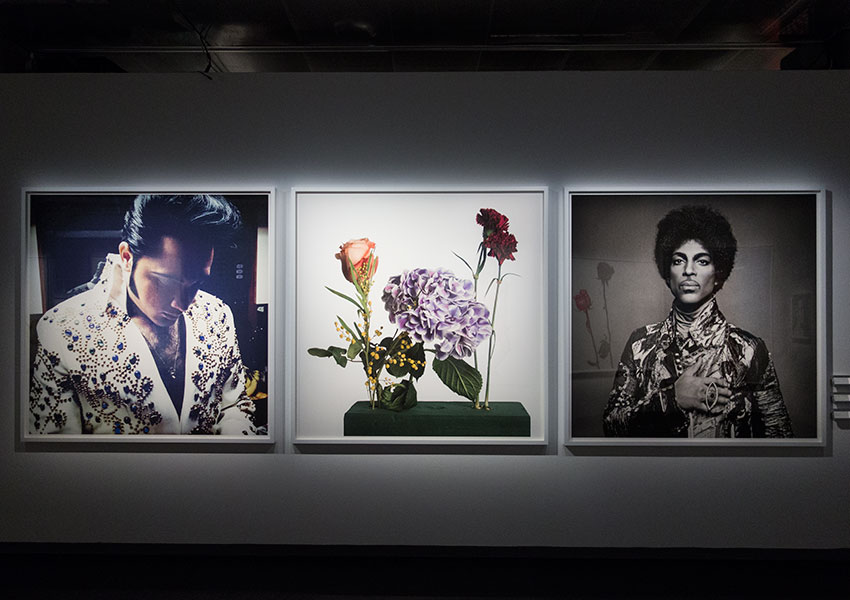 When it comes to the portrayal of women in fashion and choosing models, do you have any guidelines?
"We have a rule that we don't photograph models under 18 unless they are a movie star or a musician. Apart from it being completely unethical to have children work, it also feels wrong to photograph young girls who have no idea yet who they are, what their sexuality is about, have no experience in life, and who are being judged based on their looks at such a delicate age. It can potentially be so hurtful to have people stand around you and talk about you as if you are not in the room and you need to finish school first."
Being a team both creatively and romantically, I can imagine that you often get questions about your collaborative relationship. What do you usually answer?
"Yeah, people ask us if it's strange to work together and the answer is no. We get to spend 24/7 together and we don't have two separate lives, we don't have a work life and a home life. For us it is almost the opposite – from our perspective it must be strange for people who live lives where they are somebody completely different at work, then come home for six hours and go back to work in the morning. We are so passionate about our work and so passionate about each other. For us it is the only way to do it and it all just grows together. Our son Charles now travels with us when we are shooting and it is wonderful that we are always together."
You started working on your book Pretty Much Everything just before your son was born. How old is he now?
"Twelve."
Does he photograph?
"Yeah, he takes pictures, but he's more into video –, he is a part of the next generation." [laughs]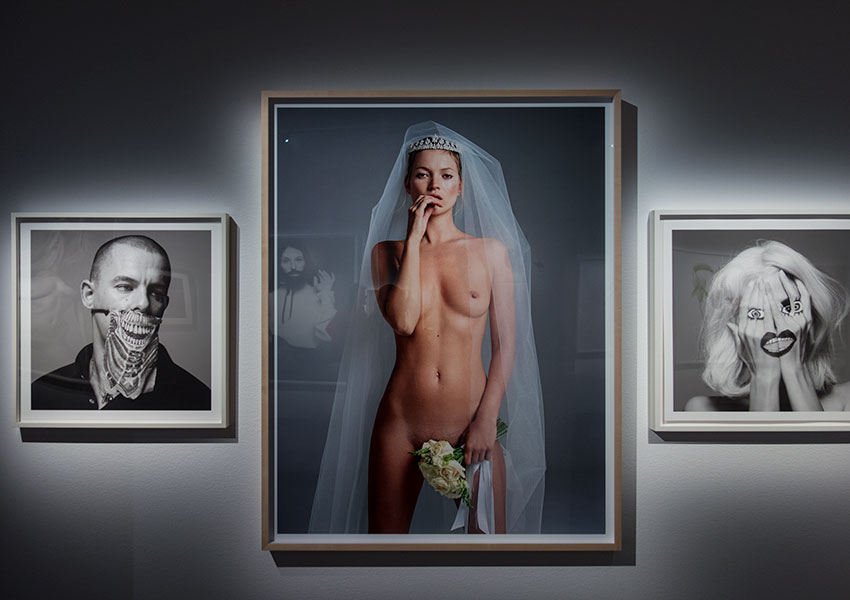 The exhibition Inez & Vinoodh, Pretty Much Everything is showing at Fotografiska in Stockholm, Sweden, until September 27, 2015
The two-volume retrospective publication with 666 photographs of "Pretty Much Everything" is available at taschen.com
Portrait by Magnus Magnusson
Photography from the exhibition by Jeanette Seflin