Ottolinger. Interview with Christa Bösch and Cosima Gadient
Berlin-based Ottolinger is already a standout name in a new generation of brands, working on alternative narratives in fashion and redefining the future of luxury. Founded by Swiss duo Christa Bösch and Cosima Gadient, sustainability and a focus on a slower-paced lifestyle are part of the brand's DNA.
By Lucas Dias
Is sustainability and upcycling a topic that you naturally gravitated to or was it something that was purposely thought out to be embedded within the brand?
We think sustainability should be in everyone's life and work. We both grew up very close to nature, Christa on a small biological farm, and our parents were very aware of sustainability and waste et cetera. It starts with what you eat and how the products are packaged. For our brand, sustainability is very important and we are trying to be as environmentally friendly as possible. We keep transportation of our goods and production as low as possible, a lot of our products, including our denim, are made with recycled or and organic material.
How has the idea of repurposing silhouettes, materials and garments come to you?
We are both working very intuitively – we often start with a plan but then something happens, what we couldn't forecast and it's better than what we planned. It's more like we see something and we both know it works out.
Where do you usually look for inspiration?
Life in general is our inspiration. Our garments have a lot of labor behind them in regards to treatment but we are also interested in making clothes that actually make you feel the best you can be. We think we can be the fun and cool older sister that is protecting you and will lend you her clothes. But it's also about a feeling we are having in life – it's freedom, fun and excitement. We brainstorm a lot with stylist Ursina Gysi, on what we miss in our closet. Also, Switzerland, where we grew up is very important to us. We are fascinated by the traditional Swiss clothes, the details, finishing, fabrics and craftsmanship – and we think it is very interesting to translate this into our own language.
I think the core identity of our brand is all the people we are collaborating with. It's very mixed and more about a feeling and a vision.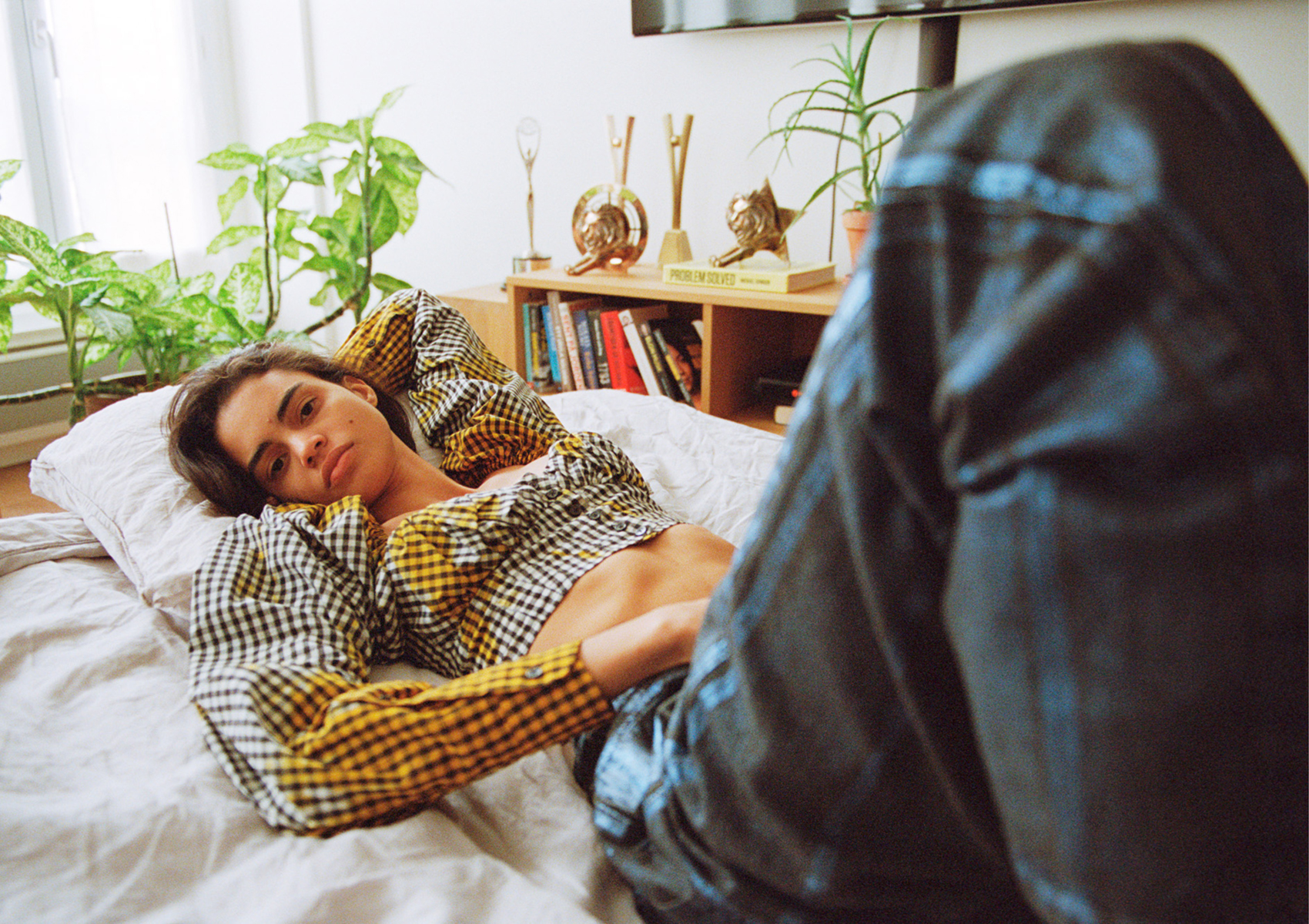 Besides Ottolinger, are you involved in any other projects?
We always have a lot on our minds and constantly think about how we can have a positive impact on society with our work. If, and how, we can make our society more sustainable, give jobs to people, give hope and be an inspiration to others. There is so much going on in the world at the moment. We really have to take care of society in a political way as well as on an environment level – and it would be very nice if our way of working can have a positive impact.
At the moment we are focusing 100% on Ottolinger and our work together. We are reading a lot and constantly doing research – what is going on in the world, how this could affect the brand and the collection.
How would you describe the process of discovering yourselves as designers?
Christa Bösch: Being a designer was always more connected to a dream than to reality. I grew up on a farm in the mountains, in a village with 400 people where no one is an artist or involved in fashion. While studying law in Zürich I got to know people in these fields. So, after graduating, I applied for fashion design – and it has worked out so far.
Cosima Gadient: My imagination has been a strong feature of my childhood. I loved creating worlds and fashion became the bridge to connect my fantasy to reality. I was always fascinated with going through the process of making something from scratch, from the blank space to the new creations, with the right synergies you can go beyond your powers and imagination.
When did you decide to join forces in establishing Ottolinger?
CB: Right after we finished fashion school in Basel, Cosima called me one morning and said: 'Let's start our own brand!' That was the beginning – we moved to Berlin right after. Of course, we have been friends and talked a lot about fashion, brands, our own visions and goals and found out that we share opinions on fashion and the way we view life.
CG: If you can make it work in a team you can become so much more than you actually think is possible.
How has the experience of leading the brand been like insofar?
It has been a great experience. Since we started right after graduation, we didn't have any knowledge about the industry and how it works – we made a lot of mistakes, just because we didn't know any better and only found out after. We have also been very lucky. Kanye called us after we won the VFiles prize. That was a great opportunity for us and we learned a lot from working with him and it also helped us to build our brand.
What is the story behind your brand name?
Ottolinger was the family name of the neighbor of our first studio. The studio was incredibly small and half connected to a house. We didn't have a mailbox and all our mail came to Mr. Ottolinger. We still hadn't decided on a name back then and we thought a lot about brand names in general – it will stay with you forever and we wanted to have something disconnected to time or any specific subject. One morning one of us said more in a jokey way: 'Ottolinger would be the perfect name'. And we kept it.
Why have you chosen Berlin as your base?
Berlin is a world of its own. So many different nationalities and so many different characters. There is a place for everyone. It's very accepting and supporting. But like any other city that grows and attracts the young and wild, it will eventually grow up and become more expensive and gentrified. This being said, it's still a great place to be where we feel free to do what we want to do.
Who do you have in mind when creating a collection?
It's a very curious and adventurous person, and it's more a feeling towards life, and how she approaches it. A person whom we all would love to hang out with and be friends with.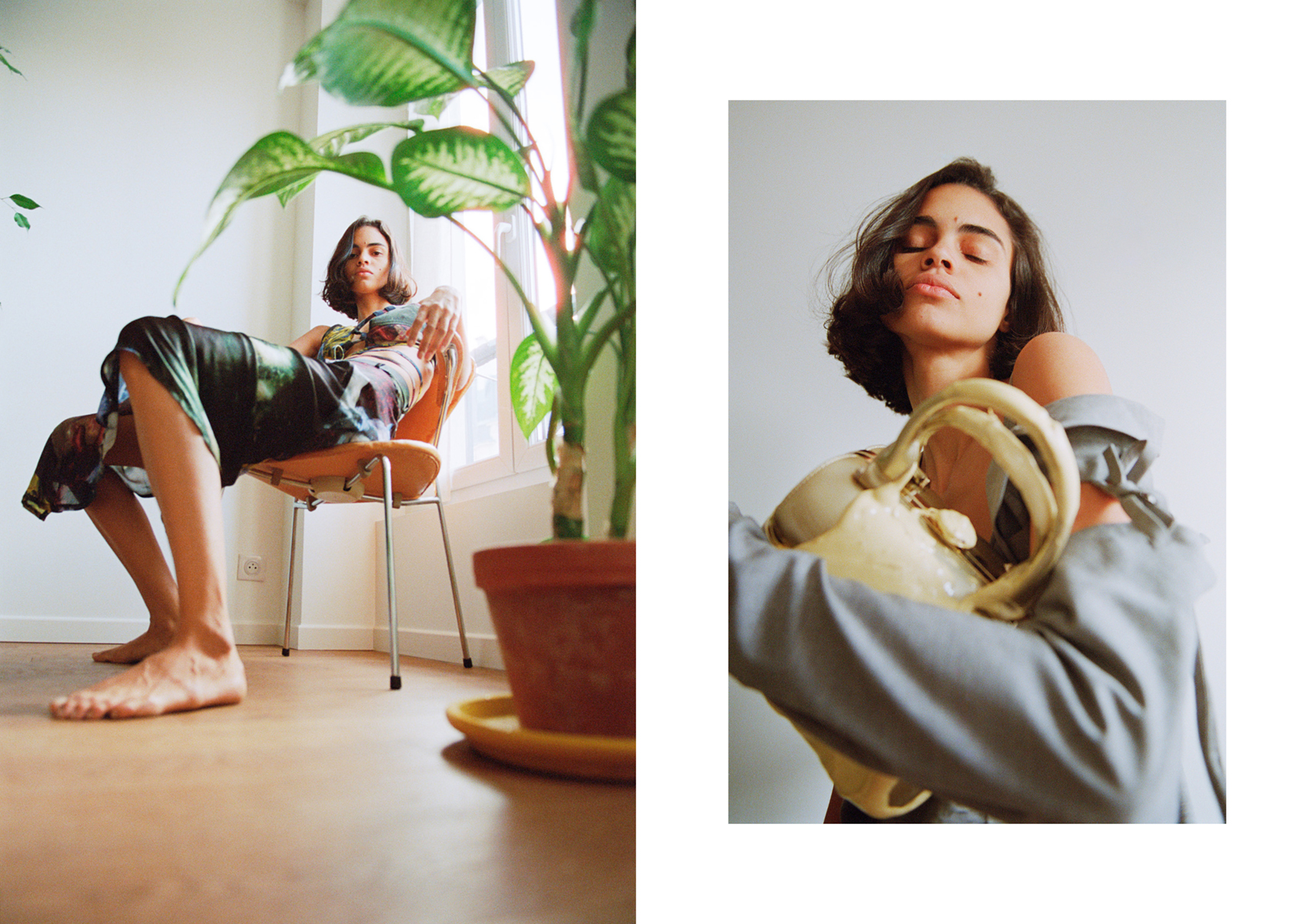 One can feel a sense of liberation and a unique expression of sensuality when observing your collections. Is exploring this theme also something that you decided to consciously dissect within Ottolinger?
We think this is something we both are very sensitive to in life in general. It's very important for us to have clothes which are sensual and make you feel good. It's also very important for us how Ursina Gysi works, she can arrange the outfits in a way which enhances the expression of sensuality a lot. Same as Julia Lange, who does the casting. Maybe it's also because we are all women working together.
The concepts of what defines femininity and feminine codes are also topics that have gathered a great amount of discussion within fashion and outside of it over the past years. How do you perceive the concept of femininity today?
There are two different points. On one side we have the discussion about gender – do we still need gender? Is it necessary to decide on female or male or is this just not contemporary anymore and there is so much more? And on the other side, there are these super curvy and very stereotypical feminine bodies all over Instagram. It's very interesting to see both happening at the same time and in our opinion, in our life and our brand, it's more about a personality, attitude and character. If you feel understood and loved everything is possible.
Do you think culture and fashion will be as integrated with technology and social media in the years to come?
Yes, especially in the sustainable aspect we think technology will become very important. To develop new environmentally friendly fibers and fabrics. We are talking with a company which can do finishing on fabrics without any waste and pollution – with a totally new and different approach on finishing. Also imagine if the quantum computer which Google presented lately becomes reality and could be involved in our daily life and business – how this for example could change analysis and forecast in sales. In the end that's the exciting part of life that we never know what invention will be next and how this will affect life. Who would have imagined that social media would become so important?
One of the most recent collaborations you made with Ottolinger was with CBD-based products specialist Kanna Swiss. How did the collaboration come about?
We first heard of CBD when some friends told us about the legal cannabis you can buy in Switzerland. Then we saw everyone in LA using it and got very curious about CBD. CBD is relaxing and helps you to focus. Kanna Swiss offers a great selection of high-level CBD and is one of the market leaders. We love their product as well as their design. As we are both Swiss we just contacted Kanna Swiss and we quickly found out that we share the same values and interests – so it all went very naturally and we developed a CBD lipstick together. As we thought a KannaSwiss x Ottolinger CBD lipstick is a must have.
What is next for Ottolinger?
We are working on an exciting sustainable project. As a longtime goal, we would like to become a 100% environment friendly fashion brand, develop our language further and focus on improving our products.