Interview with Petr Davydchenko
By Sara Litzén
Last weekend I packed my bags and took off to Brussels to visit Petr Davydtchenko's first solo exhibition. Excited about going to the opening, I jumped on a plane and the two hour flight felt like an entire lifetime. I was eagerly looking forward to seeing his site-specific installation, sculpture, video and photographic works, which deal with the civility of aesthetics at the Harlan Levey Projects Gallery in Brussels.
The artist Petr Davydtchenko was born in 1986 in Arzamas, Russia and currently lives and works in London, UK and in Stockholm, Sweden. He is pursuing a M.A. in Sculpture from Royal College of Art, London and has a B.A. in Fine Arts from Konstfack University College of Arts, Crafts and Design, Stockholm. Petr Davydtchenko works mostly with scenography and sculpture. By using different medias he creates dimensions where the border between reality and fiction is blurred. He combines symbolism, occult and subcultural references with minimalistic expression. He is fully involved in his work and often uses himself as the object of focus.
The opening was crowded. I met Petr who was standing outside the gallery wearing a black kilt, black cassock and blue hair. I got a private tour of the exhibition. We entered the big glass doors together, which had "Petr Davydtchenko – Mental properties: European Autumn" written on them in big white capital letters. The first encounter was a long corridor with three photographs of brick houses in a winter landscape hanging on the right side, straight ahead was a text "Save and protect Us" roughly cut into the white wall.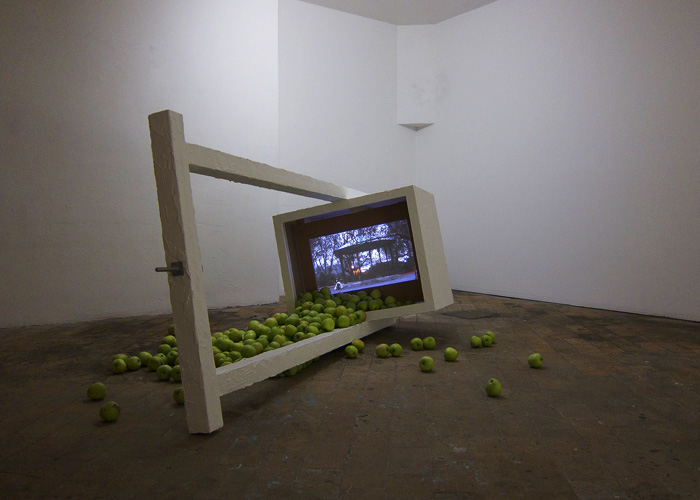 Death is not a Deterrent.
Petr: In my show "Mental Properties: European Autumn" I am presenting five works in conversation with each other and the audience. The conversation is based around subjects that are not only actual in today society, but are also well known through the history of humanity. Religion, politics, Culture and perception of good vs. evil are all part of our mental property. By awakening these subjects and placing them into one space and time I want to explore these topics together with the viewer. A house has a big importance in my practice and can stand for many different things. Most importantly it reminds me of an idea of home. Something that can look beautiful and appealing even welcoming at the first sight can later show that it is something completely different. Like these houses which I photographed in Auschwitz. The titles for them are taken from a text by Primo Levi, an Auschwitz survivor: "Our ignorance allowed us to live, As you are in the mountains, You don't know it and feel safe, Your rope is frayed and about to break."
Then we entered the following room were I first noticed three golden pieces of deep fried chicken displayed on a white surface. Above them was another photograph hanging, from the same series as the houses in the hallway, as well as a engraved aluminum plate which said: "Concepts of good and bad, Remains from historical events, Images of atrocities, The void of facts."
Petr: "The deep fried chicken is a representation of, in my understanding, unhealthy but very appealing food. The title for this piece is "Obama Fingers". I found out that a German company started to produce fried chicken with that name. This work reflects on how consumption in our society works, where every symbol can be used to promote a product."
Then the main room reviled itself to us with two sculptures: "Sacrament and Death is not a Deterrent". Both of them were interactive pieces and people were gathering next to them.
Petr: "Sacrament and Death is not a Deterrent" intend to draw the viewer into conversation, which doesn't necessary leads to a conclusion or solution. References to religion, rituals, coated with anxieties and irony, fear and hope are some of the lines that are crossing. "Death is not a Deterrent" contains, among other things, my weight in apples, and a video of me dragging a sack that could be a body. Passersby in the video do not express any reaction to what is happening in front of their eyes. "Sacrament" consists of three wine bags that transfuse wine into a big black bucket placed on the floor, inviting the viewer to drink. The nastiness of this interactive sculpture reflects on the general change in our perception of church, due to secularisation.
Sara: What do you want people to learn or reflect about with your exhibition?
Petr: With this exhibition I would like to debate what mental property stands for and more importantly how this property is sabotaged in contemporary society. I invented the term Mental Property while writing my BA Thesis at Konstfack. During that period I was working with my graduation project that was based on the theme of Genocide and the consequences of WWII that remain in our society. For that project I did my fieldwork in Auschwitz I and Auschwitz Birkenau. That experience was horrifying and abstract. My hope is to leave the viewer with thoughts that can develop, because I think that it is very important to keep the dialog alive.
Sara: What does mental properties stand for?
Petr: The term Mental Property for me stands for the psychological property that every human being owns and the statement of it can be taken away or removed by authority. Like a mental property of a German nation influenced and polluted by Nazi propaganda. A mental property of understanding what is good and bad.
Sara: But history keeps on repeating itself, hatred against ethnic groups is still very much alive in today's society. Do you think humanity will ever learn from their mistakes?
Petr: Situation in Europe is changing. How we act and what we do affect the people around us, it affects the society. I think that we should be aware and dare to question, to speak out. Believing in changing the world to the better is very important and it is not going to happen by itself. It's sad to see the same mistakes happen over and over again, that is why I think it´s worth talking about. I would like to quote Albert Einstein, "The world is a dangerous place to live in; not because of the people who are evil, but because of the people who don't do anything about it". We need to actively work against racism and prejudices around us, as well as within our selves. "Nothing in the world is more dangerous than sincere ignorance and conscientious stupidity" as Martin Luther King, Jr. said and I could not agree more.
Sara: How do you think people would react if you were to deal directly with events that are happening today?
Petr: This is a tricky question. I can imagine that the show would get more attention, maybe even be considered provocative. For me, events I explore with this show have more personal relevance due to my background. Growing up I had to deal with Neo-nazis in St. Petersburg, I wanted to find out why Russian skinheads used Nazi symbols. This led me to investigation of the Holocaust history. Growing up in Russian Orthodox, questioning the church as an institution has always interested me. Especially after recent events involving Pussy Riot, we can see how deep the Russian state is involved with the church.
Petr Davydtchenko.
Sara: I believe that false knowledge can be equal as dangerous as ignorance. In the society we live in to day we get a lot of information, how do one protect oneself from false knowledge?
Petr: We need to think independently, to think things through before making a conclusion or any generalization. Hasty generalization is one of the most dangerous things, by doing that we stop being human.
The gallery was now crowded with people who eagerly wanted to meet and ask the artist questions. I stayed for a while and watched how the wine in "Sacrament" came to an end, and then I was on my way back to Stockholm again, hoping that people will come together to build a future in which people and nature thrive.
Save and protect Us. Sacrament. Photos by: Petr Davydtchenko and Sara Litzén. The exhibition Mental Properties: European Autumn will be showing at the Harlan Levey Projects Gallery in Brussels until the 21 of October.