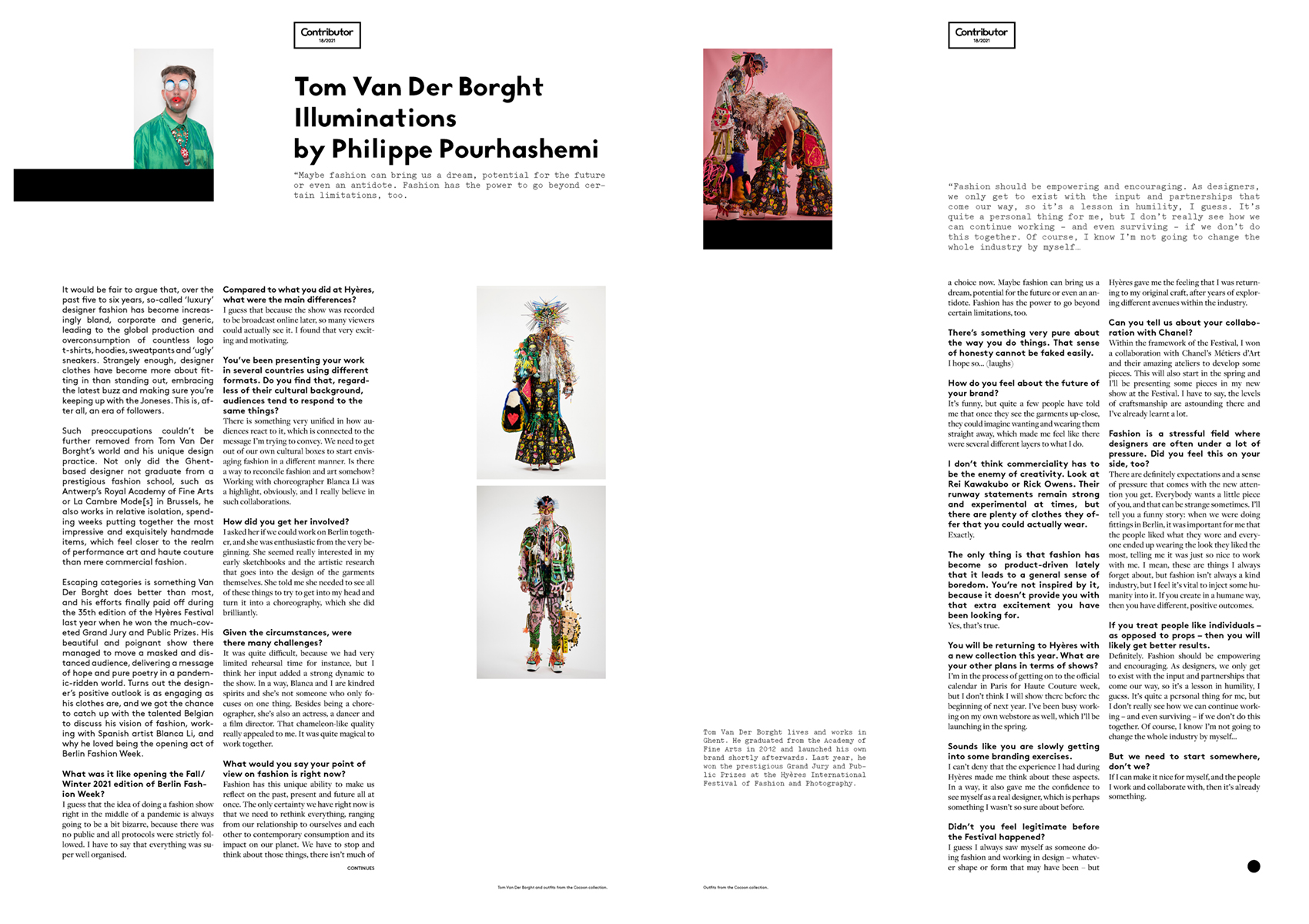 TOM VAN DER BORGHT – ILLUMINATIONS
By Philippe Pourhashemi
It would be fair to argue that, over the past five to six years, so-called 'luxury' designer fashion has become increasingly bland, corporate and generic, leading to the global production and overconsumption of countless logo t-shirts, hoodies, sweatpants and 'ugly' sneakers. Strangely enough, designer clothes have become more about fitting in than standing out, embracing the latest buzz and making sure you're keeping up with the Joneses. This is, after all, an era of followers.
Such preoccupations couldn't be further removed from Tom Van Der Borght's world and his unique design practice. Not only did the Ghent-based designer not graduate from a prestigious fashion school, such as Antwerp's Royal Academy of Fine Arts or La Cambre Mode[s] in Brussels, he also works in relative isolation, spending weeks putting together the most impressive and exquisitely handmade items, which feel closer to the realm of performance art and haute couture than mere commercial fashion.
Escaping categories is something Van Der Borght does better than most, and his efforts finally paid off during the 35th edition of the Hyères Festival last year when he won the much-coveted Grand Jury and Public Prizes. His beautiful and poignant show there managed to move a masked and distanced audience, delivering a message of hope and pure poetry in a pandemic-ridden world. Turns out the designer's positive outlook is as engaging as his clothes are, and we got the chance to catch up with the talented Belgian to discuss his vision of fashion, working with Spanish artist Blanca Li, and why he loved being the opening act of Berlin Fashion Week.
What was it like opening the Fall/Winter 2021 edition of Berlin Fashion Week?
I guess that the idea of doing a fashion show right in the middle of a pandemic is always going to be a bit bizarre, because there was no public and all protocols were strictly followed. I have to say that everything was super well organised.
Compared to what you did at Hyères, what were the main differences?
I guess that because the show was recorded to be broadcast online later, so many viewers could actually see it. I found that very exciting and motivating.
You've been presenting your work in several countries using different formats. Do you find that, regardless of their cultural background, audiences tend to respond to the same things?
There is something very unified in how audiences react to it, which is connected to the message I'm trying to convey. We need to get out of our own cultural boxes to start envisaging fashion in a different manner. Is there a way to reconcile fashion and art somehow? Working with choreographer Blanca Li was a highlight, obviously, and I really believe in such collaborations.
How did you get her involved?
I asked her if we could work on Berlin together, and she was enthusiastic from the very beginning. She seemed really interested in my early sketchbooks and the artistic research that goes into the design of the garments themselves. She told me she needed to see all of these things to try to get into my head and turn it into a choreography, which she did brilliantly.
Given the circumstances, were there many challenges?
It was quite difficult, because we had very limited rehearsal time for instance, but I think her input added a strong dynamic to the show. In a way, Blanca and I are kindred spirits and she's not someone who only focuses on one thing. Besides being a choreographer, she's also an actress, a dancer and a film director. That chameleon-like quality really appealed to me. It was quite magical to work together.
What would you say your point of view on fashion is right now?
Fashion has this unique ability to make us reflect on the past, present and future all at once. The only certainty we have right now is that we need to rethink everything, ranging from our relationship to ourselves and each other to contemporary consumption and its impact on our planet. We have to stop and think about those things, there isn't much of a choice now. Maybe fashion can bring us a dream, potential for the future or even an antidote. Fashion has the power to go beyond certain limitations, too.
There's something very pure about the way you do things. That sense of honesty cannot be faked easily.
I hope so… [laughs]
How do you feel about the future of your brand?
It's funny, but quite a few people have told me that once they see the garments up-close, they could imagine wanting and wearing them straight away, which made me feel like there were several different layers to what I do.
I don't think commerciality has to be the enemy of creativity. Look at Rei Kawakubo or Rick Owens. Their runway statements remain strong and experimental at times, but there are plenty of clothes they offer that you could actually wear.
Exactly.
The only thing is that fashion has become so product-driven lately that it leads to a general sense of boredom. You're not inspired by it, because it doesn't provide you with that extra excitement you have been looking for.
Yes, that's true.
You will be returning to Hyères with a new collection this year. What are your other plans in terms of shows?
I'm in the process of getting on to the official calendar in Paris for Haute Couture week, but I don't think I will show there before the beginning of next year. I've been busy working on my own webstore as well, which I'll be launching in the spring.
Sounds like you are slowly getting into some branding exercises.
I can't deny that the experience I had during Hyères made me think about these aspects. In a way, it also gave me the confidence to see myself as a real designer, which is perhaps something I wasn't so sure about before.
Didn't you feel legitimate before the Festival happened?
I guess I always saw myself as someone doing fashion and working in design – whatever shape or form that may have been – but Hyères gave me the feeling that I was returning to my original craft, after years of exploring different avenues within the industry.
Can you tell us about your collaboration with Chanel?
Within the framework of the Festival, I won a collaboration with Chanel's Métiers d'Art and their amazing ateliers to develop some pieces. This will also start in the spring and I'll be presenting some pieces in my new show at the Festival. I have to say, the levels of craftsmanship are astounding there and I've already learnt a lot.
Fashion is a stressful field where designers are often under a lot of pressure. Did you feel this on your side, too?
There are definitely expectations and a sense of pressure that comes with the new attention you get. Everybody wants a little piece of you, and that can be strange sometimes. I'll tell you a funny story: when we were doing fittings in Berlin, it was important for me that the people liked what they wore and everyone ended up wearing the look they liked the most, telling me it was just so nice to work with me. I mean, these are things I always forget about, but fashion isn't always a kind industry, but I feel it's vital to inject some humanity into it. If you create in a humane way, then you have different, positive outcomes.
If you treat people like individuals – as opposed to props – then you will likely get better results.
Definitely. Fashion should be empowering and encouraging. As designers, we only get to exist with the input and partnerships that come our way, so it's a lesson in humility, I guess. It's quite a personal thing for me, but I don't really see how we can continue working – and even surviving – if we don't do this together. Of course, I know I'm not going to change the whole industry by myself…
But we need to start somewhere, don't we?
If I can make it nice for myself, and the people I work and collaborate with, then it's already something.
Tom Van Der Borght lives and works in Ghent. He graduated from the Academy of Fine Arts in 2012 and launched his own brand shortly afterwards. Last year, he won the prestigious Grand Jury and Public Prizes at the Hyères International Festival of Fashion and Photography.
A fashion writer, consultant and stylist, Philippe Pourhashemi was born in Tehran and grew up in Paris. In 2005, he graduated with a PhD in Cultural Studies. He works as a freelance coach for several brands in Belgium, Germany, Switzerland, Holland and Kazakhstan.