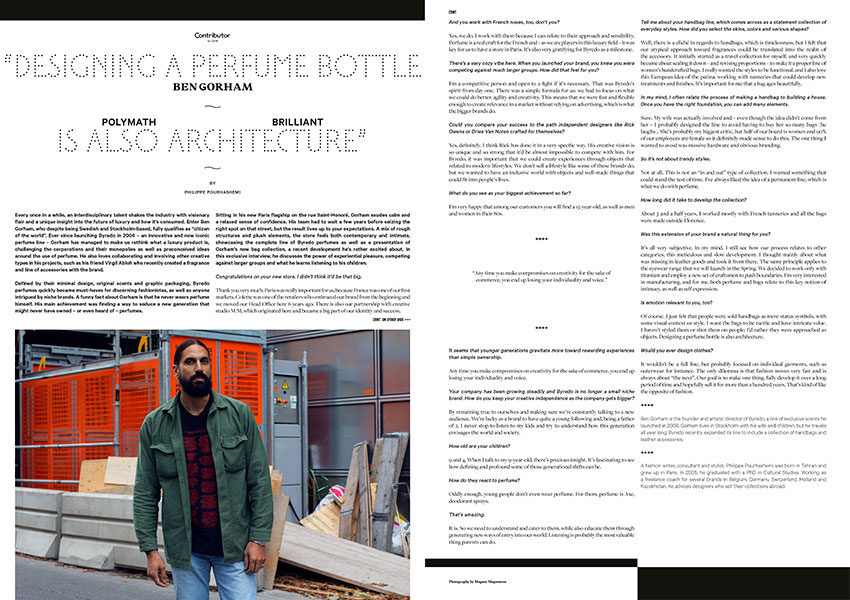 BEN GORHAM – BRILLIANT POLYMATH
Interview by Philippe Pourhashemi. Photography by Magnus Magnusson
Every once in a while, an interdisciplinary talent shakes the industry with visionary flair and a unique insight into the future of luxury and how it's consumed. Enter Ben Gorham, who despite being Swedish and Stockholm-based, fully qualifies as "citizen of the world". Ever since launching Byredo in 2006 – an innovative and now iconic perfume line – Gorham has managed to make us rethink what a luxury product is, challenging the corporations and their monopolies as well as preconceived ideas around the use of perfume. He also loves collaborating and involving other creative types in his projects, such as his friend Virgil Abloh who recently created a fragrance and line of accessories with the brand.
Defined by their minimal design, original scents and graphic packaging, Byredo perfumes quickly became must-haves for discerning fashionistas, as well as anyone intrigued by niche brands. A funny fact about Gorham is that he never wears perfume himself. His main achievement was finding a way to seduce a new generation that might never have owned perfumes. Sitting in his new Paris flagship on the rue Saint-Honoré, Gorham exudes calm and a relaxed sense of confidence. His team had to wait a few years before seizing the right spot on that street, but the result lives up to your expectations. A mix of rough structures and plush elements, the store feels both contemporary and intimate, showcasing the complete line of Byredo perfumes as well as a presentation of Gorham's new bag collection, a recent development he's rather excited about. In this exclusive interview, he discusses the power of experiential pleasure, competing against larger groups and what he learns listening to his children.
Congratulations on your new store. I didn't think it'd be that big.
Thank you very much. Paris was really important for us, because France was one of our first markets. Colette was one of the retailers who embraced our brand from the beginning and we moved our Head Office here 6 years ago. There is also our partnership with creative studio M/M, which originated here and became a big part of our identity and success.
And you work with French noses, too, don't you?
Yes, we do. I work with them because I can relate to their approach and sensibility. Perfume is a real craft for the French and – as we are players in this luxury field – it was key for us to have a store in Paris. It's also very gratifying for Byredo as a milestone.
There's a very cozy vibe here. When you launched your brand, you knew you were competing against much larger groups. How did that feel for you?
I'm a competitive person and open to a fight if it's necessary. That was Byredo's spirit from day one. There was a simple formula for us: we had to focus on what we could do better, agility and creativity. This means that we were fast and flexible enough to create relevance in a market without relying on advertising, which is what the bigger brands do.
Could you compare your success to the path independent designers like Rick Owens or Dries Van Noten crafted for themselves?
Yes, definitely. I think Rick has done it in a very specific way. His creative vision is so unique and so strong that it'd be almost impossible to compete with him. For Byredo, it was important that we could create experiences through objects that related to modern lifestyles. We don't sell a lifestyle like some of these brands do, but we wanted to have an inclusive world with objects and well-made things that could fit into people's lives.
What do you see as your biggest achievement so far?
I'm very happy that among our customers you will find a 15-year-old, as well as men and women in their 80s.
It seems that younger generations gravitate more toward rewarding experiences than simple ownership.
Any time you make compromises on creativity for the sake of commerce, you end up losing your individuality and voice.
Your company has been growing steadily and Byredo is no longer a small niche brand. How do you keep your creative independence as the company gets bigger?
By remaining true to ourselves and making sure we're constantly talking to a new audience. We're lucky as a brand to have quite a young following and, being a father of 2, I never stop listening to my kids and try to understand how this generation envisages the world and society.
How old are your children?
9 and 4. When I talk to my 9-year-old, there's precious insight. It's fascinating to see how defining and profound some of those generational shifts can be.
How do they react to perfume?
Oddly enough, young people don't even wear perfume. For them, perfume is Axe, deodorant sprays.
That's amazing.
It is. So we need to understand and cater to them, while also educate them through generating new ways of entry into our world. Listening is probably the most valuable thing parents can do.
Tell me about your handbag line, which comes across as a statement collection of everyday styles. How did you select the skins, colors and various shapes?
Well, there is a cliché in regards to handbags, which is timelessness, but I felt that our atypical approach toward fragrances could be translated into the realm of the accessory. It initially started as a travel collection for myself, and very quickly became about scaling it down – and revising proportions – to make it a proper line of women's handcrafted bags. I really wanted the styles to be functional, and I also love this European idea of the patina, working with tanneries that could develop new treatments and finishes. It's important for me that a bag ages beautifully.
In my mind, I often relate the process of making a handbag to building a house. Once you have the right foundation, you can add many elements.
Sure. My wife was actually involved and – even though the idea didn't come from her – I probably designed the line to avoid having to buy her so many bags (he laughs). She's probably my biggest critic, but half of our board is women and 90% of our employees are female so it definitely made sense to do this. The one thing I wanted to avoid was massive hardware and obvious branding.
So it's not about trendy styles.
Not at all. This is not an "in and out" type of collection. I wanted something that could stand the test of time. I've always liked the idea of a permanent line, which is what we do with perfume.
How long did it take to develop the collection?
About 3 and a half years. I worked mostly with French tanneries and all the bags were made outside Florence.
Was this extension of your brand a natural thing for you?
It's all very subjective. In my mind, I still see how our process relates to other categories, this meticulous and slow development. I thought mainly about what was missing in leather goods and took it from there. The same principle applies to the eyewear range that we will launch in the Spring. We decided to work only with titanium and employ a new set of craftsmen to push boundaries. I'm very interested in manufacturing, and for me, both perfume and bags relate to this key notion of intimacy, as well as self expression.
Is emotion relevant to you, too?
Of course. I just felt that people were sold handbags as mere status symbols, with some visual context or style. I want the bags to be tactile and have intricate value. I haven't styled them or shot them on people; I'd rather they were approached as objects. Designing a perfume bottle is also architecture.
Would you ever design clothes?
It wouldn't be a full line, but probably focused on individual garments, such as outerwear for instance. The only dilemma is that fashion moves very fast and is always about "the next". Our goal is to make one thing, fully develop it over a long period of time and hopefully sell it for more than a hundred years. That's kind of like the opposite of fashion.
Ben Gorham is the founder and artistic director of Byredo, a line of exclusive scents he launched in 2006. Gorham lives in Stockholm with his wife and children, but he travels all year long. Byredo recently expanded its line to include a collection of handbags and leather accessories.
A fashion writer, consultant and stylist, Philippe Pourhashemi was born in Tehran and grew up in Paris. In 2005, he graduated with a PhD in Cultural Studies. Working as a freelance coach for several brands in Belgium, Germany, Switzerland, Holland and Kazakhstan, he advises designers who sell their collections abroad.