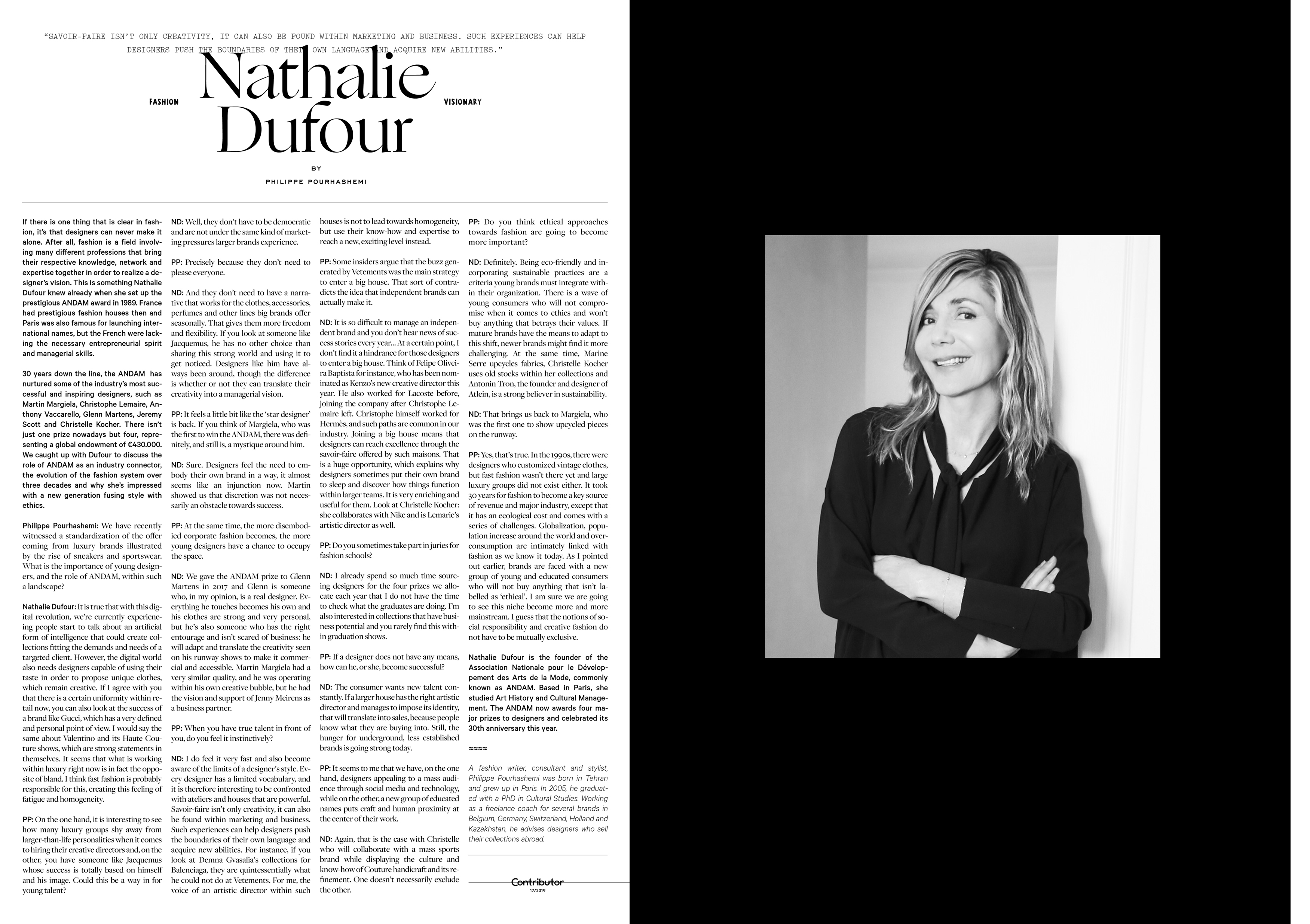 Fashion Visionary Nathalie Dufour
Interview by Philippe Pourhashemi, photography by François Goizé
If there is one thing that is clear in fashion, it's that designers can never make it alone. After all, fashion is a field involving many different professions that bring their respective knowledge, network and expertise together in order to realize a designer's vision. This is something Nathalie Dufour knew when she set up the prestigious ANDAM award in 1989. Paris was famous for launching international names, but the French were lacking the necessary entrepreneurial spirit and managerial skills.
30 years down the line, the ANDAM has nurtured some of the industry's most successful and inspiring designers, such as Martin Margiela, Christophe Lemaire, Anthony Vaccarello, Glenn Martens, Jeremy Scott and Christelle Kocher. There isn't just one prize nowadays -but four- representing a global endowment of €430.000. We caught up with Dufour to discuss the role of ANDAM as an industry connector, the evolution of the fashion system over three decades and why she's impressed with a new generation fusing style with ethics.
Philippe Pourhashemi: We have recently witnessed a standardization of the offer coming from luxury brands illustrated by the rise of sneakers and sportswear. What is the importanceof young designers, and the roleof ANDAM, within such a landscape?
Nathalie Dufour:It is true that with this digital revolution we're currently experiencing people start to talk about an artificial form of intelligence that could create collections fitting the demands and needs of a targeted client. However, the digital world also needs designers capable of using their taste in order to propose unique clothes, which remain creative. If I agree with you that there is a certain uniformity within retail now, you can also look at the success of a brand like Gucci, which has a very defined and personal point of view. I would say the same about Valentino and its Haute Couture shows, which are strong statements in themselves. It seems that what is working within luxury right now is in fact the opposite of bland. I think fast fashion is probably responsible for this, creating this feeling of fatigue and homogeneity.
PP: On the one hand, it is interesting to see how many luxury groups shy away from larger-than-life personalities when it comes to hiring their creative directors and, on the other, you have someone like Jacquemus whose success is totally based on himself and his image. Could this be a way in for young talent?
ND: Well, they don't have to be democratic and are not under the same kind of marketing pressures larger brands experience.
PP: Precisely because they don't need to please everyone.
ND: And they don't need to have a narrative that works for the clothes, accessories, perfumes and other lines big brands offer seasonally. That gives them more freedom and flexibility. If you look at someone like Jacquemus, he has no other choice than sharing this strong world and using it to get noticed. Designers like him have always been around though, the difference is whether or not they can translate their creativity into a managerial vision.
PP: It feels a little bit like the 'star designer' is back. If you think of Margiela, who was the first to win the ANDAM, there was definitely, and still is, a mystique around him.
ND: Sure. Designers feel the need to embody their own brand in a way, it almost seems like an injunction now. Martin showed us that discretion was not necessarily an obstacle towards success.
PP: At the same time, the more disembodied corporate fashion becomes, the more young designers have a chance to occupy the space.
ND: We gave the ANDAM prize to Glenn Martens in 2017 and Glenn is someone who, in my opinion, is a real designer. Everything he touches becomes his own and his clothes are strong and very personal, but he's also someone who has the right entourage and isn't scared of business: he will adapt and translate the creativity seen on his runway shows to make it commercial and accessible. Martin Margiela had a very similar quality, and he was operating within his own creative bubble, but he had the vision and support of Jenny Meirens as a business partner.
PP: When you have true talent in front of you, do you feel it instinctively?
ND: I do feel it very fast and also become aware of the limits of a designer's style. Every designer has a limited vocabulary, and it is therefore interesting to be confronted with ateliers and houses that are powerful. Savoir-faire isn't only creativity, it can also be found within marketing and business. Such experiences can help designers push the boundaries of their own language and acquire new abilities. For instance, if you look at Demna Gvasalia's collections for Balenciaga, they are quintessentially what he could not do at Vêtements. For me, the voice of an artistic director within such houses is not to lead towards homogeneity, but use their know-how and expertise to reach a new, exciting level instead.
PP: Some insiders argue that the buzz generated by Vetements was the main strategy to enter a big house. That sort of contradicts the idea that independent brands can actually make it.
ND: It is so difficult to manage an independent brand and you don't hear news of success stories every year… At a certain point, I don't find it a hindrance for those designers to enter a big house. Think of Felipe Oliveira Baptista for instance, who has been nominated as Kenzo's new creative director this year. He also worked for Lacoste before, joining the company after Christophe Lemaire left. Christophe himself worked for Hermès, and such paths are common in our industry. Joining a big house means that designers can reach excellence through the savoir-faire offered by such maisons. That is a huge opportunity, which explains why designers sometimes put their own brand to sleep and discover how things function within larger teams. It is very enriching and useful for them. Look at Christelle Kocher: she collaborates with Nike and is Lemarie's artistic director as well.
PP: Do you sometimes take part in juries for fashion schools?
ND: I already spend so much time sourcing designers for the four prizes we allocate each year that I do not have the time to check what the graduates are doing. I'm also interested in collections that have business potential and you rarely find this within graduation shows.
PP: If a designer does not have any means, how can he, or she, become successful?
ND: The consumer wants new talent constantly. If a larger house has the right artistic director and manages to impose its identity, that will translate into sales, because people know what they are buying into. Still, the hunger for underground, less established brands is going strong today.
PP: It seems to me that we have, on the one hand, designers appealing to a mass audience through social media and technology, while on the other, a new group of educated names puts craft and human proximity at the center of their work.
ND: Again, that is the case with Christelle who will collaborate with a mass sports brand while displaying the culture and know-how of Couture handicraft and its refinement. One doesn't necessarily exclude the other.
PP: Do you think ethical approaches towards fashion are going to become more important?
ND: Definitely. Being eco-friendly and incorporating sustainable practices are criteria young brands must integrate within their organization. There is a wave of young consumers who will not compromise when it comes to ethics and won't buy anything that betrays their values. If mature brands have the means to adapt to this shift, newer brands might find it more challenging. At the same time, Marine Serre upcycles fabrics, Christelle Kocher uses old stocks within her collections and Antonin Tron, the founder and designer of Atlein, is a strong believer in sustainability.
ND: That brings us back to Margiela, who was the first one to show upcycled pieces on the runway.
PP: Yes, that's true. In the 1990s, there were designers who customized vintage clothes, but fast fashion wasn't there yet and large luxury groups did not exist either. It took 30 years for fashion to become a key source of revenue and major industry, except that it has an ecological cost and comes with a series of challenges. Globalization, population increase around the world and overconsumption are intimately linked with fashion as we know it today. As I pointed out earlier, brands are faced with a new group of young and educated consumers who will not buy anything that isn't labelled as 'ethical'. I am sure we are going to see this niche become more and more mainstream. I guess that the notions of social responsibility and creative fashion do not have to be mutually exclusive.
Nathalie Dufour is the founder of the Association Nationale pour le Développement des Arts de la Mode, commonly known as ANDAM. Based in Paris, she studied Art History and Cultural Management. The ANDAM now awards four major prizes to designers and celebrated its 30th anniversary this year.
A fashion writer, consultant and stylist, Philippe Pourhashemi was born in Tehran and grew up in Paris. In 2005, he graduated with a PhD in Cultural Studies. Working as a freelance coach for several brands in Belgium, Germany, Switzerland, Holland and Kazakhstan, he advises designers who sell their collections abroad.