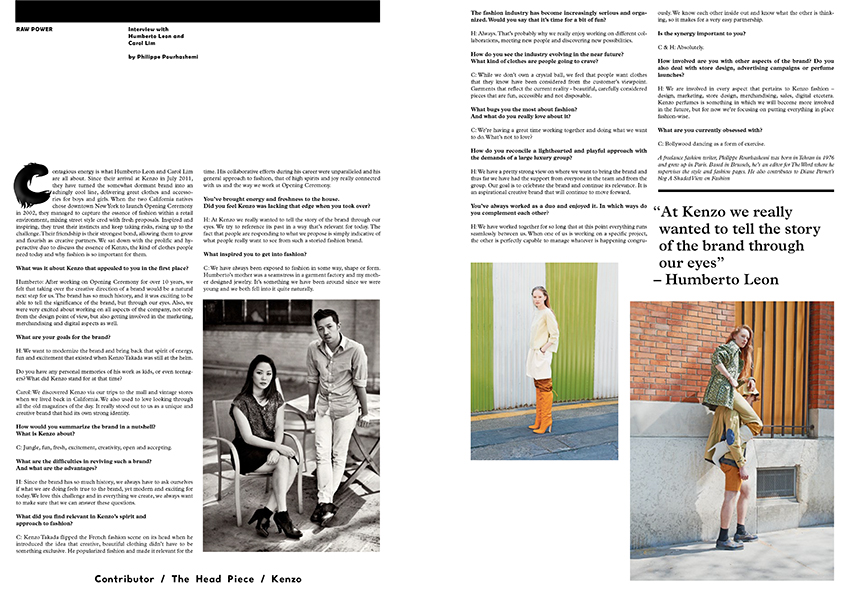 Raw Power
Interview with Humberto Leon and Carol Lim
By Philippe Pourhashemi
Contagious energy is what Humberto Leon and Carol Lim are all about. Since their arrival at Kenzo in July 2011, they have turned the somewhat dormant brand into an achingly cool line, delivering great clothes and accessories for boys and girls. When the two California natives chose downtown New York to launch Opening Ceremony in 2002, they managed to capture the essence of fashion within a retail environment, mixing street style cred with fresh proposals. Inspired and inspiring, they trust their instincts and keep taking risks, rising up to the challenge. Their friendship is their strongest bond, allowing them to grow and flourish as creative partners. We sat down with the prolific and hyperactive duo to discuss the essence of Kenzo, the kind of clothes people need today and why fashion is so important for them.
What was it about Kenzo that appealed to you in the first place?
Humberto: After working on Opening Ceremony for over 10 years, we felt that taking over the creative direction of a brand would be a natural next step for us. The brand has so much history, and it was exciting to be able to tell the significance of the brand, but through our eyes. Also, we were very excited about working on all aspects of the company, not only from the design point of view, but also getting involved in the marketing, merchandising and digital aspects as well.
What are your goals for the brand?
H: We want to modernize the brand and bring back that spirit of energy, fun and excitement that existed when Kenzo Takada was still at the helm.
Do you have any personal memories of his work as kids, or even teenagers? What did Kenzo stand for at that time?
Carol: We discovered Kenzo via our trips to the mall and vintage stores when we lived back in California. We also used to love looking through all the old magazines of the day. It really stood out to us as a unique and creative brand that had its own strong identity.
How would you summarize the brand in a nutshell? What is Kenzo about?
C: Jungle, fun, fresh, excitement, creativity, open and accepting.
What are the difficulties in reviving such a brand? And what are the advantages?
H: Since the brand has so much history, we always have to ask ourselves if what we are doing feels true to the brand, yet modern and exciting for today.We love this challenge and in everything we create, we always want to make sure that we can answer these questions.
What did you find relevant in Kenzo's spirit and approach to fashion?
C: Kenzo Takada flipped the French fashion scene on its head when he introduced the idea that creative, beautiful clothing didn't have to be something exclusive. He popularized fashion and made it relevant for the time. His collaborative efforts during his career were unparalleled and his general approach to fashion, that of high spirits and joy really connected with us and the way we work at Opening Ceremony.
You've brought energy and freshness to the house. Did you feel Kenzo was lacking that edge when you took over?
H: At Kenzo we really wanted to tell the story of the brand through our eyes. We try to reference its past in a way that's relevant for today. The fact that people are responding to what we propose is simply indicative of what people really want to see from such a storied fashion brand.
What inspired you to get into fashion?
C: We have always been exposed to fashion in some way, shape or form. Humberto's mother was a seamstress in a garment factory and my mother designed jewelry. It's something we have been around since we were young and we both fell into it quite naturally.
The fashion industry has become increasingly serious and organized. Would you say that it's time for a bit of fun?
H: Always. That's probably why we really enjoy working on different collaborations, meeting new people and discovering new possibilities.
How do you see the industry evolving in the near future? What kind of clothes are people going to crave?
C: While we don't own a crystal ball, we feel that people want clothes that they know have been considered from the customer's viewpoint. Garments that reflect the current reality – beautiful, carefully considered pieces that are fun, accessible and not disposable.
What bugs you the most about fashion? And what do you really love about it?
C: We're having a great time working together and doing what we want to do. What's not to love?
How do you reconcile a lighthearted and playful approach with the demands of a large luxury group?
H: We have a pretty strong view on where we want to bring the brand and thus far we have had the support from everyone in the team and from the group. Our goal is to celebrate the brand and continue its relevance. It is an aspirational creative brand that will continue to move forward.
You've always worked as a duo and enjoyed it. In which ways do you complement each other?
H: We have worked together for so long that at this point everything runs seamlessly between us. When one of us is working on a specific project, the other is perfectly capable to manage whatever is happening congruously. We know each other inside out and know what the other is thinking, so it makes for a very easy partnership.
Is the synergy important to you?
C & H: Absolutely.
How involved are you with other aspects of the brand? Do you also deal with store design, advertising campaigns or perfume launches?
H: We are involved in every aspect that pertains to Kenzo fashion – design, marketing, store design, merchandising, sales, digital etcetera. Kenzo perfumes is something in which we will become more involved in the future, but for now we're focusing on putting everything in place fashion-wise.
What are you currently obsessed with?
C: Bollywood dancing as a form of exercise.
A freelance fashion writer, Philippe Rourhashemi was born in Tehran in 1976 and grew up in Paris. Based in Brussels, he's an editor for The Word where he supervises the style and fashion pages. He also contributes to Diane Pernet's blog A Shaded View on Fashion