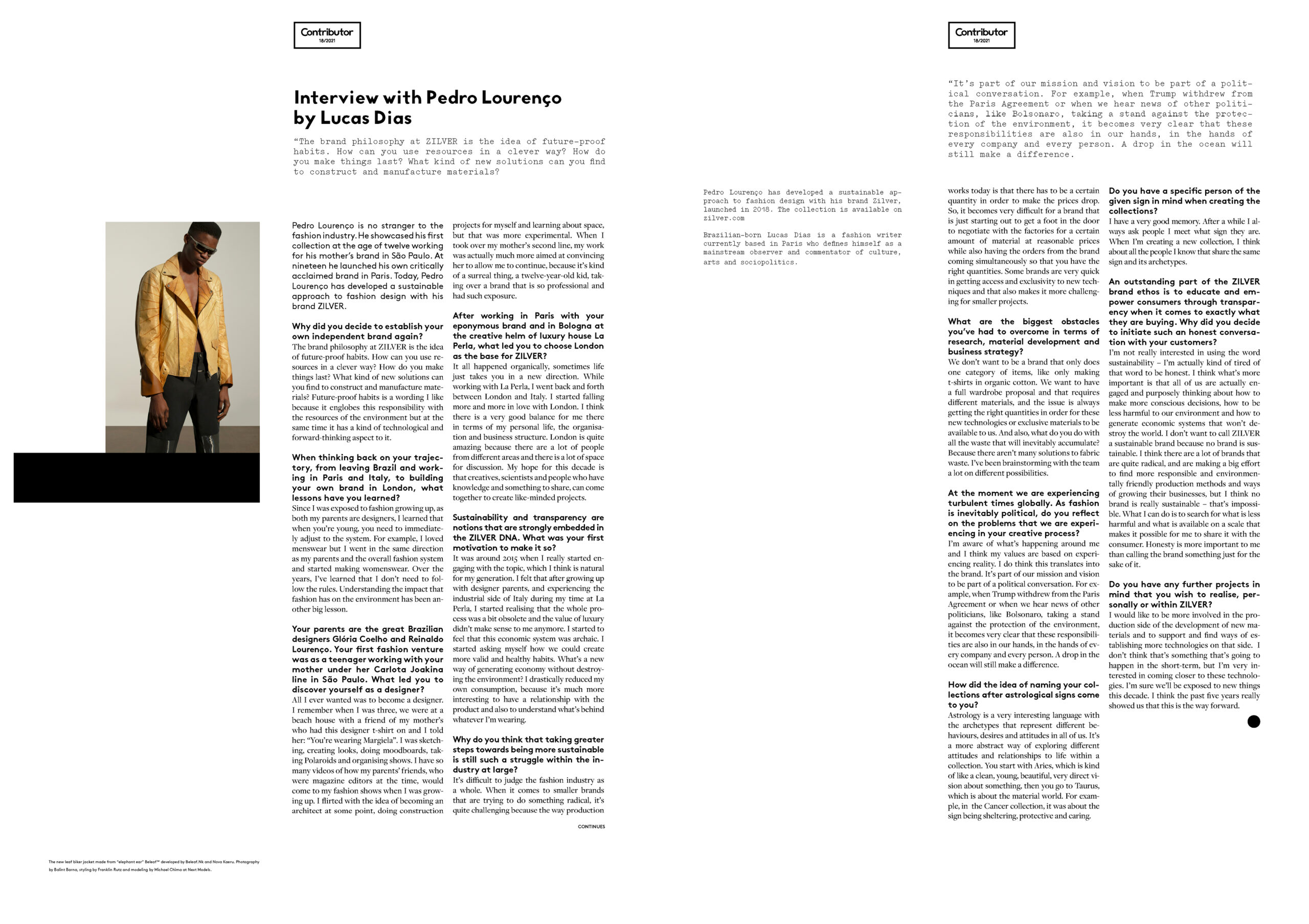 By Lucas Dias
Pedro Lourenço is no stranger to the fashion industry. He showcased his first collection at the age of twelve, working for his mother's brand in São Paulo. At nineteen he launched his own critically acclaimed brand in Paris. Today, Pedro Lourenço has developed a sustainable approach to fashion design with his brand ZILVER.
Why did you decide to establish your own independent brand again?
The brand philosophy at ZILVER is the idea of future-proof habits. How can you use resources in a clever way? How do you make things last? What kind of new solutions can you find to construct and manufacture materials? Future-proof habits is a wording I like because it englobes this responsibility with the resources of the environment but at the same time it has a kind of technological and forward-thinking aspect to it.
When thinking back on your trajectory, from leaving Brazil and working in Paris and Italy, to building your own brand in London, what lessons have you learned?
Since I was exposed to fashion growing up, as both my parents are designers, I learned that when you're young, you need to immediately adjust to the system. For example, I loved menswear but I went in the same direction as my parents and the overall fashion system and started making womenswear. Over the years, I've learned that I don't need to follow the rules. Understanding the impact that fashion has on the environment has been another big lesson.
Your parents are the great Brazilian designers Glória Coelho and Reinaldo Lourenço. Your first fashion venture was as a teenager working with your mother under her Carlota Joakina line in São Paulo. What led you to discover yourself as a designer?
All I ever wanted was to become a designer. I remember when I was three, we were at a beach house with a friend of my mother's who had this designer t-shirt on and I told her: "You're wearing Margiela". I was sketching, creating looks, doing mood boards, taking Polaroids and organising shows. I have so many videos of how my parents' friends, who were magazine editors at the time, would come to my fashion shows when I was growing up. I flirted with the idea of becoming an architect at some point, doing construction projects for myself and learning about space, but that was more experimental. When I took over my mother's second line, my work was actually much more aimed at convincing her to allow me to continue, because it's kind of a surreal thing, a twelve-year-old kid, taking over a brand that is so professional and had such exposure.
After working in Paris with your eponymous brand and in Bologna at the creative helm of luxury house La Perla, what led you to choose London as the base for ZILVER?
It all happened organically, sometimes life just takes you in a new direction. While working with La Perla, I went back and forth between London and Italy. I started falling more and more in love with London. I think there is a very good balance for me there in terms of my personal life, the organisation and business structure. London is quite amazing because there are a lot of people from different areas and there is a lot of space for discussion. My hope for this decade is that creatives, scientists and people who have knowledge and something to share, can come together to create like-minded projects.
Sustainability and transparency are notions that are strongly embedded in the ZILVER DNA. What was your first motivation to make it so?
It was around 2015 when I really started engaging with the topic, which I think is natural for my generation. I felt that after growing up with designer parents, and experiencing the industrial side of Italy during my time at La Perla, I started realising that the whole process was a bit obsolete and the value of luxury didn't make sense to me anymore. I started to feel that this economic system was archaic. I started asking myself how we could create more valid and healthy habits. What's a new way of generating economy without destroying the environment? I drastically reduced my own consumption, because it's much more interesting to have a relationship with the product and also to understand what's behind whatever I'm wearing.
Why do you think that taking greater steps towards being more sustainable is still such a struggle within the industry at large?
It's difficult to judge the fashion industry as a whole. When it comes to smaller brands that are trying to do something radical, it's quite challenging because the way production works today is that there has to be a certain quantity in order to make the prices drop. So, it becomes very difficult for a brand that is just starting out to get a foot in the door to negotiate with the factories for a certain amount of material at reasonable prices while also having the orders from the brand coming simultaneously so that you have the right quantities. Some brands are very quick in getting access and exclusivity to new techniques and that also makes it more challenging for smaller projects.
What are the biggest obstacles you've had to overcome in terms of research, material development and business strategy?
We don't want to be a brand that only does one category of items, like only making t-shirts in organic cotton. We want to have a full wardrobe proposal and that requires different materials, and the issue is always getting the right quantities in order for these new technologies or exclusive materials to be available to us. And also, what do you do with all the waste that will inevitably accumulate? Because there aren't many solutions to fabric waste. I've been brainstorming with the team a lot on different possibilities.
At the moment we are experiencing turbulent times globally. As fashion is inevitably political, do you reflect on the problems that we are experiencing in your creative process?
I'm aware of what's happening around me and I think my values are based on experiencing reality. I do think this translates into the brand. It's part of our mission and vision to be part of a political conversation. For example, when Trump withdrew from the Paris Agreement or when we hear news of other politicians, like Bolsonaro, taking a stand against the protection of the environment, it becomes very clear that these responsibilities are also in our hands, in the hands of every company and every person. A drop in the ocean will still make a difference.
How did the idea of naming your collections after astrological signs come to you?
Astrology is a very interesting language with the archetypes that represent different behaviours, desires and attitudes in all of us. It's a more abstract way of exploring different attitudes and relationships to life within a collection. You start with Aries, which is kind of like a clean, young, beautiful, very direct vision about something, then you go to Taurus, which is about the material world. For example, in the Cancer collection for Fall/Winter 2020, it was about the sign being sheltering, protective and caring.
Do you have a specific person of the given sign in mind when creating the collections?
I have a very good memory. After a while I always ask people I meet what sign they are. When I'm creating a new collection, I think about all the people I know that share the same sign and its archetypes.
An outstanding part of the ZILVER brand ethos is to educate and empower consumers through transparency when it comes to exactly what they are buying. Why did you decide to initiate such an honest conversation with your customers?
I'm not really interested in using the word sustainability – I'm actually kind of tired of that word to be honest. [laughs] I think what's more important is that all of us are actually engaged and purposely thinking about how to make more conscious decisions, how to be less harmful to our environment and how to generate economic systems that won't destroy the world. I don't want to call ZILVER a sustainable brand because no brand is sustainable. I think there are a lot of brands that are quite radical, and are making a big effort to find more responsible and environmentally friendly production methods and ways of growing their businesses, but I think no brand is really sustainable – that's impossible. What I can do is to search for what is less harmful and what is available on a scale that makes it possible for me to share it with the consumer. Honesty is more important to me than calling the brand something just for the sake of it.
Do you have any further projects in mind that you wish to realise, personally or within ZILVER?
I would like to be more involved in the production side of the development of new materials and to support and find ways of establishing more technologies on that side. I don't think that's something that's going to happen in the short-term, but I'm very interested in coming closer to these technologies. I'm sure we'll be exposed to new things this decade. I think the past five years really showed us that this is the way forward.
Pedro Lourenço has developed a sustainable approach to fashion design with his brand ZILVER. Experimenting with cutting-edge materials, he recently introduced the first leaf leather jacket, made from the elephant ear plant.
Brazilian-born Lucas Dias is a fashion writer currently based in Paris who defines himself as a mainstream observer and commentator of culture, arts and sociopolitics.