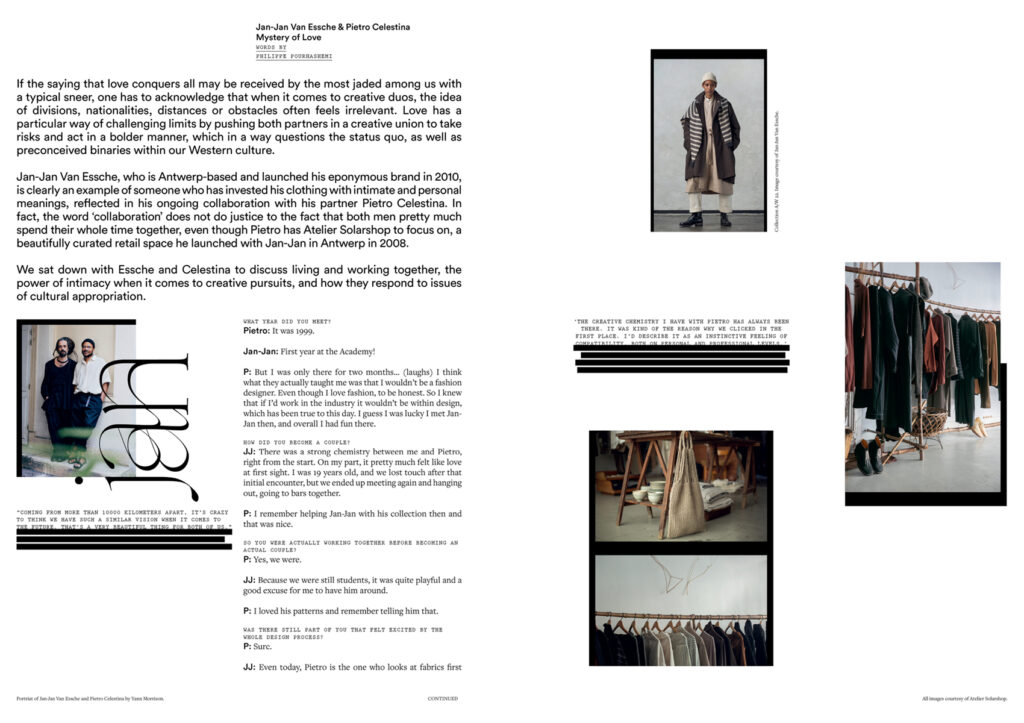 If the saying that love conquers all may be received by the most jaded among us with a typical sneer, one has to acknowledge that when it comes to creative duos, the idea of divisions, nationalities, distances or obstacles often feels irrelevant. Love has a particular way of challenging limits by pushing both partners in a creative union to take risks and act in a bolder manner, which in a way questions the status quo, as well as preconceived binaries within our Western culture.
Jan-Jan Van Essche, who is Antwerp-based and launched his eponymous brand in 2010, is clearly an example of someone who has invested his clothing with intimate and personal meanings, reflected in his ongoing collaboration with his partner Pietro Celestina. In fact, the word 'collaboration' does not do justice to the fact that both men pretty much spend their whole time together, even though Pietro has Atelier Solarshop to focus on, a beautifully curated retail space he launched with Jan-Jan in Antwerp in 2008.
We sat down with Essche and Celestina to discuss living and working together, the power of intimacy when it comes to creative pursuits, and how they respond to issues of cultural appropriation.
Interview by Philippe Pourhashemi
WHAT YEAR DID YOU MEET?
Pietro: It was 1999.
Jan-Jan: First year at the Academy!
P: But I was only there for two months… (laughs) I think what they actually taught me was that I wouldn't be a fashion designer. Even though I love fashion, to be honest. So I knew that if I'd work in the industry it wouldn't be within design, which has been true to this day. I guess I was lucky I met Jan-Jan then, and overall I had fun there.
HOW DID YOU BECOME A COUPLE?
JJ: There was a strong chemistry between me and Pietro, right from the start. On my part, it pretty much felt like love at first sight. I was 19 years old, and we lost touch after that initial encounter, but we ended up meeting again and hanging out, going to bars together.
P: I remember helping Jan-Jan with his collection then and that was nice.
SO YOU WERE ACTUALLY WORKING TOGETHER BEFORE BECOMING AN ACTUAL COUPLE?
P: Yes, we were.
JJ: Because we were still students, it was quite playful and a good excuse for me to have him around.
P: I loved his patterns and remember telling him that.
WAS THERE STILL PART OF YOU THAT FELT EXCITED BY THE WHOLE DESIGN PROCESS?
P: Sure.

JJ: Even today, Pietro is the one who looks at fabrics first and knows how to select them. He's definitely the first one to make comments as well, typically from a creative or business point of view. Not only is Pietro my boyfriend, he's also my first point of contact when it comes to actual design. He also runs Atelier Solarshop and has substantial management experience.
P: I take pictures of the collection as well.
IT'S VERY RARE FOR COUPLES TO FUNCTION SO SEAMLESSLY ON A CREATIVE LEVEL. DID IT EVOLVE OR CHANGE OVER TIME?
JJ: The creative chemistry I have with Pietro has always been there. It was kind of the reason why we clicked in the first place. I'd describe it as an instinctive feeling of compatibility, both on personal and professional levels.
WHEN YOU LAUNCHED YOUR OWN BRAND, YOU WERE QUESTIONING THE SEASONAL CYCLE AND THINKING OF SUSTAINABILITY AND TIMELESSNESS ALREADY, BY DECIDING TO SHOW ONE COLLECTION A YEAR FOR INSTANCE. WOULD YOU SAY YOU WERE AHEAD OF THE CURVE?
JJ: Looking back you could say that, even though I felt at the time that all I wanted was to find my own language and truth. We were never anti-anything, but looking for our own ways to do things. Throughout the pandemic, we have seen many designers and stores proclaim those values as their own, but for us it has always been like this. When Atelier Solarshop was launched, I remember writing this manifesto defending such ideas of slow fashion, which have become rather trendy today.
AT THE SAME TIME, YOU WERE REACTING TO THE GROWTH OF FAST FASHION, WHICH WAS BECOMING ONE OF THE KEY FORCES WITHIN THE INDUSTRY.
P: We were definitely looking for a solid foundation and something that would last. Fashion doesn't have to be only about marketing, hype or trends. And it doesn't need to be seasonal either.
I REMEMBER THAT WHEN YOU FIRST STARTED DOING THAT IT WAS A SHOCK FOR BUYERS WHO CLEARLY DID NOT UNDERSTAND YOUR VIEWPOINT.
P: Yes that's true, but we never thought about it as being that innovative either. It also made sense for us financially.
JJ: We did believe in slowing the system down though.
DIVERSITY AND CULTURAL APPROPRIATION WEREN'T SUCH HOT TOPICS THEN EITHER.
JJ: I have always been fascinated with African culture. It goes back to my childhood actually. Once, I was confronted by a man who said he was a journalist and accused me of cultural appropriation, which made me think about those issues. There was imagery of black people and culture everywhere in the store and I tried to explain to him that it was a love letter as opposed to exploitation, but of course I understand the issues and how people feel they are being ripped off culturally for commercial purposes. I am a white guy with dreads, which I guess does not make it easier either. Within my work, there are other references, such as the kimono for instance, but I don't see how as a designer you cannot not be influenced by other cultures around you. In my collections, I never copy something, but I reinterpret references every single time. I think that if you do things with respect and curiosity, you will avoid the trap of appropriation.
WHAT IS TRICKY ABOUT LIVING AND WORKING TOGETHER?
P: We have been together 20 years now, and of course there are different phases, like within any long-term relationship. We spent time finding a balance between work and private life, which was complicated I guess. At a certain moment, we understood we had the same aim and there was never a sense of competition between us either. We just argued a lot more and got frustrated with certain things, but that doesn't really happen anymore today.
JJ: I'm very vague, and Pietro is pragmatic and quite analytical. I remember when we visited our first factory together and he kept asking me all those questions, which completely stressed me out. In the end, he was right of course, but I got scared, because I was just trusting my instincts then. For the first five years, I felt quite frightened of Pietro's judgment, which was obviously due to my own insecurities. In the end, I understood we totally complemented each other and we found peace in that. Pietro organizes things for me so well that sometimes I have to break out of my comfort zone and avoid becoming too sheltered. I can hide in my design corner forever, but there are a lot other responsibilities, too.
P: We have a team, which needs to be managed daily. Today we have 40 stockists and there is a core of very faithful clients.
WHAT DO YOU ENJOY ABOUT YOUR SPECIAL PARTNERSHIP?
JJ: I can trust Pietro blindly, and never doubted him actually. We are really on the same page today.
P: We have been 20 years together and it's been a crazy ride, but now we like to stop and think about the future. Where do we want to go now? How do we see our next 20 years together perhaps? That gives us something to look forward to.
JJ: It's also nice to see that we have built all of this together and that it has grown in ways we did not necessarily expect. Coming from more than 10000 kilometers apart, it's crazy to think we have such a similar vision when it comes to the future. That's a very beautiful thing for both of us.
Jan-Jan Van Essche and Pietro Celestina work and live in Antwerp. Jan-Jan launched his own eponymous menswear brand in 2010 after graduating from the Royal Academy of Fine Arts in Antwerp. Pietro has been managing and buying for Atelier Solarshop, a curated retail space that stocks the collections of his partner, as well as other emerging clothing and accessories brands. janjanvanessche.com ateliersolarshop.be