Lust For Life. Interview with Michel Gaubert
By Philippe Pourhashemi
It is rare to meet individuals in our industry that have managed to keep an open mind – and unjaded outlook – after more than thirty years of consistent hard work. Sound designer Michel Gaubert is one of them. Not only has the Paris-based maverick worked with some of the world's best designers and fashion houses, he's also incredibly educated, kind and approachable in person.
Gaubert's job is to create unique soundtracks for fashion shows or films, and some of them are quite memorable. Think of early 1990s Chanel by Karl Lagerfeld, or more recent offerings for Loewe by Jonathan Anderson and Moschino by Jeremy Scott. Whether it be catchy, ironic, fun – or more on the conceptual side – Gaubert can craft any type of sound that will enhance, reflect and complement a designer's vision.
We caught up with the bearded Frenchman to discuss whether or not the pandemic has affected his own creative process, working with Thierry Mugler on spectacular runway shows, and why he won't be missing New York Fashion week this season.
Hi Michel, lovely to see you again, even though we are not in the same city today. Did you change your glasses?
Yes, I did.
They're very stylish. How have you been handling the pandemic so far?
Well, it produced a lot of anxiety at the beginning, which was two years ago. I remember having all these projects lined-up until July, and every other day I got cancellations. Everyone was panicking at that moment, but you just had to get on with things. Concretely, it meant that we had to do films instead of shows.
How does that change the process for you?
What's funny about the film format is that it is the opposite of what I normally do. Everything has been shot already and I usually have one week to do a soundtrack for films, whereas the music for a fashion show is what tends to come last. With shows you don't have much time to rehearse either, which makes the whole experience more spontaneous. That's what makes a show charming and exciting, but I have to admit that working on films is quite satisfying for me. You have more time to explore possibilities and come up with something surprising.
Would you consider creating soundtracks for full-length feature films?
I'd love to. I worked recently on a short film for Balmain with director Valentin Petit and we got to film at Charles de Gaulle Airport, which was a lot of fun. Shows have slowly been coming back, but I think that brands need to do more today than just seasonal shows, and films are a great way to deliver fresh content.
You are normally in New York at this time of year.
Well, I won't be there this season and don't really care, to be honest. Being in Paris allows me to focus on Europe more and I've enjoyed that.
New York Fashion Week isn't that creative either, besides a couple of brands there.
Big brands don't show there any longer, except Michael Kors. You don't see Tom Ford, Marc Jacobs, Thom Browne or Ralph Lauren. There are interesting designers in New York, such as Rodarte or Eckhaus Latta for instance, but their reach remains small and they tend to stay on the margins of the local industry. I've actually been wondering if being niche is not the future of fashion. Who really wants to be the next Tommy Hilfiger?
It's interesting you say that, because I feel that designers no longer need to be validated by those fashion capitals in order to get their business running.
Exactly.
You can have a global influence without living in a major fashion capital.
There are great brands that exist within corporate groups, but I don't think young people aspire to that kind of success today, regardless of the influence of major fashion cities. I have the feeling that they're looking for something more genuine and humane.
I agree and have also come across young designers for whom craft, beautiful clothing and sustainable thinking are more important that hype and global domination.
Yes, that's what I'm sensing right now.
If someone creates a collection especially for social media, wanting it to be 'in your face', it tends to have the opposite effect on me now. That kind of approach actually puts me off. Who are the young talents you work with today?
Kenneth Ize is one of them. I also love ROKH, and think Rok Hwang is an amazing designer. I love his clothes, and get on very well with him.
How do you explain your incredible longevity? Fashion tends to be ruthless and it's hard to stay relevant.
I can't explain it. I'm not only passionate about fashion, but image in general. I love cinema, literature and performance. Of course I have a certain taste, which is my own, but I think my talent is probably to know when something is right for a collection or not. It's a purely instinctive thing.
Your Instagram is a great illustration of your visual culture, which is broad and playful, but specific at the same time. It feels like your brain has multiple drawers where you can keep on picking new ideas.
In a funny way, this metaphor encapsulates my process. Images and sounds are always intertwined.
Can a great soundtrack make a show more exciting?
Yes, it can. It won't make it more creative, but give it another dimension maybe.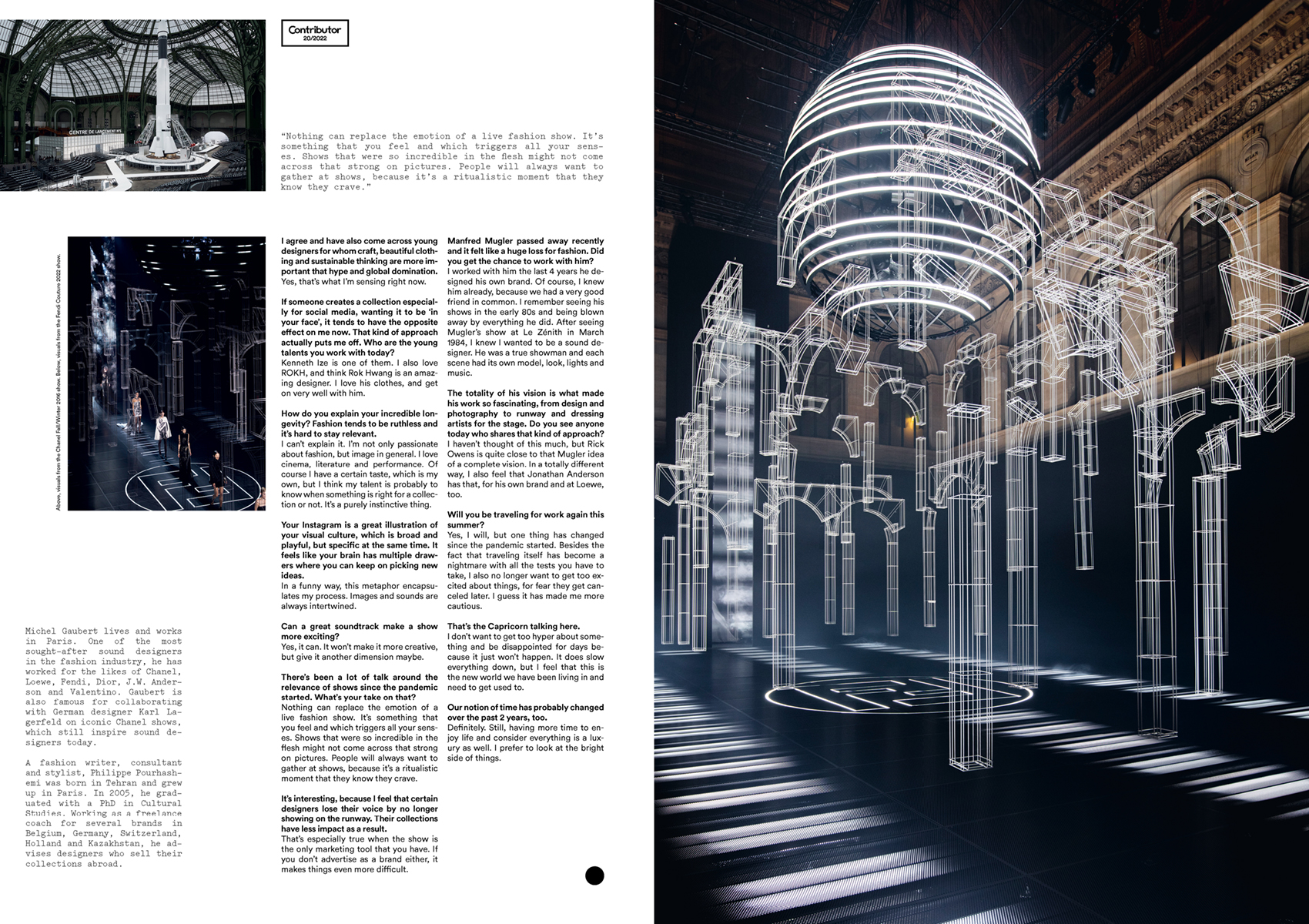 There's been a lot of talk around the relevance of shows since the pandemic started. What's your take on that?
Nothing can replace the emotion of a live fashion show. It's something that you feel and which triggers all your senses. Shows that were so incredible in the flesh might not come across that strong on pictures. People will always want to gather at shows, because it's a ritualistic moment that they know they crave.
It's interesting, because I feel that certain designers lose their voice by no longer showing on the runway. Their collections have less impact as a result.
That's especially true when the show is the only marketing tool that you have. If you don't advertise as a brand either, it makes things even more difficult.
Manfred Mugler passed away recently and it felt like a huge loss for fashion. Did you get the chance to work with him?
I worked with him the last four years he designed his own brand. Of course, I knew him already, because we had a very good friend in common. I remember seeing his shows in the early 80s and being blown away by everything he did. After seeing Mugler's show at Le Zénith in March 1984, I knew I wanted to be a sound designer. He was a true showman and each scene had its own model, look, lights and music.
The totality of his vision is what made his work so fascinating, from design and photography to runway and dressing artists for the stage. Do you see anyone today who shares that kind of approach?
I haven't thought of this much, but Rick Owens is quite close to that Mugler idea of a complete vision. In a totally different way, I also feel that Jonathan Anderson has that, for his own brand and at Loewe, too.
Will you be traveling for work again this summer?
Yes, I will, but one thing has changed since the pandemic started. Besides the fact that traveling itself has become a nightmare with all the tests you have to take, I also no longer want to get too excited about things, for fear they get canceled later. I guess it has made me more cautious.
That's the Capricorn talking here.
I don't want to get too hyper about something and be disappointed for days because it just won't happen. It does slow everything down, but I feel that this is the new world we have been living in and need to get used to.
Our notion of time has probably changed over the past two years, too.
Definitely. Still, having more time to enjoy life and consider everything is a luxury as well. I prefer to look at the bright side of things.
Michel Gaubert lives and works in Paris. One of the most sought-after sound designers in the fashion industry, he has worked for the likes of Chanel, Loewe, Fendi, Dior, J.W. Anderson and Valentino. Gaubert is also famous for collaborating with German designer Karl Lagerfeld on iconic Chanel shows, which still inspire sound designers today.
A fashion writer, consultant and stylist, Philippe Pourhashemi was born in Tehran and grew up in Paris. In 2005, he graduated with a PhD in Cultural Studies. Working as a freelance coach for several brands in Belgium, Germany, Switzerland, Holland and Kazakhstan, he advises designers who sell their collections internationally.