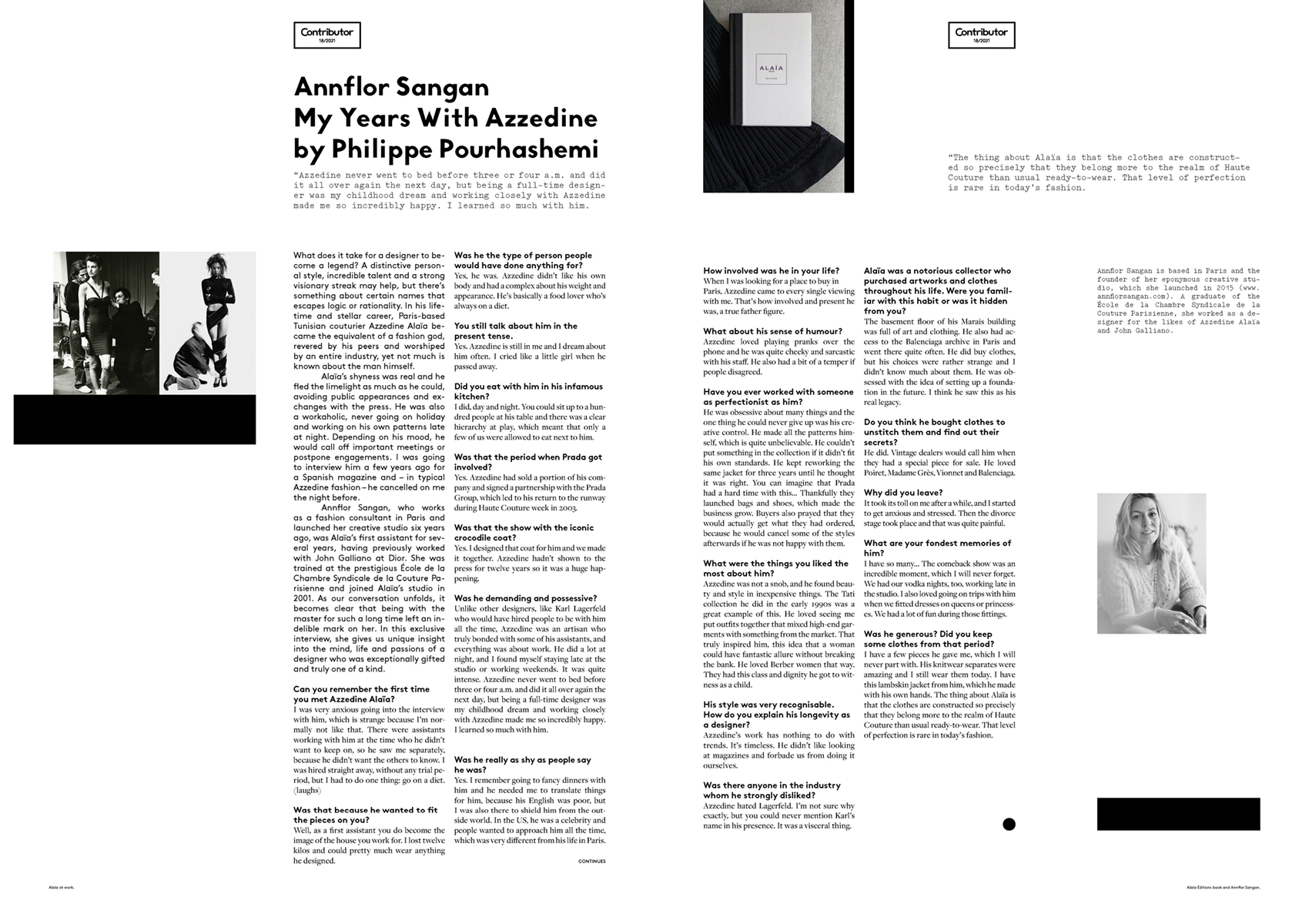 ANNFLOR SANGAN – MY YEARS WITH AZZEDINE
What does it take for a designer to become a legend? A distinctive personal style, incredible talent and a strong visionary streak may help, but there's something about certain names that escapes logic or rationality. In his lifetime and stellar career, Paris-based Tunisian couturier Azzedine Alaïa became the equivalent of a fashion god, revered by his peers and worshiped by an entire industry, yet not much is known about the man himself.
Alaïa's shyness was real and he fled the limelight as much as he could, avoiding public appearances and exchanges with the press. He was also a workaholic, never going on holiday and working on his own patterns late at night. Depending on his mood, he would call off important meetings or postpone engagements. I was going to interview him a few years ago for a Spanish magazine and – in typical Azzedine fashion – he cancelled on me the night before.
Annflor Sangan, who works as a fashion consultant in Paris and launched her creative studio six years ago, was Alaïa's first assistant for several years, having previously worked with John Galliano at Dior. She was trained at the prestigious École de la Chambre Syndicale de la Couture Parisienne and joined Alaïa's studio in 2001. As our conversation unfolds, it becomes clear that being with the master for such a long time left an indelible mark on her. In this exclusive interview, she gives us unique insight into the mind, life and passions of a designer who was exceptionally gifted and truly one of a kind.
Can you remember the first time you met Azzedine Alaïa?
I was very anxious going into the interview with him, which is strange because I'm normally not like that. There were assistants working with him at the time who he didn't want to keep on, so he saw me separately, because he didn't want the others to know. I was hired straight away, without any trial period, but I had to do one thing: go on a diet. [laughs]
Was that because he wanted to fit the pieces on you?
Well, as a first assistant you do become the image of the house you work for. I lost twelve kilos and could pretty much wear anything he designed.
Was he the type of person people would have done anything for?
Yes, he was. Azzedine didn't like his own body and had a complex about his weight and appearance. He's basically a food lover who's always on a diet.
You still talk about him in the present tense.
Yes. Azzedine is still in me and I dream about him often. I cried like a little girl when he passed away.
Did you eat with him in his infamous kitchen?
I did, day and night. You could sit up to a hundred people at his table and there was a clear hierarchy at play, which meant that only a few of us were allowed to eat next to him.
Was that the period when Prada got involved?
Yes. Azzedine had sold a portion of his company and signed a partnership with the Prada Group, which led to his return to the runway during Haute Couture week in 2003.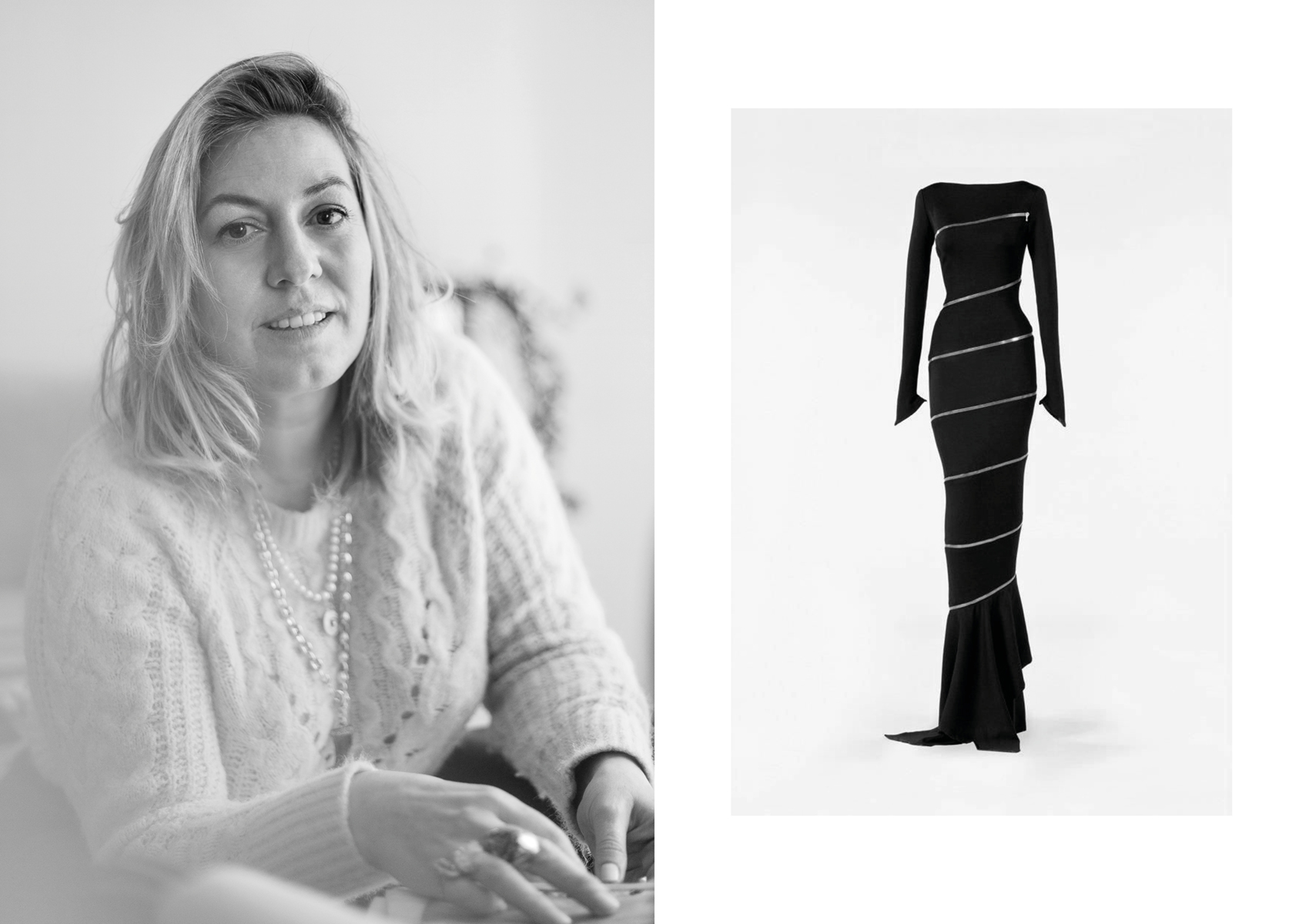 Was that the show with the iconic crocodile coat?
Yes. I designed that coat for him and we made it together. Azzedine hadn't shown to the press for twelve years so it was a huge happening.
Was he demanding and possessive?
Unlike other designers, like Karl Lagerfeld who would have hired people to be with him all the time, Azzedine was an artisan who truly bonded with some of his assistants, and everything was about work. He did a lot at night, and I found myself staying late at the studio or working weekends. It was quite intense. Azzedine never went to bed before three or four a.m. and did it all over again the next day, but being a full-time designer was my childhood dream and working closely with Azzedine made me so incredibly happy. I learned so much with him.
Was he really as shy as people say he was?
Yes. I remember going to fancy dinners with him and he needed me to translate things for him, because his English was poor, but I was also there to shield him from the outside world. In the US, he was a celebrity and people wanted to approach him all the time, which was very different from his life in Paris.
How involved was he in your life?
When I was looking for a place to buy in Paris, Azzedine came to every single viewing with me. That's how involved and present he was, a true father figure.
What about his sense of humour?
Azzedine loved playing pranks over the phone and he was quite cheeky and sarcastic with his staff. He also had a bit of a temper if people disagreed.
Have you ever worked with someone as perfectionist as him?
He was obsessive about many things and the one thing he could never give up was his creative control. He made all the patterns himself, which is quite unbelievable. He couldn't put something in the collection if it didn't fit his own standards. He kept reworking the same jacket for three years until he thought it was right. You can imagine that Prada had a hard time with this… Thankfully they launched bags and shoes, which made the business grow. Buyers also prayed that they would actually get what they had ordered, because he would cancel some of the styles afterwards if he was not happy with them.
What were the things you liked the most about him?
Azzedine was not a snob, and he found beauty and style in inexpensive things. The Tati collection he did in the early 1990s was a great example of this. He loved seeing me put outfits together that mixed high-end garments with something from the market. That truly inspired him, this idea that a woman could have fantastic allure without breaking the bank. He loved Berber women that way. They had this class and dignity he got to witness as a child.
His style was very recognisable. How do you explain his longevity as a designer?
Azzedine's work has nothing to do with trends. It's timeless. He didn't like looking at magazines and forbade us from doing it ourselves.
Was there anyone in the industry whom he strongly disliked?
Azzedine hated Lagerfeld. I'm not sure why exactly, but you could never mention Karl's name in his presence. It was a visceral thing.
Alaïa was a notorious collector who purchased artworks and clothes throughout his life. Were you familiar with this habit or was it hidden from you?
The basement floor of his Marais building was full of art and clothing. He also had access to the Balenciaga archive in Paris and went there quite often. He did buy clothes, but his choices were rather strange and I didn't know much about them. He was obsessed with the idea of setting up a foundation in the future. I think he saw this as his real legacy.
Do you think he bought clothes to unstitch them and find out their secrets?
He did. Vintage dealers would call him when they had a special piece for sale. He loved Poiret, Madame Grès, Vionnet and Balenciaga.
It took its toll on me after a while, and I started to get anxious and stressed. Then the divorce stage took place and that was quite painful.
What are your fondest memories of him?
I have so many… The comeback show was an incredible moment, which I will never forget. We had our vodka nights, too, working late in the studio. I also loved going on trips with him when we fitted dresses on queens or princesses. We had a lot of fun during those fittings.
Was he generous? Did you keep some clothes from that period?
I have a few pieces he gave me, which I will never part with. His knitwear separates were amazing and I still wear them today. I have this lambskin jacket from him, which he made with his own hands. The thing about Alaïa is that the clothes are constructed so precisely that they belong more to the realm of Haute Couture than usual ready-to-wear. That level of perfection is rare in today's fashion.
Annflor Sangan is based in Paris and the founder of her eponymous creative studio, which she launched in 2015. A graduate of the École de la Chambre Syndicale de la Couture Parisienne, she worked as a designer for the likes of Azzedine Alaïa and John Galliano.
A fashion writer, consultant and stylist, Philippe Pourhashemi was born in Tehran and grew up in Paris. In 2005, he graduated with a PhD in Cultural Studies. He works as a freelance coach for several brands in Belgium, Germany, Switzerland, Holland and Kazakhstan.