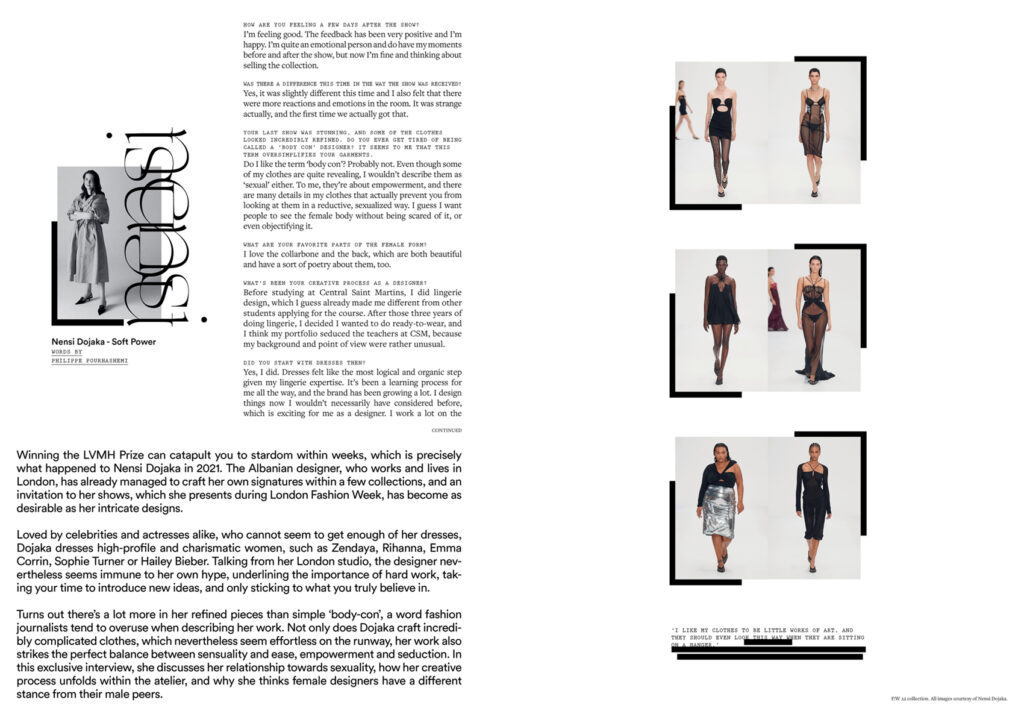 Winning the LVMH Prize can catapult you to stardom within weeks, which is precisely what happened to Nensi Dojaka in 2021. The Albanian designer, who works and lives in London, has already managed to craft her own signatures within a few collections, and an invitation to her shows, which she presents during London Fashion Week, has become as desirable as her intricate designs.
Loved by celebrities and actresses alike, who cannot seem to get enough of her dresses, Dojaka dresses high-profile and charismatic women, such as Zendaya, Rihanna, Emma Corrin, Sophie Turner or Hailey Bieber. Talking from her London studio, the designer nevertheless seems immune to her own hype, underlining the importance of hard work, taking your time to introduce new ideas, and only sticking to what you truly believe in.
Turns out there's a lot more in her refined pieces than simple 'body-con', a word fashion journalists tend to overuse when describing her work. Not only does Dojaka craft incredibly complicated clothes, which nevertheless seem effortless on the runway, her work also strikes the perfect balance between sensuality and ease, empowerment and seduction. In this exclusive interview, she discusses her relationship towards sexuality, how her creative process unfolds within the atelier, and why she thinks female designers have a different stance from their male peers.
Interview by Philippe Pourhashemi.
HOW ARE YOU FEELING A FEW DAYS AFTER THE SHOW?
I'm feeling good. The feedback has been very positive and I'm happy. I'm quite an emotional person and do have my moments before and after the show, but now I'm fine and thinking about selling the collection.
WAS THERE A DIFFERENCE THIS TIME IN THE WAY THE SHOW WAS RECEIVED?
Yes, it was slightly different this time and I also felt that there were more reactions and emotions in the room. It was strange actually, and the first time we actually got that.
YOUR LAST SHOW WAS STUNNING, AND SOME OF THE CLOTHES LOOKED INCREDIBLY REFINED. DO YOU EVER GET TIRED OF BEING CALLED A 'BODY CON' DESIGNER? IT SEEMS TO ME THAT THIS TERM OVERSIMPLIFIES YOUR GARMENTS.
Do I like the term 'body con'? Probably not. Even though some of my clothes are quite revealing, I wouldn't describe them as 'sexual' either. To me, they're about empowerment, and there are many details in my clothes that actually prevent you from looking at them in a reductive, sexualized way. I guess I want people to see the female body without being scared of it, or even objectifying it.
WHAT ARE YOUR FAVORITE PARTS OF THE FEMALE FORM?
I love the collarbone and the back, which are both beautiful and have a sort of poetry about them, too.
WHAT'S BEEN YOUR CREATIVE PROCESS AS A DESIGNER?
Before studying at Central Saint Martins, I did lingerie design, which I guess already made me different from other students applying for the course. After those three years of doing lingerie, I decided I wanted to do ready-to-wear, and I think my portfolio seduced the teachers at CSM, because my background and point of view were rather unusual.
DID YOU START WITH DRESSES THEN?
Yes, I did. Dresses felt like the most logical and organic step given my lingerie expertise. It's been a learning process for me all the way, and the brand has been growing a lot. I design things now I wouldn't necessarily have considered before, which is exciting for me as a designer. I work a lot on the mannequin, that's how everything starts. And I don't have references in mind, not even artistic ones. Obviously, I see a lot of things around me all the time, but I never have a specific inspiration in mind when it comes to a collection. That can make it challenging for press to understand what I'm doing.
ARE YOU A PERFECTIONIST?
I do a lot of fittings before I'm happy with one piece, and I like to get direct feedback from the woman who's wearing it. They need to feel good and comfortable.
YOU MENTIONED POETRY EARLIER, SOMETHING THAT CLEARLY LACKS IN FASHION AT THE MOMENT. CAN YOU TELL US MORE ABOUT SOME OF THE MOTIFS YOU LIKE TO USE, SUCH AS FLOWERS FOR INSTANCE?
I mean, everyone loves flowers, but the way I use them is slightly abstract. I rarely use flowers directly as they are on a garment, although it did happen this season, and prefer to approach them in a more subtle and indirect way. I will therefore incorporate their shape into the garment, or even in its actual construction. There's also the heart motif, which I used in a more overt way this time. If I feel that any of these two motifs end up looking too romantic, then I usually add something to them that ends up breaking the mood and brings some edge.
WOULD YOU SAY YOU ARE A COMPLETELY INSTINCTIVE DESIGNER?
Yes. I always analyze things afterwards, and am not aware of why certain things keep returning unless I sit down and actually think about it. I guess my process is a very natural one. For example, I can drape a very complicated dress in less than two hours, if I just follow my gut instinct. It's afterwards that I can look at it and understand why it is a certain way.
YOU ADDED TAILORING RECENTLY TO YOUR COLLECTIONS. IS THIS SOMETHING YOU DID FOR YOUR CUSTOMERS, OR DID YOU WANT TO CREATE SOME CONTRASTS WITH THE MORE DELICATE PIECES?
I always like to have a tension between something that is more delicate and another element that feels more powerful. The shoulders on the tailoring emphasize the female waist somehow, therefore generating sharper contrasts. I'm still not completely confident in the tailoring part, but it's definitely something I want to explore, and it didn't come from consumer demand either. It actually takes people a long time to get used to a certain aesthetic, so I like to take it slow and not introduce too many elements at once.
AFTER WINNING THE LVMH PRIZE LAST YEAR, YOU HAD A HUGE SPOTLIGHT THRUST UPON YOU, AND A LOT OF PRESSURE. HOW DID YOU HANDLE IT?
It was a lot actually. I got immediate exposure, which was good for the brand, as many buyers we were interested in actually came and ordered the clothes. There was financial help obviously, and a mentorship program as well, which was really helpful for me. Did I feel the pressure? Yes, I felt it a little bit, but not that much in the end. I was much more nervous when I first launched my brand.
DO YOU THINK YOUR CLOTHES ARE ABOUT POWER AND CONFIDENCE?
Yes, definitely. I get this kind of feedback often, particularly from older women who wear my pieces. They definitely feel empowered and comfortable in my designs, which again is super important for me.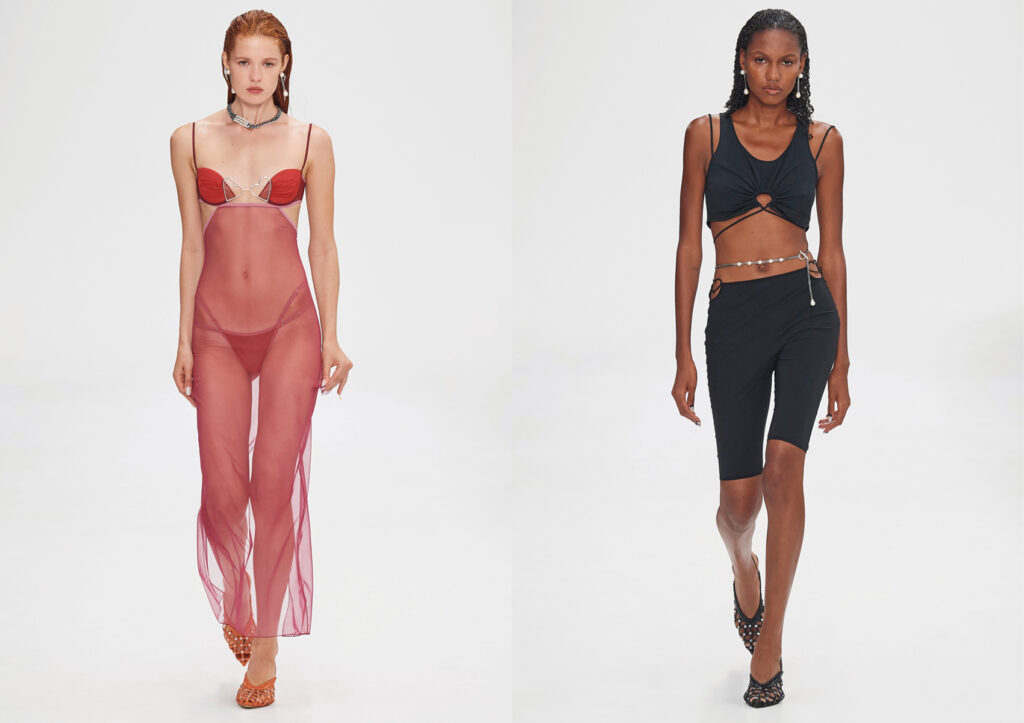 MANY LUXURY BRANDS HAVE EMBRACED LAZY SPORTSWEAR AND LOGO CULTURE TO PRESENT GENERIC COLLECTIONS. HOW DO YOU FEEL ABOUT THEM, AND IS IT MORE DIFFICULT AS AN INDEPENDENT VOICE TO GET YOUR WORK VALUED AND APPRECIATED?
I mean, I see clothing from certain brands and it has nothing to do with the way I do things myself. I like my clothes to be little works of art, and they should even look this way when they are sitting on a hanger. Of course, I'm aware that what you are referring to is a very strong market, but at the end of the day it doesn't really bother me and I focus on what I do best. I just do my thing, and that's what makes me the happiest. If I was offered something bigger, I don't even think I would even go for it.
IT'S INTERESTING YOU SAY THAT, BECAUSE I HAVE THE FEELING THAT THE WOMAN WHO CHOOSES YOUR CLOTHES DOES IT FOR HER OWN PLEASURE. IT'S NOT ABOUT FULFILLING THE OTHER'S GAZE, BUT MORE OF A PERSONAL SATISFACTION.
I think I do see things from a female perspective, and knowing the female body as I do does change certain things. I do see differences between male and female designers in that sense. Male designers tend to sexualize women much more.
I AGREE, AND WHAT IS STRIKING ABOUT YOUR PIECES IS THAT THEY NEVER FEEL AGGRESSIVE NOR CONFRONTATIONAL. I DON'T FEEL ANY KIND OF PROVOCATION.
If something looks very harsh I always contrast it with lightness or something much more fluid. It's important for me to bring something poetic into the garments themselves.
TELL ME ABOUT ALBANIA. WHAT WAS IT LIKE GROWING UP THERE?
I left Albania when I was 16, and my parents sent me to boarding school in England. Albania is very different from the rest of Europe, and still a developing country, even though many things have changed there over the past few years. Growing up there, there weren't a lot of opportunities for creative people like me. Perhaps those limitations reinforced my resolve, in a bizarre way.
Nensi Dojaka was born in Albania, but lives and works in London. She trained in lingerie design, before enrolling at Central Saint Martins in London. Last year, she won the prestigious LVMH Prize at the age of 27, which helped her establish and consolidate her eponymous brand. Dojaka showcases her womenswear twice a year during the official London Fashion Week calendar. nensidojaka.com