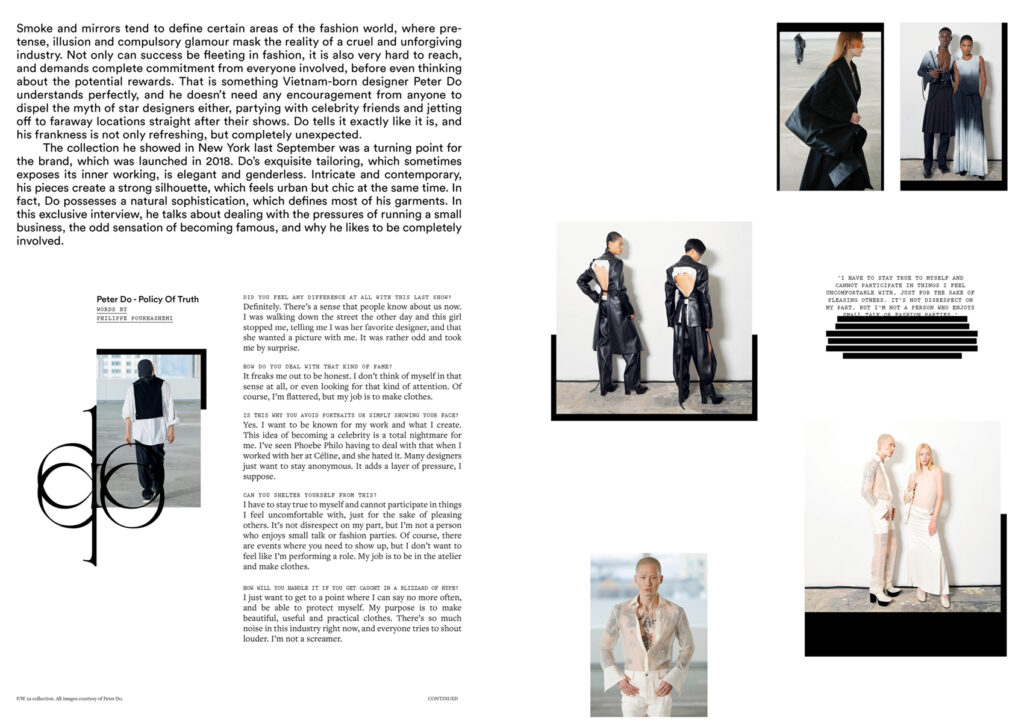 Smoke and mirrors tend to define certain areas of the fashion world, where pre- tense, illusion and compulsory glamour mask the reality of a cruel and unforgiving industry. Not only can success be fleeting in fashion, it is also very hard to reach, and demands complete commitment from everyone involved, before even thinking about the potential rewards. That is something Vietnam-born designer Peter Do understands perfectly, and he doesn't need any encouragement from anyone to dispel the myth of star designers either, partying with celebrity friends and jetting off to faraway locations straight after their shows. Do tells it exactly like it is, and his frankness is not only refreshing, but completely unexpected.
The collection he showed in New York last September was a turning point for the brand, which was launched in 2018. Do's exquisite tailoring, which sometimes exposes its inner working, is elegant and genderless. Intricate and contemporary, his pieces create a strong silhouette, which feels urban but chic at the same time. In fact, Do possesses a natural sophistication, which defines most of his garments. In this exclusive interview, he talks about dealing with the pressures of running a small business, the odd sensation of becoming famous, and why he likes to be completely involved.
Interview by Philippe Pourhashemi.
DID YOU FEEL ANY DIFFERENCE AT ALL WITH THIS LAST SHOW?
Definitely. There's a sense that people know about us now. I was walking down the street the other day and this girl stopped me, telling me I was her favorite designer, and that she wanted a picture with me. It was rather odd and took me by surprise.
HOW DO YOU DEAL WITH THAT KIND OF FAME?
It freaks me out to be honest. I don't think of myself in that sense at all, or even looking for that kind of attention. Of course, I'm flattered, but my job is to make clothes.
IS THIS WHY YOU AVOID PORTRAITS OR SIMPLY SHOWING YOUR FACE?
Yes. I want to be known for my work and what I create. This idea of becoming a celebrity is a total nightmare for me. I've seen Phoebe Philo having to deal with that when I worked with her at Céline, and she hated it. Many designers just want to stay anonymous. It adds a layer of pressure, I suppose.
CAN YOU SHELTER YOURSELF FROM THIS?
I have to stay true to myself and cannot participate in things I feel uncomfortable with, just for the sake of pleasing others. It's not disrespect on my part, but I'm not a person who enjoys small talk or fashion parties. Of course, there are events where you need to show up, but I don't want to feel like I'm performing a role. My job is to be in the atelier and make clothes.
HOW WILL YOU HANDLE IT IF YOU GET CAUGHT IN A BLIZZARD OF HYPE?
I just want to get to a point where I can say no more often, and be able to protect myself. My purpose is to make beautiful, useful and practical clothes. There's so much noise in this industry right now, and everyone tries to shout louder. I'm not a screamer.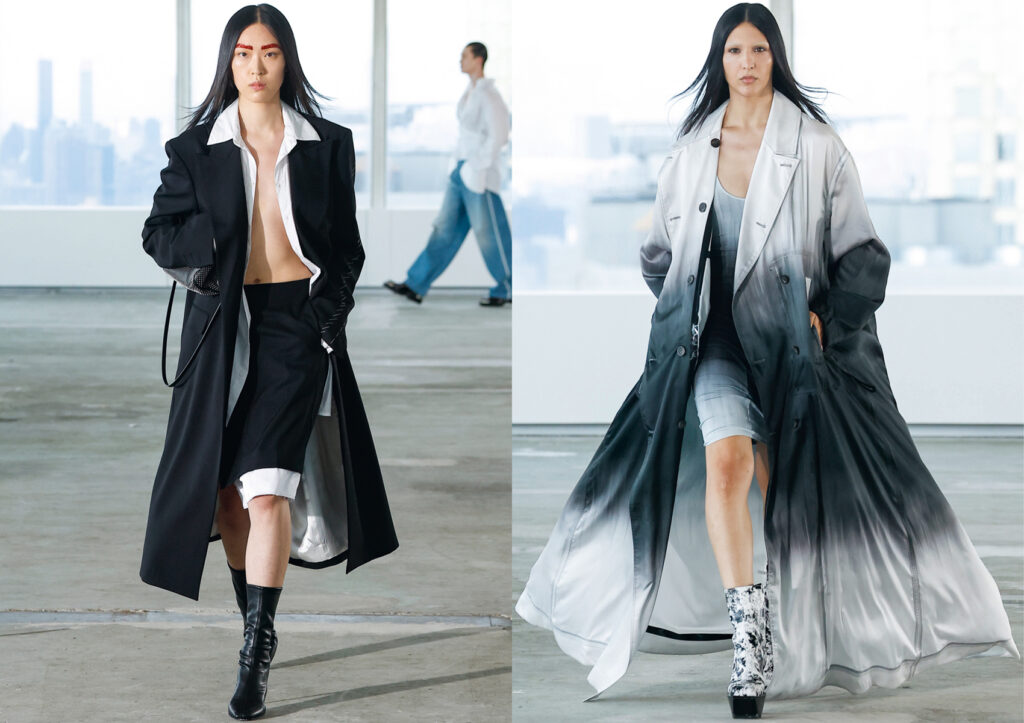 I SEE A REAL DIVIDE BETWEEN THE SCREAMERS AND THE WHISPER- ERS IN THIS INDUSTRY. YOU COME ACROSS AS BEING QUITE HONEST AND TRANSPARENT.
When we started Peter Do as a group of friends, one im- portant aspect was to share the whole process with others, as well as our likes and tastes. It's very natural for me to pass things on, because if you don't those things die even- tually. I feel that the brand is my home in a way, and there is an openness in how we do things.
DO YOU THINK THAT IT SHOCKS OR SURPRISES PEOPLE?
I am present every step of the way, so being transparent is part of that, too. Once, someone told me I should consider hiring a designer to do all the commercial pieces when the brand gets bigger and focus on runway pieces only. That makes me extremely uncomfortable. My goal is not to be a billionaire, but to do what I love.
HOW DO YOU DEAL WITH THE PRESSURE AND RESPONSIBILITY OF HAVING YOUR NAME ON THE DOOR?
I feel like there's more pressure now than two or three years ago. I have to tell myself to stay focused, but at the same time I don't want to alienate the people who have support- ed us since the very beginning. Slowly people will find us, it just takes time and it's all about trust. It takes years to culti- vate that trust, and align with the values of a brand.
DO YOU FEEL THAT IN EUROPE PEOPLE UNDERSTAND YOUR WORK BETTER?
I don't know. I used to feel like this way, because we didn't have any American stores at the beginning, but actually it was Korean and Japanese buyers that got it right away. Italians understand it, too, they take more chances than other European buyers. Now, we have more support in the US and sell at Bergdorf Goodman and Nordstrom for instance.
HOW OFTEN DO YOU COME TO EUROPE?
I travel to Paris and Italy several times a year. There's nothing glamourous about it by the way, especially when I am in Milan. My factories are everywhere so I will take the 5am train and make sure my hotel is close to the station. It takes about four hours and at the beginning I missed the train so often that I would end up arriving halfway through the fittings. I'm getting better at it though.
DO YOU TRAVEL BY YOURSELF?
Sometimes yes, sometimes no. I get back to the hotel at 1am and have to wake up at 4am to visit the other factories. I like backpacking as well.
IT'S FUNNY, BECAUSE NOBODY TALKS ABOUT THAT SIDE OF THE BUSINESS, THEY'D RATHER FOCUS ON THE SHOWS AND THAT MO- MENT OF EXPOSURE.
My team is small and everyone is involved in many different aspects. I do feel really grateful for where we are now – and I also love to work – but sometimes it gets quite exhausting.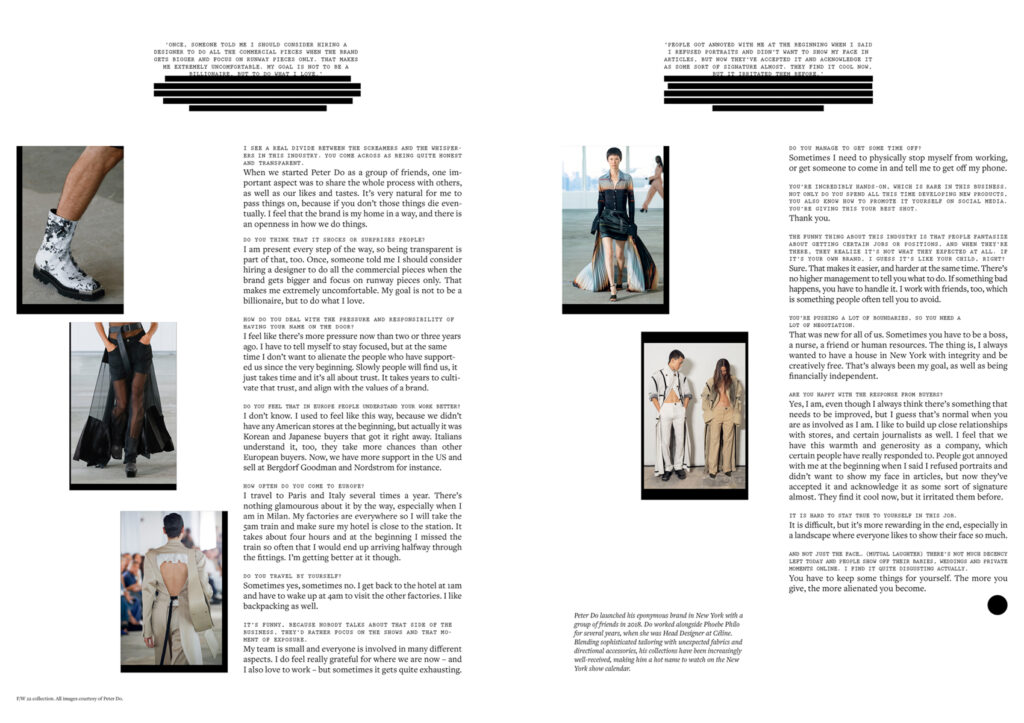 DO YOU MANAGE TO GET SOME TIME OFF?
Sometimes I need to physically stop myself from working, or get someone to come in and tell me to get off my phone.
YOU'RE INCREDIBLY HANDS-ON, WHICH IS RARE IN THIS BUSINESS. NOT ONLY DO YOU SPEND ALL THIS TIME DEVELOPING NEW PRODUCTS, YOU ALSO KNOW HOW TO PROMOTE IT YOURSELF ON SOCIAL MEDIA. YOU'RE GIVING THIS YOUR BEST SHOT.
Thank you.
THE FUNNY THING ABOUT THIS INDUSTRY IS THAT PEOPLE FANTASIZE ABOUT GETTING CERTAIN JOBS OR POSITIONS, AND WHEN THEY'RE THERE, THEY REALIZE IT'S NOT WHAT THEY EXPECTED AT ALL. IF IT'S YOUR OWN BRAND, I GUESS IT'S LIKE YOUR CHILD, RIGHT?
Sure. That makes it easier, and harder at the same time. There's no higher management to tell you what to do. If something bad happens, you have to handle it. I work with friends, too, which is something people often tell you to avoid.
YOU'RE PUSHING A LOT OF BOUNDARIES, SO YOU NEED A LOT OF NEGOTIATION.
That was new for all of us. Sometimes you have to be a boss, a nurse, a friend or human resources. The thing is, I always wanted to have a house in New York with integrity and be creatively free. That's always been my goal, as well as being financially independent.
ARE YOU HAPPY WITH THE RESPONSE FROM BUYERS?
Yes, I am, even though I always think there's something that needs to be improved, but I guess that's normal when you are as involved as I am. I like to build up close relationships with stores, and certain journalists as well. I feel that we have this warmth and generosity as a company, which certain people have really responded to. People got annoyed with me at the beginning when I said I refused portraits and didn't want to show my face in articles, but now they've accepted it and acknowledge it as some sort of signature almost. They find it cool now, but it irritated them before.
IT IS HARD TO STAY TRUE TO YOURSELF IN THIS JOB.
It is difficult, but it's more rewarding in the end, especially in a landscape where everyone likes to show their face so much.
AND NOT JUST THE FACE… (MUTUAL LAUGHTER) THERE'S NOT MUCH DECENCY LEFT TODAY AND PEOPLE SHOW OFF THEIR BABIES, WEDDINGS AND PRIVATE MOMENTS ONLINE. I FIND IT QUITE DISGUSTING ACTUALLY.
You have to keep some things for yourself. The more you give, the more alienated you become.
Peter Do launched his eponymous brand in New York with a group of friends in 2018. Do worked alongside Phoebe Philo for several years, when she was Head Designer at Céline. Blending sophisticated tailoring with unexpected fabrics and directional accessories, his collections have been increasingly well-received, making him a hot name to watch on the New York show calendar. peterdo.net