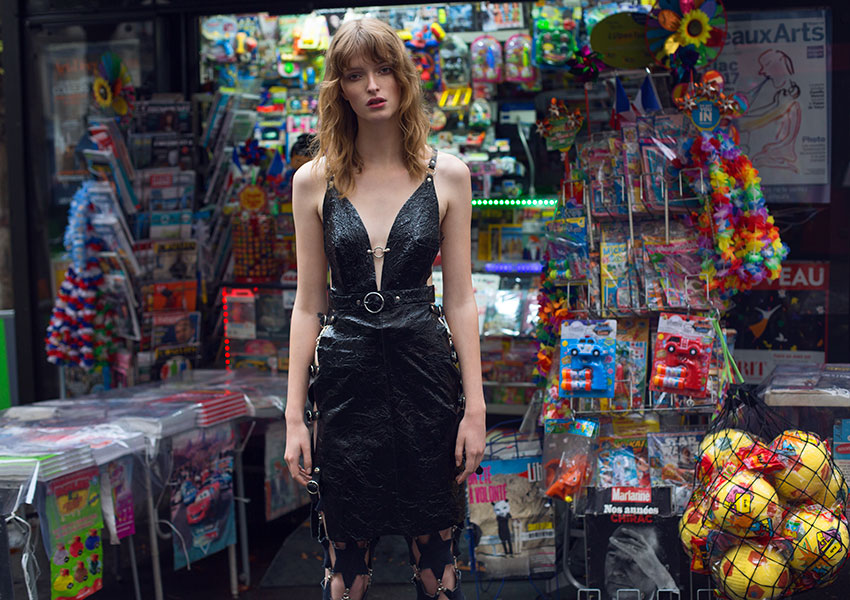 All clothes by Zana Bayne. Photography by Magnus Magnusson and styling by Adam Pettersson. Modeling by Aia Busk at IMG, hair by You Cécile and makeup by Sylvie Mainville at Sybille Kléber Agency using Laura Mercier Cosmetics. Creative Info Magnus Magnusson
SENSORY PLEASURES
Interview with Zana Bayne by Philippe Pourhashemi
Pushing the boundaries of fashion is something Zana Bayne clearly excels at. Founded by herself and Co-Creative Director Todd Pendu, Zana's eponymous brand quickly gained attention with its fetish-inspired accessories, highlighting the key relationship between sex, leather and skin. Since its launch in 2010, the brand has attracted famous musicians, actors, artists and private clients alike, who quickly became fans of Zana's handcrafted harnesses, belts, chokers and bags. I caught up with her and Todd to discuss the evolution of their brand, why fashion still loves fetish and how being copied is ultimately unavoidable.
Why did you launch your own line in 2010? And what are your respective backgrounds?
Zana: Both Todd and I come from non-traditional fashion backgrounds so you could say that the work we do with leather is really a result of the culture, the music, and people we have surrounded ourselves with. I studied conceptual art and sculpture at the San Francisco Art Institute while also being really immersed in nightlife spanning from warehouse shows to drag shows. I had started experimenting with leather strapping just for myself, as a way to quickly add a final touch to what I was wearing before going out to parties. The first harness came as a way to creatively cinch dresses while also continuing the punk rock tradition of re-working S&M gear to wear over clothing. In 2009, I moved to Berlin and then to New York and continued to make variations on that first harness for myself and my friends to wear, which quickly and organically grew into a cult following of musicians, stylists, and club kids. I began challenging myself to arrange the straps in more complicated patterns and designs, and spanning onto other parts of the body to see where it could go. When Todd and I began working together in 2012 there was an expansion of the brand into handbags and other product categories, delving into ready-to-wear and our series of objects covered and strapped in leather.
Todd: I grew up in a small town in Florida, far from the cultural world at large. Magazines and books were my window along with a deep connection to music. We had a Barnes & Noble in my town which carried all of the European fashion magazines and in the mid-late 90s I began collecting them. I especially loved Vogue Italia. At the same time I was drawn to Surrealist and Dadaist art and devoured whatever information I could get my hands on in a mostly pre-internet world. I was also involved in the punk/hardcore scene playing music and working with other bands. All of this formed the foundation of my aesthetic viewpoint. When I moved to NYC, it was a slow process and a series of events that led me into this as something that I now work in full-time. Leather and fetish had an association with punk and industrial bands for me, so it was quite natural when I became involved.
You are credited for making fetish fashionable. Is this something you feel comfortable with?
If you are referring to the presence of fetish on the runway, then you could say that we're working in the tradition of Vivienne Westwood who first mixed bondage with ready-to-wear. We're inspired by 1970's London Punks who wore BDSM collars, chains, and harnesses from sex shops over their t-shirts and jackets, replacing functionality with style. Todd coined the term "Post-Fetish" in 2016 to describe that concept of taking elements from traditional fetishwear and reimagining them into the accessories that we make for everyday wear, which has been the brand's point of view from the beginning.
In other words, the fashion world is still obsessed with fetish. Can you tell us why?
We think it's the strong aesthetics, heavy hardware, shiny textures, severe silhouettes, and the instant ability to make one feel dangerous.
How would you describe the special appeal of leather?
Wearing it makes you feel strong and invincible and the people whom we dress often tell us that is how it makes them feel.
Did you anticipate your own success?
Many people have a hard time understanding how and why a brand like ours exists, however it would not have been created if there wasn't a wide interest in the pieces we make. The brand was born out of a single harness that wasn't originally intended for sale or production. The brand grew out of people taking an interest in the piece and then delving deep into the vision as it grew into a brand. We are constantly inspired by the range of our customers and their ability to translate the idea of post-fetish into their own personal style.
Where does your inspiration come from?
It literally comes from everywhere, world travels, walks in NYC and Paris, drives up the Pacific Coast Highway, and all of the spaces in between. We are influenced by the early days of punk, glam rock, and goth, 70s groupies and obscure erotica, surrealist art and abstract sculpture. Pretty much everywhere we go, we find things that we document with our phones and sketchbooks. Each collection is an evolution from the next, rather than being built around one specific theme or season.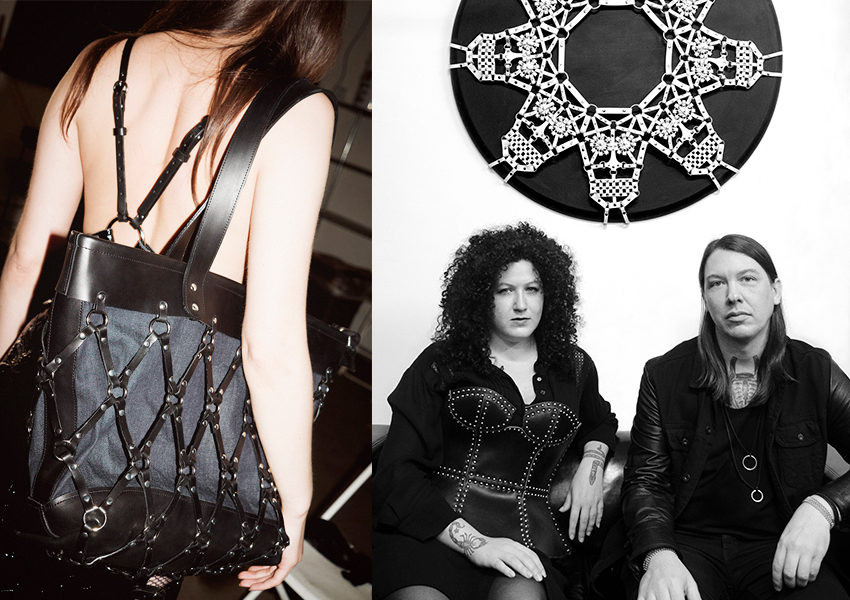 Bag from the Chrystie St Collection 2017. Zana Bayne and Todd Pendu.
You have been copied often. Is this flattering or annoying?
The idea that imitation is the highest form of flattery really only works in a pre-Instagram world, when there was more centralization to the fashion world. Imagery is so fragmented now and without credits or context, it is more and more possible for someone to find a copy and have no point of reference to follow it back to the original. This is dangerous to fashion designers in general, and not just our brand. The truth is there isn't anything that can be done to reverse this. There's also really no protections against image or design infringement. It's just the way things are now. Our hope is always that our supporters help spread the word and help keep would-be copyists honest. And at a time where the consumption of digital imagery is at its most voracious, we focus on creating accessibility to the physical aspect of the brand. A photo may provide temporary satisfaction, but the experience of a buckle tightening around your waist is impossible to replace.
Do you still do private orders?
The company was originally founded as a "Made-To-Order" business so even as we have grown over the years, we have always maintained a connection to working directly with customers and special clients in that way.
You often collaborate with celebrities. What is the process with them?
We were very lucky to work with some of the most high profile performers at a very early point of the brand's history. Because of this, we have had to be quite selective when it comes to who we end up working with for the sake of client exclusivity. We make sure to keep track of who has worn what so that nothing is worn twice, and if an artist has worn our pieces in the past we try to do everything we can to accommodate them in the future to maintain a throughline of collaboration. Whenever possible, we love to create custom looks for performers as this is where we are really able to use design to express a feeling or attitude. For example when we were first starting in 2011, we were contacted by Nicola Formichetti's team to design looks for Lady Gaga when they were really into the S&M-meets-fashion vibe. Much of 2016 was spent working with Beyoncé's stylist Marni Senofonte on different group looks for performances from the Lemonade album, as well as the iconic Super Bowl Halftime Show, Formation World Tour, and the BET Awards. Each one of these projects required pieces for 30-40 dancers with usually no more than three days to create them. It's a pace that we've come to expect at this point, and a challenge that we have prepared ourselves to be well equipped for.
Who is the most fascinating celebrity you ever worked with?
Debbie Harry. She is a complete original, unafraid of taking risks, and thoroughly one of our favorite people ever.
Was introducing bags a logical step for you?
The first bag we did was the Pentagram Handbag, which was included in the SS14 "Lake Como" Collection that we presented in Paris. The entire idea of it was to be a direct translation of the Pentagram Harness design as well as the sculptural forms of our waist belts. From that point on, the bags have been an integral part of the brand. For our customers, they are an extension of the lines and design details that they already love.
Where do you live and work?
We actually just made the move to take the company bi-coastal last September. We love New York and consider ourselves a New York brand. We have our main headquarters with our showroom for stylists and private shopping appointments in a beautiful building in the Flatiron district of Manhattan, but we also have a deep love for Los Angeles. LA and leather complement one another quite nicely – from the rock 'n' roll legacy of the Sunset Strip to the perfectly cool nights made for leatherwear. We just opened up our LA Atelier in the downtown Art's District for all of our in-house production and special projects, as well as shopping space for private appointments.
What does the notion of the Avant-Garde mean to you?
The Avant-Garde in art and culture symbolizes everything that we love about creative, but unfortunately at this point, the Avant-Garde only exists in nostalgia.
Where are you taking the brand next?
In July we debuted a full-scale installation in the basement gallery of The Museum of Sex in New York which was comprised of four sculptural body forms engulfed in leather, seemingly suspended in the space. The installation was a progression of objects that we have been wrapping in leather since 2013, including a leather-linked surfboard, basketball hoop, watering can, and motorcycle helmets, but this was the first large work of many to come. We are also introducing furniture and objects for the home in 2018.
Zana Bayne launched her eponymous brand in 2010 with Co-Creative Director Todd Pendu. The leather harness was the starting point within the line and the brand is often credited for making fetish accessories trendy and fashionable. Zana and Todd divide their time between New York and Los Angeles, developing new lines of objects and accessories, as well as continuing to work on private commissions with selected clients and celebrities.
A fashion writer, consultant and stylist, Philippe Pourhashemi was born in Tehran and grew up in Paris. In 2005, he graduated with a PhD in Cultural Studies, looking at young graduates starting their career abroad. Appointed Editor-at-Large for Fucking Young! in 2016, he also writes features for Metal, Contributor and Behind The Blinds. He has contributed to Diane Pernet's blog, A Shaded View on Fashion, since 2008. Working as a freelance coach for several brands in Belgium, Germany, Switzerland, Holland and Kazakhstan, he advises designers who sell their collections abroad.