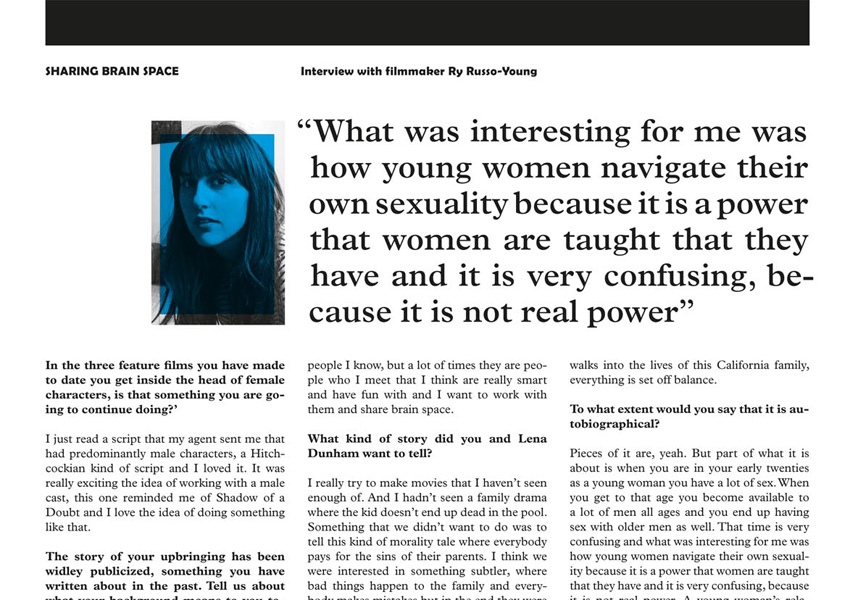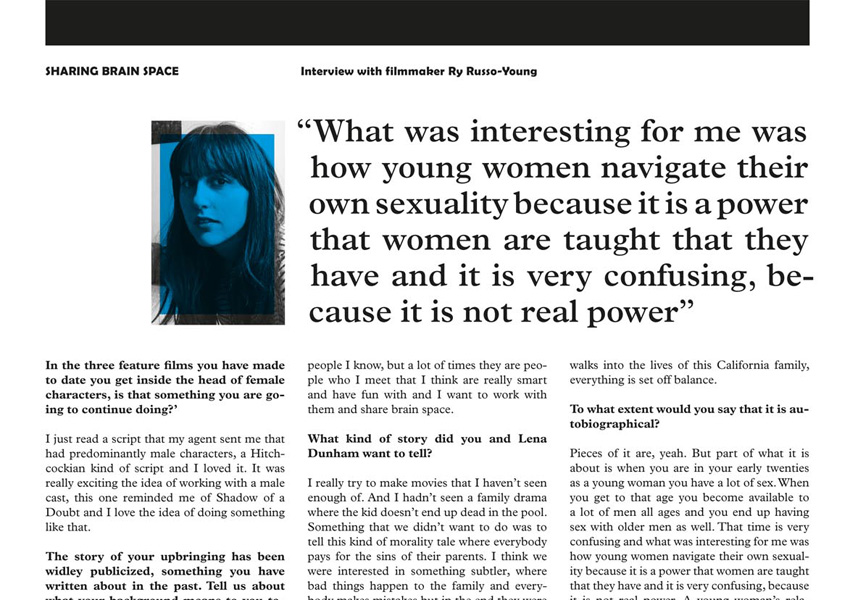 In the three feature films you have made to date you get inside the head of female characters, is that something you are going to continue doing?'
I just read a script that my agent sent me that had predominantly male characters, a Hitchcockian kind of script and I loved it. It was really exciting the idea of working with a male cast, this one reminded me of Shadow of a Doubt and I love the idea of doing something like that.
The story of your upbringing has been widely publicized, something you have written about in the past. Tell us about what your background means to you today as a filmmaker.
I have lesbian parents from birth, it is a long story, but when I was twenty-two I was on the cover of New York Times Magazine. It was a profile about my family. I was one of the first children to be born using donor insemination. So I think it has framed how I see the world. I was raised by two very intense Jewish, lesbian feminists. I have one sister who is also a lesbian, and I'm straight. I have a boyfriend but it is funny because I was raised by feminist lesbians and I think I have a very almost subver- sive perspective on heterosexuality and being straight, and on what it is to be a woman. I really question it and I feel like I'm always kind of being a woman, whether I'm wearing masculine clothes or whether I am wearing ruffles I'm very conscious of the idea of what that is.
So what is it to you?
It is so many things, it is always sort of being, it is trying to figure out how to be a woman in society, being powerful and being a good person. What I think most of us think about. But I think it is really complicated because you find yourself having to assert your power, maybe everybody does, it doesn't come naturally I think for women.
Your latest film, Nobody Walks, was released last fall and has a screenplay that you wrote together with Lena Dunham from Girls.
Yeah, I like collaborating on the writing process and I tend to co-write. Sometimes with people I know, but a lot of times they are people who I meet that I think are really smart and have fun with and I want to work with them and share brain space.
What kind of story did you and Lena Dunham want to tell?
I really try to make movies that I haven't seen enough of. And I hadn't seen a family drama where the kid doesn't end up dead in the pool. Something that we didn't want to do was to tell this kind of morality tale where everybody pays for the sins of their parents. I think we were interested in something subtler, where bad things happen to the family and everybody makes mistakes but in the end they were maybe going to come out of this trauma okay.
Does the title hold a meaning for the film as a whole?
The title is a reference to the fact that nobody walks in L.A. There is also a song called "Nobody walks in L.A.", so the idea is that nobody walks out of there unscathed and nobody walks out of there alive. I also like the fact that the word "body" is in the title because I think it really is such a sensual film, so that is a piece of it as well.
What role does the city itself play in the film?
Part of it is based on my early experiences going there and kind of the outsider perspective of what it is like being a New Yorker in Los Angeles and sometimes being in a place as a foreigner allows you to see that place with a little bit more clarity and there is a history of foreign directors coming to L.A. and making a film about it. There is Chinatown by Polanski or Zabriskie Point by Antonioni. Even though I am from the United States I felt I could see that city from a distance with certain clarity.
Isn't it a challenge to avoid clichés when writing a screenplay for a love story?
No, I just try to think about things that really happened in my experience and I don't think reality is a cliché. I just try to pull from my life. The main character is Martine, an artist from NewYork, who is staying with friends in L.A. to work on a film, and from the day that she walks into the lives of this California family, everything is set off balance.
To what extent would you say that it is autobiographical?
Pieces of it are, yeah. But part of what it is about is when you are in your early twenties as a young woman you have a lot of sex. When you get to that age you become available to a lot of men all ages and you end up having sex with older men as well. That time is very confusing and what was interesting for me was how young women navigate their own sexuality because it is a power that women are taught that they have and it is very confusing, because it is not real power. A young woman's relationship to her sexuality is really complicated and we get called sluts for screwing around. If Martine in Nobody Walks were a man we wouldn't think of him as promiscuous, not at all, but there are still those ideas that the audience brings to her character when they watch the film.
So far, you have directed three independent feature films, what can you say about the budgets?
I did two other features before. One was called You Won't Miss Me and it was at Sundance in 2009. My first one, Orphans, I did after college and instead of going to film school I kind of learned as I was doing. I did my first two films for very little money and for this one I got grants but I still made it with a very small budget.
Do you regret not going to film school?
No, because I made films instead of going to film school.
Have you started working on a fourth feature?
Yeah, I have a new script that I am writing with another writer.
Russo-Young studied acting at HB Studios and the Lee Strasberg Institute, and she has appeared in films such as Hannah Takes the Stairs and The Color Wheel. She has directed commercials and shorts through Bunker, a production company based in Soho. This interview by Antonia Nessen was originally published in our Head Piece Issue (spring 2013)