About Stockholm Fashion Week S/S 2011
Mercedes-Benz Stockholm Fashion Week took place last week. It's a growing event that showcases the handful of mostly independent designers that characterize Stockholm. A majority of the brands in the line-up started out in the 21th century and that's sort of the magic of Swedish fashion. You could expect these young designers to make their own rules and be experimental, but generally they don't want to challenge the fashion world, they want to blend in. Fashion up north is straightforward and based on an indestructible pillar: simplicity. In contrast to the cliché that design mavericks are irrational or emotional, many Swedish designers could be described as realists. Their shows take you on a ride through a minimalistic landscape and leave you with the impression that utility and business matter. The basic message is to go for simple and comfortable elegance at affordable, mid-range prices and pieces should last for more than one season through a multitude of different ways of combination. It is clear from the Spring/Summer 2011 shows, that many brands have worked on refining their personal narratives and developing their instincts, emerging from the economic turbulence with a sense of precision. Rodebjer for example has cultivated her brand's signature retro look with sweepy skirt lengths and bold prints and The Local Firm keeps breaking new ground in their exploration of the Bauhaus mouvement. As if to resonate this feeling of utility that surfaces in Swedish fashion, many brands show their women's and men's lines in the same show and this season real women (or whatever you should call models who are not models) made it onto the catwalk at Whyred and replaced models in the lookbook of Back, by Ann-Sofie Back.
Among the more well-knowned and established designers are of course Filippa K, Tiger of Sweden, Ann-Sofie Back and Acne. But except for the success of these influential brands, the rapid rise of the importance of fashion in Swedish culture during the last ten years is related to the Internet creating a unparalleled space for fashion communication that historically hasn't had a similar outlet in this Northern city. Contrasting the simplicity, comfort and neatness of Swedish fashion design you have the buzz and the glamour surrounding Stockholm fashion week. An interesting phenomenon, and sometimes a drawback in a flourishing fashion market where the focus should be on the emerging brands, is the number of visitors and pr-agents competing for the same attention as the collections and designers they're supposed to review or represent.
Under the youth oriented and flourishing surface, there's an unavoidable melancholic streak inspeparable of all fashion – a collection is caught in time and there's no turning back, fashion, beauty and youth having the same short life span as the Swedish summer season and its butterflies (an insect interpreted in the collection of designer Ida Sjöstedt). That's where the dark and poetic side of Swedish design lies. On the last day of Mercedes-Benz Stockholm Fashion Week, Hope got awarded the prestigious design price "Guldknappen" ("the golden button") for their fall/winter collection 2010 where they cite death as a direct reference, as interpreted by director Ingmar Bergman in "The Seventh Seal". And that's the general feeling you get when observing Swedish fashion, in their quest for simplicity, designers are often searching for something more and to be able to translate existential questions (or angst) into clean pieces without getting melodramatic you have to consider a real challenge.
A string bathing suit at Carin Wester's show. The incredibly sexy number stood out in the collection called "The Transformers" and somewhat contradicted the wish of the designer to blurr the borders between what's considered men's and women's clothes. Wester explored those gender bounderies by putting women's clothes on men and designing men's silhouettes for women. She obviously didn't follow through with her ambition in the women's line as the bathing suit is an example of pure indulgence in female sexiness. On the right picture former top model Kirsten Owen wears a skinny-legged salopette for Cheap Monday. Kirsten who was misstaken by some people in the audience for the model Carmen Kass (where have I seen that face before?), has a look often described as androgynous. A feature that the brand stretches in the campaign pictures shot by Andreas Sjödin, where she makes an appearance alongside the brand's founder Örjan Andersson, and yes, there's definitely a funny and strange ressemblance between the two.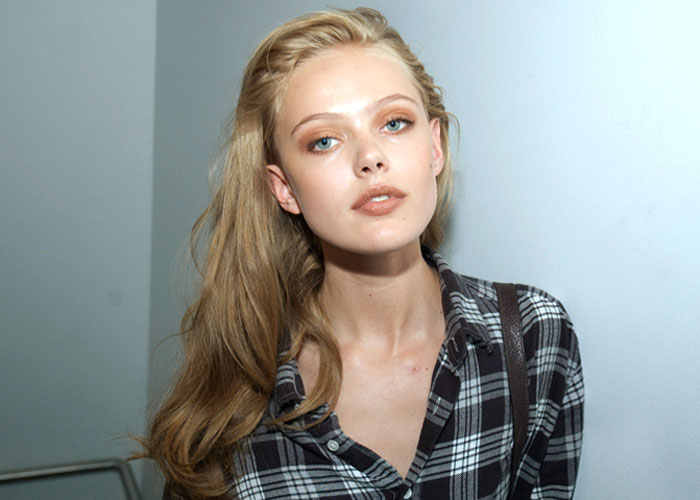 Model of the moment, Frida Gustavsson posing for Erika Lager in a checkered shirt, backstage at Filippa K.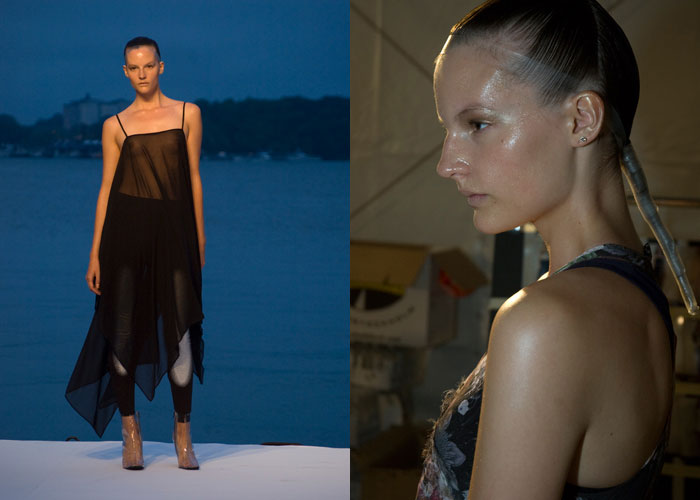 Sara Blomqvist at Cheap Monday. For the collection called "Just Cheap" the design team led by Ann-Sofie Back wanted to combine two diametrically opposed looks. Minimalism and a bling bling aesthetic inspired by LA celebrity style and the Italian predilection for excess. The collection is sparkling. Fading colours on jeans and materials prevail and fake nails in silver are an accessory both on jeans and as separate jewellery pieces.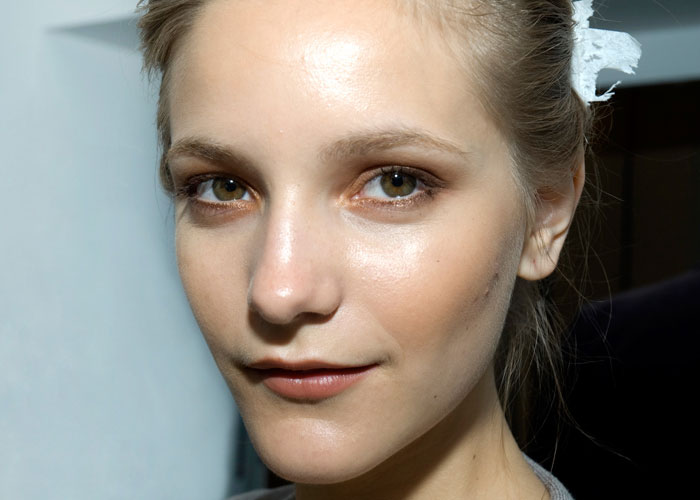 A seductive Dorothea Barth-Jorgensen, backstage at Filippa K.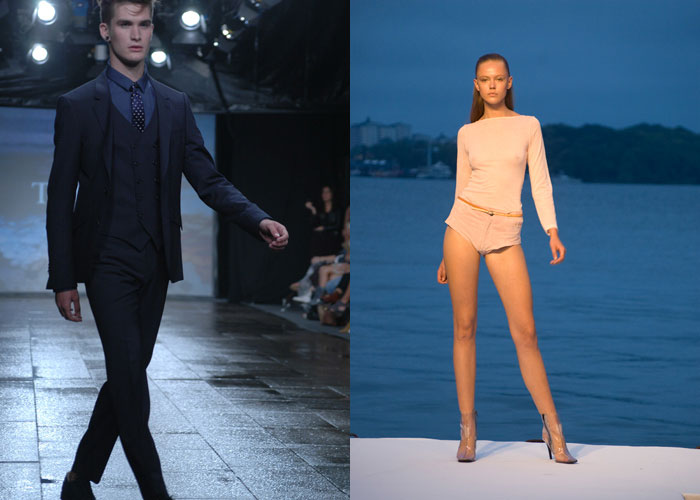 A classic sartorial style from Tiger of Sweden and Frida Gustavsson in pink leather hotpants at Cheap Monday, with the Stockholm archipelago as backdrop on a rainy afternoon.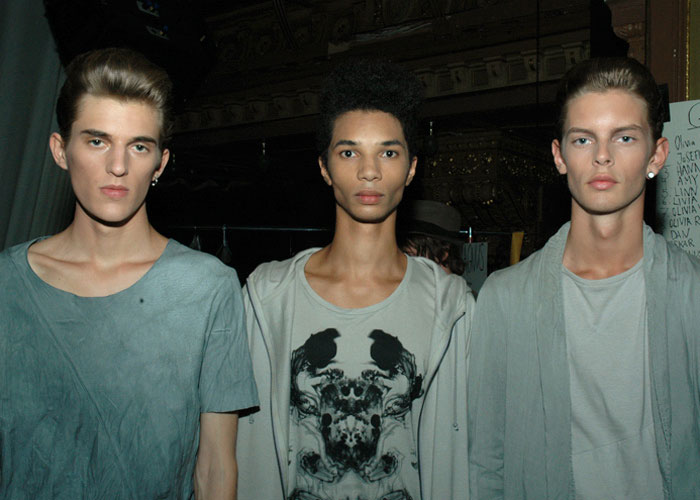 The Stockholm fashion week kicked off with Nakkna.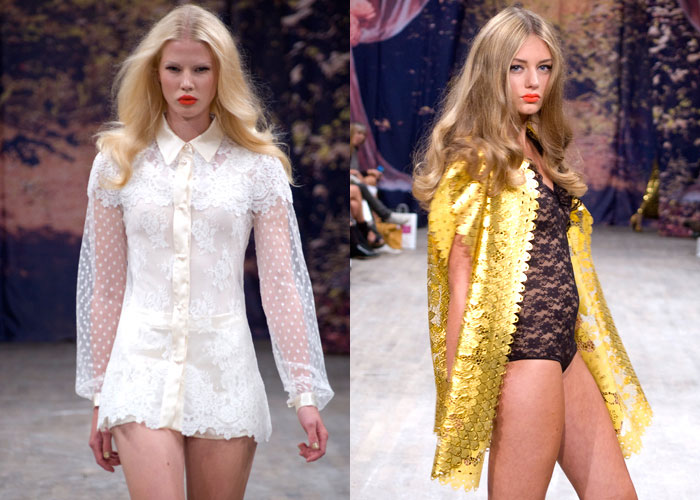 Lace embellishments at Ida Sjöstedt's nature-inspired and ornate show "The Secret Garden".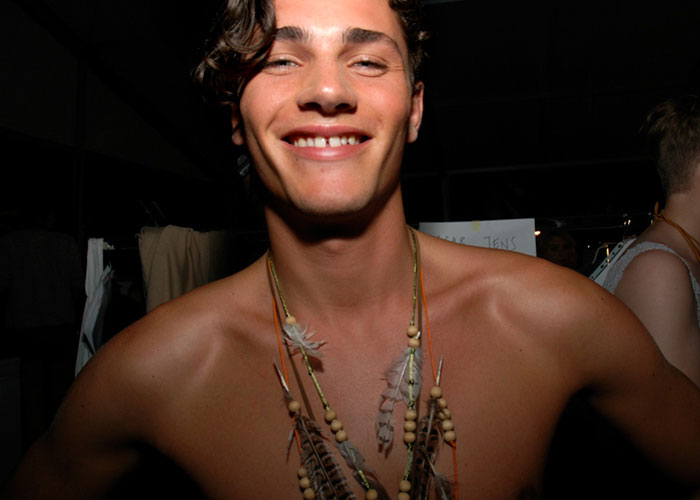 Accessories on model Oscar Spendrup backstage at Carin Wester.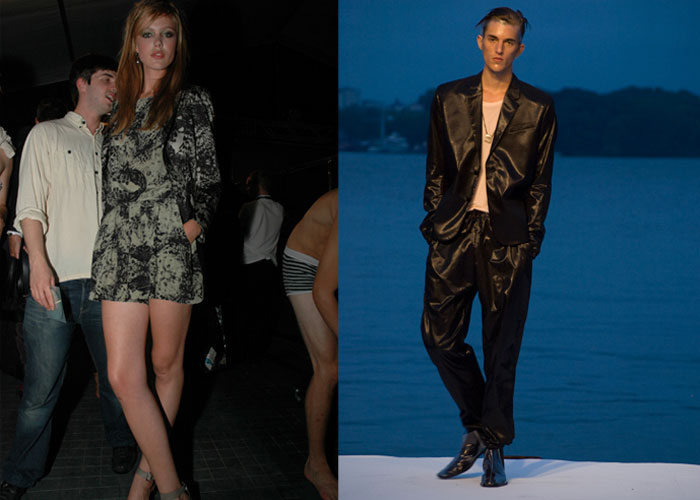 Frida Gustavsson at Tiger of Sweden and a shimmering suit at Cheap Monday.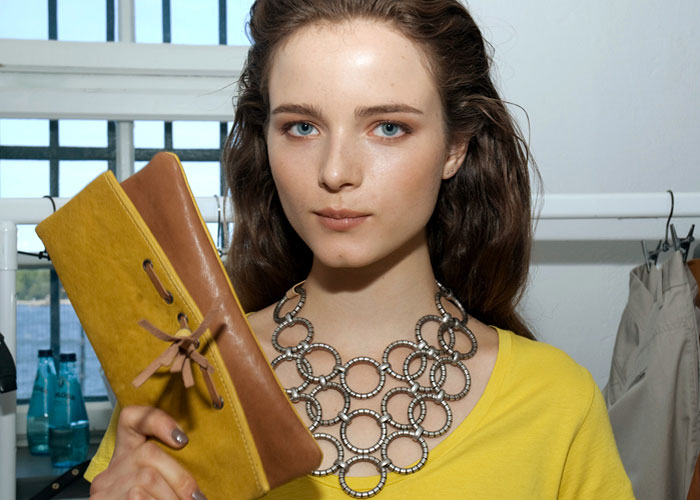 Yellow is key at Filippa K.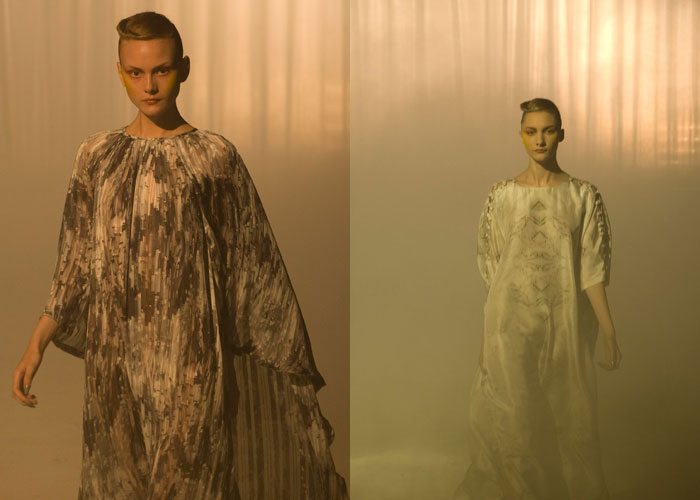 Prints at Nakkna.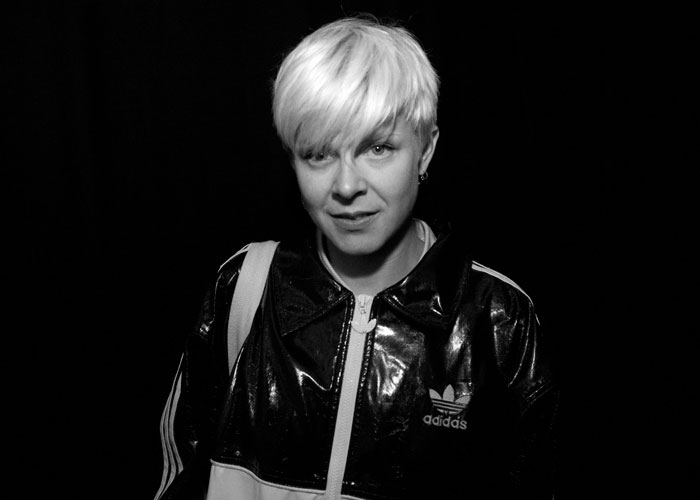 Robyn.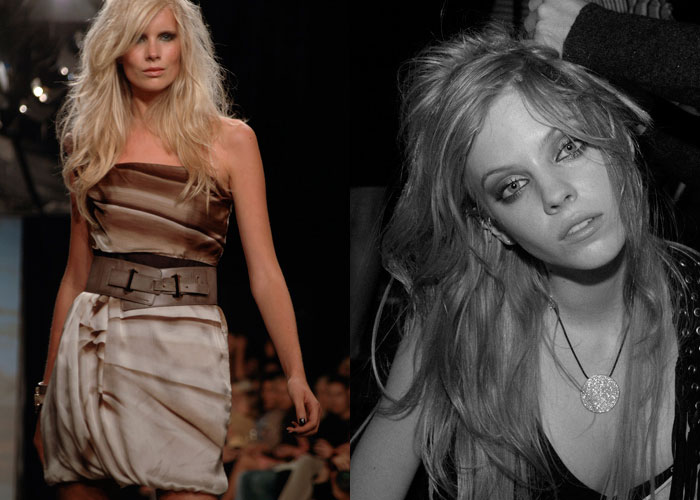 At Tiger of Sweden nature gained the upper-hand. The design team explored and translated the animal kingdom into patterns and colours and for women there were skirts covered in feathers and prints that reminds the brain of snake or crocodile skin. The show was described as a walk on the wilder side with the men's and women's collections reflecting each other in the elegant and relaxed ways of dressing typical of Tiger, with glamour elements not only reflected in the animal prints, but also in fabriks like metallic coatings and shiny jacquards.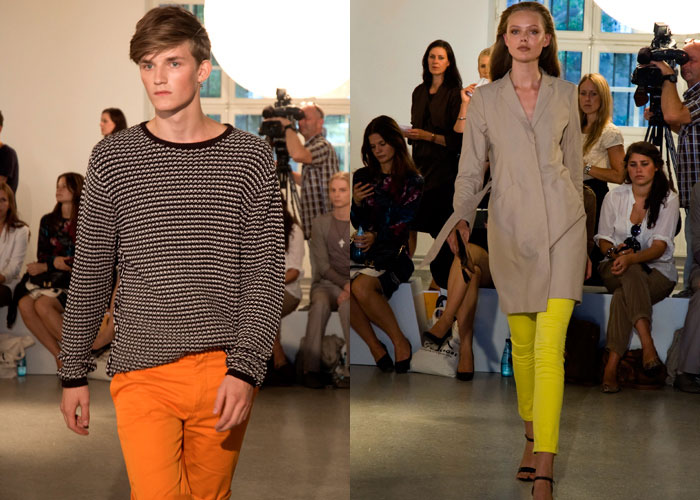 At Filippa K.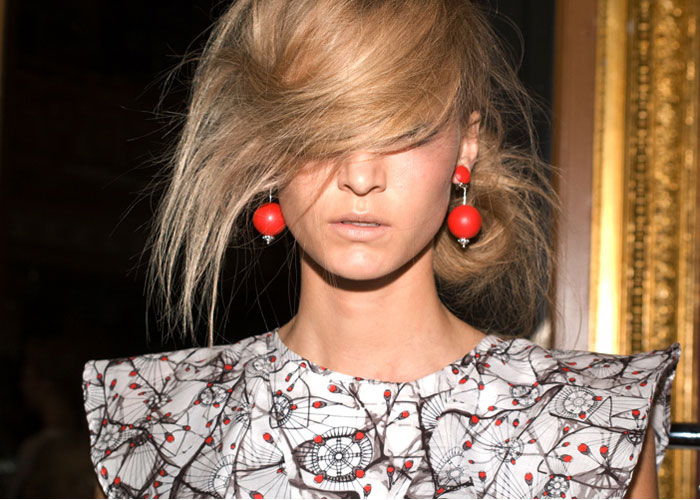 Backstage at Camilla Norrback. The collection is inspired by the designer's nostalgic memories of her childhood summers at the family country house.
At Hope, leather in camel and black is an important feature. Hope wanted to catch the mysterious mood of A Swedish Midsummer Night. The brand's motto is "To make an ease in real life" and the signature lies in a functional design and visualized in clean, simple looks.
The Local Firm is one of the leading, creative forces showing at Stockholm fashion week. For Spring/Summer 2011, the brand continues its research within the Bauhaus movement and geometric shapes. The garments comprise a crossover wardrobe, from progressive denim to eveningwear. The focus on very light materials made it a collection suitable for warmer weather and the airiness of the fabrics in combination with the colour choices were references to parachuters and desert troops. Many pieces have been cut up into colour blocks, or contrast fabrics have been used together in a reconstruction technique.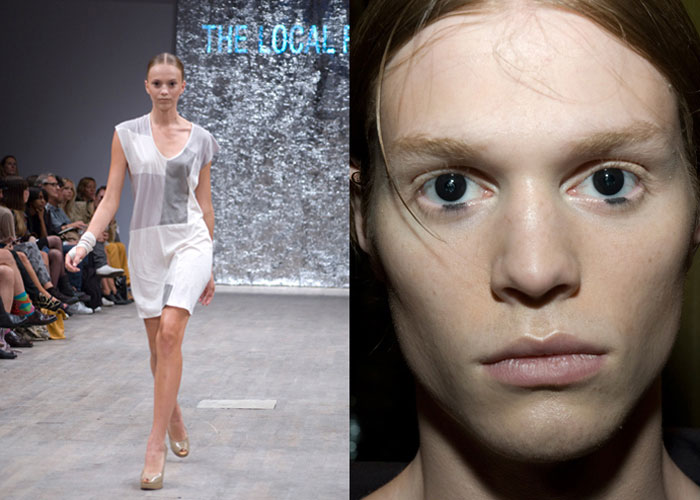 Black contact lenses at The Local Firm. All photography by Erika Lager.