The Appeal Of Commitment. Interview with Mohamed Khattabi
By Philippe Pourhashemi
One of the many impacts of social media on our daily lives is the proliferation of voices across the board, willing to express themselves and ready to be heard. This affects fashion as well, where discourses become more fragmented and power is spread in a more fluid manner, burying the idea of autocratic figures.
A new generation of fashion lovers craves meaning and values, as opposed to vacant buzz and meaningless clothes. Paris-based designer Mohamed Khattabi, who launched his own brand Reward if Found last year, is clearly aware that ivory towers have been collapsing in fashion, a recent phenomenon somewhat emphasized by the global pandemic we have all experienced.
It's refreshing to listen to Khattabi talking about the kind of fashion he loves, which fuses concept and intellect with politics and raw emotion. His work caught the attention of Adrian Joffe, who has already given him advice and feedback. We sat down with the inspiring designer to discuss migrations, why he loves slogans and prints, and how intelligent fashion will always be able to find its audience.
Where are you currently based and what is your background?
I've been living and working in Paris for the past ten years. When I arrived here as a student, I did Architecture for a year and a half and realized that all of my projects were related to protecting the body. My teachers kept telling me that I should consider fashion instead and that I could do something conceptually-minded, using clothing as a medium.
Did you follow their advice?
I actually did and enrolled at ESMOD where I studied menswear and womenswear for three years. Then I worked for Yves Saint Laurent Fourrures, where I got to discover the craftsmanship behind fur and all the different ateliers and artisans involved.
The fur industry gets a bad rap nowadays, but in terms of sustainability, it's one of the most durable materials around and I love the way you can transform it and pass it on to somebody else.
That's true.
Tell me about Reward if Found and what made you feel like launching your own brand.
I presented my first collection last October and have to admit that I had wanted to do it for at least seven years. I just needed to make sure my project would make sense in the world we live in today and knew from the start that it had to be committed, too.
Why was that aspect important for you?
Fashion can no longer be disconnected from the societal changes taking place around us. Every season, we collaborate with associations dealing with migration and individuals being persecuted in their countries because of their beliefs, politics or sexuality. We create five styles per collection, and part of the profits are paid directly to them. I believe fashion has the power to shape, and affect, social change.
How did you select them?
We contacted many different associations and had very interesting feedback from many of them. One in Montpellier focuses on LGBTQIA individuals who have had to leave their homes, because they were discriminated against. I think the pandemic has had real impact on the fashion industry and you see many brands willing, or choosing to, commit themselves to similar causes. Fashion for fashion's sake is no longer valid in my opinion, so I spent a lot of time thinking about my love for clothing and how I could reconcile it with my own values as a person.
I don't think you are the only one envisaging fashion this way, and I find it very exciting. I like how your visuals emphasize the idea of a community, and perhaps a utopian vision of what society could be.
Exactly. That was the kind of feeling we were looking for.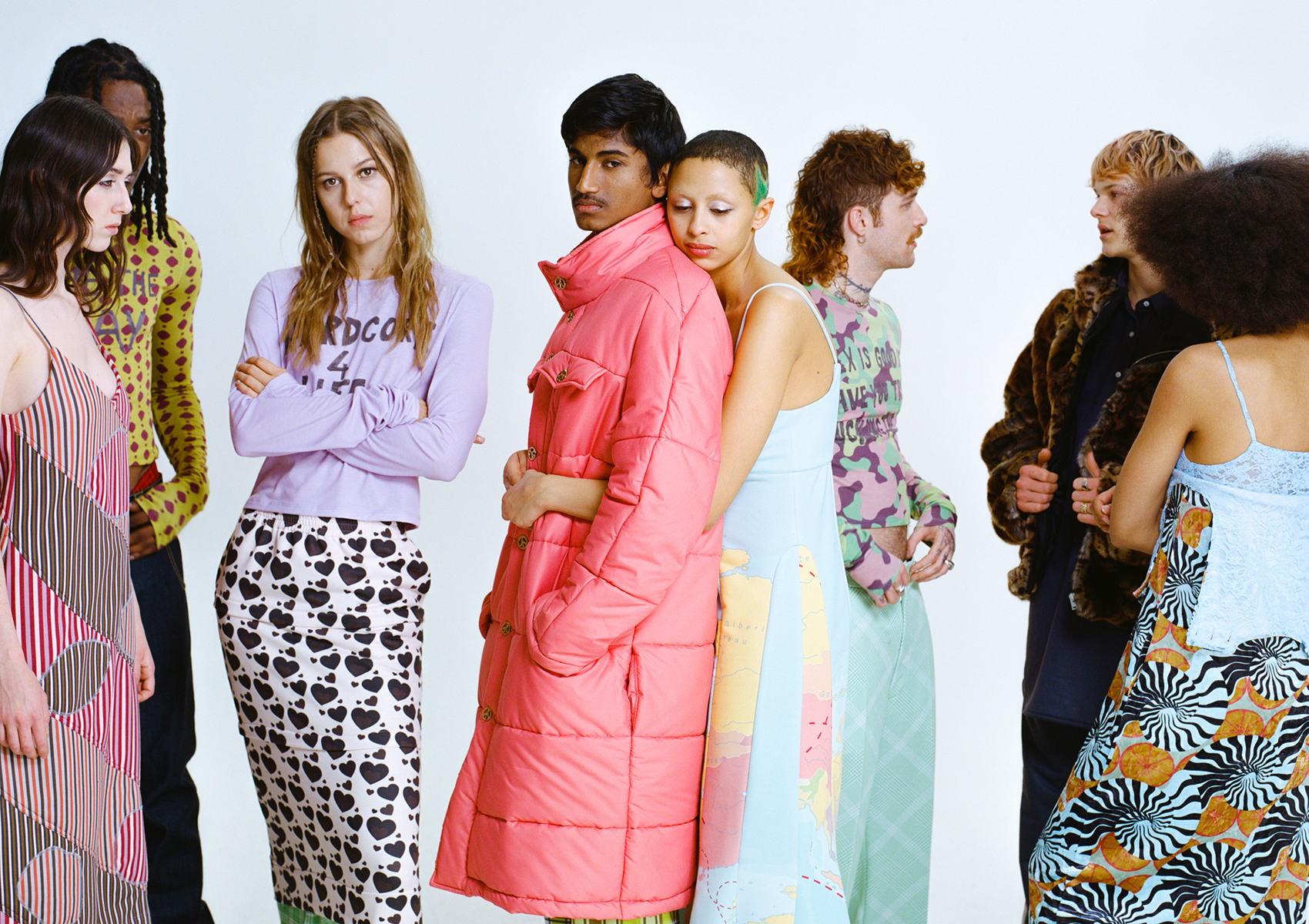 Fashion has become incredibly dystopian over the past few years. Look at Demna Gvasalia's vision at Balenciaga for instance, where clones take center stage and individuality seems to fade away…
The people we chose for our first look book were also victims of such discrimination, which they had encountered in their lives. We didn't just pick them because of their character and personality, but also the experiences they happened to have.
It feels very genuine when I look at the images, and that's probably why they are so powerful.
It's about real relationships.
Tell me about meeting Adrian Joffe and what your relationship is like.
Adrian is my boss, since I also work at Comme des Garçons in sales. He's not linked to the project business-wise, but shares his ideas and feedback with me, which I find very useful. As I already work for a fashion company, I wanted to make sure there would be no conflict with Comme des Garçons, but he has been supportive and encouraged me to go for it, which was very kind of him.
I was asking you this, because I know that Rei Kawakubo and Adrian Joffe help young brands develop within their own organization, and they have a knack for picking exciting new brands.
I'm not part of the group of designers they show themselves, but Dover Street Market has expressed interest in my work and seen the collection already.
You enjoy working with prints and slogans. Why do they both appeal to you?
I work with deadstock materials, which I print with my own illustrations and words. I love this declarative dimension within fashion, which underlines communication and exchange. I think that fashion can raise interesting questions and still be appreciated by a certain audience. Not everyone wants to be purely entertained…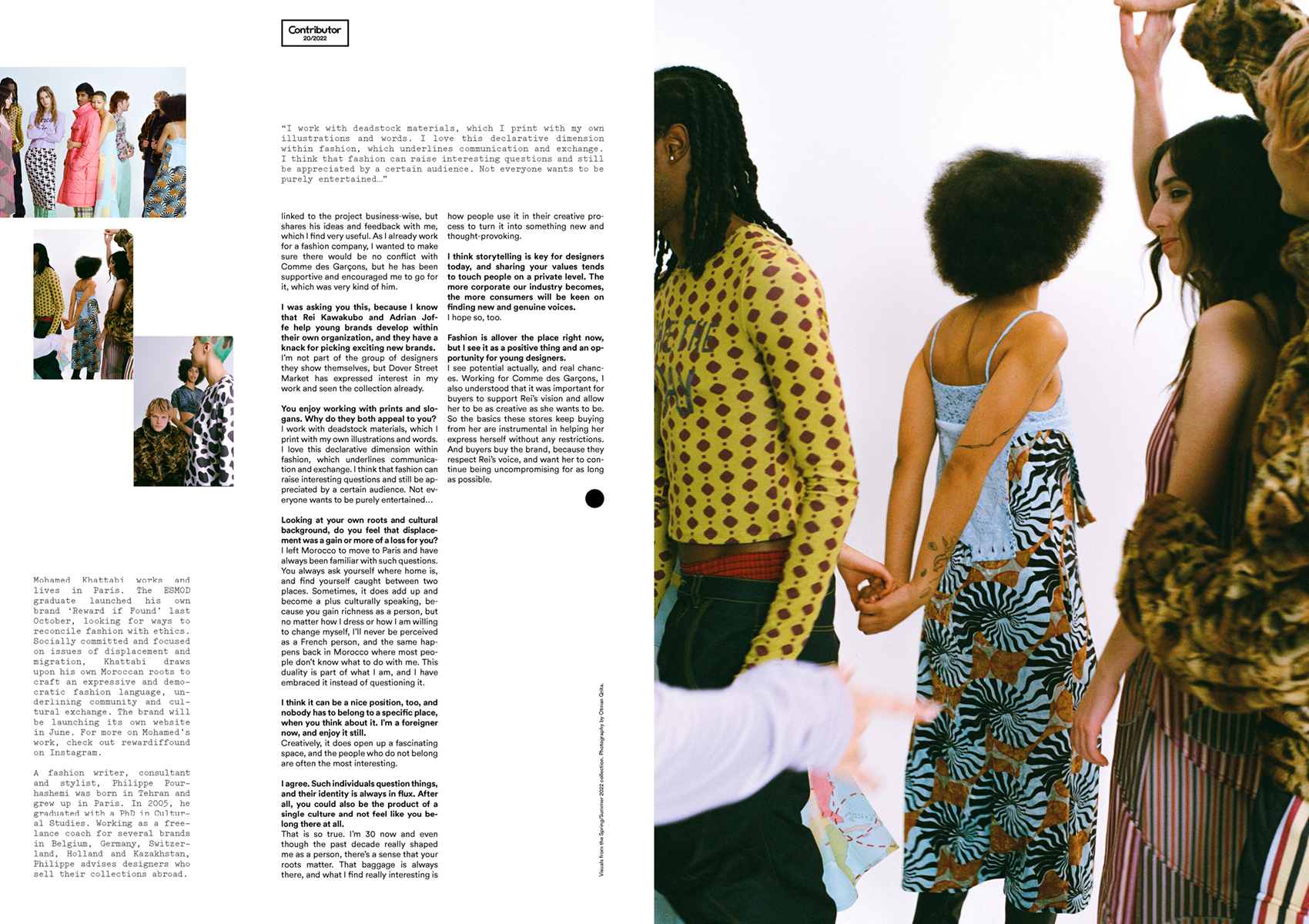 Looking at your own roots and cultural background, do you feel that displacement was a gain or more of a loss for you?
I left Morocco to move to Paris and have always been familiar with such questions. You always ask yourself where home is, and find yourself caught between two places. Sometimes, it does add up and become a plus culturally speaking, because you gain richness as a person, but no matter how I dress or how I am willing to change myself, I'll never be perceived as a French person, and the same happens back in Morocco where most people don't know what to do with me. This duality is part of what I am, and I have embraced it instead of questioning it.
I think it can be a nice position, too, and nobody has to belong to a specific place, when you think about it. I'm a foreigner now, and enjoy it still.
Creatively, it does open up a fascinating space, and the people who do not belong are often the most interesting.
I agree. Such individuals question things, and their identity is always in flux. After all, you could also be the product of a single culture and not feel like you belong there at all.
That is so true. I'm 30 now and even though the past decade really shaped me as a person, there's a sense that your roots matter. That baggage is always there, and what I find really interesting is how people use it in their creative process to turn it into something new and thought-provoking.
I think storytelling is key for designers today, and sharing your values tends to touch people on a private level. The more corporate our industry becomes, the more consumers will be keen on finding new and genuine voices.
I hope so, too.
Fashion is allover the place right now, but I see it as a positive thing and an opportunity for young designers.
I see potential actually, and real chances. Working for Comme des Garçons, I also understood that it was important for buyers to support Rei's vision and allow her to be as creative as she wants to be. So the basics these stores keep buying from her are instrumental in helping her express herself without any restrictions. And buyers buy the brand, because they respect Rei's voice, and want her to continue being uncompromising for as long as possible.
Mohamed Khattabi works and lives in Paris. The ESMOD graduate launched his own brand Reward if Found last October, looking for ways to reconcile fashion with ethics. Socially committed and focused on issues of displacement and migration, Khattabi draws upon his own Moroccan roots to craft an expressive and democratic fashion language, underlining community and cultural exchange. The brand will be launching its own website in June. For more on Mohamed's work, check out rewardiffound on Instagram.
A fashion writer, consultant and stylist, Philippe Pourhashemi was born in Tehran and grew up in Paris. In 2005, he graduated with a PhD in Cultural Studies. Working as a freelance coach for several brands in Belgium, Germany, Switzerland, Holland and Kazakhstan, Philippe advises designers who sell their collections internationally.