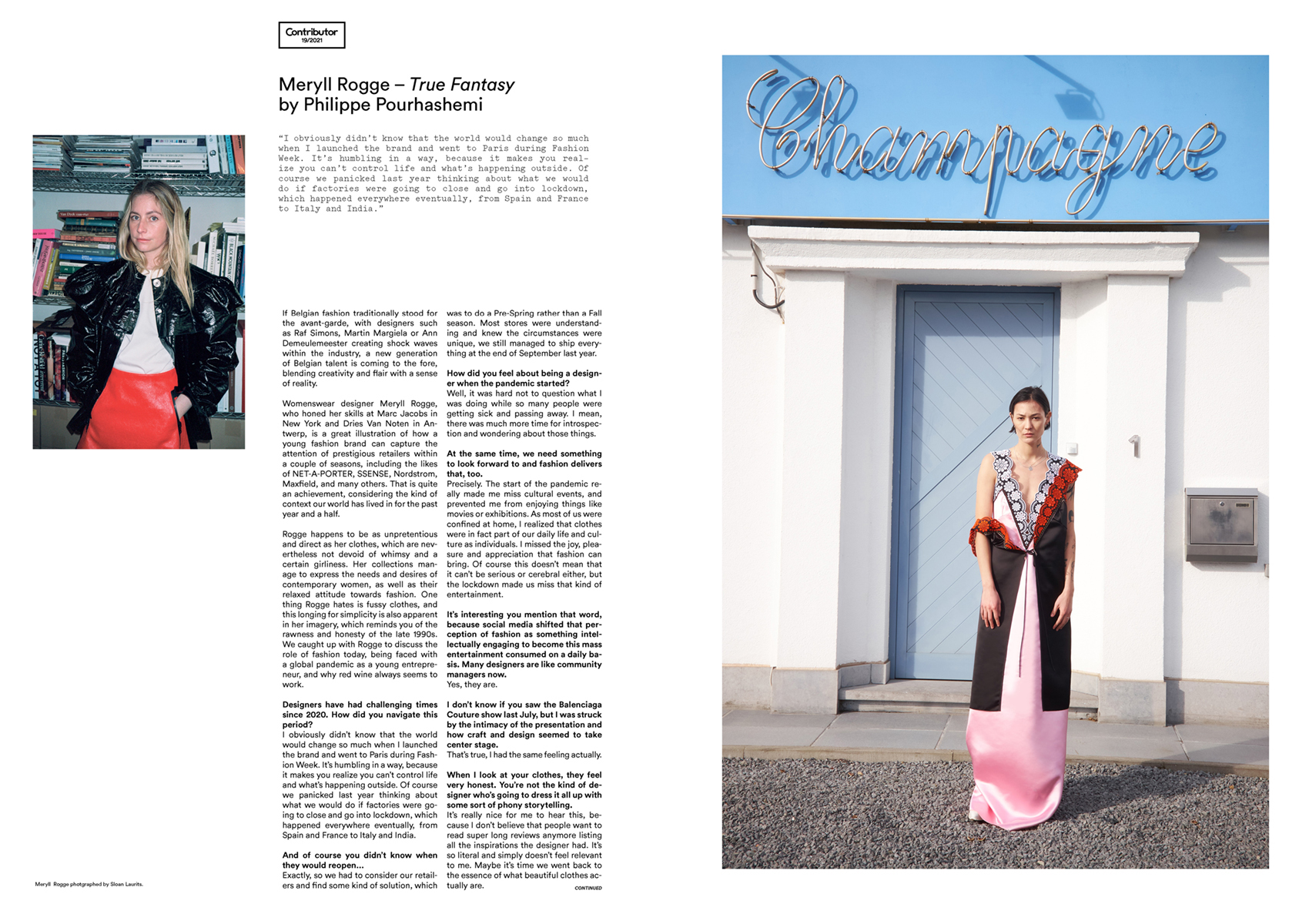 True Fantasy
Interview with Meryll Rogge by Philippe Pourhashemi
If Belgian fashion traditionally stood for the avant-garde, with designers such as Raf Simons, Martin Margiela or Ann Demeulemeester creating shock waves within the industry, a new generation of Belgian talent is coming to the fore, blending creativity and flair with a sense of reality. Womenswear designer Meryll Rogge, who honed her skills at Marc Jacobs in New York and Dries Van Noten in Antwerp, is a great illustration of how a young fashion brand can capture the attention of prestigious retailers within a couple of seasons, including the likes of NET-A-PORTER, SSENSE, Nordstrom, Maxfield, and many others. That is quite an achievement, considering the kind of context our world has lived in for the past year and a half.
Rogge happens to be as unpretentious and direct as her clothes, which are nevertheless not devoid of whimsy and a certain girliness. Her collections manage to express the needs and desires of contemporary women, as well as their relaxed attitude towards fashion. One thing Rogge hates is fussy clothes, and this longing for simplicity is also apparent in her imagery, which reminds you of the rawness and honesty of the late 1990s. We caught up with Rogge to discuss the role of fashion today, being faced with a global pandemic as a young entrepreneur, and why red wine always seems to work.
Designers have had challenging times since 2020. How did you navigate this period?
I obviously didn't know that the world would change so much when I launched the brand and went to Paris during Fashion Week. It's humbling in a way, because it makes you realize you can't control life and what's happening outside. Of course we panicked last year thinking about what we would do if factories were going to close and go into lockdown, which happened everywhere eventually, from Spain and France to Italy and India.
And of course you didn't know when they would reopen…
Exactly, so we had to consider our retailers and find some kind of solution, which was to do a Pre-Spring rather than a Fall season. Most stores were understanding and knew the circumstances were unique, we still managed to ship everything at the end of September last year.
How did you feel about being a designer when the pandemic started?
Well, it was hard not to question what I was doing while so many people were getting sick and passing away. I mean, there was much more time for introspection and wondering about those things.
At the same time, we need something to look forward to and fashion delivers that, too.
Precisely. The start of the pandemic really made me miss cultural events, and prevented me from enjoying things like movies or exhibitions. As most of us were confined at home, I realized that clothes were in fact part of our daily life and culture as individuals. I missed the joy, pleasure and appreciation that fashion can bring. Of course this doesn't mean that it can't be serious or cerebral either, but the lockdown made us miss that kind of entertainment.
It's interesting you mention that word, because social media shifted that perception of fashion as something intellectually engaging to become this mass entertainment consumed on a daily basis. Many designers are like community managers now.
Yes, they are.
I don't know if you saw the Balenciaga Couture show last July, but I was struck by the intimacy of the presentation and how craft and design seemed to take center stage.
That's true, I had the same feeling actually.
When I look at your clothes, they feel very honest. You're not the kind of designer who's going to dress it all up with some sort of phony storytelling.
It's really nice for me to hear this, because I don't believe that people want to read super long reviews anymore listing all the inspirations the designer had. It's so literal and simply doesn't feel relevant to me. Maybe it's time we went back to the essence of what beautiful clothes actually are.
Is timelessness important for you when you design?
It is. I guess Haute Couture is the best way to achieve that, and I don't have those means yet, but wearability and making something you can wear on a daily basis for a long time does matter to me. That's probably the reason why I work around vintage so much, because those garments have stood the test of time already.
What are you planning on doing for the upcoming season?
We definitely want to do a showroom in Paris and include some sort of physical presentation in it. We will be having private appointments only, given the circumstances. I would love to do a bigger event, but don't think it's wise at the moment. I will be fully vaccinated by the time we are there so we can also plan one-to-one meetings with the press and buyers. We've been in quite a lot of publications lately and hopefully we're going to be able to work with an international PR agency soon. That's also in the pipeline.
Is there anything good that came out of the pandemic for you?
Working remotely is something I had already been thinking of for a while, and I'm definitely not an office type of person, so that's a way of working I can hopefully keep for the near future. I can't afford to have employees right now, so we work with other freelancers, which does give you some flexibility. You also have to bear in mind that retailers are not as faithful as they used to be, and they can replace you after a couple of seasons already. The advantage of a smaller structure like ours is that we can react quickly and adapt to new situations.
You've worked for major fashion houses, such as Marc Jacobs and Dries Van Noten. Do you miss the perks of working for a larger brand?
Well, I used to make a good living then, but now I can hardly pay myself a salary (she laughs). Everything goes into the company, which sucks, but I don't need much and stopped buying clothes, too.
Which means you can wear your own!
When you have your own brand, most of the time spent during the season actually goes into production, not creative ideas. It means I end up being late designing the new clothes, and don't have much time left. This is a bit of a struggle for me, because I want to do things well, as well as create something interesting every season. The day I can afford a full-time production manager, everything will change.
Have you been able to gain more clients since last season?
We have, which is really great. New stores in Belgium, Australia and China; it's really nice and growing still. This pandemic has made me quite cautious, so I try not to get too excited about that. We're also getting our first sell-throughs now, so it's always informative to see what the stores have done well with.
Do you think about this when you design?
Frankly, I don't. From my own experience, you can only predict what's going to sell occasionally and you tend to be surprised when you see how well certain pieces do. I don't want to spend my time analyzing numbers, because we are not that kind of brand.
How do you think people are going to dress now? Have things changed fundamentally?
I feel like women really want to buy a nice shoe. Or at least that's what my friends keep talking about. You just get so tired of wearing sneakers and over the summer people have been able to go out for certain events, so you saw they were making efforts with a really good pair of shoes.
I have a feeling people will be upping their game when it comes to dressing-up and getting back together again.
God, I hope so.
Maybe they will want to start showing off again, like pretty little birds.
I like the sound of that!
You work an awful lot being a young entrepreneur. What do you do to unwind and recharge your batteries?
That's quite sad to say, but I haven't had much time off lately and it's pretty much work and sleep. Still, whenever I get the chance, I love watching episodes of Schitt's Creek and catching up on it. I take walks to the nearby village and spend as much time as I can close to the river. Another thing that is guaranteed to unwind me is a great bottle of red wine. If I can get to do all of those things the same week, then I'll be happy.
Meryll Rogge lives and works in a family barn southwest of Ghent. She graduated from Antwerp's Royal Academy of Fine Arts in 2008 and designed for Marc Jacobs in New York, before being appointed Head of Womenswear at Dries Van Noten. She launched her eponymous brand in February 2020. meryllrogge.com
A fashion writer, consultant and stylist, Philippe Pourhashemi was born in Tehran and grew up in Paris. In 2005, he graduated with a PhD in Cultural Studies. Working as a freelance coach for several brands in Belgium, Germany, Switzerland, Holland and Kazakhstan, he advises designers who sell their collections abroad.