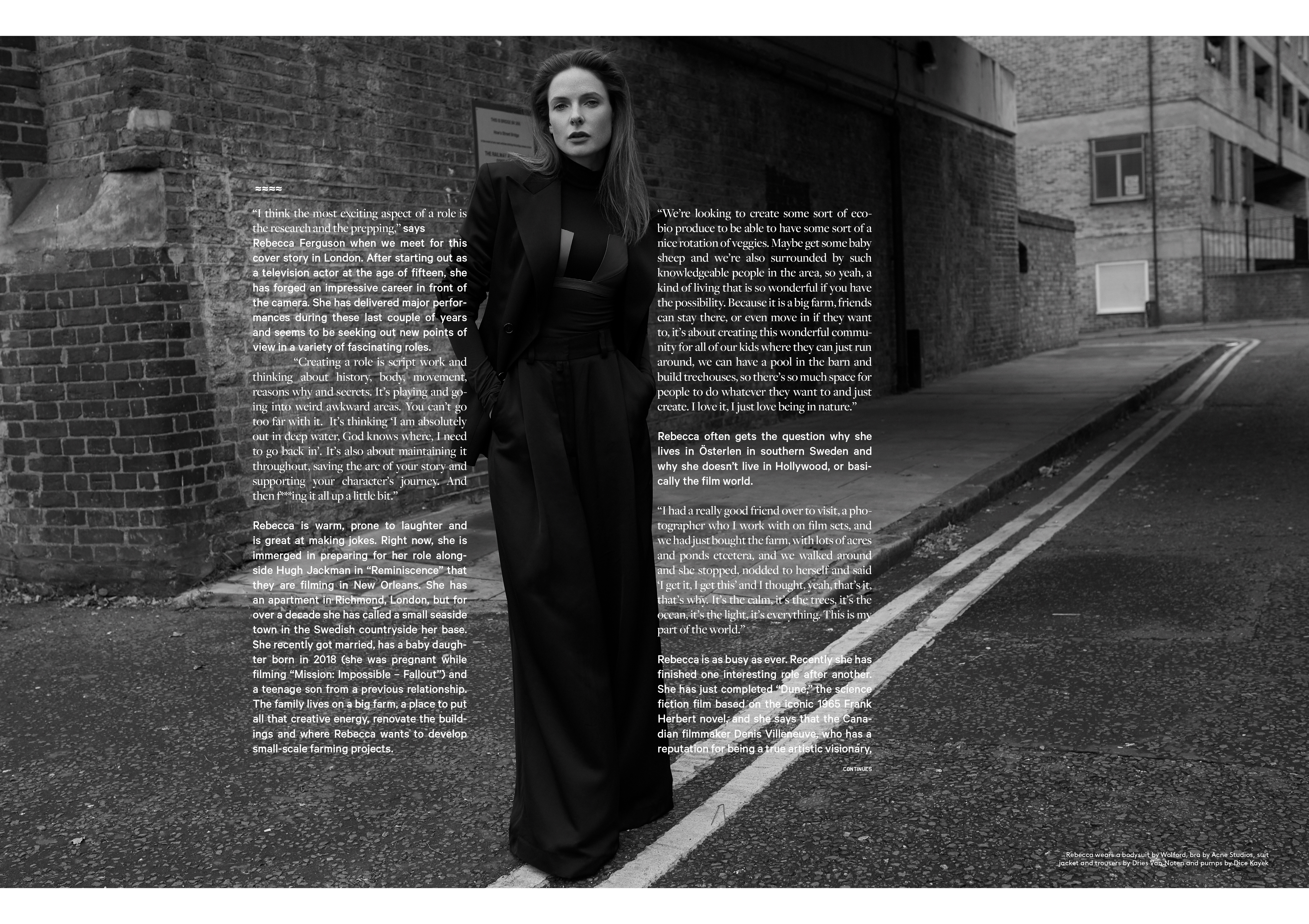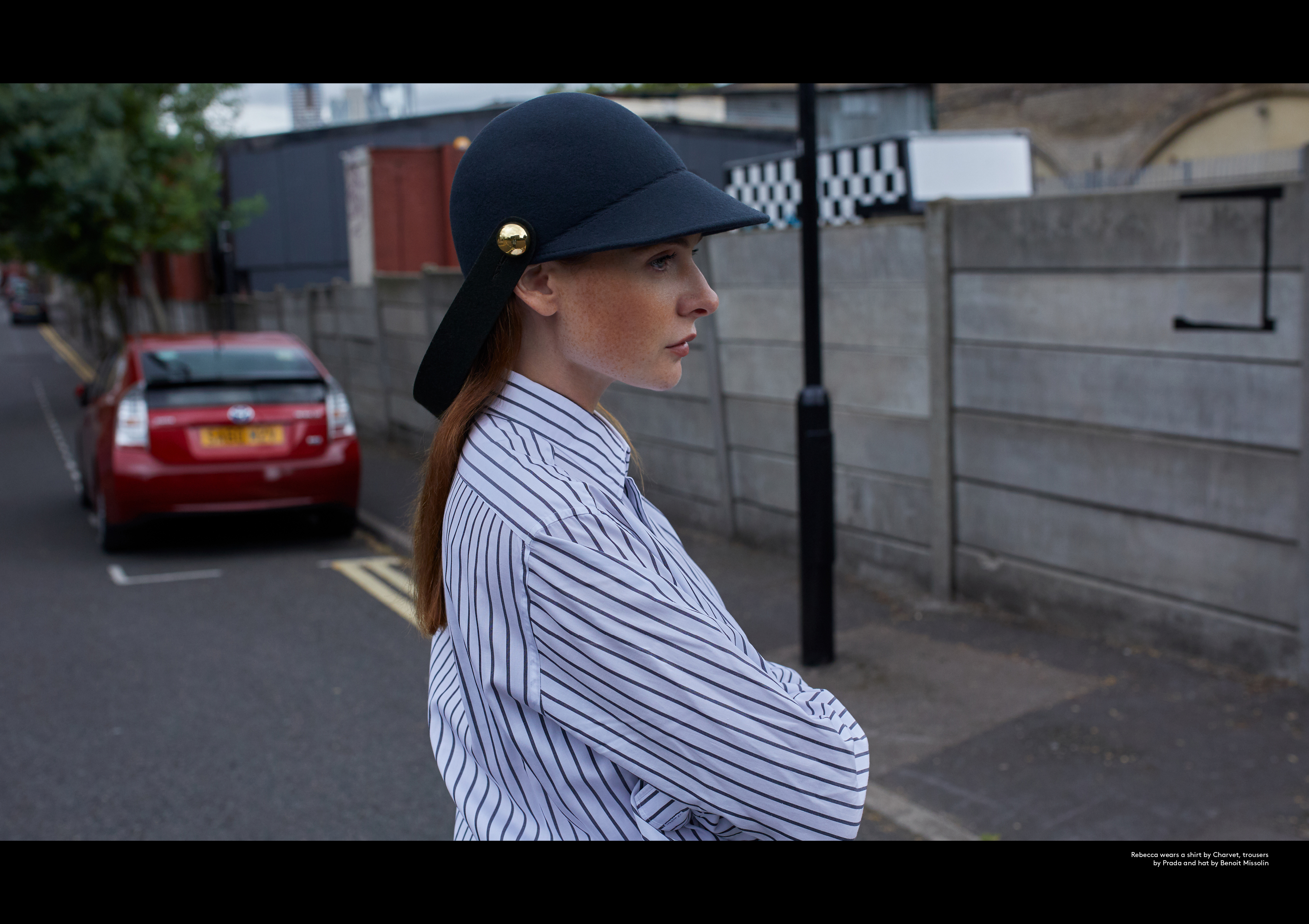 Incognito Recognito. Interview with Rebecca Ferguson
"Every job I do is yet a new episode that I put into my backpack of life," says accomplished actress Rebecca Ferguson, who lives with her family on a farm in the Swedish countryside in between films.
By Antonia Nessen
"I think the most exciting aspect of a role is the research and the prepping,"says Rebecca Ferguson when we meet for this cover story in London. After starting out as a television actor at the age of fifteen, Rebecca has forged an impressive career in front of the camera. She has delivered major performances during these last couple of years and seems to be seeking out new points of view in a variety of fascinating roles.
"Creating a role is script work and thinking about history, body, movement, reasons why and secrets. It's playing and going into weird awkward areas. You can't go too far with it. It's thinking 'I am absolutely out in deep water, God knows where, I need to go back in.' It's also about maintaining it throughout, saving the arc of your story and supporting your character's journey. And then f***ing it all up a little bit."
Rebecca is warm, prone to laughter and is great at making jokes. Right now, she is immersed in preparing for her role alongside Hugh Jackman in Reminiscence, which they are filming in New Orleans. She has an apartment in Richmond, London, but for over a decade she has called a small seaside town in the Swedish countryside her base. She recently got married, has a baby daughter born in 2018 (she was pregnant while filming Mission: Impossible – Fallout) and a teenage son from a previous relationship. The family lives on a big farm, a place to expend all that creative energy, renovate the buildings, and where Rebecca wants to develop small-scale farming projects.
"We're looking to create some sort of eco-bio produce to be able to have some sort of a nice rotation of veggies. Maybe get some lambs and we're also surrounded by such knowledgeable people in the area, so yeah, a kind of living that is so wonderful if you have the possibility. Because it is a big farm, friends can stay there, or even move in if they want to; it's about creating this wonderful community for all of our kids where they can just run around, we can have a pool in the barn and build treehouses, so there's so much space for people to do whatever they want to and just create. I love it, I just love being in nature."
Rebecca often gets the question why she lives in Österlen in southern Sweden and why she doesn't live in Hollywood, or basically the film world.
"I had a really good friend over to visit, a photographer who I work with on film sets, and we had just bought the farm, with lots of acres and ponds, etcetera, and we walked around and she stopped, nodded to herself and said 'I get it, I get this' and I thought, yeah, that's it, that's why. It's the calm, it's the trees, it's the ocean, it's the light, it's everything. This is my part of the world."
Rebecca is as busy as ever. In recent years she has had one interesting role after another. She has just completed Dune, a science fiction film based on the iconic 1965 Frank Herbert novel, and she says that the Canadian filmmaker Denis Villeneuve, who has a reputation for being a true artistic visionary, is a man "who raises the bar to heights I didn't even know existed." At this point in her prolific career, Rebecca says that she feels very lucky to have worked with the people she has worked with. "I've been fortunate enough to not have had too many bad eggs in the basket." One of her most memorable adventures was doing her breakout role in the BBC's The White Queen.
"It was my first ever international role. I moved away from home, from Sweden, and I lived in Bruges for six months. I played the queen of England with an incredible crew."
Rebecca grew up in Stockholm with a British mother and Swedish father. She went to a high school with a focus on singing and choral music, a talent she got the chance to explore in the musical The Greatest Showman in 2017. She took a break from her studies when she got a part in a Swedish TV series as a teenager. She praises both her parents for being an inspiration when it comes to her acting career.
"They were wonderfully supportive in letting me try things out and encouraged me in everything I did. They were just very loving and have never told me that things aren't possible. I'm grateful that they gave me the opportunity to develop at my own pace."
Her role as Elizabeth Woodville brought her a huge audience. The miniseries based on Philippa Gregory's best-selling novels was set during the War of the Roses in the fifteenth century, one of the most turbulent times in English history. Two sides of the same family battle to take control of the throne and her character is caught up in the power struggles. The White Queen was well-received and Rebecca was nominated for a Golden Globe Award in the category of Best Actress in 2014. But maybe she wouldn't be where she is today if it wasn't for her powerful portrayal of the resourceful spy Ilsa Faust, in Mission: Impossible – Rogue Nation and Mission: Impossible – Fallout next to Tom Cruise.
"It was the biggest, largest, most explosive, incredible, majestic piece of adventure that I got to be a part of on so many levels; physically, mentally, and friendship-wise. It's so much its own world working with Tom and the Mission team. Everything from getting into it, to understanding the psychology behind such a big entity or such a big franchise. It's a team collaboration with Tom at the oars, and it's more than impressive how he handles everything, and how he still laughs and is just such a kind and considerate man."
What have been influences in developing your acting?
"Every job I do is yet a new episode that I put into my backpack of life. I never really started off thinking I was going to be an actress. It kind of happened and I enjoyed it. Looking back, I see it as a ladder. Gradually, as I started working I would discover great actors around me. Beatrice Järås, a big Swedish theater actress became a mentor and the Swedish director Richard Hobert was incredible. Then, when I did Hercules I asked John Hurt so many questions. We talked about stage acting and life. He became a massive influence in my acting."
Doctor Sleep is the much-anticipated adaptation of Stephen King's sequel to the 1977 novel The Shining. Danny Torrance is all grown up. Like his father, he has battled alcoholism. Now he connects with a young girl who is also gifted with the psychic powers called "the shining." The story takes him back to the location of the Overlook Hotel. Rebecca plays the villainous Rose the Hat, head of True Knot. A group of supernatural creatures that kills people who possesses the shining to feed off their powers.
"I absolutely loved playing Rose the Hat. I found her sexy, cool, and obviously intimidatingly disgusting. Completely without boundaries, and all those elements made her a fun character to play. It was my first grown-up role in a sense. I had just played Morgana in The Kid Who Would Be King, a character that scares young children. But here, I'm supposed to scare the older audience and I found that quite difficult. I tried to find a nurturing and very normal side to Rose, to embrace the bits that made her 'human' because you know, all she really cared about was loving her gang equally as much as a mother cares for her child."
Did you have any frights on set?
"No, but I have an unforgettable scene where my character has to go into quite dark areas with another character. Basically, it's a scene where Rose's evil has no limits. The person on the other end acted so well that it threw me off. I could feel tears welling up in my face and I thought, 'shape up, shape up, shape up.' I knew my queue to go in was at a certain moment and I was standing there slapping my face trying to get back into the right state of mind."
What was your relationship with Ewan McGregor, who stars as an adult Danny Torrance, like?
"My most memorable moment with Ewan was when we had our costume fittings and screen tests. For some reason I wasn't prepared that he was going to walk into the trailer where I was sitting having my makeup done. I looked up towards the door and just stared at him as he walked in, which was incredibly inconvenient, silly, and blushingly awkward. I looked like a teenager who's madly in love with some superstar. I was so uncomfortable that I couldn't stop talking. He smiled, nodded, and walked all the way down to the other end of the trailer where he was going to have his makeup done. The awkwardness didn't end there for some reason, there were some funny moments. One day on set I decided to play 'sing it like you mean it' with Ewan McGregor, who's an incredible singer, but you're supposed to sing a little bit false and I don't think he was aware of the game. I just said 'let's sing it like you mean it' and I started singing out really loud in front of the team, 'when the night has come' and just a little bit off and I have never seen anyone so shocked, it was so embarrassingly awkward. And I think he said, 'Wow that was loud!' and that was about it. So that was my second meeting with Ewan, it just carried on from there."
What inspires you in the day to day?
"The first couple of moments of a good day inspire me. If it's a good cup of coffee, if my son is in a good mood, if it's a lovely morning – it doesn't have to be sunny, it can be rainy, I'm not that dependent on weather. One moment it can be a disaster and chaos but then something happens and I get inspired. That's life isn't it? It just moves and if you keep your eyes open then it's all there in front of you."
Several of your films have been adaptations of well-known novels. The Girl on the Train by Paula Hawkins was a thrilling read. What kind of reading do you enjoy?
"I like any collection of short stories because I'm reading so many scripts. I had Dorothy Parker for a while because I had nothing else and then I started reading Stephen King, The Outsider, which is what I'm reading right now. I also read books for my children, we do a lot of Alice in Wonderland because of the magic, and obviously Harry Potter over and over again. But after listening to Stephen Fry's voice reading Harry Potter, my son doesn't want anyone else reading them, which, by the way, I completely agree with. A really great book and a great film is The Diving Bell and the Butterfly by Jean-Dominique-Bauby."
What films do you watch?
"I don't really have time to watch films right now. I'm working so much, so I end up watching little documentaries and I re-watch films. I went through Ozark again because it's brilliant. I re-watched American Psycho with Christian Bale – he's fantastic in that role – and I love how uncomfortable Dogtooth is. God it's brilliant! Pan's Labyrinth and About a Boy again, for the hundredth time. I really look forward to seeing IT, the second one with Bill Skarsgård. I couldn't recommend Escape at Dannemora with Patricia Arquette and Benicio del Toro more. The Act is also brilliant – yep, a lot of TV."