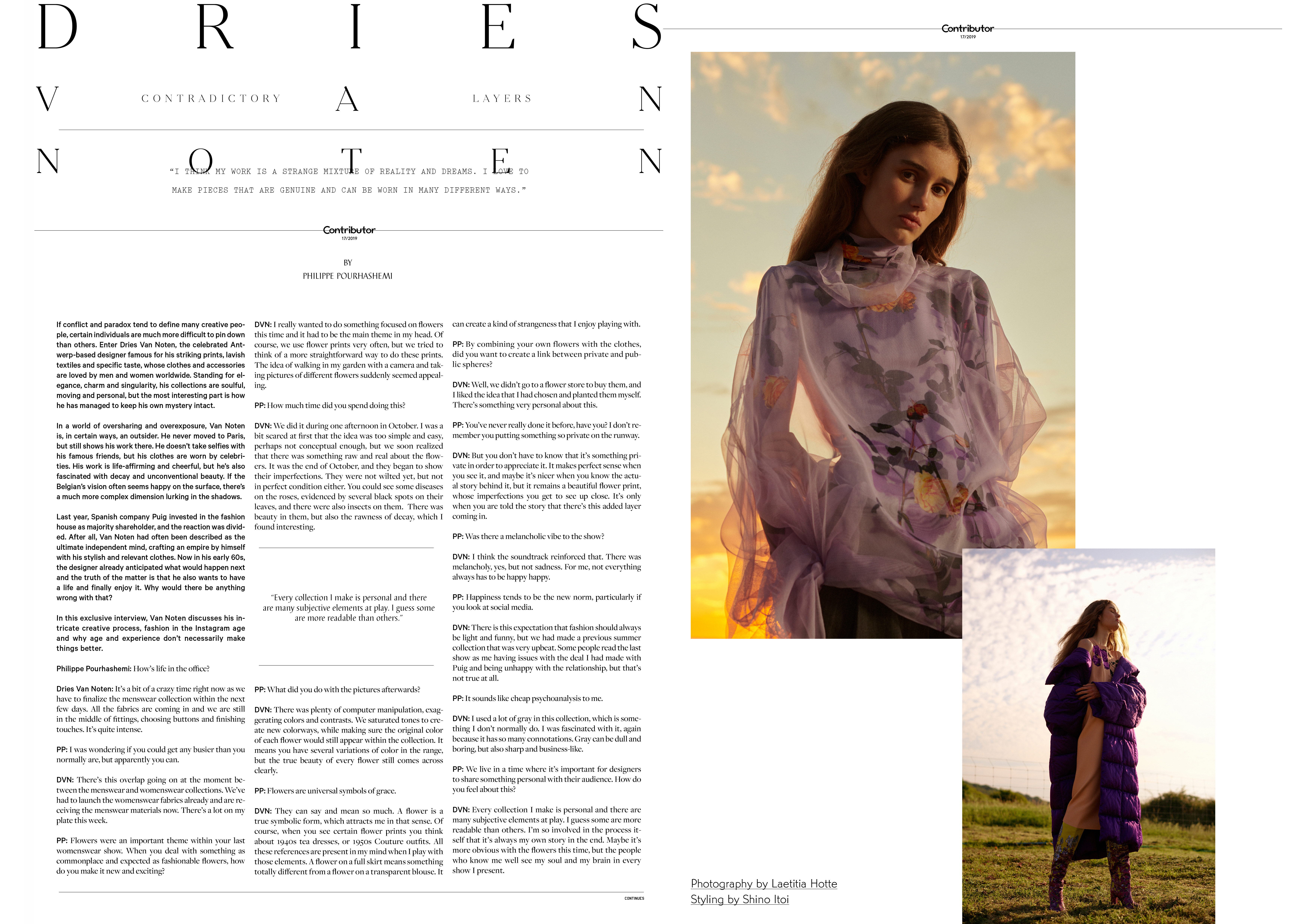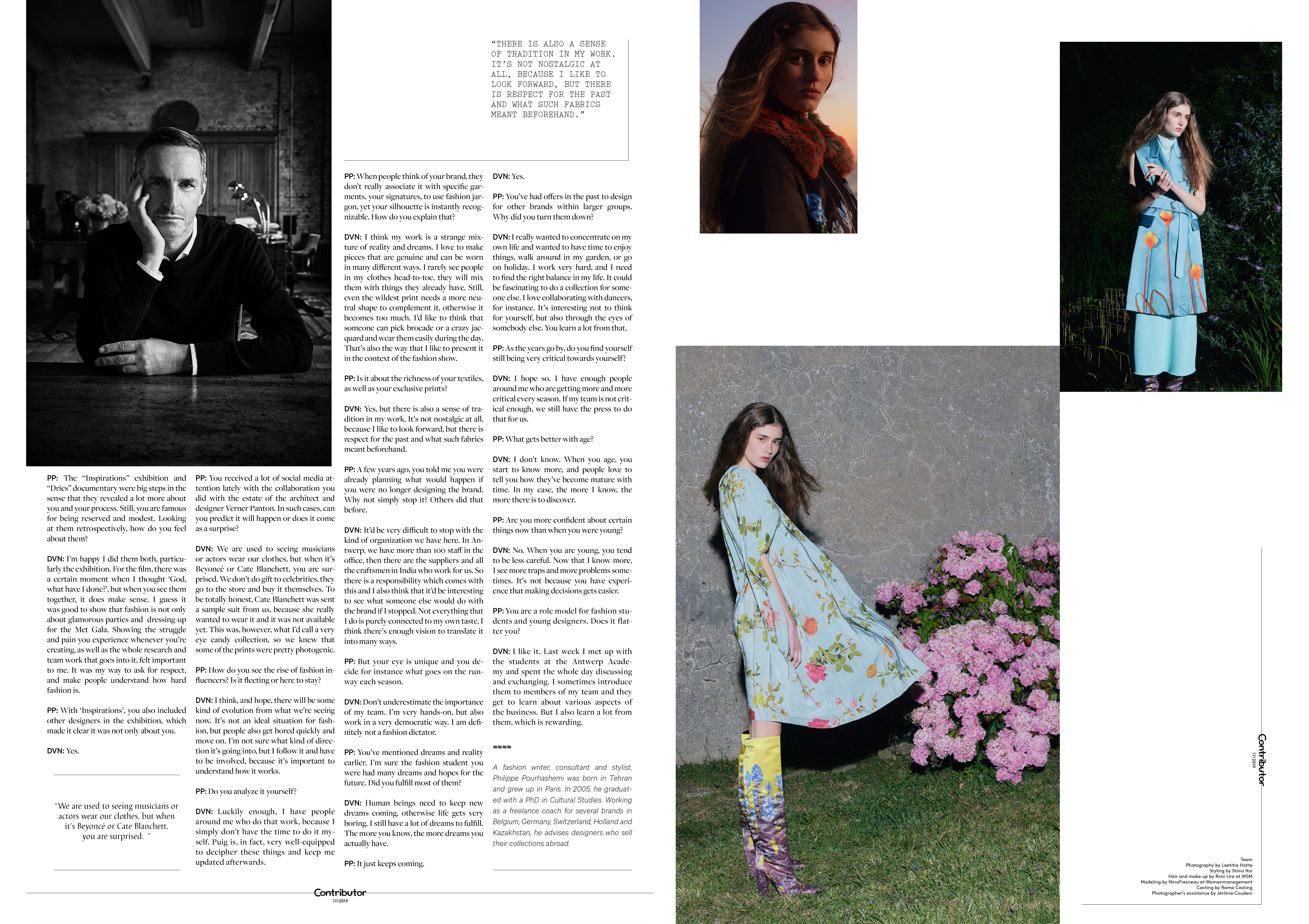 Contradictory Layers. Interview with Dries Van Noten
By Philippe Pourhashemi
If conflict and paradox tend to define many creative people, certain individuals are much more difficult to pin down than others. Enter Dries Van Noten, the celebrated Antwerp-based designer famous for his striking prints, lavish textiles and specific taste, whose clothes and accessories are loved by men and women worldwide. Standing for elegance, charm and singularity, his collections are soulful, moving and personal, but the most interesting part is how he has managed to keep his own mystery intact. In a world of oversharing and overexposure, Van Noten is, in certain ways, an outsider. He never moved to Paris, but still shows his work there. He doesn't take selfies with his famous friends, but his clothes are worn by celebrities. His work is life-affirming and cheerful, but he's also fascinated with decay and unconventional beauty. If the Belgian's vision often seems happy on the surface, there's a much more complex dimension lurking in the shadows.
Last year, Spanish company Puig invested in the fashion house as majority shareholder, and the reaction was divided. After all, Van Noten had often been described as the ultimate independent mind, crafting an empire by himself with his stylish and relevant clothes. Now in his early 60s, the designer already anticipated what would happen next and the truth of the matter is that he also wants to have a life and finally enjoy it. Why would there be anything wrong with that? In this exclusive interview, Van Noten discusses his intricate creative process, fashion in the Instagram age and why age and experience don't necessarily make things better.
Philippe Pourhashemi: How's life in the office?
Dries Van Noten: It's a bit of a crazy time right now as we have to finalize the menswear collection within the next few days. All the fabrics are coming in and we are still in the middle of fittings, choosing buttons and finishing touches. It's quite intense.
PP: I was wondering if you could get any busier than you normally are, but apparently you can.
DVN: There's this overlap going on at the moment between the menswear and womenswear collections. We've had to launch the womenswear fabrics already and are receiving the menswear materials now. There's a lot on my plate this week.
PP: Flowers were an important theme within your last womenswear show. When you deal with something as commonplace and expected as fashionable flowers, how do you make it new and exciting?
DVN: I really wanted to do something focused on flowers this time and it had to be the main theme in my head. Of course, we use flower prints very often, but we tried to think of a more straightforward way to do these prints. The idea of walking in my garden with a camera and taking pictures of different flowers suddenly seemed appealing.
PP: How much time did you spend doing this?
DVN: We did it during one afternoon in October. I was a bit scared at first that the idea was too simple and easy, perhaps not conceptual enough, but we soon realized that there was something raw and real about the flowers. It was the end of October, and they began to show their imperfections. They were not wilted yet, but not in perfect condition either. You could see some diseases on the roses, evidenced by several black spots on their leaves, and there were also insects on them. There was beauty in them, but also the rawness of decay, which I found interesting.
PP: What did you do with the pictures afterwards?
DVN: There was plenty of computer manipulation, exaggerating colors and contrasts. We saturated tones to create new colorways, while making sure the original color of each flower would still appear within the collection. It means you have several variations of color in the range, but the true beauty of every flower still comes across clearly.
PP: Flowers are universal symbols of grace.
DVN: They can say and mean so much. A flower is a true symbolic form, which attracts me in that sense. Of course, when you see certain flower prints you think about 1940s tea dresses, or 1950s Couture outfits. All these references are present in my mind when I play with those elements. A flower on a full skirt means something totally different from a flower on a transparent blouse. It can create a kind of strangeness that I enjoy playing with.
PP: By combining your own flowers with the clothes, did you want to create a link between private and public spheres?
DVN: Well, we didn't go to a flower store to buy them, and I liked the idea that I had chosen and planted them myself. There's something very personal about this.
PP: You've never really done it before, have you? I don't remember you putting something so private on the runway.
DVN: But you don't have to know that it's something private in order to appreciate it. It makes perfect sense when you see it, and maybe it's nicer when you know the actual story behind it, but it remains a beautiful flower print, whose imperfections you get to see up close. It's only when you are told the story that there's this added layer coming in.
PP: Was there a melancholic vibe to the show?
DVN: I think the soundtrack reinforced that. There was melancholy, yes, but not sadness. For me, not everything always has to be happy happy.
PP: Happiness tends to be the new norm, particularly if you look at social media.
DVN: There is this expectation that fashion should always be light and funny, but we had made a previous summer collection that was very upbeat. Some people read the last show as me having issues with the deal I had made with Puig and being unhappy with the relationship, but that's not true at all.
PP: It sounds like cheap psychoanalysis to me.
DVN: I used a lot of gray in this collection, which is something I don't normally do. I was fascinated with it, again because it has so many connotations. Gray can be dull and boring, but also sharp and business-like.
PP: We live in a time where it's important for designers to share something personal with their audience. How do you feel about this?
DVN: Every collection I make is personal and there are many subjective elements at play. I guess some are more readable than others. I'm so involved in the process itself that it's always my own story in the end. Maybe it's more obvious with the flowers this time, but the people who know me well see my soul and my brain in every show I present.
PP: The "Inspirations" exhibition and "Dries" documentary were big steps in the sense that they revealed a lot more about you and your process. Still, you are famous for being reserved and modest. Looking at them retrospectively, how do you feel about them?
DVN: I'm happy I did them both, particularly the exhibition. For the film, there was a certain moment when I thought 'God, what have I done?,' but when you see them together, it does make sense. I guess it was good to show that fashion is not only about glamorous parties and dressing-up for the Met Gala. Showing the struggle and pain you experience whenever you're creating, as well as the whole research and team work that goes into it, felt important to me. It was my way to ask for respect, and make people understand how hard fashion is.
PP: With 'Inspirations', you also included other designers in the exhibition, which made it clear it was not only about you.
DVN: Yes.
PP: You received a lot of social media attention lately with the collaboration you did with the estate of the architect and designer Verner Panton. In such cases, can you predict it will happen or does it come as a surprise?
DVN: We are used to seeing musicians or actors wear our clothes, but when it's Beyoncé or Cate Blanchett, you are surprised. We don't do gifts to celebrities, they go to the store and buy it themselves. To be totally honest, Cate Blanchett was sent a sample suit from us, because she really wanted to wear it and it was not available yet. This was, however, what I'd call a very eye candy collection, so we knew that some of the prints were pretty photogenic.
PP: How do you see the rise of fashion influencers? Is it fleeting or here to stay?
DVN: I think, and hope, there will be some kind of evolution from what we're seeing now. It's not an ideal situation for fashion, but people also get bored quickly and move on. I'm not sure what kind of direction it's going into, but I follow it and have to be involved, because it's important to understand how it works.
PP: Do you analyze it yourself?
DVN: Luckily enough, I have people around me who do that work, because I simply don't have the time to do it myself. Puig is, in fact, very well-equipped to decipher these things and keep me updated afterwards.
PP: When people think of your brand, they don't really associate it with specific garments, your signatures, to use fashion jargon, yet your silhouette is instantly recognizable. How do you explain that?
DVN: I think my work is a strange mixture of reality and dreams. I love to make pieces that are genuine and can be worn in many different ways. I rarely see people in my clothes head-to-toe, they will mix them with things they already have. Still, even the wildest print needs a more neutral shape to complement it, otherwise it becomes too much. I'd like to think that someone can pick brocade or a crazy jacquard and wear them easily during the day. That's also the way that I like to present it in the context of the fashion show.
PP: Is it about the richness of your textiles, as well as your exclusive prints?
DVN: Yes, but there is also a sense of tradition in my work. It's not nostalgic at all, because I like to look forward, but there is respect for the past and what such fabrics meant beforehand.
PP: A few years ago, you told me you were already planning what would happen if you were no longer designing the brand. Why not simply stop it? Others did that before.
DVN: It'd be very difficult to stop with the kind of organization we have here. In Antwerp, we have more than 100 staff in the office, then there are the suppliers and all the craftsmen in India who work for us. So there is a responsibility which comes with this and I also think that it'd be interesting to see what someone else would do with the brand if I stopped. Not everything that I do is purely connected to my own taste, I think there's enough vision to translate it into many ways.
PP: But your eye is unique and you decide for instance what goes on the runway each season.
DVN: Don't underestimate the importance of my team. I'm very hands-on, but also work in a very democratic way. I am definitely not a fashion dictator.
PP: You've mentioned dreams and reality earlier. I'm sure the fashion student you were had many dreams and hopes for the future. Did you fulfill most of them?
DVN: Human beings need to keep new dreams coming, otherwise life gets very boring. I still have a lot of dreams to fulfill. The more you know, the more dreams you actually have.
PP: It just keeps coming.
DVN: Yes.
PP: You've had offers in the past to design for other brands within larger groups. Why did you turn them down?
DVN: I really wanted to concentrate on my own life and wanted to have time to enjoy things, walk around in my garden, or go on holiday. I work very hard, and I need to find the right balance in my life. It could be fascinating to do a collection for someone else. I love collaborating with dancers, for instance. It's interesting not to think for yourself, but also through the eyes of somebody else. You learn a lot from that.
PP: As the years go by, do you find yourself still being very critical towards yourself?
DVN: I hope so. I have enough people around me who are getting more and more critical every season. If my team is not critical enough, we still have the press to do that for us.
PP: What gets better with age?
DVN: I don't know. When you age, you start to know more, and people love to tell you how they've become mature with time. In my case, the more I know, the more there is to discover.
PP: Are you more confident about certain things now than when you were young?
DVN: No. When you are young, you tend to be less careful. Now that I know more, I see more traps and more problems sometimes. It's not because you have experience that making decisions gets easier.
PP: You are a role model for fashion students and young designers. Does it flatter you?
DVN: I like it. Last week I met up with the students at the Antwerp Academy and spent the whole day discussing and exchanging. I sometimes introduce them to members of my team and they get to learn about various aspects of the business. But I also learn a lot from them, which is rewarding.
To see more from Dries Van Noten, visit driesvannoten.com A fashion writer, consultant and stylist, Philippe Pourhashemi was born in Tehran and grew up in Paris. In 2005, he graduated with a PhD in Cultural Studies. Working as a freelance coach for several brands in Belgium, Germany, Switzerland, Holland and Kazakhstan, he advises designers who sell their collections abroad.